If you follow telecom stocks, you might have noticed shares have been going up lately, even though the broader market has been going down. This is likely because of the perceived safety which telecom stocks provide. One exception to this, however, is UK-based Vodafone Group (NASDAQ:VOD).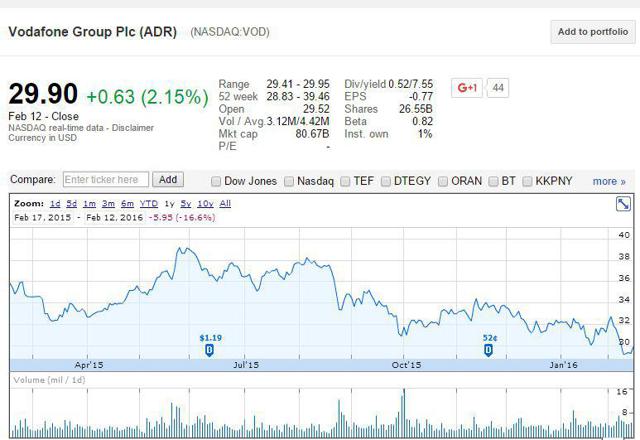 Source: Google Finance
Vodafone's declines may have something to do with its exposure: About two-thirds of Vodafone's revenue comes from EU countries, and the Eurozone has been in recession. Vodafone has also been rearranging itself since it sold off a share of Verizon Wireless (NYSE:VZ) and acquired several broadband providers on the continent.
Vodafone does have unique risks as a mostly European carrier, but telecoms are a fairly necessary service, and Vodafone is quite a good value down here. I believe that long-term minded income investors should give Vodafone a closer look. This article looks at Vodafone's latest results, its cash flow, and finally my opinion of the company's valuation.
Results
Over the last couple years, Europe has been dragging down the company's revenue, but the "recovery" has been steady, albeit slow. The last six months have been no exception to this trend. Have a look: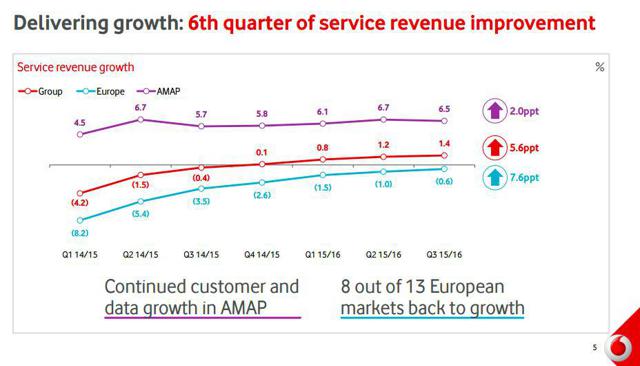 Source: Vodafone Investor Relations
We can see one overarching trend here: Europe revenue shrinking but losses narrowing over each interval. This time around, group revenue increased 1.4% year on year, on a constant currency basis. We now have four straight quarters of service revenue growth. That's a good thing.
To get a little more granular, Italy has improved to flat revenue performance, Germany has recovered well with Kabel Deutschland, but the UK stalled with mobile revenue dropping 1%. EBITDA margins held at 28%.
But what about Vodafone's cash flow? Will the company generate enough cash flow to maintain its generous dividend? Let's find out. Over the fiscal year, Vodafone generated $16 billion in operating cash flow and spent a huge $13.2 billion in capex, leaving about $4 billion in 'operating free cash flow' when adding back $1.2 billion in working capital.
After taxes and interest, only $1.5 billion in true 'free cash flow' remains. The dividend is another $4.2 billion per year. So that puts Vodafone some $2.7 billion in the hole.
Before running from Vodafone, understand that the company is just about finished with Project Spring, a plan to build out the company's fiber-optic network. After Project Spring, management expects to spend only 60%-80% of the capital expenditure which it allocates today. That comes out to a draw-down of another $4 billion. That gives us some $1.3 billion of cash flow in excess to dividends per year. That might not be too terribly much margin for error, but it is certainly enough to get the job done here.
Is Vodafone a buy?
My 'rule of thumb' with Vodafone is that it is a 'buy' when it yields well over 5%, provided the dividend is sustainable, and I do believe the dividend is sustainable. Last year, Vodafone paid a net dividend of $1.70 per ADR share. Based on today's price, that's a yield of 5.7%. Information about Vodafone's bi-annual dividend can be found here. It's difficult, if not impossible, to find such a yield from a telecom of comparable quality. I expect Vodafone to raise its dividend modestly this year, although, if the US Dollar keeps gaining on the Pound, US investors may end up with less.
In any case, Vodafone's core business is doing alright, and US investors can pick up a diversified, world-class telecom for a reasonable price.
Disclosure: I am/we are long VOD.
I wrote this article myself, and it expresses my own opinions. I am not receiving compensation for it (other than from Seeking Alpha). I have no business relationship with any company whose stock is mentioned in this article.