(Editor's Note: Investors should be mindful of the risks of transacting in securities with limited liquidity, such as EXFOF. Axfood's listing in Stockholm, AXFO.ST, offers stronger liquidity.)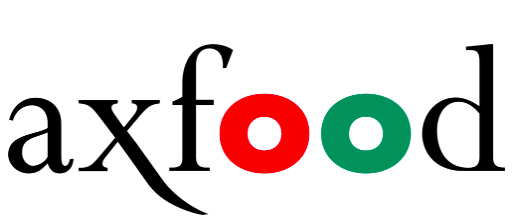 Axfood (OTC:AXFOF) is one of Europe's smallest but best performing publicly-traded grocers. With a leading presence in the growing discount sector, the company has steadily grown sales, earnings, and dividends over time while also gaining market share.
10-Year Share Price History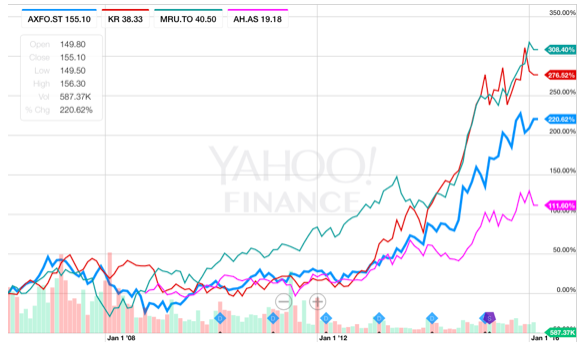 Much like in Canada and the U.S., investors have taken notice of good businesses and the stock now trades at multiples considered high for the grocery sector. Axfood trades at more than 20x forecast earnings compared with Northern European peers at 16x and local competitor, ICA Gruppen, at 15x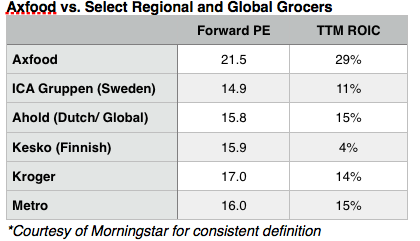 As always there is a story behind every company and every valuation. Axfood has a debt free balance sheet, operates a leading discount grocery business, and generates a much higher return on invested capital than peers. Further, unlike peers in the U.K. or Australia, the company has (thus far) mitigated the impact of German hard-discounter Lidl.
The format of this report is as follows: (1) Overview of Axfood (2) Competition (3) Historical Track Record (4) Recent Results (5) Valuation. European grocers, notably Ahold (OTCQX:AHONY), have received a solid amount of press and discussion here on SA so hopefully this article serves to introduce readers to another well-performing European grocery stock.
Overview of the business
Axfood is Sweden's third largest grocery retailer as well as a large wholesaler. It owns retail brands Willy's (discount) and Hemkop (conventional) and wholesales under the Dagab and Axfood Narlivs names. Investment company Axel Johnson owns a 50% stake in Axfood.
Grocery Retailing
Willy's is the largest discount grocer in the country and represents nearly 50% of profit at SEK 900 million. Dubbed by the company as "Sweden's cheapest bag of groceries", its 194 stores are small in size with around 9,000 SKUs and a primary focus on fresh fruits and vegetables. Sales and profits have grown steadily over the past 5 or so years with operating margins stable around 4%.
Like most grocers, organic is a small (6% of sales) but fast-growing segment - it notched growth rates near 50% over each of the past two years. The business has undertaken other initiatives such as no longer selling eggs from caged hens.
Hemkop is the conventional grocery business that competes primarily with ICA Gruppen's conventional and hypermarket stores. While sales have grown in the low-single digits, management has focused on reducing costs and improving in-store operations. The result has been a meaningful rise in operating margins and profit. Focus remains on improving the loyalty program along with franchising more of the corporate-owned stores (currently 111 franchised to 68 corporate).
The wholesale business consists of Dagab, which primarily supplies the corporate and franchise stores, and Narlivs, which primarily supplies a large number of independent grocers and convenience stores (including company-run ones).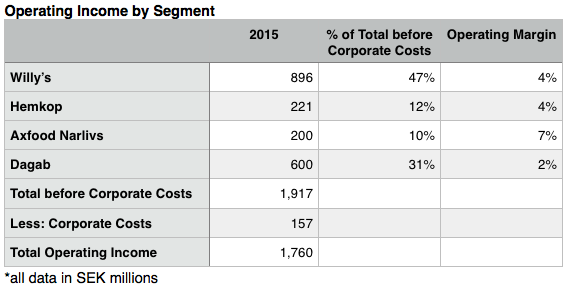 (2) Competition
The grocery market in Sweden is highly concentrated among 4 chains: ICA, Axfood, Coop and Bergendahls. Axfood estimates they have 20% of the market while market leader ICA Gruppen has 36% share followed by Coop at 21.5%.
The discount market is composed of Willy's, Lidl and Netto while the traditional conventional segment is dominated by ICA Gruppen. The latter is the clear market leader in Sweden with sales of SEK 101 billion dwarfing Hemkop at SEK 12 billion).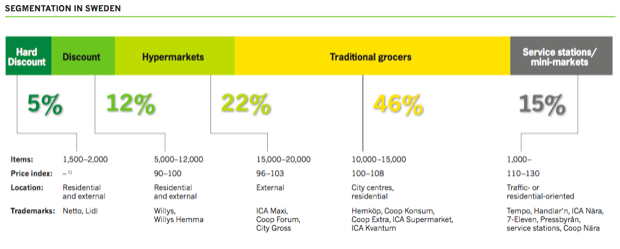 Sweden is considered to have some of the highest grocery prices in Europe. Part of this is due to its small population and difficulties benefiting from scale, especially when compared to larger countries like France and Germany. Part is nonetheless due to oligopolistic nature of the market - one reason discounters Lidl and Netto are expending.
Impact of Lidl
Lidl has not yet managed to disrupt the status quo in Sweden despite using products like alcohol as a loss leader to drive traffic. Part of this can be attributed to the existence of an established discount sector prior to their arrival - something that proved important in Lidl's failure in Norway. Willy's dominates the small-format, convenient discount market and Lidl, despite having a highly efficient box, hasn't yet disrupted pricing for Axfood.
It has, however, begun to disrupt pricing for Sweden's largest conventional grocer.
ICA Gruppen
ICA Gruppen, which is a largely conventional business under the name ICA Sweden, has begun to see price competition threaten their market share. In H2 2015, they began to lose share for the first time in years and margins responded accordingly.
In 2015, margins at ICA Sweden fell slightly from 4.7% to 4.6% but still remain high relative to other competitive markets as well as Axfood's Willy's and Hemkop brands. The company is now feeling some pressure to lower prices and to improve the product offering in order to retain customers who, like in many countries around the world, are finding comparable quality products for much lower prices and better shopping experiences at discounters.
Rema 1000
The owner of Norwegian discount grocer REMA 1000, Reittangruppen, holds a 15.9% stake in Axfood. There was previously an understanding that so long as Reittangruppen had an interest in Axfood, Rema 1000 would not expand into Sweden. In December, Reittangruppen announced they intend to sell the stake in Axfood, which leaves open the possibility of a Swedish expansion.
While normally a benign announcement, REMA 1000 is a legitimate threat. In the 1980s, the owners copied many of the successful initiatives of Aldi and Lidl and became the largest discount chain in Norway. They operate a small box that combines low-prices and a no-frills, low cost shopping experience. It is arguably one of the main reasons why Lidl failed in their attempt to expand into the Norwegian market - the first time they retreated after an international expansion.
(3) Historical Track Record
Axfood's track record has been reasonably good in recent years. Management has slowly and steadily increased sales while improving operating margins. While the market remains extremely competitive, Axfood has thus far managed the expansion of foreign grocers into the country.
Interestingly, some of the improvement can be attributed to the conventional business, which has improved operating margins from 0.9% in 2010 to nearly 4% in 2015. At just over 4% consolidated margins. management is keen to simply maintain margins here and reinvest further into price, loyalty and supply chain.
Other influences include steadily growing private label penetration (27% of sales vs. 22% in 2010) as well as success increasing fruit and vegetable sales. It is worth noting that Axfood has the highest penetration of private label in Sweden - a key initiative by management to manage Lidl's threat.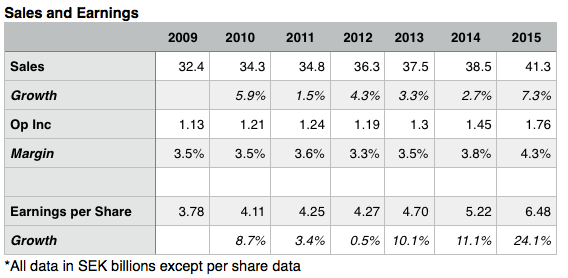 ROE has been relatively consistent through the past several years as the benefits of a lower tax rate (now ~22% from 27% in 2009) and higher margins offset declining financial leverage (no debt and cash increasing on balance sheet).

The high returning business is, particularly in recent years, requiring less capital and generating more free cash flow. The 2015 dividend will consume SEK 900 million, which left the rest to build as cash on the balance sheet. Cash was approximately SEK 2 billion at year-end and the company should generate at least another SEK 1.9 billion in FCF in 2016.

Dividends
The company pays out the majority of earnings out as dividends - the current policy is to pay out at least 50% of earnings. The company will also pay a SEK 4 per share special dividend for the fourth quarter of 2015. The current yield is just over 3%.

(4) Recent Results
Last year was particularly successful for Axfood. Sales increased 7.2% while earnings per share grew 24% as operating margins increased 50 basis points and previous supply chain investments began paying off. Sales at retail operations increased more than 6% driven by 4.5% increase in same-store sales while Dagab and Narlivs grew revenue 13.7% and 8.4%, respectively. The supply chain investments are most evident at Dagab and Narlivs as earnings at both segments increased more than 40% last year.
The company estimates the market grew 4% in 2015, including 2% of price inflation as the weakening Swedish Krona put ongoing pressure on imported food prices. Looking forward, they expect inflation will moderate but expect another year of earnings growth and hopefully, market share gains.
Axfood also has a quarter of Sweden's population in their highly successful loyalty program and continues to invest into its Cash n Carry business.
(5) Valuation
Using conventional metrics such as PE, Axfood is more expensive than most European grocers and looks more like well-run North American grocers Kroger (NYSE:KR) and Metro (OTCPK:MTRAF). However, net earnings often tell a misleading story. They reflect history, specifically the normalization of asset depreciation charges, while free cash flow (i.e. owner's earnings) can reflect the future and the real investments required.
If capital expenditures remain around the SEK 700 - 800 million level, then Axfood should continue to harvest recent investments generating significant excess cash flow shareholders and supporting an attractive DCF valuation.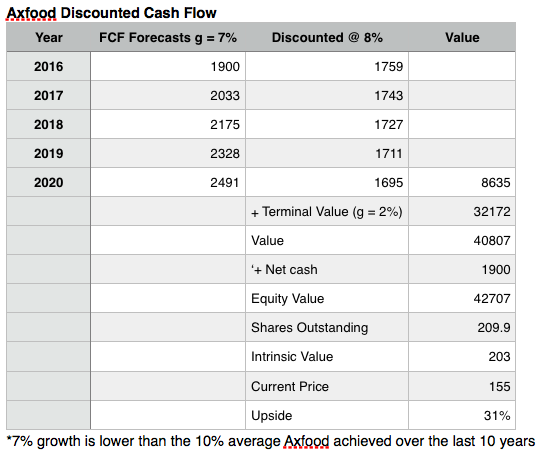 (6) Concluding Thoughts
That said, like with most companies, much of the future depends on the price and margin stability. In the world of grocery retailing, where price competition is relentless and the discount segment is becoming more sophisticated, margin compression is a real possibility. For example, if Axfood's operating margins fell 1% to 3.3%, then profit would be 20% lower. Such are the perils of low margin grocery retailing.
Fortunately, by operating primarily in the discount and convenience segments, Axfood is seemingly more prepared to defend against any increase in price competition than its larger peer, ICA Gruppen. ICA is already seeing margin compression as a result of increased competition.
There was a wonderful analysis done on why Lidl failed in Norway and one key reason was the existence of an established, well-run discount player. Foreign discounters, like Lidl, must also adjust the product mix to a unique local market with much less sales turnover. For Lidl, scale is critical and when trying to deliver a local offering, it is far easier to achieve in Germany with more than 80 million people than in Sweden with less than 10 million.
With Lidl recently announcing they are opening a new distribution centre and upgrading stores in Sweden. It doesn't look like things will get any easier but Axfood continues to be well-prepared.
Disclosure: I/we have no positions in any stocks mentioned, and no plans to initiate any positions within the next 72 hours.
I wrote this article myself, and it expresses my own opinions. I am not receiving compensation for it (other than from Seeking Alpha). I have no business relationship with any company whose stock is mentioned in this article.
Editor's Note: This article discusses one or more securities that do not trade on a major U.S. exchange. Please be aware of the risks associated with these stocks.