Aptar (NYSE:ATR) recently announced an acquisition boosting their pharma business while reporting another solid quarter.

Acquisition Announced
Aptar announced a tuck-in acqusition in Europe, Mega Airless. The company will spend $218 million to acquire this family-run pharmaceutical packaging business (dispensing solutions with an emphasis on dermatology) that compliments the existing product offering. Mega focuses on providing solutions for personal care, pharmaceutical and consumer health markets.
The acquired business has sales of $66 million and EBITDA of $20 million. At 30%, EBITDA margins are in line with Aptar pharma and the multiple paid is ~11x.
The move was telegraphed on the Q3 conference call with management indicating that the environment was looking positive. Aptar had been courting Mega for the last 2-3 years and while the multiple paid was high, they expect it to help sustain sales growth, particularly in Latin America and Asia where Mega has stronger customer relationships.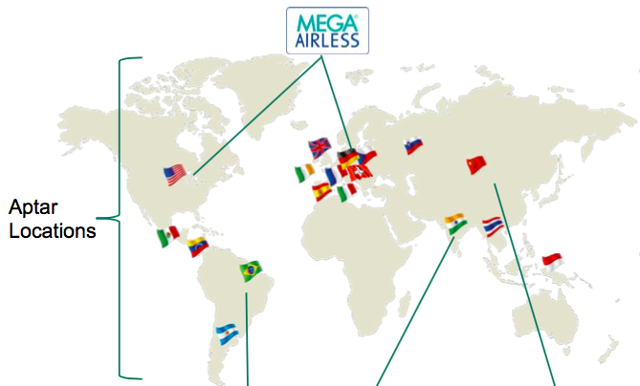 An additional benefit is the acquisition is being 2/3rds funded with cash tied up offshore - cash that would have otherwise been trapped or subject to a large tax bill.
Accretion Estimate
Current estimates for 2016 earnings are $3.22 per share. I provided a breakdown of 2016 below suggesting the acquisition plus estimated synergies, should boost estimates by ~5%.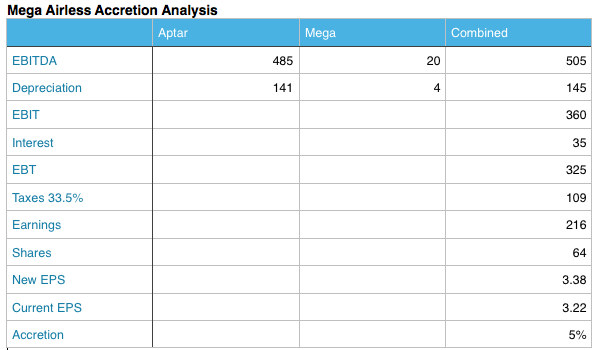 M&A Hunt
On the Q4 conference call management expressed confidence they can continue to acquire in 2016. As a tuck-in, Mega Airless fits strategically well within the existing business and shouldn't provide any meaningful integration risks.
What's nice about I think the Mega transaction for us, I think it strategically fits very well. It's not so large that it's going to prevent us from doing other transactions. So we have other potential acquisitions we're going to continue to look at. Certainly from the balance sheet leverage-wise, we have plenty of room after the Mega deal to continue to expand. So we're going to continue what we've done in the past and that's look for well-run, good, strategically fitting acquisitions, and I wouldn't anticipate that slowing down at all in 2016.
Annual Results
Acquisitions are likely needed to continue boosting growth as Fx headwinds continue to eat into sales growth. Much of their earnings growth in the past year has been due to operational improvements and input cost declines. With much of that past them, management believes it will be slightly harder to grow organically in 2016. As is customary, the company increased the dividend for the 22nd consecutive year in 2015.
In 2015, reported sales decreased 11% while currency adjusted sales (or "core" sales) increased 1%. Margins increased to 19% (from 17%)

All three segments saw operating margin improvement and earnings per share rose 8% from $2.85 to $3.09 for the year. As highlighted earlier, once the Mega Airless transaction closes and analysts include its earnings in their forecasts, I think earnings for the year will move higher.
Concluding Thoughts
Even without the currency headwinds, the Beauty & Home and Food & Beverage businesses continue to struggle to deliver organic growth. Operational improvements have helped stabilize and growth profit but further improvements are more challenging.
Fortunately, the Pharma business continues to do much of the heavy lifting and the Mega Airless transaction should further boost growth in 2016. Acquisitions it appears remain the primary driver of short-term upside.
Disclosure: I am/we are long ATR.
I wrote this article myself, and it expresses my own opinions. I am not receiving compensation for it (other than from Seeking Alpha). I have no business relationship with any company whose stock is mentioned in this article.