Non-alcoholic steatohepatitis, or NASH, is a form of chronic liver disease caused by a build-up of fat in the liver (progressive fatty liver disease), affecting at least 2 to 5 percent of Americans. There is currently no FDA-approved therapy for NASH, even though the disease can progress to cirrhosis and ultimately lead to hepatocellular carcinoma (liver cancer), which makes it one of the major unmet medical needs of the 21st century - NASH is now the second most common cause for liver transplantation in the U.S., and it is anticipated to become the leading indication by 2020. The market for NASH drugs is currently estimated to reach $35 to $40 billion by 2025, a huge untapped market that could support several blockbuster drugs in the years to come.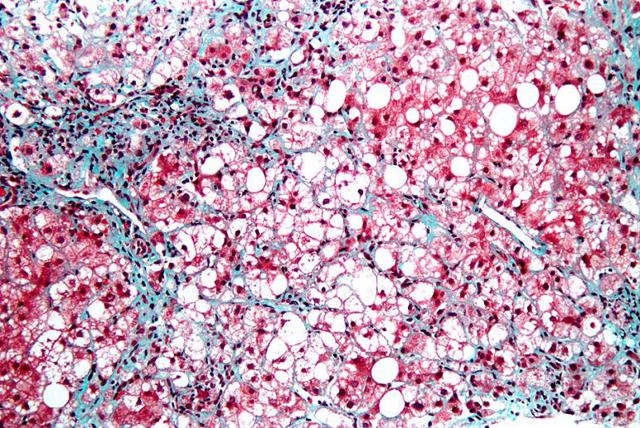 (Source: Wiki Commons)
Several companies are currently developing NASH-targeted drugs in the clinic, including Gilead (NASDAQ:GILD), Novo Nordisk (NYSE:NVO), Tobira (NASDAQ:TBRA), Galmed (NASDAQ:GLMD) and Conatus (NASDAQ:CNAT), but until now only Intercept (NASDAQ:ICPT) and Genfit (OTCPK:GNFTF) have demonstrated histological evidence that their compounds are able to reverse or reduce NASH symptoms in randomized controlled trials.
I have previously written a number of articles comparing Intercept's OCA and Genfit's Elafibranor, detailing why the careful analysis of all existing data clearly points to the leading advantage of Genfit in terms of therapeutic efficacy and timing to market even though the company is still valued at about a fifth of its main competitor's market cap.
While the full results of Intercept's FLINT Phase 2b trial were already published and thoroughly analyzed, Genfit's management had repeatedly stated its intention of having the biotech's own Phase 2b results published in a renowned scientific journal. However, the publication of this manuscript (originally due in H2-2015) was voluntarily withheld by the trial's investigators until the text was amended to reflect the new consensual definition of NASH resolution. This new definition, agreed upon by key opinion leaders and regulatory agencies, will be used as the primary endpoint in Genfit's Phase 3 trial. The updated manuscript has now been officially accepted for publication in Gastroenterology, the most renowned specialist journal in the field, and the text is already available online.
The full title of the manuscript is "Elafibranor, an Agonist of the Peroxisome Proliferator-activated Receptor-α and -δ, Induces Resolution of Nonalcoholic Steatohepatitis Without Fibrosis Worsening".
The goal of this article is to provide a commented review of the main points of interest taken from this manuscript and highlight key elements for NASH investors, in the context of the ongoing race to put the very first NASH-targeted drug on the market.
The context of patients' enrollment and relevant efficacy results
Genfit's Phase 2b trial is one of the largest international trials ever conducted in NASH patients - there were 56 participating centers, 19 in the United States and 37 in eight European countries. From the manuscript, we learn that (emphasis added):
The study had a staggered design as requested by the regulatory agencies to test the safety of elafibranor over a 6 month period at the lower dose before exposing patients for one year [at] the highest dose. During the first recruitment phase, 172 patients were screened between September 2012 and June 2013 for treatment with 80mg/d of elafibranor or placebo (allocation 2:1). The second recruitment period at the dose of 120 mg/d started in July 2013, when 179 patients were screened in 1 week. The randomization of this second cohort started in October 2013 (allocation of elafibranor 120mg or placebo in a 2:1 ratio), after unrestricted approval from the Independent Data and Safety Monitoring Board.
(...)
Due to the unexpectedly high recruitment rates and the staggered design, treatment distribution across the sites was imbalanced. Patient recruitment ranged from 1 to 24 randomized patients per site, and only 15 sites had patients randomized in all 3 treatment arms.
(...)
Patients with mild but well-defined NASH were allowed to participate because of early concerns about recruitment feasibility, and because it was assumed that resolution of NASH was dependent on the presence of NASH and not on a particular level of severity. In these patients with mild steatohepatitis there was an unexpectedly high placebo response rate that may have led to a lack of treatment effect in the planned primary outcome assessment.
(...)
Whatever the explanation for the failure of elafibranor to significantly outperform placebo in patients with mild disease, it is important to note that these patients are usually not considered eligible for pharmacological therapy but rather should be managed through dietary and lifestyle changes. The two previous large trials in NASH that had NAS reduction as a primary outcome, only included patients with a NAS of 4 or higher and current practice for drug development is to include only patients with moderate or severe disease defined by a NAS≥4.
So, at the request of the FDA and EMA, Genfit had to design a staggered trial, meaning that the enrollment of patients had to be performed in two steps. As explained in the manuscript, the goal was to ensure that Elafibranor was safe over a period of six months with the lowest 80mg dose before testing the higher 120mg dose. However, while the first enrollment stage (172 pts) took about 10 months to be completed, the second stage was completed in just one week despite a higher number (179) of patients to enroll - a speed which was not anticipated by the trial's investigators and which prompted an early closing of enrollment, causing heavy imbalances among centers in terms of randomization (such as centers which had only one patient enrolled in total).
Additionally, since NASH was still a relatively unknown condition at the beginning of the trial, Genfit had agreed to include patients with very mild NASH (NAS=3) in an effort to improve enrollment numbers. Obviously, this proved unnecessary given that by the time the trial had entered its second enrollment stage, NASH was publicized enough to generate a strong interest among patients and specialists. It was later defined that NAS=3 patients should not be included in NASH trials, as confirmed by the results of Genfit's study since these patients can be treated efficiently without requiring NASH-targeted drugs.
One also has to remember that Genfit's Phase 2b trial was one of the very few pioneering studies exploring NASH resolution - in the eyes of the trial's investigators and regulatory agencies, this was probably as much a way to learn more about the disease than about Genfit's compound itself. In hindsight, this context alone explains why the company's study is widely considered by specialists as a success in helping to define a target population and clinical outcome measures for all future NASH-targeted therapies.
Then, the fact that the same 56 international centers which enrolled about 179 in just one week will be actively recruiting patients in the ongoing Phase 3 trial is obviously a positive sign for this trial - this step should not last too long since Genfit only needs to enroll and treat 900 patients to apply for Subpart-H approval.
Besides, regarding the definition of the "NASH resolution" endpoint, the authors provide the following context:
The primary outcome (of the Phase 2b study) was reversal of NASH without worsening of fibrosis. This was defined as per protocol, before study start, as the absence (score of 0) of at least one of the 3 components of NASH, i.e. steatosis, ballooning, and inflammation; worsening of fibrosis was defined as the progression to bridging fibrosis (i.e. stage 3) or cirrhosis in patients without bridging fibrosis at baseline or to cirrhosis in patients with bridging fibrosis at baseline.
(...)
After the study was completed a modified and more stringent definition was proposed by academic and regulatory experts and recommended by regulatory agencies for ongoing trials. It defines resolution of NASH as disappearance of ballooning (score=0) together with either disappearance of lobular inflammation or the persistence of mild lobular inflammation only (score=0 or 1) and resulting in an overall pathological diagnosis of either steatosis alone or steatosis with mild inflammation; any stage increase in fibrosis is considered fibrosis progression. Because this more stringent definition is now used for current and future trials, we will here report on both the protocol-defined and the post-hoc analysis of the modified definition.
(...)
Importantly, this more stringent definition led to a lower placebo effect. (...) We expect that future, large phase 3 trials will be using this more stringent definition of response.
As detailed in my previous article on the subject, this is an important evolution as this new FDA-backed definition could become standard in all upcoming NASH trials. Hence, knowing how Elafibranor and Intercept's OCA behaved according to this new definition is essential to assess how those compounds might perform in Phase 3 - for instance, it should be noted that Intercept's OCA appeared to be much less effective in improving ballooning than other components of NASH, even though this is very likely to be a must for all NASH-targeted therapies.
Therefore, taking all these reasonable and detailed contextual elements into account, the manuscript's authors provide the following endpoint analysis:
Because of a heterogeneous center effect and the unbalanced treatment-center distribution (due to the staggered design and an unexpected high rate of recruitment), we performed an analysis in the subset of bNAS>4 patients recruited in centers that randomized at least one patient in each treatment arm (N=120, Supplementary Table 4). The response rates were 29% and 26% (protocol-defined and modified definitions) vs. 5% placebo (p=0.01 and 0.02, respectively). 48% of patients improved the NAS by >2 points (vs. 21% in the placebo arm, p=0.013).
Considering that all Phase 3 centers in Genfit's pivotal trial will need to be balanced and that both target population (NAS≥4) and endpoint definition are exactly matching those taken into account by the authors, this peer-reviewed analysis is obviously highly relevant in assessing the chances of success of Elafibranor in Phase 3 - that is an efficacy rate of 26% for Elafibranor vs. 5% in the placebo arm (p=0.02).
Fibrosis reduction, the case for treating NASH
Regarding improvements in fibrosis, the manuscript's authors note that:
(...) we tested whether patients that achieved resolution of NASH without worsening of fibrosis in the 120 mg elafibranor arm also experienced improvement in fibrosis. Supplementary Figure 1 shows strong reductions in fibrosis, hepatocyte ballooning and the NAS (all p<0.001) as well as in lobular inflammation and steatosis (both p<0.05), when compared to non-responders to the same regimen. These findings were similar with both definitions of response.
This is crucial because it is the very rationale behind the treatment of NASH: the ultimate goal of curing the disease is to prevent progression to cirrhosis, which can lead to liver cancer or require a liver transplant, by stopping or even reducing fibrosis of the liver. Hence, what these results show is that Elafibranor, as an effective treatment of NASH, is also able to reduce fibrosis in treatment responders. This might seem obvious but it is not so much in fact - treating fibrosis directly remains an elusive goal so far, so this formally confirms that treating NASH could well be the most effective way of achieving this goal indirectly. In all cases, this is an essential research achievement, whose impact seemed to have escaped some analysts' understanding when it was hinted before.
It is also expected that since Genfit's 52-week study was shorter than comparable studies (such as Intercept's Phase 2b 72-week trial), a longer treatment period in Phase 3 (18 months before interim analysis) could provide greater benefits on fibrosis reduction, even in patients considered as non-responders to the NASH resolution endpoint.
Methodology and marker improvements
NASH is a heterogeneous disease and until now, liver biopsy is considered the "gold-standard" method to assess the severity of the disease (histological evidence). However, biopsies are highly dependent on several contextual factors, such as sampling errors which can generate as much as 50% false-negative readings in some patients (Sanai and Keeffe, 2010). Moreover, interpreting biopsies is an inherently subjective observation which has been shown to result in some degree of variability in the assessment of histological outcomes. Here is how this assessment was performed in Genfit's trial:
Patients were followed every 2 months with clinical and laboratory evaluations throughout the one year treatment period. An end-of-treatment biopsy and a 3-month post-treatment follow-up visit were performed. Screening and end-of-treatment biopsies were all read centrally by a single pathologist in a blinded manner (PB). At end of study, all slides (baseline and end-of-study) were read in scrambled order. For inclusion, the liver biopsy needed to be collected within the past 9 months.
Hence, even if Genfit used the best available assessment method as required by regulatory agencies (with a centralized, randomized reading protocol, contrary to Intercept), biopsies do have some shortcomings. Therefore, it is interesting to note that those histological results are supported by a strong body of evidence pointing towards Elafibranor's therapeutic activity, such as a dose-dependent increase in efficacy (120mg performed better than 80mg on all factors), a strong interaction effect between baseline severity and the drug's performance (the more severe the disease, the more likely Elafibranor is to be effective) and a broad spectrum of significant improvements observed in relevant biomarkers linked to liver function and metabolic parameters:
Importantly, there was a strong interaction effect between baseline severity and elafibranor dose which was significant for 120 mg for both the protocol-defined (OR:2.63, 95%CI[1.25-5.52], p=0.012) and modified definition (OR:2.76, 95%CI[1.33-5.76], p=0.007). The significant interaction effect with baseline severity indicated that the efficacy of elafibranor 120 mg vs. placebo increased with baseline severity. Hence the exclusion of patients with mild disease activity (bNAS=3, N=40) revealed a significant direct effect of elafibranor 120 mg vs. placebo (OR=3.16, 95%CI [1.22-8.13] and 3.52, CI95%[1.32-9.40], for the protocol-defined and modified definitions, respectively) in the remaining population of 234 pts with bNAS>4 (85% of the ITT population); there was no significant difference for the 80 mg arm. Overall, the 120 mg elafibranor dose doubled the proportion of responders vs. placebo in patients with bNAS>4.
(...)
Patients treated with both elafibranor doses (80mg and 120mg) improved liver function tests (ALT, GT and alkaline phosphatase, Figure 2a,b,c) and lipid parameters (triglycerides, LDLcholesterol, HDL-cholesterol, Figure 2d,e,f). In diabetic patients (40% of the EES population) elafibranor improved fasting serum glucose (-0.98±0.56mmol/L for 120mg vs. placebo, p=0.08) and HbA1c (-0.46% for 120mg vs. placebo, p=0.038,) as well as markers of insulin resistance (fasting insulin, HOMA-IR and circulating free fatty acids, Figure 3). There was a clear reduction in systemic inflammatory markers such as hsCRP (-42% for 120mg vs. placebo, p=0.161), fibrinogen and haptoglobin at both doses (Supplementary Figure 2a). In line with the histological changes, serum panel biomarkers of steatosis and fibrosis such as SteatoTest®, FLI, Fibrotest®/FibroSure® and the NAFLD Fibrosis score, showed significant reductions in patients treated with elafibranor 120mg compared to placebo (Supplementary Figure 2b).
So, in brief, Elafibranor demonstrates a global therapeutic activity that it is not limited to NASH itself or fibrosis as marked improvements are also noted in diabetes indicators (HbA1c, insulin resistance...) and cardiometabolic parameters in all treated patients, regardless of dosing. The authors further note that such improvements are not observed in patients experiencing placebo-related NASH resolutions:
It is interesting to note that contrary to placebo-induced resolution of NASH, patients that met the primary endpoint on elafibranor also exhibited a greater degree of improvement of metabolic and inflammatory parameters than non-responders.
Again, this is extremely important because, as pointed before, while the assessment of histological evidence (liver biopsies) is subject to a certain degree of variability (inducing possible false positive and false negative readings), the results show unequivocally that all observed biological markers improved in a linear and dose-dependent manner with Elafibranor.
Safety, of "paramount importance"
The very favorable safety profile of Elafibranor is once again highlighted by the authors:
Elafibranor showed a very good tolerability and safety profile throughout the one year exposure in this trial. This is of paramount importance as NASH therapies are expected to be taken on a long term basis. Moreover, these patients often have asymptomatic liver disease and therefore are less willing to tolerate drug-induced side-effects in the long-term.
As pointed by those liver specialists, drug-induced side-effects are a real concern in the long term mainly because NASH patients do not usually experience direct symptoms from their disease - hence, drug compliance might be a problem in those patients. This obviously brings in mind Intercept's OCA safety profile, as the drug's mechanism of action seems to be inherently linked to side-effects such as pruritus and adverse changes in lipid parameters.
Conclusion: Elafibranor showed evidence of efficacy
Genfit's lead in NASH is not a new thing: Elafibranor has been Fast Track'd by the FDA in NASH and it was the first ever NASH drug candidate to be designated in this category (in February 2014). Then, Genfit's Phase 2b results were presented in a Presidential Plenary session at the AASLD which is the biggest convention for liver diseases in the world (an honor than even Intercept, a U.S. company, did not receive).
Additionally, some of the hepatologists contributing directly to Genfit's studies (and the manuscript) are among the most renowned NASH specialists in the world, such as Vlad Ratziu, Stephen A. Harrison and Arun Sanyal - they have also worked on clinical trials or consulted for Gilead, AbbVie (NYSE:ABBV), Roche (OTCQX:RHHBY), AstraZeneca (NYSE:AZN), Sanofi (NYSE:SNY), Novartis (NYSE:NVS), Intercept and so on.
With all these key elements and contextual details in mind, here is the unequivocal conclusion drawn by the authors:
This randomized controlled trial provides evidence of efficacy of the dual PPARa/d activator elafibranor on both histological reversal of NASH and metabolic improvement in patients with NASH.
Knowing that some of Genfit's harshest critics often base their judgment on erroneous or incomplete information or even purely made-up facts (which, unfortunately, linger on for months and cause other analysts to reproduce those misleading statements in their own articles), the heart of the investment thesis in Genfit is that the biotech's current valuation is not based on facts but rather on false rumors and a lack of research about relevant data - once again, the very clear wording and contextual details revealed in this peer-reviewed manuscript support Genfit's position as the top contender in the NASH race, which makes it a clearly undervalued biotech with a potential blockbuster on its hands.
Supporting Documents
Disclosure: I am/we are long GNFTF.
I wrote this article myself, and it expresses my own opinions. I am not receiving compensation for it (other than from Seeking Alpha). I have no business relationship with any company whose stock is mentioned in this article.
Editor's Note: This article covers one or more stocks trading at less than $1 per share and/or with less than a $100 million market cap. Please be aware of the risks associated with these stocks.