Church & Dwight (NYSE:CHD) is, of course, a familiar consumer goods name. Through its popular Arm & Hammer brand it is represented in toothpastes, detergents, pet products, paints, baking soda, and more. Indeed, according to the company, an Arm & Hammer product can be found in 86% of US homes. Amazing.
However, Church & Dwight is much more than just Arm & Hammer. Its brand portfolio has impressive variety.
Stunning Brand Variety
Its leading "Power Brands" cover a number of attractive areas: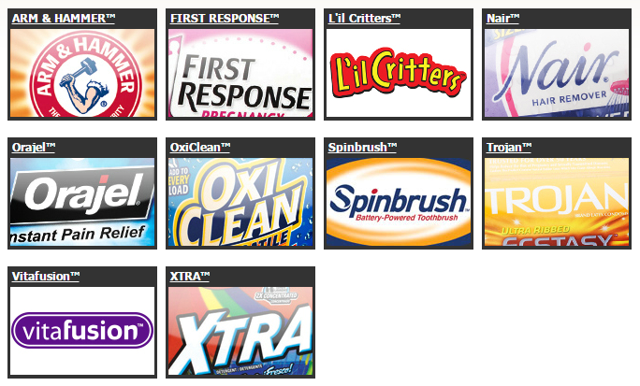 Of these Power Brands, the company sets aside four as "Mega Brands": Arm & Hammer, OxiClean, Trojan and Vitamins (which covers both L'il Critters and VitaFusion). As a result, their business is stretched across a wide variety of products. From cat litter to cleaning products, condoms to supplements, quite a reach — and very attractive to an investor.
Superb Brand Stewardship
Many of these brands have been added to the company's portfolio in recent years. Since acquiring them, it has proven itself incredibly adept at expanding these brands' market share (year acquired in parentheses):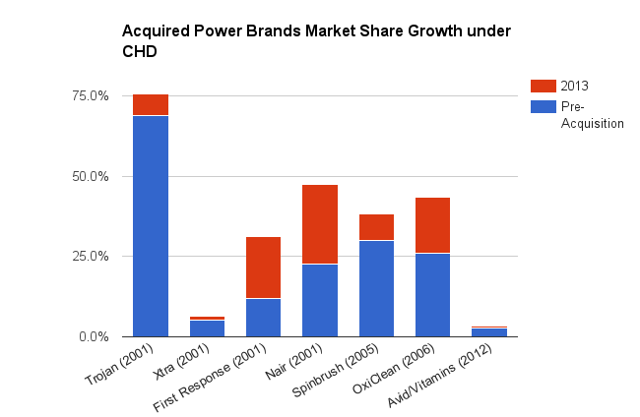 In recent years it has continued this acquisition program. In 2011 it bought Batiste dry shampoo and have since made it the number one dry shampoo in the US as well as the UK.
The company has also made solid moves into the international market: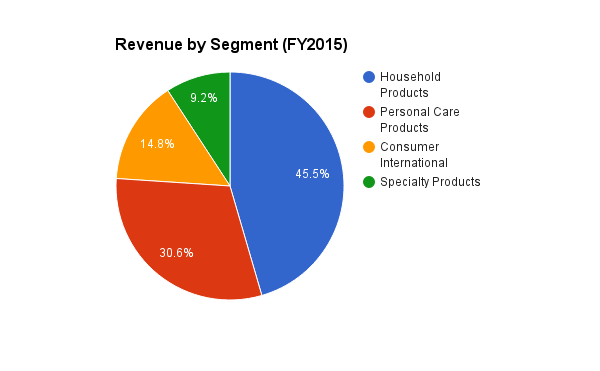 However, it remains heavily exposed to the US economy with only a modest proportion coming from outside the US. This has improved, but remains very low. Tellingly, this also leaves them exposed to customer risk: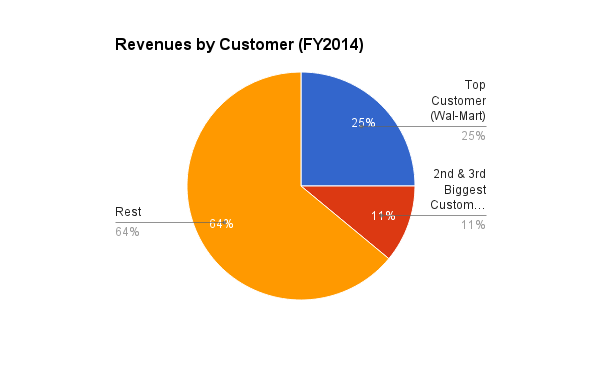 A quarter of its entire revenues are derived from sales from Wal-Mart. Fortunately, after that it appears the revenue spread is a bit more diverse. But it is something to bear in mind.
Generally, revenues grew well across segments except in the consumer international one: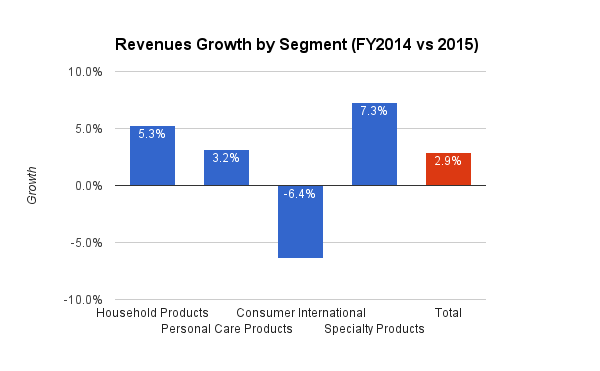 Needless to say, this segment was hit by foreign currency headwinds. Nonetheless, in the Q4 2015 period organic sales in international markets grew. Currency headwinds often turn to tailwinds, Church & Dwight has positioned itself well to generate a nice revenue boom when this occurs.
Peer-Beating Revenue Growth
Church & Dwight has managed to consistently grow its revenue over the last five years, easily outperforming its peer group*: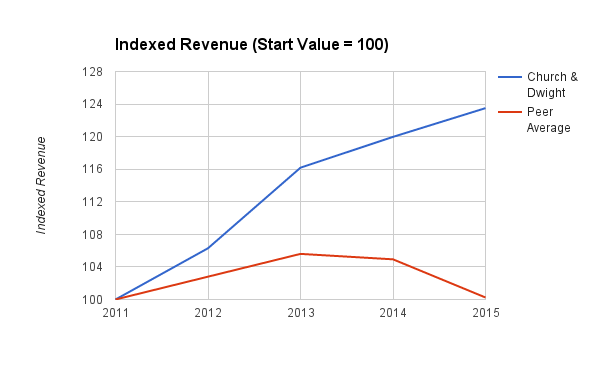 Nor is this outperformance expected to stop anytime soon. Although its revenue growth is expected to slow to an annualized rate more around the 2.8% figure than the 4.3% it had been generating over the last five years, it is still set to slightly outperform its peer average.
Strong Cash Flow Performance
Church & Dwight also performed well on the cash flow front. Indeed, the consumer staple sector tends to perform well in this regard. However, despite this, it is clear that they have consistently outperformed their peer group: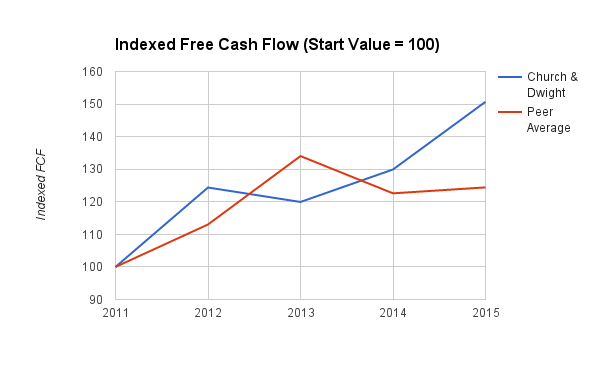 This strong performance is not surprising as they have managed to produce this cash flow incredibly efficiently. It managed not only to convert more of its revenue into FCF but also do so with lower levels of CapEx (hence the higher FCF/Operating Cash Flow value):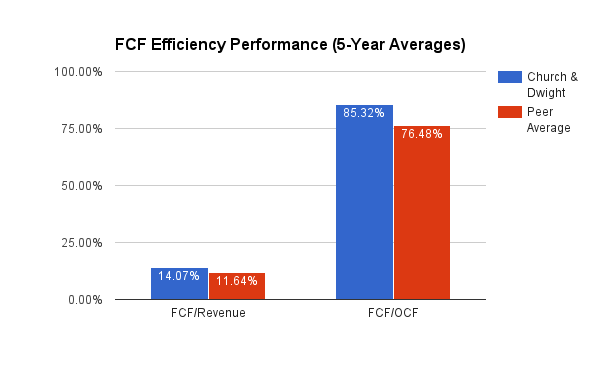 This is fantastic to see. Nonetheless, the company does underperform its high-flying peer group with respect to its cash generating efficiency.
This can be ascertained through its CROIC (cash return on invested capital). This is its FCF divided by the sum of its debt and equity. With a CROIC of 10% it would mean that it generates $10 in FCF for every $100 of capital invested in the business. A very attractive return indeed.
Church & Dwight does do well here but does underperform its peers: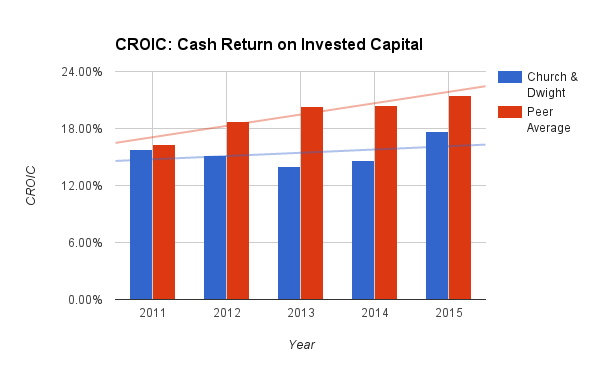 However, two things should be noted.
First, Church & Dwight's tendency towards fairly significant purchases depresses CROIC somewhat (debt and equity increase immediately, but cash flow takes a while to catch up).
Second, a CROIC near to 18% is very impressive. Indeed, it is well ahead of the 10% target which I see as a extremely attractive CROIC.
I strongly expect to see this grow over the coming quarters unless they undertake any particularly large acquisitions. This is something well worth watching.
Strong Debt Position
Church & Dwight also continues to be well-placed debt wise. Despite debt having risen by a massive annualized rate of 33% over the last five years (mostly between 2011 and 2012 when it went from $252 to $903 million) and equity having actually shrunk at an annualized rate of (0.18)% it has a debt-to-equity ratio of just 52%.
Despite this pretty sizable growth, the company remains fairly lightly leveraged. My favoured way of assessing a company's debt position is to look at their FCF coverage of their total debt. In Church & Dwight's case, they do very well on this front: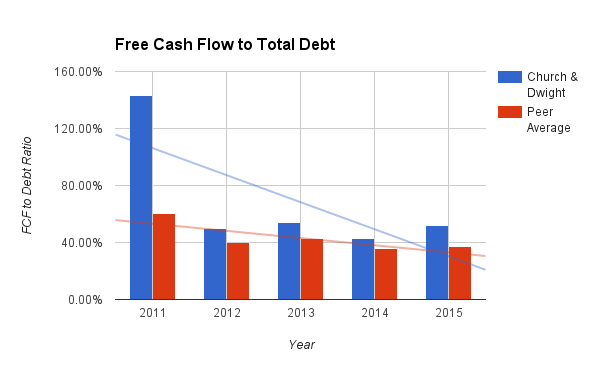 Despite this strong FCF coverage, though, they continue to sit below their peers regarding their credit ratings: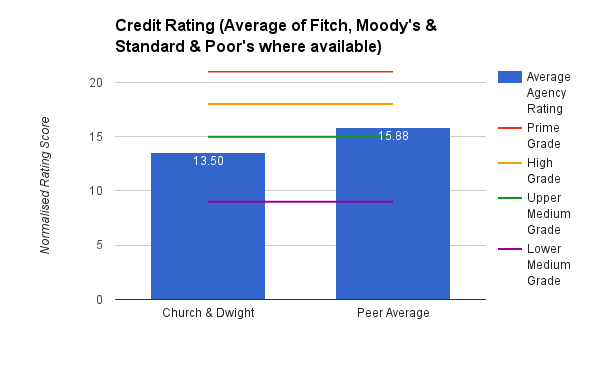 This is chiefly due to some of the threats I raised earlier in this piece. Lack of international exposure leading to over-exposure to US market and, in particular, specific customers (Wal-Mart).
This does not worry me unduly. The credit rating remains a strong lower medium grade. What is more, they are making moves to increase their international sales. This takes time, but they seem to be doing the right things right now.
Dividend Yield
Church & Dwight does also disappoint a little with regards to its dividend. Compared to its peers it has a fairly lowly present yield at about 1.56% as opposed to a peer average of nearly 2.9%: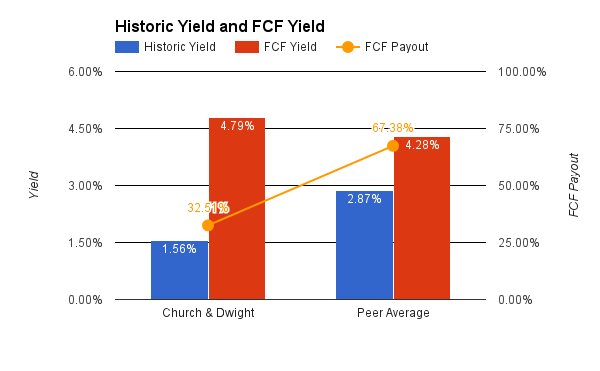 That being said, as you can see the FCF yield (that is, the yield if their entire FCF was paid out as a dividend) is higher than its peers reflecting its lower payout ratio and thus potential for more rapid growth than its peer group.
Indeed, if its payout ratio was in line with its peers it would yield 3%+. What is more, the dividend only tells a small part of the shareholder return story. Indeed, Church & Dwight has been increasing its shareholder returns.
Share repurchases
In recent years share repurchases have accelerated significantly. This was made even clearer in their Q4 2014 in January 2015 results, as they announced a further share repurchase authorization of $500 million: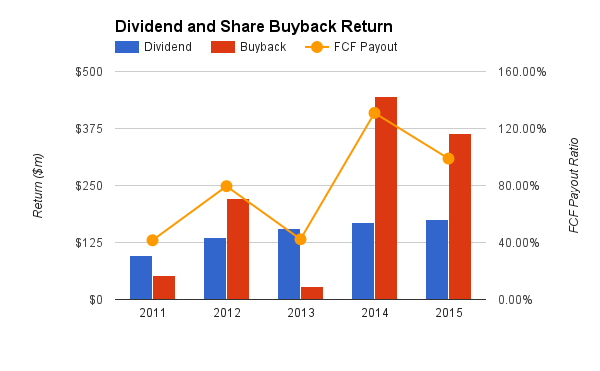 Since 2013 they have reduced the share count by over 8 million. In this time they have delivered quite significant amounts of cash to shareholders. Consequently, the shareholders' yield has looked pretty generous in the last couple of years: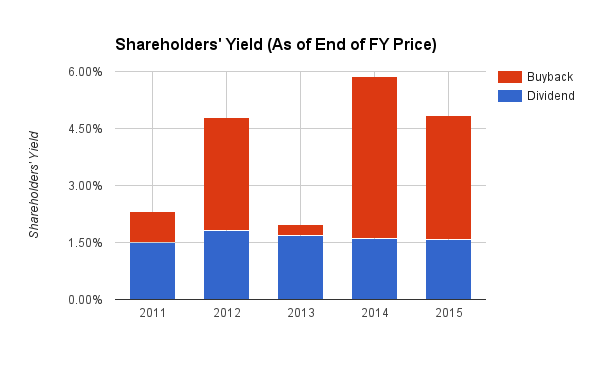 With the $500 million share repurchase authorization, the company suggested that it had "$200 million left for 2016" to utilize. There is still, therefore, more to come with perhaps a shareholders' total yield around the 3% mark in 2016. This seems pretty generous. However, it is still likely to be a weaker yielder in the near future than its peer group.
Valuation
As is the case for many of its consumer goods peers, Church & Dwight trades at quite a high premium to the market at present. Indeed, it is currently even trading at a premium to its peer average: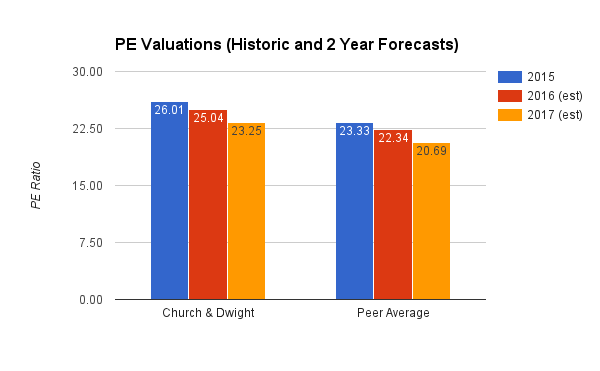 Clearly, Church & Dwight are set to have a slightly faster EPS growth profile over the next couple of years but it is not really enough to offset the hefty valuation gap currently in place. I can't help but think that it is unfairly overvalued compared to its peers considering its growth is set to slow more in line with its peer group in coming years.
Fair Value
So, what is its fair value?
I calculate my fair value by taking the consensus EPS predictions for the next two years and averaging them. Then I multiply this by the historic PE for the company over the last five years.
Over the last five years, Church & Dwight has averaged a pretty hefty PE of 24.9.
I am not certain that this valuation is quite justified. Over the last five years they have seen CAGR of about 9.8% in EPS and 12.5% for their dividend. This rate of growth is anticipated to slow in coming years to about 5.75% for their EPS and 6.5% for their dividend.
Despite this being expected to be ahead of its peers, I don't think it justifies the high valuation it has attracted in the recent past.
Clearly, its quality brands and stable earnings deserve a premium, but a PE of nearly 25 seems too much. To reflect the slower pace of growth expected I will adjust this down to a PE of 22.
Doing so provides me with a:
Basic fair value of $80.19
I then adjust by the amount of cash held on their books. Doing so provides us with a:
Cash-adjusted fair value of $82.71
For me this suggests a fair value range of between $80 and $84.
I like the business a lot, but it does look set to see growth slow which I am not sure is reflected in its premium valuation to its peers which are already also richly valued. Strong brands with excellent repeat purchase credentials as well as expansion into areas which should see secular growth going forward is all very attractive. However, I'd like to see the price drop a little further before being tempted myself.
Notes: The peer group in this article includes: Procter & Gamble (PG), Unilever (UL) (UN), Colgate-Palmolive (CL), Kimberly-Clark (KMB), Clorox (CLX), Reckitt Benckiser (OTCPK:RBGLY), Tupperware (TUP) and WD-40 (WDFC).
Unless otherwise stated, all graphs and tables and the calculations contained within them were created by the author. Creative Commons image reproduced from Flickr user jeepersmedia.