Background
This article updates one that I wrote about CareTrust REIT, Inc. (NASDAQ:CTRE) last fall. I noted in that article that CTRE, which is self-managed, "amply covers its dividend" but also is experiencing some "growing pains." Another author recently called CTRE a "REIT outlier," which is certainly true. CTRE is a new REIT that isn't among the usual suspects for REIT investors (such as, for example, Realty Income Corporation (NYSE: O) or Ventas Inc. (NYSE: VTR)). However, CTRE has promise, and may be worth occupying a niche in a well-diversified REIT portfolio.
CareTrust recently reported its fourth quarter and full-year 2015 earnings, so let's check in on how this health care REIT is has executed.

CareTrust Earnings Were Solid
I like to let the numbers guide me to a REIT's important issues. Invariably, doing so reveals the true nature of a REIT.
For the quarter, CTRE had normalized FFO of $0.25 and FAD of $0.27. For full year 2015, FFO was $0.94 and FAD was $1.04. It beat expectations for both FFO and revenue.
Let's compare the annual numbers first and look at the company's developing financial trends.
CareTrust Annual Financials
| Year | Total Assets | Total Rev | Div | FFO | FAD | Net Cash from Operating Activities |
| --- | --- | --- | --- | --- | --- | --- |
| 2014 | 482,572 | 58,897 | 33,001 | 14,853 | 16,559 | 21,906 |
| 2015 | 673,166 | 74,951 | 21,790 | 35,109 | 39,039 | 40,254 |
Source: CareTrust earnings press release. All amounts in $000s. Total Assets are as of 31 December.
A glance at the numbers shows a rapidly growing REIT with good metrics. The dividend is amply covered by both FFO and FAD, there is very solid cash flow. Total assets are up by about 50% in just a year, and total revenues had a healthy jump.
These types of increases are typical of a young REIT which is busy expanding into its niche. It has a profile similar to STAG Industrial, Inc. (NYSE:STAG), for instance. Thus, the next thing to look for is equity financing.
Share count increased from 22.788 million in 2014 to 37.380 million in 2015, so there is some dilution going on. Whenever I start discussing dilution, readers seem to get a bit antsy, but there's nothing wrong with equity financing. The test for the success of the strategy is whether or not the returns at the margin justify the decreased proportion of each share as a percentage of the shares outstanding. In other words, is the pie growing faster than the slices are shrinking? We'll reach a conclusion on that below.
During the 12 February 2016 conference call, Chairman/CEO Greg Stapley indicated that "a steadily increasing pool of quality targets" may lead to more dilution:
In fact in January, we boosted our existing shelf registration to $750 million in order to facilitate both our long term or long planned at the market program and to leave plenty of room to raise additional equity capital for growth if we needed and market conditions allow. So while we have no immediate plan to sell equity in the current market we will be ready if as and when prudence in pricing dictate.
Is the company actually finding good "quality targets"? The proof is in the pudding, as the saying goes, so let's zero in on the most important figures from latest quarterly results.
CareTrust Fourth Quarter Financial Performance

| Year | Revenues | Div / share | FFO / share | FAD / share | Earnings / share |
| --- | --- | --- | --- | --- | --- |
| 2014 | 16,077 | 0.125 | 0.25 | 0.28 | 0.03 |
| 2015 | 22,632 | 0.16 | 0.25 | 0.27 | 0.10 |
Source: CareTrust press release. All amounts in $000s except per share data, which is normalized. The Div / share excludes a special cash/stock dividend paid on 11 December 2014.
The fourth quarter numbers from 2014 to 2015 were remarkably stable. The dividend was well-covered in both years. What the numbers suggest to me is that the acquisitions funded by equity offerings that CTRE has been making have not hurt shareholders. The pie has been growing fast enough to keep each slice the same size even though there are now more slices.
The numbers show good execution. The company appears to be finding quality targets, as the CEO stated.
According to CFO Bill Wagner, the improvement in the numbers would look even better if you adequately account for the one-time "purging distribution" that took place on 11 December 2014:
FFO per share would have been $0.19 in Q4 last year compared to $0.25 in Q4 this year an increase of 36% and FAD per share would have been $0.21 in Q4 last year compared to $0.27 in Q4 this year, an increase of 32%.
Thus, CTRE's cash flow actually increased from the fourth quarter of 2014 to that of 2015 when you wring out the effect of that distribution. This is not something that you would realize just by looking at the final numbers.
CareTrust is reasonably priced by other measures. The current CTRE dividend of $0.16 per quarter at a recent closing price of $9.93 gives an annualized yield of 6.4%. That is a good yield for a dividend that is covered as well as that of CareTrust. The stock trades at a trailing multiple to 2015 FFO, which was $0.94, of 10.56x. I consider anything under 11x trailing FFO to be trading at a reasonable price.
CareTrust's Expansion is a Good Thing
One can look at the results for fourth quarters of 2014 and 2015 and point out that they haven't improved, so the expansion is not benefiting existing shareholders. However, expanding CTRE's asset base does benefit shareholders. Part of the reason lies in where CareTrust came from.
CareTrust was a spinoff from The Ensign Group Inc. (NASDAQ:ENSG) in June 2014. As with many such spin-offs, the Mission Viejo-based CareTrust was highly dependent upon its former parent company. As I noted in my previous article, CTRE derived 84% of its revenues from Ensign before some of its major acquisitions last year.
Being dependent upon any one company, even one with such close ties as exist between CareTrust and Ensign, is not good. Diversification of revenue streams means that you can survive problems in any of your clients. Thus, working that 84% number down is important for the long-term health of CareTrust, and it appears to be a priority for the company.
During the most recent conference call, CFO Dave Sedgwick said:
Let me just open my part by congratulating our primary tenant Ensign and another record year and quarter. Ensign is now down to 64% of our run rate revenue and we're pleased to have their solid leases, which cover at more than 2.05 times of the facility level of EBITDA.
CareTrust's expansion thus is enabling it to loosen its dependence upon Ensign, which as CFO Sedgwick pointed out is doing well. It is always good to hedge your bets, though.
In fact, after the close of the fourth quarter, Ensign closed one of its 180+ bed facilities with CareTrust. CEO Stapley noted:
In fact this is the first time they've ever done it in the entire history and while I can't predict the future, I'd be surprise if it didn't turn out to be last.
He said that CareTrust is looking at all of its options for the properties in question and that they are "already talking to" some interested parties about them.
CareTrust is continuing its efforts to diversify away from Ensign. CIO Mark Lamb noted during the call:
While we're always looking at dozens of opportunities, at present we're in serious negotiations for approximately $100 million of quality assets.
As noted during the conference call, CareTrust also recently received upgraded credit outlooks from both Moody's and Standard & Poor's. Annual run rate revenue is at $84 million, the company has plenty of borrowing authority if it needs it: an unsecured revolver up to $400 million with another $250 million accordion as necessary. The company has plenty of potential liquidity ready and waiting with its $750 million shelf registration. What all this boils down to is that CareTrust has the means to take advantage of good opportunities created by a weak market and continue growing the pie.
Looking Ahead
The company gave guidance for 2016 in its earnings press release.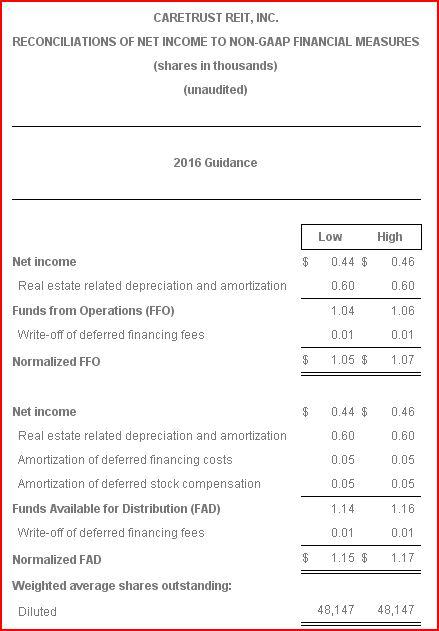 If normalized FFO for 2016 meets the midpoint of the company's guidance at $1.06, that would be an increase of 12.8% over 2015. If normalized FAD was $1.16, that would be an increase of 11.5%. Based on a recent share price of $9.93, CareTrust would is trading at a forward multiple to 2016 FFO of 9.36x, which is quite reasonable.
Valuation
Analysts are bullish on CareTrust, with a consensus Buy recommendation. CTRE is only followed by four firms, which is good for those looking for value. A good general rule of thumb is that stocks which are followed by fewer than six major firms are under-covered and may represent hidden value. The overall consensus of analysts is that CareTrust represents a good value at current levels:
Canaccord Genuity reissued a "buy" rating and set a $15.00 target price on shares of Caretrust REIT in a research note on Monday, October 26th. BMO Capital Markets started coverage on shares of Caretrust REIT in a research note on Thursday, January 14th. They set an "outperform" rating and a $12.50 target price on the stock. One research analyst has rated the stock with a sell rating and five have issued a buy rating to the stock. The company has an average rating of "Buy" and a consensus target price of $13.40.
Insiders have been bullish on the stock, and their transactions have been mostly purchases over the past year. The last insider transaction was a purchase during November 2015.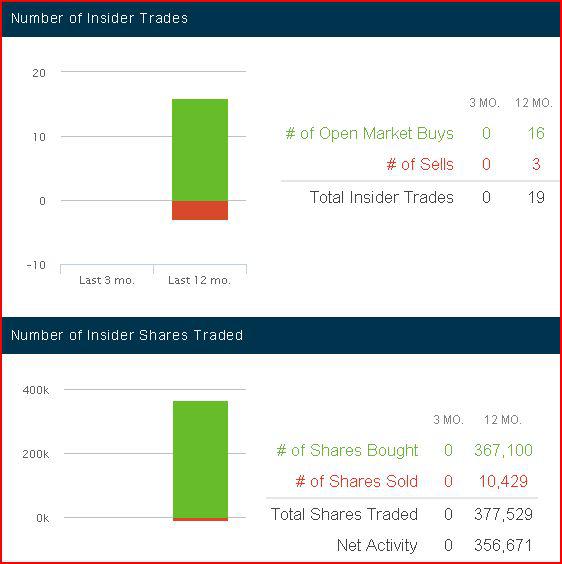 Source: Nasdaq.com
Short interest is reasonably average at six days to cover as of the end of January 2016. Institutions, led by Vanguard Group Inc. and Wasatch Advisors Inc., own 75% of the total shares outstanding, which is more than average and relatively high for such a new company. Institutions have been adding positions and increasing their existing positions, which is a good sign.
CareTrust has been subject to the same pressures that have hit other REITs. It was trading in the teens as recently as last summer, and is trading around its all-time lows.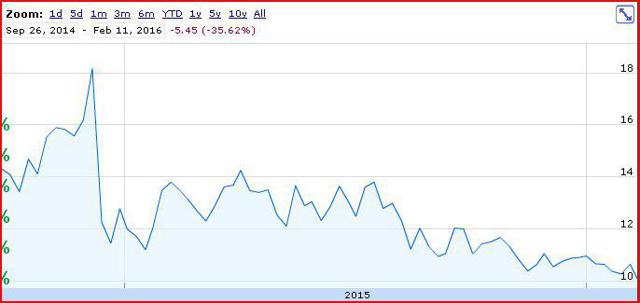 Chart of CTRE October 2014 - present.
To some extent, all REITs currently are held hostage to the Fed and its view of the economy. In addition, players in the health care field are subject to lingering doubts about the permanence of the Affordable Care Act, especially given its rhetorical prominence during the current election season.
Smaller may be better when looking to start a position in a health care REIT these days. As CEO Stapley said during the conference call, changes in the health care field are a reality, but "smaller, better, more local, more nimble operators" such are CareTrust are poised to benefit:
So this is not a revolutionary change that the skilled nursing industry is undergoing. It's an evolutionary change. It is not a big surprise. It has been coming and it's those who have been willing to look have seen it coming from far off and have made adjustments and they're ready for it.
Based on traditional measures such as ability to cover the dividend, low multiple to cash flow, and liquidity, CareTrust appears to be a good value at current levels.
Conclusion
This article updates my previous review of CareTrust REIT. The company's most recent earnings show that CareTrust continues to execute well and amply covers its dividend. It is not one of the better-known REITs, but it pays a generous, sustainable dividend and appears ready, willing and able to take advantage of opportunities as they appear. If you are looking for a reliable dividend payer with good growth prospects, you could do a lot worse than CareTrust REIT.
Disclosure: I/we have no positions in any stocks mentioned, and no plans to initiate any positions within the next 72 hours.
I wrote this article myself, and it expresses my own opinions. I am not receiving compensation for it (other than from Seeking Alpha). I have no business relationship with any company whose stock is mentioned in this article.