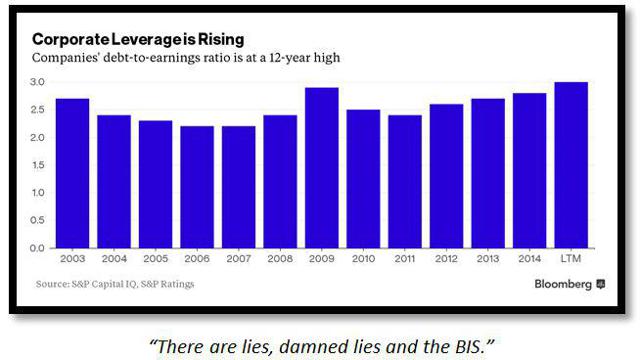 (Source: Bloomberg - link)
When the Bank for International Settlements (BIS) opined that America has recovered faster than the other developed nations, because it embraced debt liquidation the first, something didn't quite sound right. The state of corporate leverage in America suggests that leverage was actually embraced, instead of debt liquidation, when the Fed embraced QE. There was therefore no Neoclassical debt liquidation phase. Corporate America leveraged up in response to abundant liquidity and low interest rates. Refinancing and increased leverage may therefore be the secrets of apparent relative American outperformance. The question now on observers' minds, is how a highly leveraged real economy can sustain both a global economic slowdown and the rise in interest rates from the Fed. The recent behaviour of American equities suggests that there is a growing consensus that these headwinds do not sit well on leveraged balance sheets.
Dallas Fed President Robert Kaplan, who defines himself and those on the FOMC like him as "Centrist", was the first FOMC member to speak after the latest meeting. He provided greater clarity on what being a "Centrist" means; and by so doing gave a clearer context to the reasoning behind the recent FOMC decision to stand pat.
Far from inspiring confidence, he said that the Fed is in effect clueless as to what is going on at the moment. It still cannot decide if the fall in oil prices is either a tailwind or a headwind. According to him, the reason for standing pat is that "we are going to take some time here to understand what is going on". Those who interpreted this as meaning that the Fed knows what is happening and assumes that falling oil prices are a headwind, that requires an easing in monetary policy, have made a mistake.
A "Centrist" is an individual who does not understand what is going on; and is neither afraid to say so nor to take some time to understand the situation fully. The candour of the "Centrist" is refreshing, even if it is not directly helpful.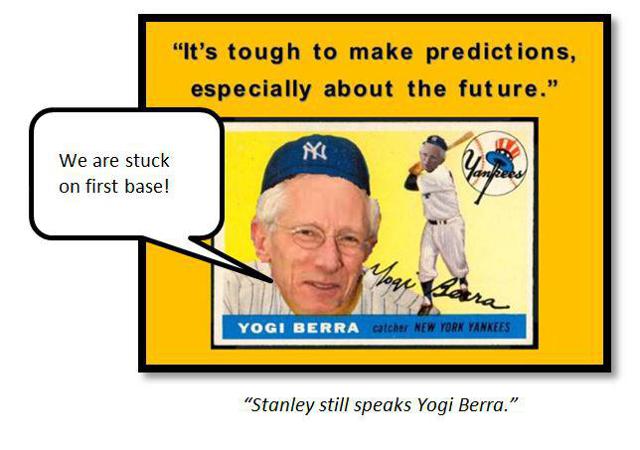 (Source: Seeking Alpha)
Kaplan's opinion was reiterated by Vice Chairman Stanley Fischer, who felt the need to say that current volatile market conditions may or may not have a negative impact on the real US economy. Psychologically at least, the Fed has been shaken by what happened in January; and is in need of a pause to assess the damage to its normalization strategy.
Fischer also seems to have his eyes on the developed nation developing interest rate term structural trend towards negative interest rates. In his opinion there is some merit in this policy tool, although it needs more investigation. Whilst the Fed investigates, the universe of negative yielding bonds grows ever larger; via a combination of flight to (alleged) quality and central bank QE buying.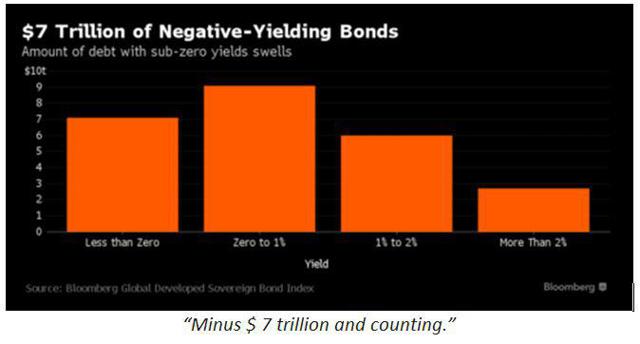 (Source: Bloomberg)
The Fed will therefore embark on an investigation of negative interest rates, by obliging the Federal Reserve System banking members to stress test for them. The Fed has made it clear this scenario should have a unique condition "that the adjustment to negative short-term rates proceeds with no additional financial market disruptions." This condition seems extremely hypothetical as well as academic. It's hard to foresee a scenario in which a move to negative interest rates does not come with "additional financial market disruptions".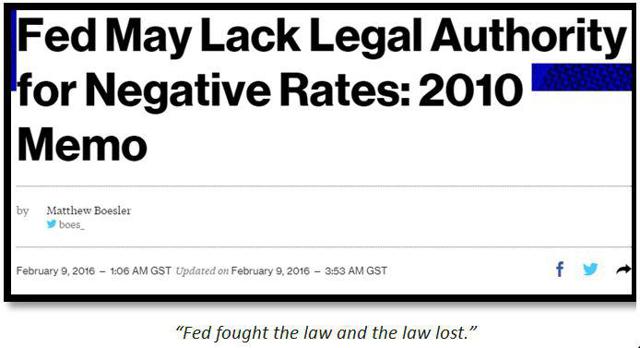 (Source: Bloomberg)
To confirm that negative interest rates are now being discussed, the Fed leaked a disclaimer. According to a re-release of something that appeared on the Fed's website in 2010, when it was scratching round for unconventional policy tools, the Fed may not have the legal authority to administer negative interest rates. Janet Yellen's recent testimony supported the view that the legality issue needs further investigation. If, however, negative rates are forced onto the Fed by global capital market flows, it seems unrealistic to apply any Federal jurisdiction in this situation.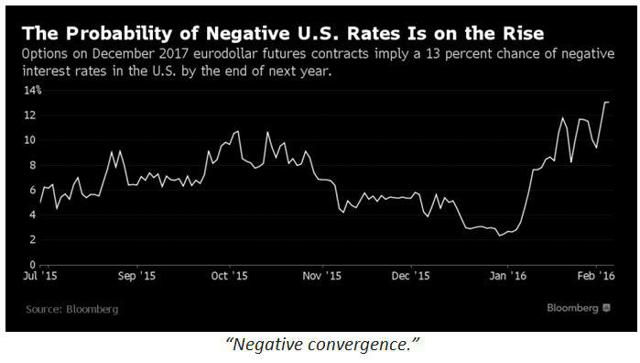 (Source: Bloomberg)
As the Fed has also said that it disavows such negative policy action at this point in time, the situation is even more bizarre. What the Fed seems to be indicating is that the search for relative value in a global universe, where an expanding part of the universe has negative interest rates, may drag US yields into negative territory. Wall Street, where the search for relative value drives the flows, is even more convinced that this negative yield convergence is the next wave.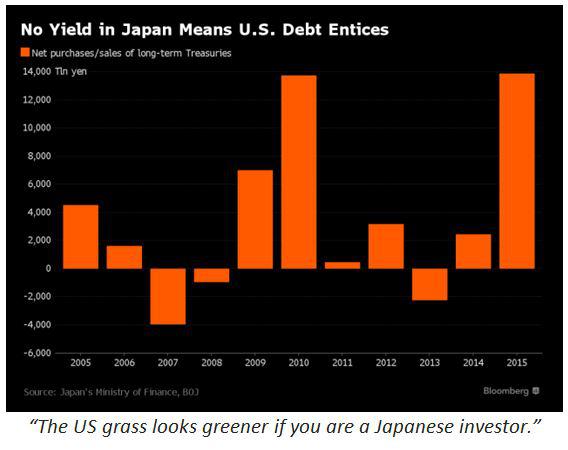 (Source: Bloomberg)
Recent Japanese Ministry of Finance (MOF) data show that Japanese investors bought the most US Treasuries on record since 2005. The Fed is moving to anticipate the reality that QQE in Japan and expanded QE from the ECB, will drive US Treasury yields negative. The ECB and the BOJ are therefore easing for the Fed already, even before it has officially started.
Kansas City Fed President Esther George can see right through the current market volatility and the creeping global negative interest rate picture. She understands that the two will suck liquidity from the global economy into the US economy, in rather the same way that Euros are being sucked from the Eurozone into Germany. The arriving liquidity in the US economy and capital markets is therefore an economic stimulus.
George is comfortable only looking at the US end of the liquidity pipe; and responding by raising interest rates to cool the economy and asset prices. What she does not seem to understand is that this will simply suck in more global liquidity, which presumably she will then make worse by raising interest rates further.
This simplistic view does not give George the credit that she deserves however. Perhaps what she is trying to do is to force positive interest rates onto the global economy, rather than accept negative rates from it. Countries that are losing capital must attract it back with higher interest rates. If these higher interest rates weaken asset prices, then the attractiveness is even greater. George is simply signaling that she is more Freshwater School than Saltwater School when it comes to dealing with economic theory. She is, however, in a minority.
Fed Governor Lael Brainard and New York Fed President Bill Dudley have been influenced more heavily than their FOMC colleagues by the recent volatility in global markets. Brainard advocates "watchful waiting". Janet Yellen confirmed that this negative influence is contagious, during her recent testimony. Multiple rate hikes are off the table for now in her opinion, given the market conditions. She did however affirm that her bias is still towards tightening.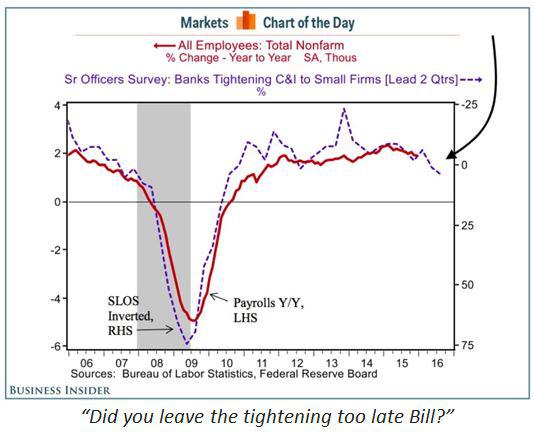 (Source: Business Insider - link)
New York Fed President Dudley has gone even further and believes that current liquidity conditions are "considerably tighter" than they were in December 2015 when the FOMC tightened. He seems to have taken specific interest in the latest Federal Reserve Board Senior Loan Officer Survey; which shows tightening credit and weaker demand for it going into year-end 2015. Dudley must now be careful to avoid sending the potential signal that the FOMC tightened just as the economy started to go into reverse.
From their views one can infer that if current market conditions remain the same or deteriorate that Brainard and Dudley will not vote for another rate increase this year.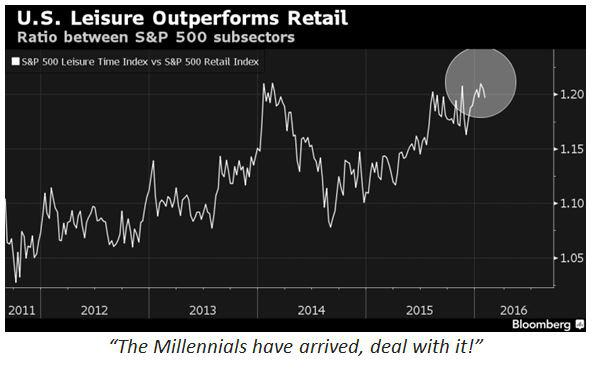 (Source: Bloomberg - link)
The last report noted the current crisis in developed market central banking, aka the failure to achieve the 2% inflation target. Just to complicate things, 2015 looks like the year that the Millennial generation started to take over leadership of the economic forces that the Fed is monitoring. Fortune 500 companies have started implementing their generational succession planning across all operations. Even the consumer discretionary sector of the stock market is feeling the force of the Millennials.
Millennials' perceptions of the economy will also be influenced by their indebtedness thanks to student loans; and their relative lack of assets. Baby Boomers, on the other hand, are relatively asset rich. Both demographics have substantial private debts; whilst the Millennials will also be expected to pick up the legacy of high fiscal debts bequeathed to them by the Baby Boomers. The potential for intergenerational political and economic conflict therefore needs to be understood and reflected in balanced economic policies. The partisanship and populism in the current political process, would seem to be fertile ground for intergenerational conflict. What is currently lacking is a voice and platform that is representative of the Millennials. The sooner this can be created, the smoother will be the dialogues and thus the lower the probability of conflict.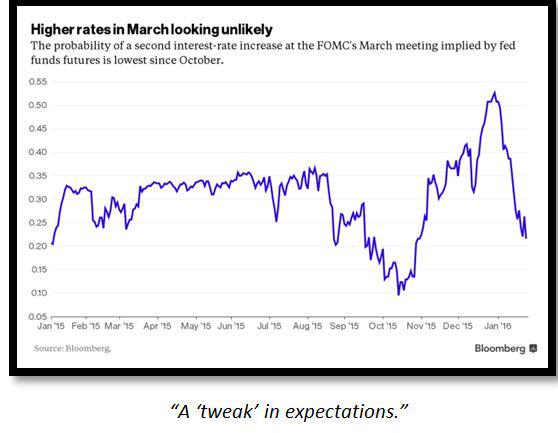 (Source: Bloomberg - link)
The last report suggested that the Fed would wait for the current market volatility to subside and check its impact on real economic data, before embarking on further tightening. For some of those in the markets however, the recent volatility equates to at least four rate hikes this year already. This emerging consensus thus puts the Fed on hold in March and maybe for much longer. The new consensus in a recent CNBC survey now sees the next rate hike in May.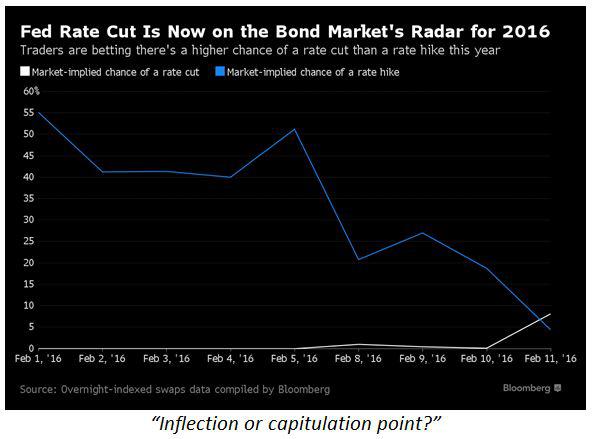 (Source: Bloomberg)
At the extreme end of consensus forming there is also a significant developing consensus, discovered through real-time price action, that now assumes the probability of a rate cut this year is higher than a rate increase. Faced with such a warning signal, the FOMC has no other choice than to be patient and flexible. This could be an inflection point. Only subsequent price action will tell.
Disclosure: I/we have no positions in any stocks mentioned, and no plans to initiate any positions within the next 72 hours.
I wrote this article myself, and it expresses my own opinions. I am not receiving compensation for it (other than from Seeking Alpha). I have no business relationship with any company whose stock is mentioned in this article.