Excellent Income Opportunity in Frontier Communications
For a bit more than a year and a half now, I have been generating decent income from dividends and option premiums on AT&T (NYSE:T). My approach has been to buy the stock and sell out of the money calls with expiration dates about 6 to 8 weeks out. I avoid expiration dates within two weeks or so of the anticipated ex-dividend date. Should assignment appear imminent, I either roll it over to the next cycle or simply let it be assigned and sell puts on a similar schedule. With this approach I have about tripled T's already outstanding dividend yield (currently 5.3%).
This has worked well enough that I've been looking for other, comparable plays. The telecommunications industry, with its high dividends and modest growth expectations, lends itself well to this strategy. One prospect that caught my attention is Frontier Communications (NASDAQ:FTR). Frontier has seen some rough going recently but its falling stock price, which has dropped 50% over the past year, has not been accompanied by a dividend cut, nor does one appear to be on the near- to mid-term horizon. The upshot is that FTR is paying a 9.9% dividend (based on last week's closing price of $4.24/share and its $0.105 quarterly dividend) and that dividend looks to be safe, or at least as safe as a 10% dividend can be expected to be. One can make a solid case for owning FTR for that dividend alone. But as I'll describe, that dividend can be more than doubled with a covered-call strategy.
Let's start with the share price. At $4.24, FTR is priced 11.3% above the stock's 52 week low and 50% of its 52 week high.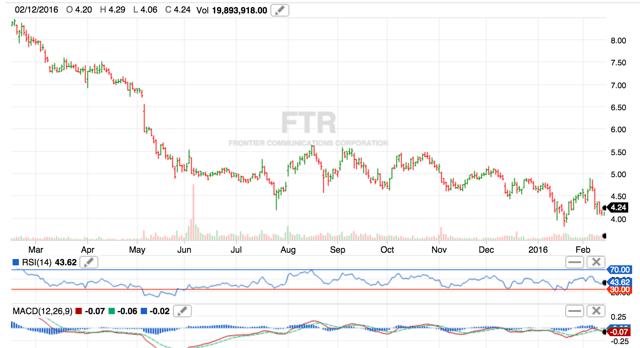 Morningstar sets its fair value for FTR at $6 and analysts' ratings tend toward a buy recommendation with a median 12-month target of $6.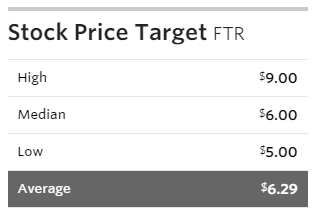 Plus, the 10% dividend helps set a floor on how low the stock will drop from here. If we accept that the dividend will remain stable, I suggest that the stock will continue to trade above the $4.00 to $4.25 range.
So, is reasonable to expect a stable dividend?
Prior to 2009, the dividend had been stable at $1 for several years. Then there was a series of cuts, culminating in a 47% drop in 2012, from $0.75 to $0.40, where it remained until 2015 when FTR gave shareholders a 5% raise. For the past four quarters, the stock has paid $0.105. On Monday morning, Frontier announced the first quarter 2016 dividend will hold at $0.105 and the stock goes ex-dividend 9 March. The 5% uptick in the dividend is an encouraging indicator of Frontier's commitment to maintaining and even growing its dividend in the coming years.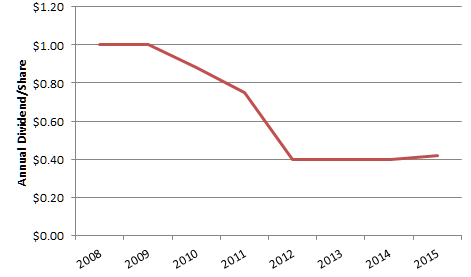 Recent Acquisitions
Frontier is the dominant phone company in the areas it serves, which tends to be smaller markets. But competition from wireless service and cable companies has weakened FTR's position, especially in the residential market. Business customers do provide a more stable base, however. This weakening is the basis for FTR's decline.
The company has completed a $2B acquisition of AT&T Connecticut's wireline, fiber network and U-verse operations, and is currently working to close a $10.5B acquisition of Verizon's (NYSE:VZ) wireline assets in three states. The equity portion of the Verizon acquisition is being financed by issuing common stock (150 million shares at $5/share) and $1.75B of mandatory convertible preferred stock, effectively doubling the number of shares currently outstanding.
A Covered-Call Income Strategy for FTR
At last week's close, 20 May 2016 $4.50 calls were priced at 0.25/0.30 with open interest at 2123 contracts. At the 0.25 ask price, this is the equivalent of more than two quarters' dividend for the 94 days from option sale. If one sells the calls, the likely outcome is to collect the anticipated March dividend of $0.105 plus the $0.25 premium. This is an 8.4% income yield for a quarter or 32.5% annualized.
If the call is assigned in May, there's an additional $0.26/share capital gain for a total gain of 14.5% (56.3% annualized).

If the share price remains under $4.50, one can sell August calls (likely at a $4.50 strike again) and repeat the cycle. If the stock is assigned, I'd consider selling OTM puts for additional income with one of two expectations: taking assignment if the share price falls below the put strike and once again selling calls, or selling puts again if the stock is not assigned. As an indicator of what one might expect, the current 20 May $4.00 put has a bid/ask spread of 0.35/0.45.
The risks here are obvious. The first is if FTR once again cuts the dividend. With Monday morning's announcement, that threat is off the table for the current cycle. I'm inclined to think that a cut is unlikely any time soon given the increase of a year ago, but at a 10% yield, it certainly could happen if the stock continues to slide.
The second risk comes if share price continues to plummet. A modest drop, one that keeps the price above $4.00, should not interfere with the successful generation of income using this strategy. The key will be timing the sale of the next cycle's call option to an uptick that brings the premium to near $0.20 or so for a strike close to 3 months out. Deeper cuts will, of course, be costly, but unless there is a dividend cut, that seems unlikely.
A final risk is the opportunity cost of a sharp upward move in the share price, which would be missed when the stock is assigned with only a modest gain from the purchase price. But this is not a strategy for capital growth from the share price; it is designed to generate high income at minimal rise. Furthermore, a marked rise, say to $5 or above, is in my view an unlikely scenario, but even if that should occur, one still collects the dividend, the premium and the capital gain for a quite profitable trade.
Disclosure: I am/we are long T, FTR.
I wrote this article myself, and it expresses my own opinions. I am not receiving compensation for it (other than from Seeking Alpha). I have no business relationship with any company whose stock is mentioned in this article.
Additional disclosure: I am also short T and FTR calls. I wrote this article using stock and option prices through Feb 12 with a brief update to note the Feb 16 announcement of current dividend information. This article does not constitute investment advice. I am passing along the results of my research on the subject. Any investor who finds these results intriguing will certainly want to do all due diligence to determine if any security mentioned here is suitable for his or her portfolio.