Textainer (NYSE:TGH) reported Q4 earnings on February 11 with both revenue and EPS ($129.3M and $0.22) being lower than consensus estimates ($132.1M and $0.42). For reference, the revenue and EPS in Q4 2014 were $143.6M and $0.77.
Headwinds including weak container demand, low container price, cheap financing, and increased competition continued to weight on market per diem rate, leading to a low capex level of $86M in the quarter, a year-over-year decrease of 74% from $326M in Q4 2014. Owing to the lower number of purchased containers and increased returns from customers that were put into resale, the company ended the year with flat net book value of revenue-generating assets relative to prior year. Average utilization rate dropped to 95.7% in the quarter from 96.4% in Q3 2015 and 97.4% in Q4 2014, resulting in higher storage costs.
Impairment charge relating to containers held-for-sale had a significant impact ($0.24) on EPS. Given the increased container returns from shipping lines and low per diem rate for re-leasing the used containers, some of the returned containers were put into resale, which is expected to yield a high return than re-leasing. As such, the values of these held-for-sale containers were marked down to price that they expected to realize, resulting in the impairment charge. In earnings call, management indicated that a similar level of impairment would be expected in 2016 should the current weak market condition persist.
In Q4, management saw the price for both new and used containers continuing to decline. Nonetheless, my view is that the new container price may be near or at the bottom based on the following hints:
1) Management noted that the rate of decline for new container price has slowed down.
2) TGH's data shows that the current new container price (below $1,400) is slightly below manufacturing cost.
3) New container inventory at factories continues to decline and is now ~770,000 TEU. Management noted that ~510,000 TEU of the total is leasing company inventory, which represents just 2 months demand under normal market condition.
4) Price of steel in China, which accounts for ~90% of input costs for a container, has recovered from its trough in late 2015 and appears to have stabilized since the beginning of 2016.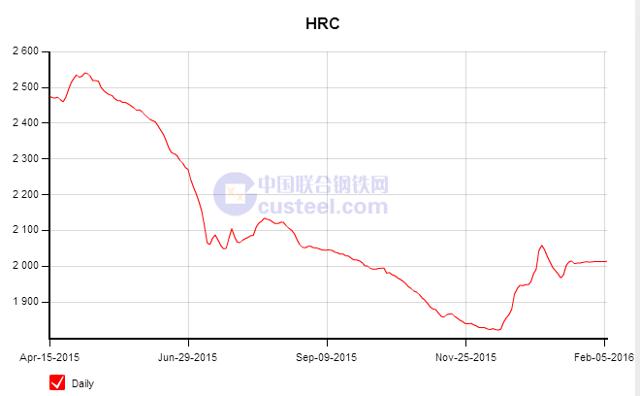 As market per diem rate has dropped below the contracted rates for TGH's existing leases, a key concern is TGH's near term re-leasing risk. The company will have 8.5% (~200,000 CEU) and +6% (~160,000 CEU) of its fleet coming off leases in 2016 and 2017, respectively. Re-leasing these containers at the current market per diem rate will have material impact on both top and bottom lines. According to the following chart, the contracted rates for leases expiring in 2016 and 2017 are ~$0.73 per CEU and ~$0.65 per CEU, respectively. Assuming the current market per diem rate to be $0.40 per CEU (based on 5-year weighted average new build rate of $0.41 as at December 31, 2015, which is disclosed by the company), re-leasing these containers at $0.40 per CEU will have negative revenue impact of approximately $24M and $15M per annum, respectively. However, the actual impact could be lower because:
1) TGH is typically able to re-lease the containers at above prevailing market rate owing to favorable return provisions and lessee's intention to keep containers rather than incur additional effort and expenses of returning containers (see the second chart below); and
2) Management has a disciplined approach to re-lease or sell the containers in order to maximize the return.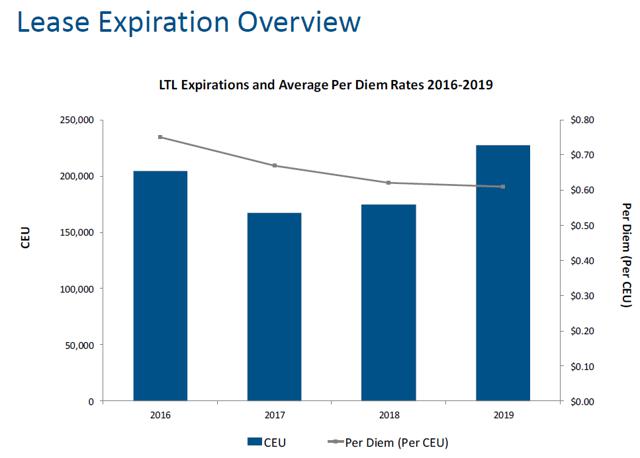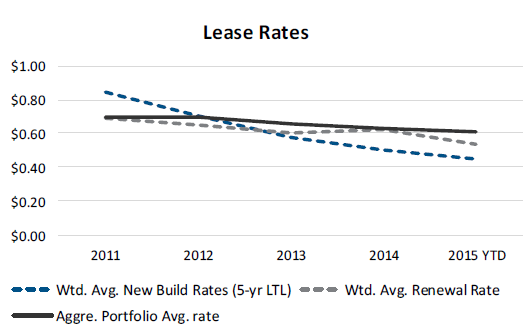 A silver lining remains to be the company's strong cash flow generation. In 2015, the company managed to increase its operating cash flow to $370M (see chart below). This represents 2% growth from $363M in 2014 despite revenue falling by 4% year-over-year.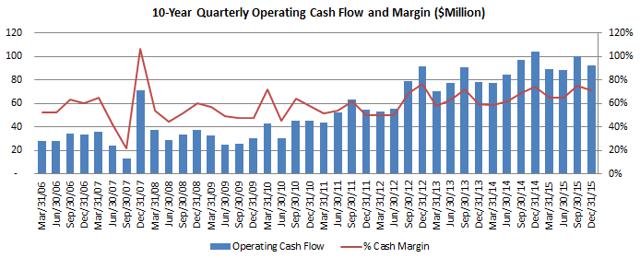 For 2016, consensus view expects total revenue to be $503M. Assuming a 65% operating cash flow margin (compared to an average of 69% in 2015), the company could generate $300M+ operating cash flow in current year, which should comfortably cover the current annual dividend obligation of $55M and the $100M share repurchase program. Supposing a 75% loan-to-value ratio (compared to 3-year average of 76%), the remainder operating cash flow (i.e. after deduction of $55M dividend and $100M share repurchase) can support $700M+ capex in the year without even accounting for proceeds from container resale. As management has indicated that the company's capex in 2016 would be similar to the level in 2015 ($500M) if current headwinds persist, the analysis suggests TGH would have sufficient liquidity to make extra capital spending if market condition turns better.
On macro side, Maersk in its recent earnings call indicated that containerized trade growth would likely be 1% to 3% in 2016, which TGH management views to be insufficient to drive a recovery in container leasing industry in 2016. Although I believe container price may have stabilized, I do not see any upside catalysts that could cure market's weak sentiment. As such, with shares yielding 11% dividend and trade at 60% discount to book value, which is even lower that its level back in 2009 financial crisis (see chart below). Contrarian investors who can tolerate significant price volatility may consider adding positions as I believe the current share price is below intrinsic value given TGH's strong cash flow profile. For others, staying on the sideline would be a better option until recovery evidence emerges.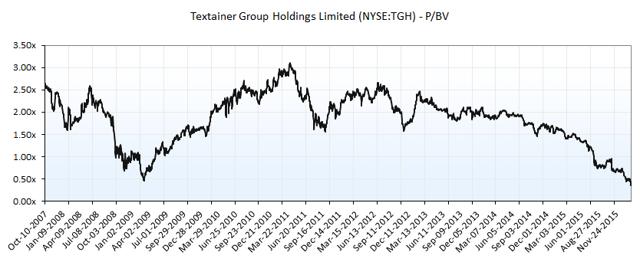 All the data presented in the above charts and the article is sourced from Capital IQ as well as company filings, presentations, and earnings call transcripts, unless otherwise noted.
Disclosure: I/we have no positions in any stocks mentioned, but may initiate a long position in TGH over the next 72 hours.
I wrote this article myself, and it expresses my own opinions. I am not receiving compensation for it (other than from Seeking Alpha). I have no business relationship with any company whose stock is mentioned in this article.