Last week, we received an 8-K filing from Amazon (NASDAQ:AMZN) that contained the details of a share repurchase plan. The announcement of this plan sent Amazon shares higher, helping to reverse the recent drop seen in the chart below. While investors usually love these buyback announcements, this plan isn't what it seems.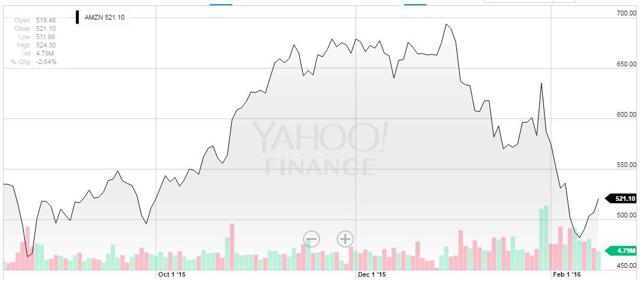 Amazon's filing included some news about the board of directors, but that wasn't what many focused on. Here is the part about the buyback detailed in the linked filing above (bold is mine).
On February 10, 2016, the Board of Directors authorized the Company to repurchase up to $5 billion of the Company's common stock. The program allows the Company to repurchase its shares opportunistically from time to time when it believes that doing so would enhance long-term shareholder value. The repurchase authorization does not have a fixed expiration. Purchases may be effected through one or more open market transactions, privately negotiated transactions, transactions structured through investment banking institutions, or a combination of the foregoing. This stock repurchase authorization replaces the previous $2 billion stock repurchase authorization, approved by the Board of Directors in 2010.
So this $5 billion plan is just a replacement for the prior plan, not an increase. What is the significance of that? Well, look what Amazon reported in its most recent 10-K filing, just a few weeks earlier:
In January 2010, our Board of Directors authorized the Company to repurchase up to $2.0 billion of our common stock with no fixed expiration. We have $763 million remaining under the $2.0 billion repurchase program.
Amazon has already repurchased more than $1.23 billion worth of shares! So when you look at the $5 billion plan, it is already more than a quarter complete. Thus, my reading of these filings means that Amazon is really only announcing a $3 billion increase to its prior buyback, which had $763 million left. That's a significant difference from what a $5 billion headline looks like.
That's just part of the story. Amazon, like most companies, gives out a lot of shares to its executives via stock-based compensation. This way of paying (and rewarding through bonuses) executives and key employees results in dilution, meaning an increase in a company's outstanding share count. Amazon's original buyback was announced in early 2010, so I put together the following chart to show the rise in the share count since the end of 2009.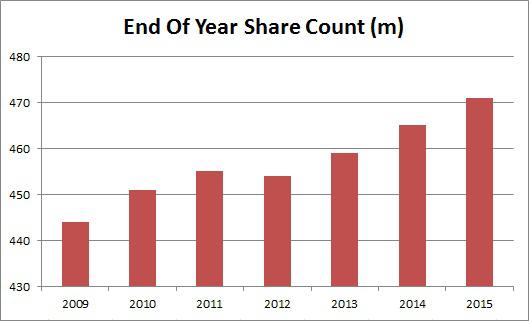 Source: Amazon 10-K filings page
Over this time period, despite the shares that Amazon has bought back already, the outstanding share count rose by more than 6%. The situation has gotten more dramatic in recent years, and that's due to a major rise in stock based compensation. If we take a look at page 38, the cash flow statement, of the 10-K filing linked above, Amazon gave these numbers for stock based compensation:
2013: $1.134 billion
2014: $1.497 billion
2015: $2.119 billion
So in just two years, stock-based compensation nearly doubled. I don't think that process is going to reverse anytime soon. In fact, we can look at Amazon's earnings reports page to get more detail. For Q1 2015, the company guided to $450 million worth of stock based compensation and the amortization of intangible assets. For Q1 2016, that figure is up to $600 million. Even if stock based compensation only rises by the current roughly 21.2% that analysts are forecasting for revenue growth this year, you're still looking at almost $2.6 billion.
That gets me to my final point, and it is about timing. Amazon didn't give a fixed date for when this program will end, or detail how much it plans to repurchase in any given time. It could take a number of years for the company to buyback the nearly $4 billion that's left, which means the share count could rise further. That makes Amazon's plan more of an "offset dilution" plan than a true stock buyback, which aims to get the share count down. This isn't like a program you currently see at Apple (NASDAQ:AAPL), for example.
While Amazon may have announced a share repurchase plan recently, investors shouldn't really find it meaningful. There's only a few billion dollars involved, which won't make a dent in the nearly $250 billion market cap stock. Additionally, with the company pouring out plenty of shares to executive, Amazon's plan will likely just stop the share count from rising further, not send it lower. If you are interested in buying Amazon, buy it for potential revenue and earnings growth, not the buyback.
Disclosure: I/we have no positions in any stocks mentioned, and no plans to initiate any positions within the next 72 hours.
I wrote this article myself, and it expresses my own opinions. I am not receiving compensation for it (other than from Seeking Alpha). I have no business relationship with any company whose stock is mentioned in this article.
Additional disclosure: Investors are always reminded that before making any investment, you should do your own proper due diligence on any name directly or indirectly mentioned in this article. Investors should also consider seeking advice from a broker or financial adviser before making any investment decisions. Any material in this article should be considered general information, and not relied on as a formal investment recommendation.