This article analyses some of the key facts and trends revealed by 4Q15 results reported by Buckeye Partners L.P. (NYSE:BPL).
BPL's business segments are described in a prior article. As of 4Q15 it operates in three (rather than four) segments having merged the Development & Logistics segment into the Pipelines & Terminals segment. The other two segments are Global Marine Terminals and Merchant Services.
BPL's management uses Adjusted EBITDA, a non-GAAP financial metric, to evaluate each business segment's overall performance and rates of return on proposed projects. Adjusted EBITDA excludes: a) non-cash expenses such as depreciation and amortization; b) unit-based compensation expenses; and c) items that management deems not indicative of core operating performance results and business outlook.
Adjusted EBITDA by segment in 4Q15 is up 9.4% in absolute dollar terms, vs. 4Q14, and up 7.6% on a per unit basis, as shown in Table 1. Losses from natural gas storage operations previously categorized as discontinued operations and disposed of on 12/31/14 are excluded from the table. Also excluded from Adjusted EBIDA is a $40 million reduction in revenue and EBITDA recorded in 4Q14 in the context of a settlement with the Federal Energy Regulatory Commission (FERC) of complaints to FERC by several airlines operating out of airports in the New York area about BPL's pricing practices.

Table 1: Figures in $ Millions (except per unit amounts and % change). Source: company 10-Q, 10-K, 8-K filings and author estimates.
Overall results for 4Q15 and 2015 are impressive, especially given market conditions.
The Global Marine Terminals segment was the principal driver of the improvement in 4Q15 performance over 4Q14. This segment benefited from strong customer demand resulting in average capacity utilization of 98%, vs. 90% in 4Q14 and renewal of expiring contracts at higher rates. The favorable comparison to 4Q14 was also driven by a $10.4 million increase in contributions from marine midstream assets located in Corpus Christi and the Eagle Ford play acquired in September 2014 ("Buckeye Texas Partners", previously called Trafigura).
A comparison of full year 2015 to 2014 Adjusted EBITDA looks favorable also because of the 2Q14 loss at Merchant Services. The swing accounts for ~$30 million of the $105 million year-over-year increase in Adjusted EBITDA.
To derive Distributable Cash Flow ("DCF"), BPL deducts from Adjusted EBITDA cash interest payments, taxes and maintenance capital expenditures. Table 2 shows DCF, distributions and reported coverage ratios: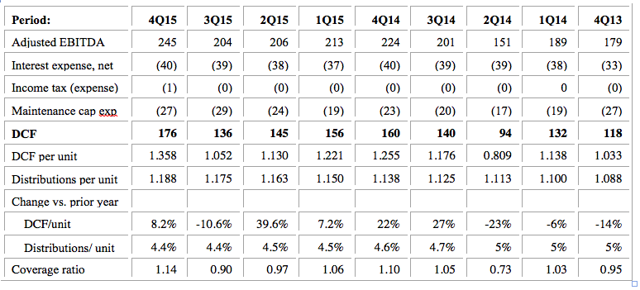 Table 2: Figures in $ Millions (except per unit amounts and % change). Source: company 10-Q, 10-K, 8-K filings and author estimates.
The second and third calendar quarters are typically seasonally weaker; hence the lower coverage ratios. Stronger performance is typical of the first and fourth calendar quarters due to the seasonal rebound in heating oil margins and butane blending opportunities.
In 2015, DCF increased 16.3% in absolute dollar terms and 8.4% on a per unit basis vs. 2014. Distributions per unit increased at a slower pace (4.5%) resulting in an improved coverage ratio of 1.02x vs. 0.96x for 2014.
DCF is one of the primary measures typically used by a midstream energy master limited partnership ("MLP") to evaluate its operating results. Because there is no standard definition of DCF, each MLP can derive this metric as it sees fit; and because the definitions used vary considerably, it is exceedingly difficult to compare across entities using this metric. Additionally, because the DCF definitions are usually complex, and because some of the items they typically include are non-sustainable, it is important (albeit quite difficult) to qualitatively assess DCF numbers reported by MLPs. I will do so with respect to BPL once it provides additional data as part of its Form 10-K.
Table 3 provides selected metrics comparing the MLPs I follow based on the latest available TTM results. Of course, investment decisions should be take into consideration other parameters as well as qualitative factors. Though not structured as an MLP, I include KMI as its business and operations make it comparable to midstream energy MLPs.
As of 2/12/16:

Price

Current Yield

TTM

EBITDA

EV / TTM EBITDA

IDR- Adjusted EV/

EBITDA

LT Debt to TTM

EBITDA

1-Year

Total

Return

Buckeye Partners

$54.70

8.68%

868

12.5

12.5

4.3

-20.26%

Boardwalk Pipeline Partners (NYSE:BWP)

$10.83

3.69%

692

8.9

9.0

5.0

-33.75%

Enterprise Products Partners (NYSE:EPD)

$20.59

7.58%

5,267

12.2

12.2

4.3

-35.77%

Energy Transfer Partners (NYSE:ETP)

$23.67

17.83%

5,636

6.8

8.3

4.7

-53.86%

Kinder Morgan Inc. (NYSE:KMI)

$14.96

3.34%

7,372

10.4

10.4

5.8

-60.53%

Magellan Midstream (NYSE:MMP)

$59.33

5.29%

1,172

14.5

14.5

2.9

-22.48%

Targa Resources Partners (NYSE:NGLS)

$10.02

32.93%

1,124

6.3

7.5

4.7

-70.94%

Plains All American Pipeline (NYSE:PAA)

$17.32

16.17%

2,168

8.0

10.6

4.8

-60.96%

Suburban Propane Partners (NYSE:SPH)

$22.78

15.58%

334

7.4

7.4

3.3

-41.77%

Williams Partners (NYSE:WPZ)

$14.03

24.23%

3,795

6.8

8.6

4.6

-63.24%

Alerian MLP Index (AMZX)

11.34%

-48.11%
Table 3: Enterprise Value ("EV") and TTM EBITDA figures are in $ Millions. Source: company 10-Q, 10-K, 8-K filings and author estimates.
Note that BPL, EPD, KMI, MMP and SPH are not burdened by general partner incentive IDRs that siphon off a significant portion of cash available for distribution to limited partners (typically 48%). Hence multiples of MLPs without IDRs can be expected to be higher (see column 5). In order to make the multiples somewhat more comparable, I added column 6, a second EV/EBITDA column. I derived this column by subtracting IDR payments from EBITDA for the TTM period. Other approaches can also be used to adjust for the IDRs of the relevant MLPs.
BPL's one-year total return is significantly better than many of its peers and the Alerian MLP index. It has benefited from a shift in emphasis from pipelines to terminals (storage). While average pipeline tariffs dropped 1.8% in 2015 vs. 2014, terminal capacity utilization increased significantly and expiring contracts were renewed or replaced at higher rates.
BPL is not facing the same jump in cost of capital faced by other midstream MLPs and that bodes well for its ability to finance its growth capital plans, execute on acquisitions (should appropriate opportunities materialize), and continue to modestly increase distribution at the current rate of $0.0125 per quarter in 2016.
I reiterate the conclusion reached in a prior article. Investors wishing to broaden their exposure to midstream energy MLPs, or replace one MLP investment with another that exhibits better operational results, better prospects and lower leverage, should consider BPL.
Disclosure: I am/we are long EPD, MMP, ETP, ETE.
I wrote this article myself, and it expresses my own opinions. I am not receiving compensation for it (other than from Seeking Alpha). I have no business relationship with any company whose stock is mentioned in this article.