The dust settled after Potash Corp.'s (NYSE: POT) quarterly report. After a rally attempt, the company's shares are mostly flat compared to where they traded just before the report was released. The dividend yield settled around 6.5% - in my perceived "shady" zone of 6% - 8% but well below the "cut" zone of above 8%. As I expected, the current yield continues to provide support for the company's shares. However, this support looks not good enough for serious upside.
With the dividend issue temporarily behind, the market will focus on the next important topic - the potash price negotiations. Last year, the negotiations started on a sour note and set the tone for the whole year, as potash prices fell quarter by quarter.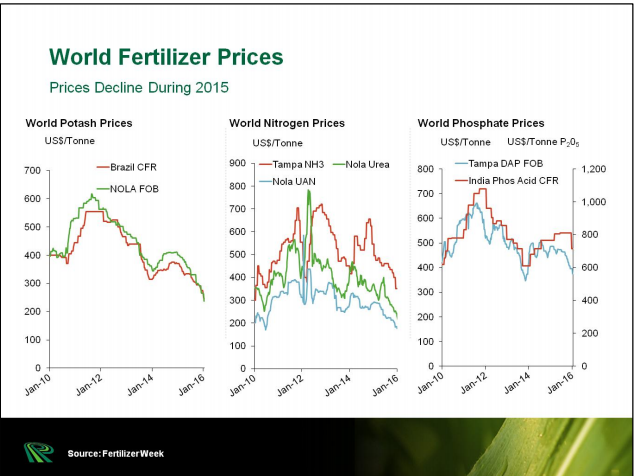 Agricultural firms like to talk about the fundamental reasons for ever-growing demand for their products. The thesis is very simple. World population grows while the arable land decreases, leading to the growth in fertilizer demand. In its latest market overview, Potash Corp. estimates that potash demand will continue to grow 2.5% - 3.0% annually. However, any growth on its own is not sufficient enough to fuel price increases, as there are more variables in this equation.
The first one is the supply growth. Here, Potash Corp. expects that the operational capacity will grow at a similar rate to the potash demand. So, if there is a balance between supply and demand, why do prices change?
I think this question has two answers - market structure and buyers' purchasing abilities. The potash market clearly changed since the break-up between Uralkali and Belaruskali. As time goes by, the potash market participants seem to lose their price-setting abilities. My bet is that we will see increased competition this year given the fact that both Uralkali's and Belaruskali's cost structures are boosted by local currency weaknesses. See charts below for Belarussian ruble and Russian ruble (all charts from XE.com):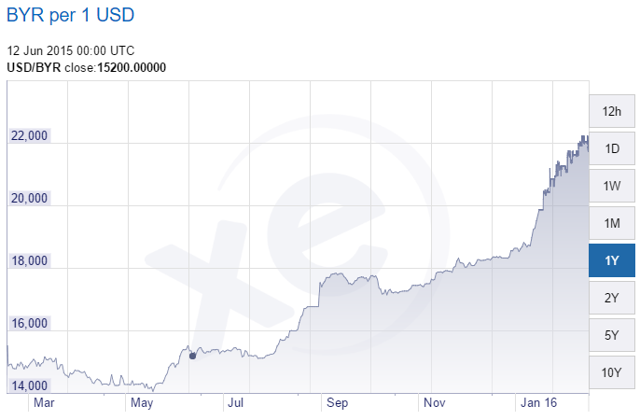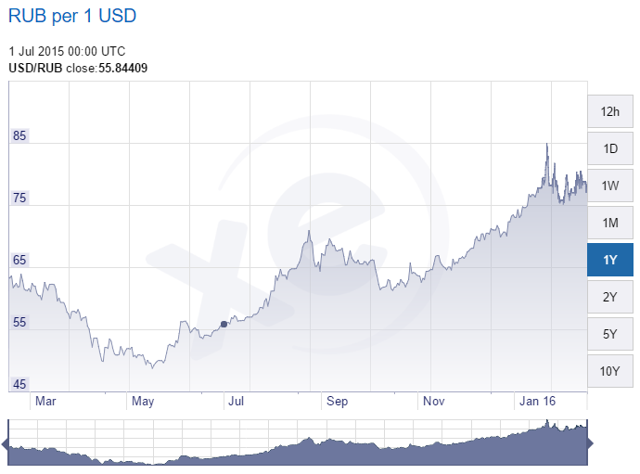 Both Uralkali and Belaruskali will have an advantage in negotiations with Chinese buyers due to their cost advantage. We should also not forget that potash producers enjoyed margins that were not typical for commodity producers. Partly, such an advantage is explained by the fact that commercial potash mines are rare. However, given the changes in the market structure and increased competition, potash prices are free to settle down at lower levels without any impact on supply.
The second thing to think about is the buyers' ability to buy fertilizer. This ability is under pressure due to softening exchange rates. Take a look at Brazilean real, Indian rupee and Chinese yuan. All those currencies have been softening in comparison to U.S. dollar, and potash is priced in U.S. dollars.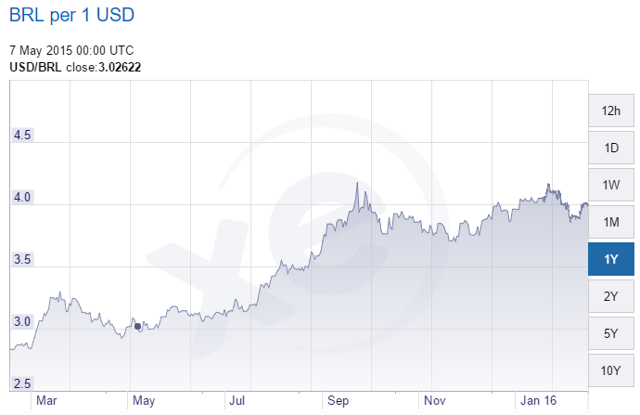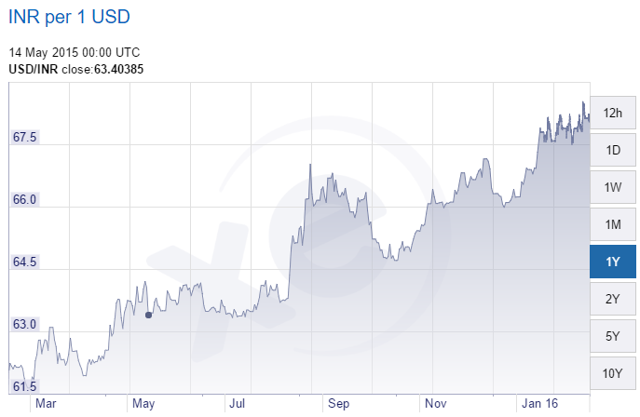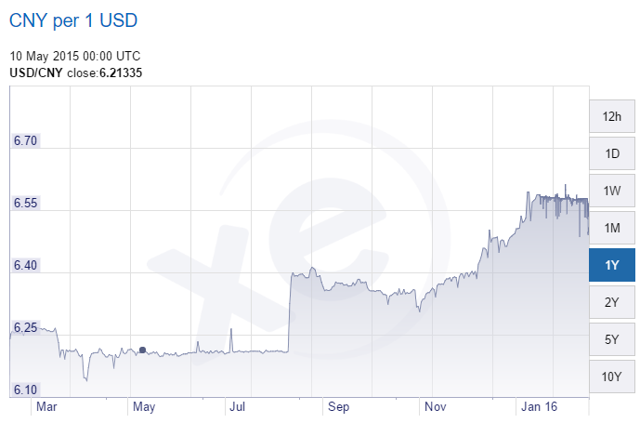 These charts show that the abovementioned currencies are at best stabilizing near lows.
In my view, dollar strength or weakness may have a major impact on potash prices. The effect will be especially pronounced in weaker countries, such as India or Brazil. China may be more resilient, but I guess it will try very hard to push 2016 prices as low as possible.
I think that the longer negotiations will last, the bigger chance of a negative outcome for potash producers will be. As time passes, there are no signs of relief neither from the Forex market nor from capital markets. Access to capital is also important for fertilizer prices, and this factor will likely put the most pressure in Brazil's case.
If other industries are any example, it's not a good idea to buy a commodity producer when the price of commodity is going down. Typically, no amount of cost-cutting can offset the damage done by lower prices. In Potash Corp.'s case, I also see a risk of changing market structure. If potash will be priced just like every other commodity and the cartel influence will evaporate, prices will surely fall below $200 per ton at some point.
I am not stating that this will happen in any case, however, one should be aware of such a risk. By choosing to pay out 100% of earnings as dividend, Potash Corp. significantly limited its flexibility and increased the risk of a negative news event - another dividend cut.
In my view, potash prices must settle somewhere before it will make sense to enter into a position in Potash Corp. One might argue that you can fix a good yield on cost right now, but I think that the dividend is at risk due to the high payout ratio. In my opinion, paying all your earnings while the commodities that you produce are falling in price is too optimistic.
I've seen people arguing that Potash might be a short, but the short trade makes less sense that the long trade - the company's shares are supported by yield-seekers and you will have to pay them if you are short. Also, there are zero prospects of serious financial trouble for Potash Corp., so short-sellers will likely be better off searching elsewhere.
I maintain my hold rating for the shares. The next crucial event for the evaluation of Potash Corp.'s shares are the price negotiations with China. Until then, dollar weakness could be the only upside catalyst.
Disclosure: I/we have no positions in any stocks mentioned, and no plans to initiate any positions within the next 72 hours.
I wrote this article myself, and it expresses my own opinions. I am not receiving compensation for it (other than from Seeking Alpha). I have no business relationship with any company whose stock is mentioned in this article.