REC Silicon (OTCPK:RNWEF) is amongst the leading producers of polysilicon and silicon materials for the PV and electronics industry. With a manufacturing capacity of more than 20,000 tons in USA, the company is known for supplying high-purity polysilicon to the solar industry. In addition the company also produces silicon materials for the electronics industry. The company was the leading global polysilicon supplier till a few years ago before it started losing market share to the new Chinese and Korean manufacturers. Despite losing share, REC Silicon continued to be one of the leading players with its technology edge and low costs. However, the imposition of duties on poly imports from USA by the Chinese government has led to an extremely tough situation for the company. Though the European (Wacker) and Koreans (OCI) have managed to continue exports to China as their duties were lower, USA polysilicon manufacturers such as REC and Hemlock (part of Dow Chemicals) have been disproportionately hurt. The company reported dismal sales in its most recent quarter and also shut down part of its production capacity. The stock price is trading near all-time lows as the company is generating losses at the EBITDA level. However, if there is a trade resolution between China and USA, the company could restart normal operations and the stock price could jump sharply. It is a high risk play for someone looking at extremely large returns. The downside in my opinion is limited.
What does REC Silicon do
Polysilicon is used as the raw material to make silicon wafers which is used for both solar and electronic industries. It is a very capital intensive business and has high entry barriers as there are a limited number of players. REC Silicon has an extensive range of products and has a good track record of profitable operations for a long time. It offers three types of products - solar grade polysilicon for production of solar panels, electronic grade polysilicon for semiconductor industry and silane gases for semiconductor industry, LCD displays and thin film technologies. The Company uses all three technologies - Siemens process, Fluidized Bed Reactor technology and REC Business System. The FBR technology aims at production of polysilicon at lower cost.
What is going wrong with the company
a) Recent quarterly results have been disappointing - Though the company increased its production levels, sales have failed to catch up to those levels. Fourth quarter total polysilicon production volumes was 3,022 tons, or 2% over guidance of 2,980 tons. However polysilicon sales volumes were 2740 tons only compared to guidance of 4855 tons. Owing to the low levels of sales, the company has plans to shut down the Silane IV unit and remaining FBR production in Moses Lake. Production is currently expected to be shut down from February until June of this year.
b) Chinese market loss is the key reason behind its tepid performance - China was the biggest market for REC Silicon, accounting for 80% of its total polysilicon volumes. After USA imposed anti-dumping duties on Chinese solar panels and cells, China retaliated by imposing duties (~57%) on poly imports from USA during 2013-14. Polysilicon companies in USA, Europe and Korea used a loophole in China's processing trade policy and kept exporting polysilicon to China. However recently China's Ministry of Commerce decided to exercise stringent control on the trade-processing loophole barring these illegal imports into China.
The Chinese government is pushing its renewable energy policies strongly and the country is expected to install another 15GW of solar capacity in 2016. It remains the world's largest source of solar panel demand, despite missing its 2015 target of 17.8 GW by almost 15%. As such the country is the world's largest market for polysilicon. Some of the large polysilicon manufacturers in China are GCL Poly (OTCPK:GCPEF), Daqo New Energy (NYSE:DQ) and Renesola (NYSE:SOL). GCL Poly is amongst the largest polysilicon and wafer manufacturers in the world, with an annual capacity of 70,000 MT for polysilicon.
c) Pricing pressure in polysilicon is also contributing to its misery - Polysilicon ASPs are declining. The average selling prices of polysilicon was ~$17/ kg in H1'15, when compared to $22/ kg in H1'14. Polysilicon traded around $15 during the third quarter. REC Silicon's solar grade polysilicon ASPs declined by ~4% in Q4'15, compared to the previous quarter.
"We have had to give a discount of about $2 to $2 per kg because basically we don't get access to the Chinese market and that's why we're basically need to find customers outside and they know our situation and definitely we have to discount the price to be able to sell the volume. So basically weak market, together with the trade war means very low prices for our polysilicon".

Source: SA
Upside Possibilities
i) Polysilicon will witness high demand - The solar industry looks set to expand by 15-20% each year, as solar electricity prices have reached grid parity and governments are strongly supporting the industry. China, USA and other Asia Pacific countries are anticipated to be the largest solar markets in the coming years. The global polysilicon market is expected to grow at a CAGR of 17.2% over the period 2014-2019.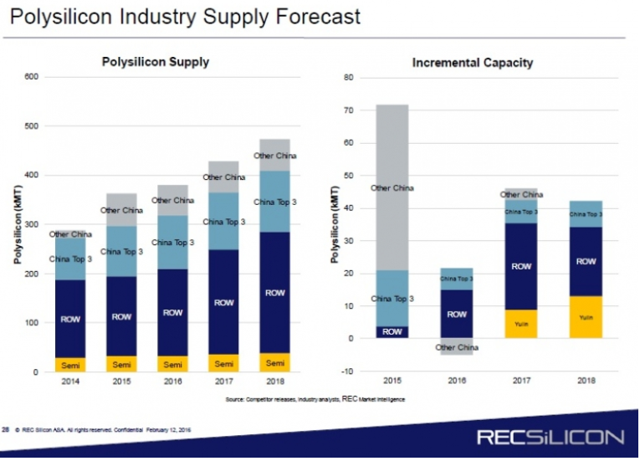 ii) REC has survived worse in the past - REC Silicon was amongst the very few European solar companies to survive the last solar downturn, when most European companies went bankrupt. It shut down expensive European factories to cut costs and sold its Singapore factory which made wafers, cells and modules to a Chinese company. The company's fate depends on the high-level talks between China's Ministry of Commerce and the US Department of Commerce. Though the company is shutting down its Moses Lake plant in February, it remains hopeful of restarting in June 2016. The company also has a sound balance sheet, and expects to pay its existing debt obligations in 2016 from existing cash flow without any additional funding.
Stock Performance & Valuation
The stock has lost more than 58% in the last one year. In contrast DQ and GCPEF were down 32% and 42% respectively. The stock has shown a consistent downward trend and is trading at the ~$0.12 level down from $0.3 during the same time last year. The company has a market capitalization value of ~$305 million, with a P/B of 0.3x which looks very cheap given the company's extensive asset base.
Conclusion
Polysilicon industry has seen a shrinkage in margins with the entry of large Asian companies. This has changed the market dynamics with low prices. However, this part of the supply chain has relatively low competition and once the supply demand comes back to balance, it will again show good profits. The wafer part of the supply chain is already showing good profitability due to supply tightness. Things are looking tough for REC Silicon currently due to the trade war. The company which was a big beneficiary of demand growth from China is now facing big headwinds from the Chinese imposition of duties on poly imports. The stock at its current price, discounts all the major issues facing the company. If the Chinese and USA authorities resolve the anti-dumping duty issue, then REC could see a sharp upside in its prospects. It is an event driven play for high risk investors with limited downside.
Disclosure: I/we have no positions in any stocks mentioned, and no plans to initiate any positions within the next 72 hours.
I wrote this article myself, and it expresses my own opinions. I am not receiving compensation for it (other than from Seeking Alpha). I have no business relationship with any company whose stock is mentioned in this article.
Editor's Note: This article covers one or more stocks trading at less than $1 per share and/or with less than a $100 million market cap. Please be aware of the risks associated with these stocks.