Oil prices came off lows reached last week on reports of another OPEC oil minister's comments. It's a story we have heard before over recent weeks, with implication of a potential emergency meeting of OPEC and non-OPEC energy producers to coordinate a production cut. In fact, Russia met with Saudi Arabian representatives this week and agreed to freeze oil production. Events like these led me to coin the term, The OPEC Put, which implies there is a floor for oil prices at the breakpoint where OPEC will act to cut production. However, I have also noted the impact of rhetoric alone on oil prices, and the likelihood of some producers to talk up prices in this manner. However, like in Aesop's Fable, The Boy Who Cried Wolf, eventually the market will no longer respond to OPEC's calls. When the OPEC boys crying wolf fail to prevent oil from collapsing on words and alone, I anticipate they will eventually actually have to act on production. I see that breakpoint at $25 or lower for crude.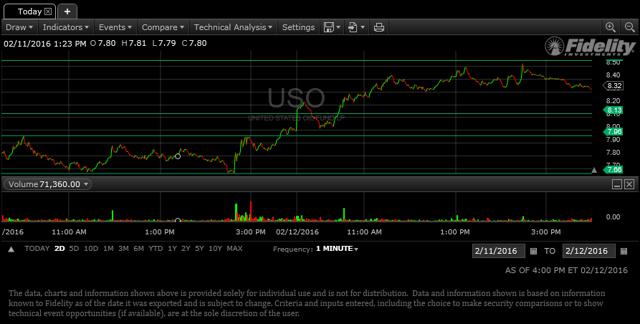 2-Day Chart of USO at Fidelity.com
This 2-day chart from last week shows how United States Oil (NYSE: USO) moved off a nascent bottom. The move was catalyzed by more rumblings around OPEC and non-OPEC members about a meeting to coordinate production. The rumors actually resulted in a meeting that included important oil producers Saudi Arabia and Russia. Until now, Saudi Arabia had remained silent, so it peaked investor interest last week and lifted oil prices.
Still, there were doubts about what exactly the meeting might produce. After all, Saudi Arabia is resistant to oil production cuts after having learned harsh lessons about market share implications in years past. Historically, when Saudi Arabia has cut production it has sometimes seen its cuts have little lasting impact on price but significant impact on its market share. That is because non-OPEC producers have tended to continue to grow production and OPEC producers have cheated. But this time, Russia is being pushed to comply. Russia, however, has difficulty cutting production during the winter season. As a result, the best the meeting could produce was a production freeze at January levels. That is, January's record level of production.
Even so, we are told the meeting carries implications and promises about future actions that could occur if oil prices continue to slide. Yet, the group has still not even agreed on a freeze, as it waits for statements of agreement from both Iran and Iraq. Iraq could fall in line, but Iran has incentive to boost production to more optimal levels since just being freed to sell to the open market, as sanctions were removed by the west. And Iran and Saudi Arabia do not get along, so Iran might see this effort as simply a way for Saudi Arabia to keep Iranian oil from competing against its own exports. Indeed, Iran's Oil Ministry's news service Shana cited Iran's Minister Bijan Namdar Zanganeh Tuesday stating, "Iran will not forgo its share of the market."
I expect Iran to grow production toward its December stated goal of 1 million barrels per day. Saudi Arabia and Iran both have incentive to keep prices low, to smother out less cost efficient production from North America. However, it has become clear that even Saudi Arabia is concerned about a potential collapse of oil prices, and sees this measure as a way to stabilize price at current levels, or maybe to keep Iranian oil production hemmed in.
| | |
| --- | --- |
| Energy Relative Shares | 02-16-16 |
| SPDR S&P 500 (NYSE: SPY) | +1.7% |
| United States Oil | -0.2% |
| iPath S&P GSCI Crude Oil (NYSE: OIL) | +1.3% |
| Energy Select Sector SPDR (NYSE: XLE) | +1.0% |
| SPDR S&P Oil & Gas E&P (NYSE: XOP) | -1.3% |
| Market Vectors Oil Services (NYSE: OIH) | +1.9% |
| Exxon Mobil (NYSE: XOM) | +0.2% |
| Chevron (NYSE: CVX) | +0.5% |
| B.P. (NYSE: BP) | +0.1% |
| ConocoPhillips (NYSE: COP) | -0.4% |
| Schlumberger (NYSE: SLB) | +2.1% |
| Occidental Petroleum (NYSE: OXY) | +1.4% |
| EOG Resources (NYSE: EOG) | +0.3% |
| Valero Energy (NYSE: VLO) | -0.7% |
| Pioneer Natural Resources (NYSE: PXD) | +0.1% |
| Phillips 66 (NYSE: PSX) | +4.1% |
| Tesoro (NYSE: TSO) | -0.9% |
The result of the meeting confused investors Tuesday as oil prices started higher and then backtracked. Energy relative shares were mixed, while the market convincingly rose. It is my view that as we move forward, the news will be seen for what it is; a ploy to reassure nervous energy markets.
The OPEC and non-OPEC boys have cried wolf several times now, and investors are less likely to come running with each cry. The market will look to inventory data, E&P business failures, reduced capital investment by western producers, and rig count reductions for signs of supply coming off line. Meanwhile, there's now heightened concern about demand, given nascent worries about the U.S. economy. So there's a consideration that supply reduction might have to hit a moving target to result in stable energy prices. As a result, I expect oil to again retest recent lows and break to and through $25 a barrel. This could happen very quickly if Iran responds to its oil producing neighbors in a contemptuous manner. I still believe that lower energy prices will eventually force a production cut, but at much lower prices for oil, barring a geopolitical black swan event. Follow my financial column here at Seeking Alpha for coverage like this on the oil market and more.
Disclosure: I/we have no positions in any stocks mentioned, and no plans to initiate any positions within the next 72 hours.
I wrote this article myself, and it expresses my own opinions. I am not receiving compensation for it (other than from Seeking Alpha). I have no business relationship with any company whose stock is mentioned in this article.