1. No surprises in sell-off - The stock market sell-off should not be a surprise to investors. Since the FOMC decision on December 16 to raise rates for the first time in almost 10 years, the S&P 500 Index has fallen nearly 9%. This was largely expected and we have been warning that the start of Fed hikes could mean a re-rating of asset classes, which could send stocks downward in the first few months after the start of rate hikes.
In recent rate hike cycles, stocks fell in the first three months after the initial rate hike only to recover in the ensuing months. There's plenty of historical precedent for the market's current reaction. However, there is also historical precedent for maintaining exposure to stocks if an investor has a long enough time horizon.
Stocks Down on Fed Decision and Global Turmoil
S&P 500 experiences significant decline
following Fed's December hike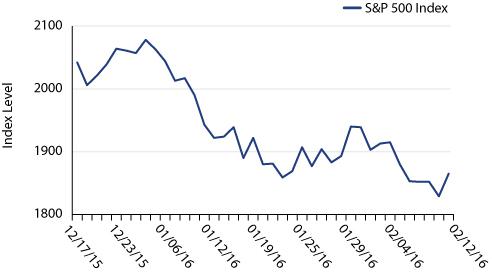 Source: Bloomberg; Allianz Global Investors. Data as of 2/12/16.
2. Global uncertainty persists - Recent turmoil is not going away any time soon and there could be more downside ahead in China and elsewhere around the world. China is in a precarious position, trying to engineer a soft landing for its economy, implement meaningful reforms and manage its currency in a world where currency moves are arguably more important than interest rates. In addition, many emerging markets are struggling as a result of lower commodity prices in general and lower oil prices in particular.
This means greater potential for geopolitical instability. Developed countries also have issues, including the migrant crisis in Europe, the possible Brexit of the UK from the European Union and negative growth in Japan despite very accommodative monetary policy. Investors need international exposure but in this environment where countries and stocks are so differentiated, investors must be selective.
3. The chasing of yield continues - After Sweden's rate cut announcement last week, more countries are moving toward a negative interest rate environment. Not only is this raising issues about whether they are running out of effective policy tools, it also means investors need to move out along the risk spectrum to find suitable yields. While there is a tug toward safety for investors, there is also a tug toward risk assets - particularly for adequate income. Investors need to focus on asset classes such as high-yield bonds and dividend-paying stocks in order to generate that income.
4. Uncertainty in the US is increasing - Virtually every day thus far in 2016 has brought more questions about what the Fed will do in regard to monetary policy. Virtually every day also brings more questions about who will be the next president of the United States, especially given the somewhat surprising outcomes of the Iowa and New Hampshire votes. And now, every day is likely to bring increased uncertainty about important pending Supreme Court cases, given the sudden death of Justice Antonin Scalia and political posturing on filling that vacancy.
This suggests greater investor interest in asset classes perceived to be safe havens such as Treasuries and gold, which we've seen rise significantly in price recently. We could see interest in gold and other safe havens continue, albeit sporadically. In addition, particular sectors of the stock market such as health care and financial services could experience heightened volatility as a result of this uncertainty. The ability to overweight and underweight sectors as needed will become important in coming months.
5. Potential for positive US economic surprise - The Atlanta Fed's GDPNow model forecast for real GDP growth in the first quarter of 2016 is 2.7% as of February 12, up from 2.5% just a few days before on February 9. To see the GDPNow forecast higher than consensus estimates is unique; the norm has been GDPNow forecasts trailing consensus estimates. Reasons for the rather upbeat forecast include consumers who, helped by low oil prices, appear to be awakening from their slumber.
For example, after last week's solid retail sales report which showed a nice pickup in spending outside of gasoline, the Atlanta Fed's forecast for first-quarter real consumption growth increased from 3.0% to 3.2%. This is an interesting development that suggests there is the potential for positive economic surprise in the US in the near future. However, we must balance that against concerns that a slowdown outside the US could spread to the US. Alternative asset classes such as long-short strategies and options strategies may be sought out in this environment.
Active management uncovers new opportunities
In short, investors have valid reasons to be spooked by recent market events, but there are also reasons to be cool, calm, collected and focused on long-term goals. The natural inclination of investors in times of turmoil is to move to cash. But a much better option is to move to an actively managed solution with the ability to underweight and overweight a wide variety of asset classes.
Volatility and changing asset class leadership are likely to continue and perhaps even grow going forward, but that doesn't mean there won't be better opportunities than cash for investors who still need to meet long-term goals. A broadly diversified multi-asset strategy that is actively managed could serve investors well in this environment, providing the potential to dodge risks and embrace opportunities as they present themselves.