Cal-Maine Foods, Inc. (NYSE: CALM), headquartered in Jackson Mississippi, is a vertically integrated egg producer. Its business model is based on the production, grading, packaging, and sale of fresh shell eggs. Cal-Maine also sells conventional, cage-free, organic, and nutritionally-enhanced eggs. Its major markets are in the southwestern, southeastern, mid-western, and mid-Atlantic regions of the United States. As the largest domestic producer of fresh shell eggs, Cal-Maine accounts for approximately 23% of domestic egg shell consumption in the United States. Cal-Maine is well positioned for future growth based on increasing egg demand, vertical integration, acquisition strategies, and strong financial health.
Future Growth Based on Increasing Egg Demand
As the largest domestic producer and distributor of shell eggs, Cal-Maine is well positioned to capitalize on increases in egg demand. According to a USDA report, U.S. annual per capita egg consumption has increased from 249 eggs to 263 eggs from 2009-2014. Furthermore, Cal-Maine has noted an approximate 2% increase in egg demand over each of the last three years, compared to the historical average of 1%, which is primarily attributable to population growth. Cal-Maine's sales have increased year over year since 2010, which reflects increasing egg demand.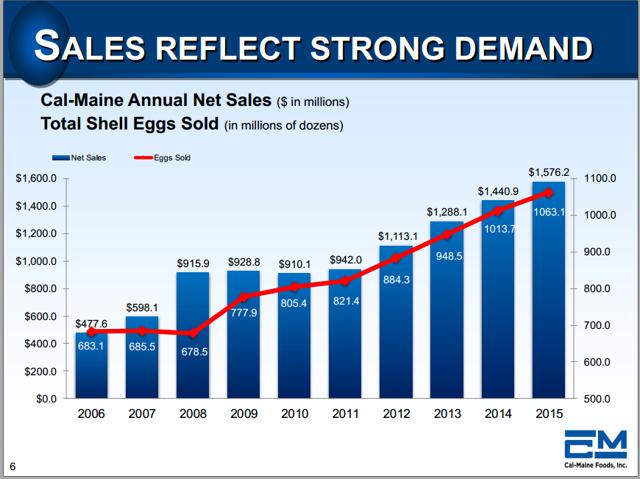 The increase in egg demand can be attributed partially to shifting health perceptions and the growing importance of specialty eggs. Over the past five years, consumer perception of the health benefits of eggs has favorably shifted; nutritional studies published give scientific backing to the nutritional benefits of eggs. The specialty egg segment has been a primary beneficiary of this shift in perception. Specialty eggs, according to IBISWorld, includes "organic, free-range, barn, vegetarian and vitamin-enriched eggs" (source). Cal-Maine reports that specialty egg sales account for approximately 27.2% of revenue in 2015. Consumers are willing to pay higher prices for specialty eggs with perceived health benefits and there is evidence of greater brand loyalty. This brand loyalty decreases the volatility of prices and demand for specialty eggs; producers, such as Cal-Maine, are able to charge a premium due to higher production costs without concern of a significant decline in demand.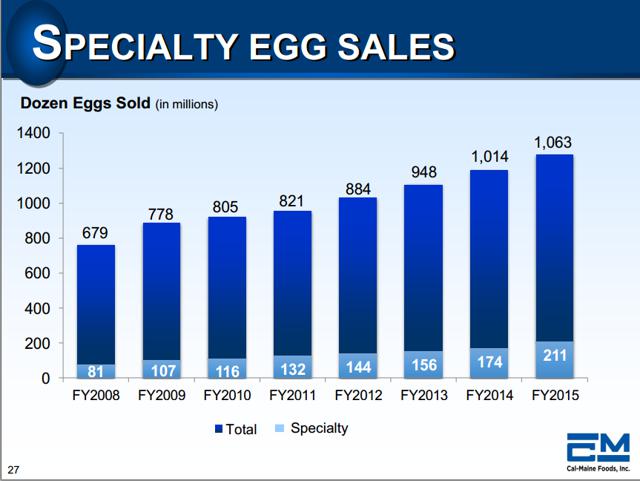 Perceived health benefits have led consumers to increase their overall consumption of eggs. Specialty eggs are at the forefront of this health-conscious demand and there is clear evidence to support increases in egg demand moving forward. Increases in egg demand translate to increased revenue for Cal-Maine and increasingly favorable financial performance.
Vertical Integration
Cal-Maine is in control of its operations from start to finish; a common practice within the egg production is vertical integration and Cal-Maine is not an exception to this practice. Cal-Maine manufactures the majority of feed needed for its operations. This helps Cal-Maine maintain its high operating margins, which were recently quoted at approximately 26%. A noteworthy caveat is Cal-Maine has benefited from price stability in the corn and soy meal markets; there were significant volatility spikes during 2013 and 2014, as seen in the graph below. Cal-Maine would be well positioned to grow and prosper if feed ingredient prices were to remain stable moving forward.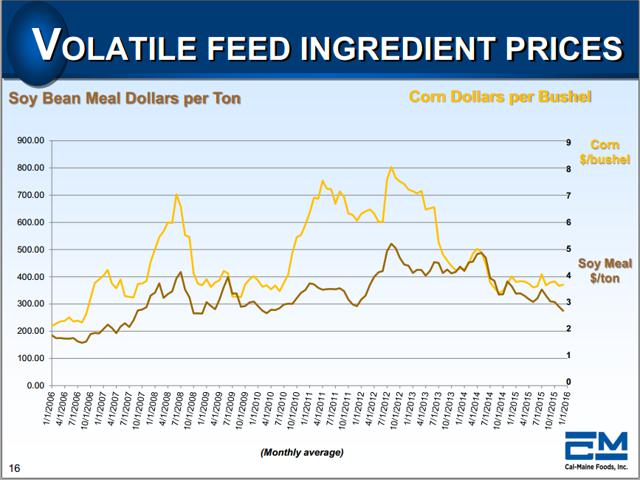 Additionally, Cal-Maine grades and packages eggs at facilities located on the same sites as its "layers," which are mature female hens responsible for laying eggs. These "in-line" facilities are capable of gathering, grading, and packaging the eggs produced. The investment in these facilities have netted significant cost reductions compared to eggs produced at non "in-line" facilities. Furthermore, the use on "in-line" facilities yields a greater percentage of USDA Grade A eggs, which are sold at a premium to eggs that are not graded as "USDA Grade A." The combination of cost reductions and higher selling prices bode well for Cal-Maine's prospects moving forward, assuming these facilities continue operating at maximum efficiency.
Acquisition Strategies
The principle growth strategy employed by Cal-Maine is focused on acquisition of smaller companies that will add additional production and processing facilities. Having completed eighteen successful acquisitions since 1989, Cal-Maine's strategy has proven successful. The industry is still composed of a plethora of small producers, which offers Cal-Maine a variety of different opportunities for acquisitions. Given the industry's high entry barriers and significant capital investments required to expand existing facilities. It makes sense for Cal-Maine to utilize its strong financial position to pursue acquisitions. Recent acquisitions include: acquiring the remaining 50% stake in Delta Egg Farm, LLC and a joint venture with Red River Valley Egg Farm, LLC.
As a wholly-owned subsidiary of Cal-Maine foods, Delta Egg Farm adds 1.2 million to hen production capacity, along with a feed mill, located in Delta, Utah. Cal-Maine's expansion to Utah signals a desire to expand into additional markets beyond where Cal-Maine operates. This is Cal-Maine's only facility west of Texas and gives them access to Utah and its surrounding states, which have a population of roughly 15 million (Utah, Colorado, New Mexico, and Arizona). While Cal-Maine will not have direct access to its population, it's clear if it can expand its relationships with top customers such as Wal-Mart (NYSE:WMT), Publix Supermarkets (OTC:PUSH), and Costco (NASDAQ:COST), there are opportunities for revenue growth.
The decision to enter a joint-venture with Red River Valley Egg Farm enables Cal-Maine to access patent-pending cage-free technology. This will permit Cal-Maine to better meet the increasing demand for specialty eggs, which, as mentioned previously, accounted for approximately 27.2% of FY 2015 revenue. The joint venture also provides capacity for 1.8 million laying hens with permits allowing expansion to 2.9 million laying hens. This enables Cal-Maine to scale up if demand increases. Additionally, this joint venture strengthens Cal-Maine's strong position in the southeastern United States market. The strong financial health of Cal-Maine permits their growth strategy to be based on acquisition of smaller producers.
Financial Highlights
Cal-Maine has strengthened its financial position by reducing liabilities, maintaining a high balance of retained earnings, and generating cash flow from operating activities. From 2014 to 2015, Cal-Maine reduced its long-term liabilities by 20%, paying down long-term debt from approximately $50 million to $40 million. Cal-Maine has approximately $928.6 million in total assets compared to $224.1 million in total liabilities. Furthermore, Cal-Maine increased retained earnings by approximately $100 million from 2014 to 2015. Cal-Maine is able to utilize this high retained earnings balance when an attractive acquisition opportunity becomes available, in addition to being able to acquire debt financing due to its overall financial health. Operating activities netted approximately $200 million in cash, which is used for purchases of property, plant and equipment as well as paying off long-term debt. An important note about dividends: Cal-Maine pays a quarterly dividend equal to one-third of net income for the quarter, which causes fluctuations in the dividend payment from quarter to quarter. While noteworthy, this does not detract from the financial strength of Cal-Maine as a whole. Through a sound financial position, Cal-Maine is well positioned to capitalize on attractive acquisition opportunities.
Conclusion
Cal-Maine Foods, Inc. is an industry leader possessing 23% of the shell egg production market. Strong demand for eggs and the rise of the specialty egg segment bode well for future growth. Stability in food prices coupled with vertical integration would allow Cal-Maine to maintain its favorable cost structure. The financial strength of Cal-Maine leaves it well positioned to continue its growth by acquisition strategy. Cal-Maine is a forward-looking company positioned to capitalize on industry consolidation.
Sources: Investor Presentation, 2015 Annual Report, IBISWorld Reports
Disclosure: I/we have no positions in any stocks mentioned, and no plans to initiate any positions within the next 72 hours.
I wrote this article myself, and it expresses my own opinions. I am not receiving compensation for it (other than from Seeking Alpha). I have no business relationship with any company whose stock is mentioned in this article.