Henry Schein (NASDAQ:HSIC) reported Adjusted EPS of $1.67 in Q4 beating estimates by 3 cents per share despite FX related headwinds. Management estimates the stronger U.S. dollars had a 3-4 cents per share negative impact on EPS and results adjust for 11 cents of restructuring costs. Earnings increased 7% in Q4 and 10% for the year.
Looking at 2016, management forecasts 10-12% EPS growth to $6.55 to $6.55 per share continuing the businesses impressive track record of steady earnings growth over time. The company repurchased $100 million in shares in Q4 and still have $400 million authorized on the buyback (although a preference for acquisitions remains).
The stock was up 7.5% last week and has been extremely stable over the past 6 months.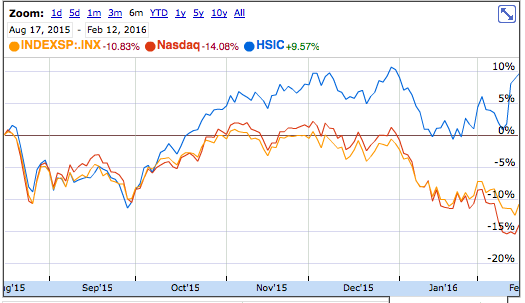 FX headwinds
Henry Schein saw a significant reduction in organic growth as a result of the stronger U.S. dollar, particularly in the large Dental and Animal Health businesses. Q4 Sales growth of 5.5% included a 4.8% FX headwind and management estimates organic growth at 6.5% - the highest in 8 years. The medical segment continues to benefit from the outsourcing agreement with Cardinal Health (NYSE:CAH) and management expects high-single, low double digit growth for the foreseeable future.
On the conference call, management commented that end-markets remains stable with no signs of deterioration thus far.

The results are similar to another company I cover, Aptar (NYSE:ATR), which also saw FX eat up the bulk of organic growth.
Comment on Animal Health
Management continues to actively consolidate animal health distribution in Europe. While the rising U.S. dollar creates revenue and earnings headwinds, it can help when acquiring overseas. Further, primary competitors MWI Veterinary and Patterson (NASDAQ:PDCO) are established in the U.K. but continental Europe is primarily served by local players and remains a focus for Henry Schein.
Last year we saw the acquisitions of animal health companies scil and Jorgen Kruuse continuing the disciplined consolidation process:
He said Schein has a strict rule when adding to its family of companies via acquisitions: "The keyword for us is partnership. We don't buy failing businesses. Some companies do but we look for successful businesses. Partnering with Henry Schein will make these companies more attractive to customers."
Acquisitions (such as scil) have helped offset the loss of the Idexx Laboratories (NASDAQ:IDXX) contract (notably the diagnostic products) in 2014 as well as further broaden the customer and product portfolio

Earlier this year, RxWorks (veterinary practice management software) was also acquired with operations in New Zealand, Australia, and the U.K. among others.
Valuation
My estimate of Henry Schein's value assumes the company continues to deliver steady, predictable results. If FCF grows around 10% for the foreseeable future, it is fair value with upside if they redeploy meaningful capital on attractive acquisitions.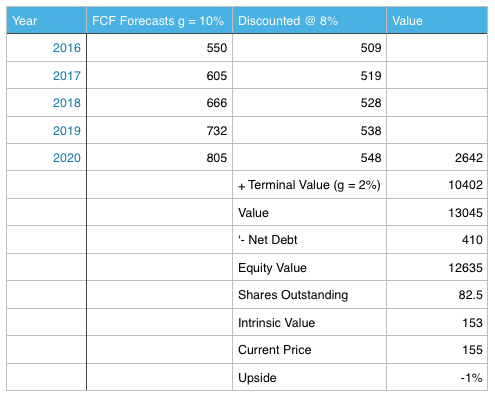 Disclosure: I am/we are long HSIC.
I wrote this article myself, and it expresses my own opinions. I am not receiving compensation for it (other than from Seeking Alpha). I have no business relationship with any company whose stock is mentioned in this article.