This article is part of a series of reports entitled Searching through the Rubble for Buried Gems with the objective to uncover several high-dividends stocks trading at deep discount due to a massive and indiscriminate selling in their related sectors. These stocks just got buried with the rest despite solid fundamentals and/or high earnings growth. My first article was published last week and entitled: Energy Transfer Equity: Bargain Valuation, Projected 28% Yield.
For those investors who are looking for similar bargains in the battered oil patch and other sectors, I am currently focusing my research to dig them out for you!
Today, I will focus on a solid pick in the downstream energy sector which is also trading at a deep discount- And - it comes with an extra-juicy dividend yield of 13.3%.
For the past six years, U.S. refiners have bought every barrel of crude they can lay their hands on to cash in on a golden era of healthy margins. Refining capacity in the US was running at all-time high during most of the year 2015, as reported in the Energy Information and Administration (EIA report December 8, 2015). These levels have not been previously reached or exceeded in any given week since EIA began publishing the data in 1990. Growing domestic and global gasoline consumption in 2015 contributed to gasoline crack spreads reaching their highest monthly average since 2007. However, it seems this era could come to an end as crack spreads started to collapse in Q4 2015.
Global refining margins, the estimated profit from turning oil into gasoline and diesel, fell 34% in the fourth quarter of 2015, the steepest decline in eight years.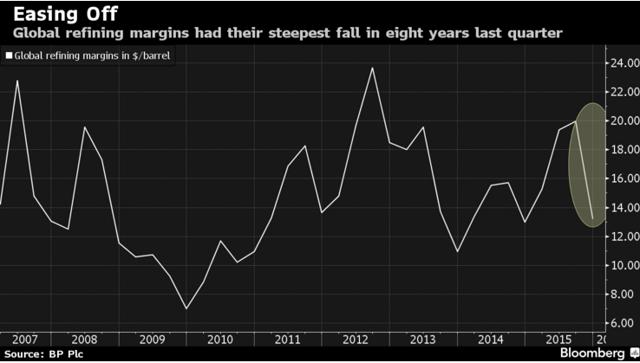 Reasons behind the declines in crack spreads
There are several factors that can affect crack spreads, some of which are seasonal and some are not. I will go through the main reasons that have led to the current narrowing of refiners spreads which started in Q4 2015:
First, it is typical for these spreads to weaken around October of each year as the summer driving season comes to an end and demand for crude oil goes down. These are normal seasonal adjustments.
Although demand for gasoline remained strong, distillate consumption fell due to unusually mild weather. Demand for heating oil was substantially down and resulted in high stockpiles.
Due to prolonged positive crack spreads in 2015, refiners overproduced gasoline, creating massive stockpiles which were not absorbed. Refiners and oil retailers have been under pressure recently to reduce prices to get rid of current inventories by reducing prices. Winter-grade stockpiles need to be sold-off before refiners begin producing large volumes of gasoline more resistant to evaporation for the summer, different from the one used in winter.
The narrowing gap between WTI and Brent prices, which was previously working to the favor of US refiners, has recently resulted in a larger than usual squeeze on crack spreads. The price of WTI recently moved higher to a level closer to the price of Brent. Although this has a positive impact on US oil producers and midstream companies as they make extra money by selling or transporting crude, it has a negative effect on the downstream sector due to higher input costs for refiners.
Other worries affecting the outlook of oil refiners
In addition to worries about current lower spreads, there are other factors that contributed to a more negative outlook for oil refiners and retailers:
Lifting of the US oil export embargo will put US refiners in direct competition with international refiners to purchase cheaper light crude oil from the US producers. The US oil production has so far been held captive to US refiners' demand as they were mostly unable to sell it in the international markets.
Lifting of the export embargo may also threaten many US refineries which are better suited to process heavy crude oil, while most foreign refineries are better prepared to process light crude oil. The "fracking" revolution has led to an excess supply of light crude oil in the United States. This may backfire and lead to larger imports of refined products from overseas refiners.
In order to compete with international refiners, US refiners may need to improve efficiency and inject new capital investments which will put a strain on cash flows.
Investors' worries that the current squeeze on crack margins is not a temporary one and may persist for a long period.
Selloff in Oil Refiners, Retailers and related Master Limited Partnerships ((MLPs))
Due to investors' worries, oil refiners, retailers and related MLPs (downstream energy) prices have recently tumbled, resulting in steep declines in the largest companies in the sector such as Tesoro (TSO) and Valero (NYSE:VLO), and in many refiner MLPs such as CVR Refining (NYSE:CVRR), Sunoco (NYSE:SUN) and Alon USA Partners (NYSE:ALDW). The average decline in the sector was around 30% during the past 3 months as depicted in the chart below:
The selling was severe and indiscriminate "across the board", without taking into account individual companies' positions in the sector. Compared to a year ago, many of these stocks are selling at 20% discount. It is worth to note that downstream MLP companies took the largest hit due to the fact that they are smaller caps stocks, and tend to be subject to more volatility in both market upturns and downturns.
Although one can argue that despite short-term headwinds, the medium and long-term story of US refiners and retailers remains a solid one, as higher consumer demand means higher volumes and more profits for these companies. With oil prices currently trading at multi-year lows, conventional wisdom would suggest that the crack spreads narrowing is only temporary, and should continue to widen in the future. Strong demand for refined products is expected to continue in 2016 and 2017 as reported by the EIA in its February 2016 report. It is worth to note that despite recent sharp declines in crack spreads, they remain on average higher than they used to be during the same period last year in 2015.
My objective today is to shed light on a downstream player that has severely sold off - and got buried with the rest - despite phenomenal growth in revenues and profits, and despite the fact that crack spreads fluctuations do not have much impact on its profitability.
Searching through the rubble for opportunities: Sunoco LP
Sunoco LP is a small-cap growth oriented company in the downstream energy sector with a market capitalization of $1.8 billion. It is structured as a master limited partnership (MLP), and has to pay each year the vast majority of its profits back to shareholders in the form of distribution.
The company is based in Houston, Texas, and engages in the wholesale distribution and retail sale of motor fuels. It distributes Sunoco-branded motor fuel to convenience stores, independent dealers, commercial customers and distributors. The distribution network includes more than 5,000 Sunoco-branded third-party and affiliate operated locations throughout the southeast, mid-Atlantic and northeast regions of the United States. Furthermore, Sunoco has 136 company-operated Sunoco branded locations in Texas, in addition to approximately 850 convenience stores and retail fuel sites.
Sunoco LP's General Partner interests are mainly owned by Energy Transfer Equity, L.P. (ETE), and Energy Transfer Partners, L.P. (ETP), both of which currently hold 50.8% partner interest in the company.

Highlights and facts about Sunoco
Sunoco owns and represents some of the most iconic brands in the motor fuels industry.
One of its main sources of income is retail merchandise sales, an activity not related to fuel or oil price. This segment has been seeing strong growth.
The company's fuel margins are not commodity price sensitive and have proven to be resilient.
Sunoco has diversity in its sales channel and geographic locations, which helps stabilize its cash flows in retail gasoline sales.
It has some long-term fee-based contracts and significant real estate holdings, providing a wide mix of revenue sources and resulting in an attractive business risk profile.
The management of Sunoco is considered strong and has been actively seeking to strengthen and grow the company in order to become a leader in its field.
Sunoco's Recent Activities
Sunoco undertook many new investment activities during 2015 in order to bolster its future earnings. The main two ones are related to a dropdown of retail assets from Sunoco's general partners Energy Transfer Partner and Energy Transfer Equity:
First transaction: In a dropdown in July 2015, Sunoco acquired from ETP, Susser Holding, a chain of convenience stores that sells oil products. Susser's assets include about 680 Stripes branded convenience stores in Texas, Oklahoma and New Mexico. The acquisition which closed on July 31, 2015, had a total price tag of $1.9 billion.
In November 2015, Sunoco announced it will purchase the remaining shares of 42% interest in Sunoco, LLC (subsidiary of both companies, and engaged in transport and retail of oil products) and 100% interest in the legacy Sunoco retail business from Energy Transfer Partners LP (NYSE:ETP) for approximately $2.2 billion. This deal is the result of another drop-down by Energy Transfer Partners transferring the remaining interest in the Sunoco-related wholesale fuel and retail marketing assets. This transaction is expected to complete this month (Feb 2016).
Why are these 2 transactions important?
The result of the above transactions will consolidate all retail assets of the Group (ETE, and ETP) into Sunoco LP.
They will significantly boost the company's distributable cash flow and cash distributions beginning 2016 onwards.
It will transform Sunoco LP into one of the largest wholesale fuel and retail marketing platforms in the United States with tremendous scale and diversity of supply and geographical locations. The credit profile of the company will materially improve due to the resulting diversification of its revenue sources.
In order to quantify the results of the above 2 transactions, I have compiled the table below which highlights a very impressive effect on the company's position:

The company's EBITDA growth will increase by 176%, its fuel sales by 200%, its merchandise sales by 885% and its retail sites by 184%.
This puts Sunoco LP on the top of the list as one of fastest growing companies in the industry, through both organic growth and acquisition.
The following is a geographic map of Sunoco's current network in the continental USA after the dropdowns.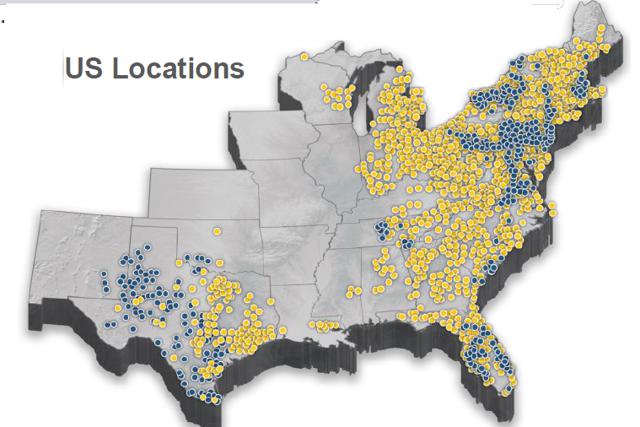 Sunoco's Solid Financial Performance
Sunoco's business model has proved to be a strong one as evidenced by its historical key financial indicators, which do not include the impact of the last 2 dropdown transactions:
A 3-year historical average Revenue Growth of 18.7% versus an industry average revenue decline by 8.2%.
A stellar 3-year average Net Income Growth of 59% versus an industry average revenue decline by 3.5%.
A solid return on equity (ROE) of 45%.
If we include the effect of both dropdowns, Sunoco will have achieved since 2011, an impressive "compound annual growth rate" (CAGR) of 228% for its adjusted EBITA, and of 500% for its fuel sales.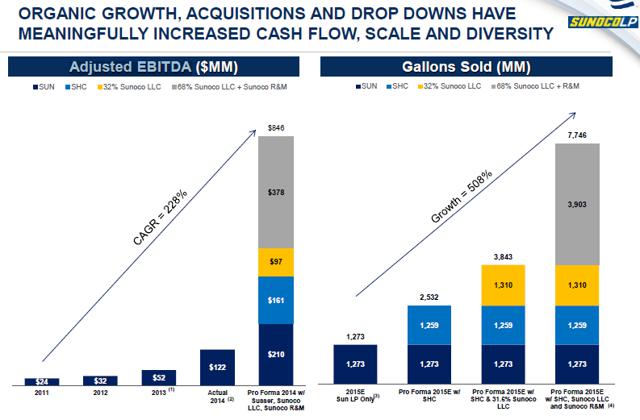 Attractive Valuation
Sunoco currently offers very attractive valuation characteristics. The company Forward P/E ratio of 9.3 is low in the absolute and relative to other stocks in the S&P. The stock is currently selling at 30% discount from its book ratio. Finally, we cannot ignore the two key valuation ratios; the PEG ratio of 0.5, and the prices-to-sales ratio of 0.1, both deeply discounted which indicates that the company's stellar revenue growth is not reflected in the current price.

What is the Impact of the Current Low Oil Prices and Crack Spreads on Sunoco's Bottom Line?
In order to answer the question above, let us start first by assessing Sunoco's revenue exposure to the oil sector by having a look at its sources of revenue: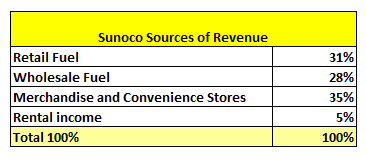 The company's stream of revenues is clearly diversified with 60% related to fuel sales and 40% related to merchandise, convenience stores and rental income. The latter 40% is not directly related to the oil sector. Therefore, classifying Sunoco as a pure energy play is an incorrect assumption. Revenues from merchandise and convenience stores actually tend to go up when fuel prices go down as consumers have more money in their pocket after they fill the tank.
Now let us look at the impact of oil prices fluctuations on the company's fuel sales segment, which was well documented in one of Sunoco's recent presentations: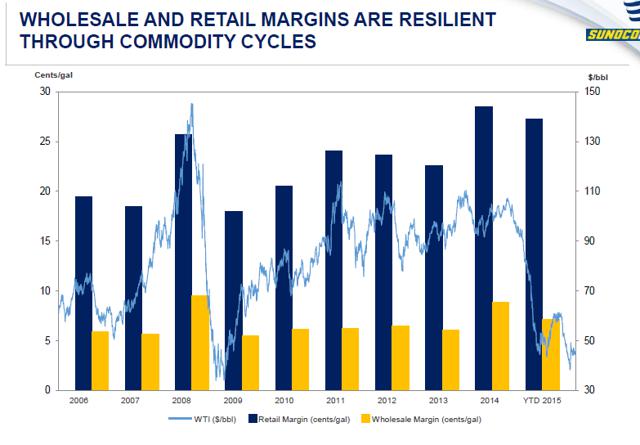 As per the chart above, the company's retail and wholesale margins remained resilient since 2006, despite wide fluctuations in oil prices and crack spreads. During that period, the company was able to increase its revenues and profits by phenomenal amounts, as discussed in the Financial Performance section above.
Safety of Its Dividend
On Jan. 26, 2016, - Sunoco LP declared a quarterly distribution for the 4th quarter of 2015 of $0.80 per common unit, which corresponds to $3.20 per common unit on an annualized basis. This represents a 7.5% increase compared to the distribution for the 3rd quarter of 2015 and a 33.6% increase compared to the 4th quarter of 2014. This increase marks the eleventh consecutive quarter that Sunoco LP has raised its distribution. The company has consistently grown its dividend payout since its IPO in 2012 at an annual growth rate of 25%, as shown in the chart below.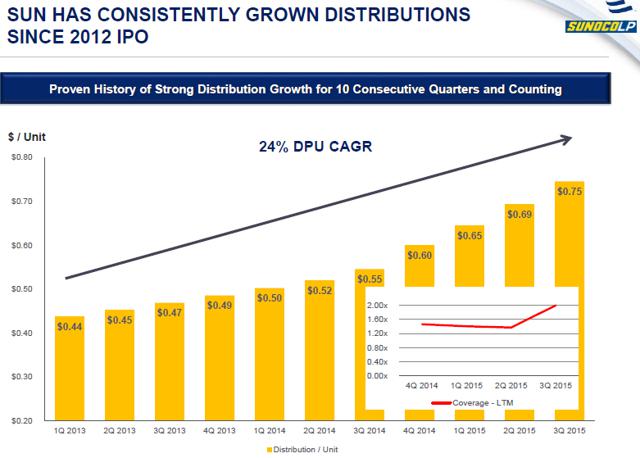 The current dividend is covered twice (2X) by the company's distributable cash flow. The company, during its Q3 2015 earnings presentation, reported a significant increase in distributable cash flow of $112.4 million, compared to $12.2 million a year earlier (9 times more), reflecting a favorable year-over-year comparison as a result of the contributions from the dropdown acquisitions of Susser Holdings Corporation in July 2015. This means that the company's dividend is not only safe, but likely to keep growing.
Other positive factors for Sunoco LP
As of February 6, 2016 there are 19 banks and analysts who cover the stock with a consensus rating of "Outperform" on the stock, and an average consensus price target of $47.50, suggesting that the current price of $24.3 is likely to double by year-end. One of the most recent upgrades to Outperform was made last November by Credit Suisse who raised its price target from $49 to $57 a share.
Conclusion
Sunoco is another example of a fast growing company that is mostly immune to fluctuations in oil prices and crack spreads, and which got buried in the oil and energy rubble. The stock currently offers a rare entry point for investors who are looking for solid juicy high dividends at a bargain price.
Join us at High Dividend Opportunities in our journey to uncover high-dividend stocks trading at bargain prices, and benefit from live alerts to pick them up. Last week, we picked up Energy Transfer Equity at a price of $ 4.38 locking a dividend of 28%. Today the stock is trading at $6.51.
"High Dividend Opportunities" is dedicated to bring you the most profitable and newest high-dividend ideas. For more info, please click here.
Disclosure: I/we have no positions in any stocks mentioned, but may initiate a long position in SUN over the next 72 hours.
I wrote this article myself, and it expresses my own opinions. I am not receiving compensation for it (other than from Seeking Alpha). I have no business relationship with any company whose stock is mentioned in this article.
Editor's Note: This article covers one or more stocks trading at less than $1 per share and/or with less than a $100 million market cap. Please be aware of the risks associated with these stocks.