Introduction:
I was a little late into the game for Under Armour (NYSE:UA), which I suspect stems mainly from my initial skepticism of the brand to compete with the likes of Nike (NYSE:NKE) and Adidas. Their continued strong growth in 2015 however, means that I can no longer ignore the potential of UA. The problem I faced was, when I noticed it in the mid-of 2015 last year, it had already run up by over a-third for the year. Despite being impressed by the inroads they have made internationally and in the online space, I held back because I did not want to chase the stock. I watched agonizingly on the sidelines as it rose another 20% by the third quarter of 2015. The market turmoil that started in the last quarter of 2015 however, turned out to be a blessing in disguise because it finally allowed me to accumulate the shares of UA at below $70 after it corrected more than 30% from their peak.
Strong management quality
One of the ways I evaluate management quality is to view their guidance made in previous years and to see whether they have managed to meet their own expectations today. Management who promise the sky to investors and fail to meet them fall very low on my ranking scale, consequently, management that beat their own guidance for the future are rated highly.
To assess this, I looked back at some of the guidance made by management in the past by looking at investor presentations and their transcripts to see how management has performed relative to their guidance since. In evaluating this, I came to the conclusion that the management team has performed way above expectations and deserve to be applauded for doing so.
Product segments: Apparels
Apparels has been UA's largest revenue contributor, in 2015, this segment accounted for 71% of total revenue. In 2013, management guided that the apparels revenue will exceed $2.9 billion for 2016. This they said would be driven by growth in their three major product categories: men, women and youth.
Have they met this? Based on their total apparel sales of $2.8 billion for 2015, they are well on track to beating the target set forth by management, achieving an over 26% compounded growth over two years. If we conservatively assume a 20% growth rate in 2016 (note that this is much lower than their historical growth rate), they are expected to do $3.36 billion in 2016, way above their 2013 guidance.
Moving forward, UA intend to be less dependent on apparels for their revenue growth and will rely on their footwear business to drive growth, this is expected to account for 21% of the overall revenue mix in 2016 based on the company's guidance, which is a 400 basis points increase from 2015.
International Revenue
Again, I looked back at management's guidance for international revenue in 2013, and found that they had guided for international revenue to account for 12% ($500 million) of the overall sales by 2016.
When I compare this to today, international revenues accounted for 11% of revenues in 2015 and brought in over $454 million last year. Based on management's latest guidance, this segment is expected to bring in over $700 million this year, a 40% increase from their original guidance. International revenue is also expected to account for 14% of their overall revenue.
I think the above illustrates the overwhelming success UA has had internationally and also the quality of the management team and team at UA in expanding overseas. The strong talent pool at UA allowed them to not only meet the consensus target they set out in 2013, but beat it by a huge margin.
Moving forward, I expect Asia, specifically China to continue to be a large growing market for UA. Whilst no figures are reported by UA, the fact that UA lists the Chinese Yuan as one of the currencies they hedge (according to filings) shows the significance that China currently have on their operations.
Innovative Product Pipeline
Since the opening of their Innovation Lab in 2011, UA has been able to accelerate new and innovative product launches. Their latest Armour Bra series launched in the third quarter of 2015 look to expand both the offerings in the women's apparel section and the revenue contribution from this segment, which is currently the fastest growing segment in the apparels section.
UA's historical track record of launching exciting new products to their offerings give me confidence in the pipeline of UA and their continued ability to grow market share moving forward.
Interests of UA
One of the ways I like to assess consumer interest is through the use of Google Trends to look at the interest of consumers to a particular company over time. This in my view gives a gauge of the search interest of consumers for the company's products over time.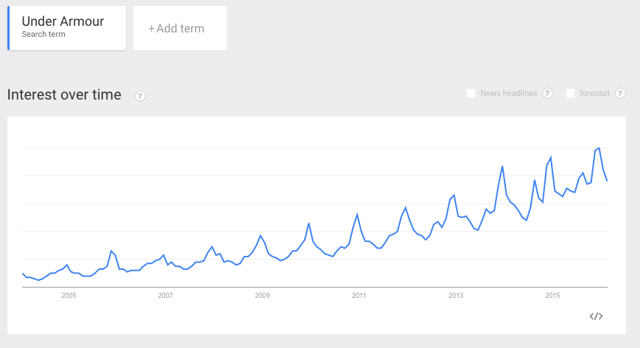 Source: Google Trends
According to Google Trends, UA has seen increasing user interest over time as illustrated by the chart above. I think this is a function of two main factors: 1) increasing presence in North America and 2) increasing international presence.
Key Operating Metrics
Inventory
One area not touched upon by the street is the tendency to ignore inventory growth for a fast growing company. There are two reasons for this, 1) tendency to over-focus on top-line growth and 2) inventory growth outpacing revenue growth not overly important for a fast growth company like UA.

Source: Enceladus Research
I disagree however, that inventory growth is less important than the company's top-line at the growth stage of the business. In fact, inventory growth is equally as important when a company is at the growth stage of the cycle as there is a potential risk of over-stocking that will hurt the cash flows of the business during a slowdown. With that said, I note that UA does not appear to have that problem at the moment, the higher inventory growth relative to their revenue is likely caused by an expansion in their direct-to-consumer channel as well as international expansion. Nonetheless, I will be watching this segment closely moving forward.
Valuations
I think the most apt valuation methodology to value UA at this point is the Price Earnings to Growth (NYSE:PEG) ratio. This measures the current price earnings of the company relative to their growth rate. Based on their last closing price on the 12th of February, UA is trading at 2.0x PEG for 2016.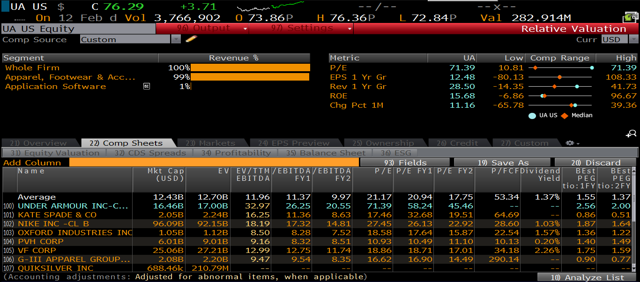 Source: Bloomberg
I think is not exactly cheap but the premium is justified because of the historical tendency for management to beat their guidance estimates. In my view, the street will continue to assign a premium valuation multiple to UA as long as they continue to surpass their own targets (which they have).
Risks
The recent market turmoil resulted in a general risk-off sentiment amongst investors as they flocked to safe haven assets like the Yen and gold. I think UA might face pressure if investors continue to shed high multiple stocks for safe haven assets. Nonetheless, I think the strong fundamentals of UA will eventually see investors pour money back into the stock. I will continue to accumulate on dips.
Conclusion
In my view, UA stands out for me because of their ultra innovative product pipeline, strong management bench and the long-run way to international expansion. UA still lag their peers like NKE in terms of operating- (13% vs. 16%) and net- (6% vs. 11.6%) margins but should reach normalization in the future, which is a potential catalyst. I am long UA and will continue to accumulate shares on dips.
Disclosure: I am/we are long UA.
I wrote this article myself, and it expresses my own opinions. I am not receiving compensation for it (other than from Seeking Alpha). I have no business relationship with any company whose stock is mentioned in this article.