With 22 year-old Jordan Spieth as the highest ranked golfer in the world, the PGA Tour has been targeting the millennial demographic in the hope of increasing its participation levels. One company that will be hoping for a boost to sales is Callaway Golf Company (NYSE:ELY).

The future of any sport relies heavily on future generations being interested enough to participate in it. When you look around the world you will see an abundance of children playing sports such as basketball, football, and soccer to name three. The beauty of these three sports is all you need is a ball and a group of friends to play with. In fact, in the case of soccer, in poor countries children have been known to kick around tin cans instead of a leather ball.
One sport that has been on the decline in recent years has been golf. Participation levels have been dropping, especially within the millennial demographic. Perhaps it is the high costs for equipment and green fees, the perceived middle class nature of the sport, or maybe it is just a lack of stars that appeal to the younger generations. One thing for sure for the latter, is the fall from grace of Tiger Woods certainly wouldn't have helped.
But step forward Jordan Spieth. The 22 year-old is currently ranked the number one player in the world, and could be bringing millennials back to golf according to a report by CNBC. The PGA has been upping its game and taking advantage of Spieth's rise by heavily promoting his endeavors to the millennial market. The report explains that there has been a year over year increase of 43% in its website traffic from millennials. Furthermore, and perhaps most promising, is that the PGA Tour has reported an improved total of 6.5 million millennials, accounting for 28% of participants, played 100 million rounds of golf in 2015. This will be great news for Callaway Golf which has seen revenues decline in recent years as participation levels dropped off.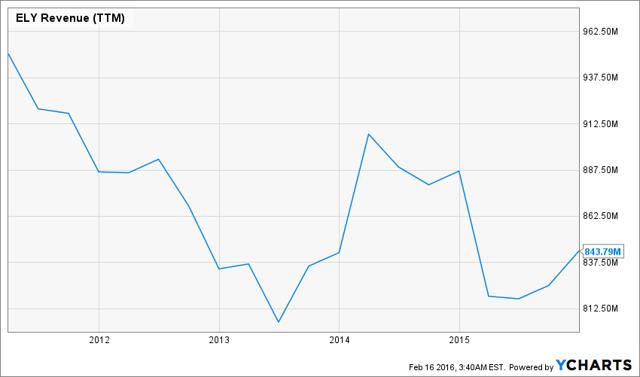 Ironically, although Jordan Spieth is not signed to Callaway Golf, he could be the key to seeing revenue increase. Callaway Golf undoubtedly make high quality equipment that resonates with the consumer and has great distribution through the likes of Amazon (NASDAQ:AMZN) and Dick's Sporting Goods (NYSE:DKS). If the millennial market can be converted into regular players then we feel certain revenue will start to pick up.
Callaway Golf can also reach millennials through its approximate 20% stake in TopGolf. TopGolf is a golf entertainment complex which for us is a great mix between a sports bar and a golf driving range. The best thing is that it appears to work brilliantly.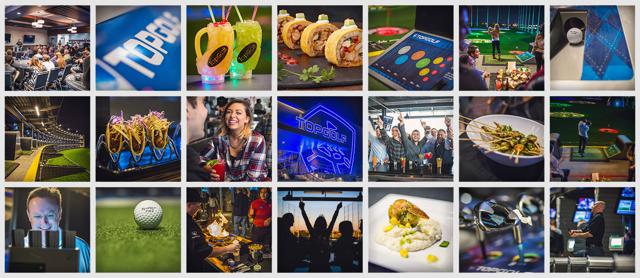 (Source: Topgolf.com)
We believe it is a great way to get millennials interested in golf, as well as provide year-round golf activities. TopGolf has been growing at an incredible rate and looks set to continue doing so. Last year it was estimated that 8 million people visited one of its 22 sites, and as more and more new sites are opened we feel this figure will continue to grow at a strong rate.
The rising wages and levels of disposable income we are witnessing, shown below, will be a big benefit to the golf industry. As we mentioned at the start, it isn't cheap to play golf, but when there's money burning a hole in your pocket you may be more likely to try new things or pick up on old hobbies.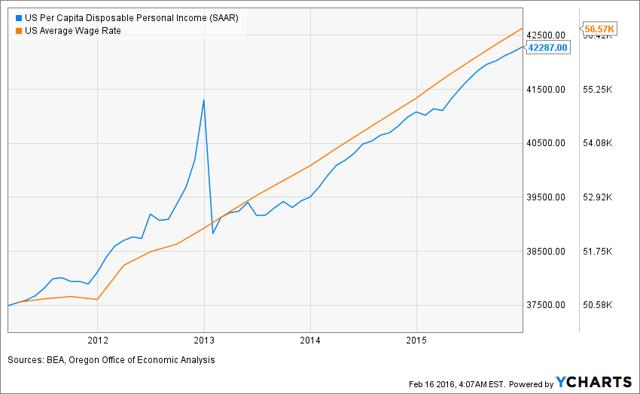 One problem we feel golf has as well is that although it is a sport, its not really something you can give up the gym for. Other more physically demanding sports are just that, and can justify skipping a gym membership. But golf, at least in our opinion, is not as physically demanding. Sure, there's a good number of miles that you might walk, but there are few golfers that you would class as athletes. So, it's not a case of quitting one to do the other. Golf could still benefit from the whole health and wellness trend we have spoken about previously, but perhaps not as much as a gym like Planet Fitness (NYSE:PLNT).
Well, we feel things are looking up for Callaway Golf but it might still be a little premature to make an investment. We value the company at 0.9 times sales, which despite losing 16% of its value in the last 3 months is more or less where it sits right now. If we felt sure sales would pick up immediately we would make an investment, but it could be another year before we see any noticeable difference to the top line.
We would rate Callaway Golf as a hold right now, and intend on keeping a close eye on things as there could be major upside should participation levels start rising significantly.
Disclosure: I/we have no positions in any stocks mentioned, and no plans to initiate any positions within the next 72 hours.
I wrote this article myself, and it expresses my own opinions. I am not receiving compensation for it (other than from Seeking Alpha). I have no business relationship with any company whose stock is mentioned in this article.