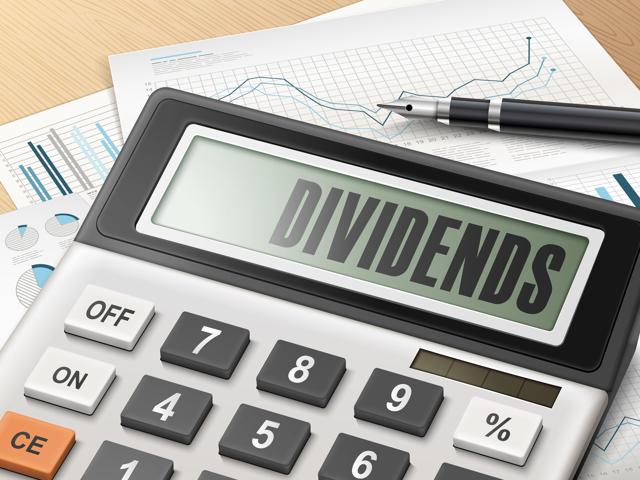 In my previous article, These 26 Dividend Aristocrats Won't Let You Sleep Well at Night, I tracked the fate of the stocks that were S&P Dividend Aristocrats in 2007 to see how well they had held up through the Great Recession. Some readers felt that the large number of dropouts from that list was due to the unique circumstances of the Financial Crisis, which had a disproportionate effect on banks. From this they had drawn the conclusion that diversifying their portfolios should counteract the risk of any one sector doing badly.
I do my best to keep an open mind and prefer to base my investing decisions on verifiable facts. So this week I decided to see if this argument held up by taking a look at what happened over time to a different group of Dividend Aristocrat-like stocks, a group that was more diverse and whose performance could be tracked for a much longer time than the Dividend Aristocrats of 2007.
The Stocks that met the Dividend Aristocrat criteria in the early 1990s
Since the official S&P Dividend Aristocrat list was only launched in 2005, going back earlier in time requires some backtesting. We have all been warned that drawing conclusions based on backtesting is dangerous, but in this case, we are not just looking at how the survivors that have made it unharmed to the present day have performed, but instead, at how all stocks that were in this class in the early 1990s performed over time.
Fortunately, it is possible to find online the list of stocks that would have met the S&P Dividend Aristocrat criteria going back to 1990. These are stocks that were included in the S&P 500. In addition, they had to meet minimum float adjusted market cap and liquidity requirements and have an unblemished record of paying increasing dividends for 25 years or more. You can view or download the list of the stocks in past years that met the Dividend Aristocrat criteria here. This list also provides a visual display that lets you see when these one-time Dividend Aristocrat-style stocks would have been dropped from the Dividend Aristocrat list. If you are new to dividend growth investing, I would urge you to take a look at this very informative list.
Because what I find most interesting is answering the question of whether investors preparing now for retirement can get an edge by selecting stocks today that could be the Dividend Aristocrats of the future, 25 years hence, when those retirees will be 75 to 90 years old, I thought it would be interesting to check out exactly what happened to the stocks that were on that list roughly twenty five years ago.
So I selected and then read up on what happened to all the stocks that would have fit the criteria used to select Dividend Aristocrat stocks back 25 years ago. Every stock I chose to research had experienced 20 years or more of uninterrupted dividend growth at the start of 1991. Those with less than 25 years of increasing dividends in 1990 were all stocks that went on to become Dividend Aristocrats by the end of 1994.
These stocks had certainly been stress tested, as they had successfully negotiated the recessions of 1973-5 and 1981-82 as well as the recession that was just ending as 1991 began, all the while maintaining their quality and ability to raise their dividends every year.
In 1991, no one was buying these stocks to provide income for retirement
However, before we look at the fates of these 49 stocks, it's worth reminding ourselves that in 1990, the concept of investing in stocks to provide retirement income would have struck most investors as bizarre.
People who owned these Dividend Aristocrat-like stocks in 1990 did so for reasons that had little to do with the fact that they had been producing reliable income over 25 years or more. Here's why: The average dividend yield of the S&P 500 in 1991 was 3.68%.
But to put that into perspective, you need to remember that at the end of 1990, the annual rate of inflation in the United States was 5.8%, which was actually a huge improvement over the inflation rates prevailing over the previous decade. That's why, because savers and bond buyers had been so traumatized by the massive inflation they had just lived through, the interest rates paid by safe investments were much higher than inflation.
So investors preparing for retirement in 1990 who needed safe income could get 8.09% by buying gold-plated, utterly secure 10-year Treasuries. They could also find a safe 8% in 5-year bank and credit union CDs. If their income bracket was high enough to make taxation a concern, they could invest in tax-free bond funds paying 5.5% to 6.5% .
In 1991, these safe Treasuries and municipal bonds had an additional benefit since inflation was actually beginning to ebb, causing the price of these bonds to rise. At a time like this, with safe assets paying more than double the income available from blue chip stocks, why would anyone depend on stocks for income?
And it gets worse. There was another reason no sane investor was buying even the bluest of blue chip stocks for income in early 1991. Workers who had been investing for retirement in the decades leading up to 1991 were likely to hold most of their investible assets in taxable accounts, but in the early 1990s, all dividends were taxed at ordinary income rates, which could be as high as 31%. 401K plans were relatively new and mostly offered by very large employers. Many rewarded employees for investing in the one stock of the company they worked for, while others forced investors to buy mutual funds and prohibited them buying individual stocks.
Workers in smaller companies who were not covered by corporate pension or savings plans had the option to invest in tax-advantaged IRAs, but when IRAs were first introduced annual contributions had been capped at $1,500. By 1990, IRA contributions had been capped at $2,000. So the total amount of assets these workers had available to invest in individual stocks was low.
Finally, many of the Dividend Aristocrat-like stocks of the early 1990s paid dividends even lower than that the S&P 500 average. For example, based on Johnson & Johnson's (NYSE:JNJ) share price as of January 2, 1991, the dividend Johnson & Johnson had paid over the previous year was only 3.2%. Over the ensuing years, though the company's dividends grew, the stock price grew much faster, so Johnson & Johnson's yield remained below 2% until 2004, at times dropping below 1.5%.
Given that this yield was certain to lose to inflation and was subject to the heavy tax penalty applied to most people's taxable retirement savings, stock investors in the early 1990s were looking not for income but for companies growing fast enough that their share price growth could keep up with devastating rates of inflation.
Nevertheless, if you accept the belief of many dividend growth investors that a long history of steadily growing dividends is a sign of good management and corporate health, you would expect the stocks meeting the Dividend Aristocrat criteria back in the early 1990s to be among the healthier of stocks available at the time. You might also expect that investors holding a portfolio heavy in such stocks at the beginning of 1991 would have gone on to experience a safer, more stable retirement.
So How Did The Dividend Aristocrats of the Early 1990s Do?
Below is a chart that displays the fate of the 24 out of 49 stocks that could have qualified to be Dividend Aristocrats between the years of 1990 and 1994 that are no longer trading as the same company today.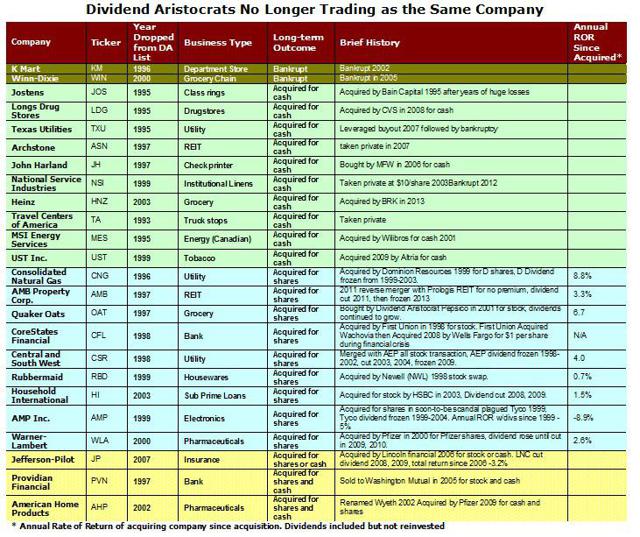 The Stocks that Did Not Survive
Though two of these companies eventually went bankrupt, K-Mart and Winn Dixie, the main reason that stocks stopped meeting the criteria for being Dividend Aristocrats after 1990 was that they merged with or were acquired by other companies.
The period of the 1990s is now described as one of "Merger Mania." The epidemic of mergers happened because changes in corporate law during the Reagan and Bush administrations removed the anti-trust barriers that had protected companies from aggressive takeovers in the past.
Overall, the long-term impact of these mergers on American industry was toxic. In many cases, companies were acquired, their cash and assets looted, and then what was left of the companies spun off to languish. We can see this effect very clearly when we look at the outcomes of the stocks listed in the chart of companies no longer trading today that were the targets of mergers or acquisitions.
Ten were bought for cash, meaning that the holders of their stock were given cash for their shares and lost their connection with their original holding. They were also forced to pay capital gains on what had often been long-term holdings, reducing the money they had available to buy new stocks. Two of these previously healthy companies that were acquired for cash eventually went bankrupt.
Owners of 9 of these companies no longer in business as independent entities were acquired for shares of the acquiring company. Investors in these companies had the choice of staying invested, but the majority of those who did so experienced declining or disappearing dividends. Of these companies acquired for shares only a single one, Quaker Oats, acquired by PepsiCo (NYSE:PEP) in 2001, continued to pay rising dividends.
More significantly, in terms of quality, only 2 of the companies that acquired these previously high quality companies outperformed the S&P 500 index over the long term - PepsiCo and Dominion Resources (NYSE:D). The other 7, which were 78% of the companies acquired in return for shares, performed sluggishly, as illustrated by Rubbermaid after its acquisition by Newell, at best or disastrously, as was the case of electronic company AMP, acquired by Tyco (NYSE:TYC) in 1999 and of CoreStates Financial, the one bank acquired for shares, which passed through a series of takeovers until the final company's shares were purchased for $1 a share by Wells Fargo (NYSE:WFC) during the Financial Crisis.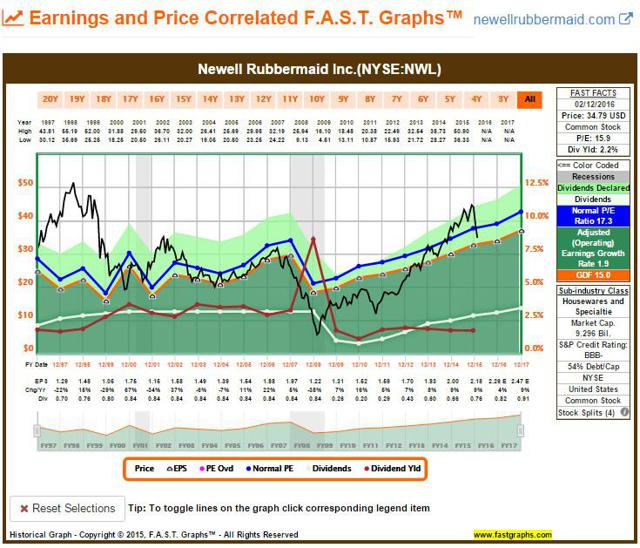 Three additional Dividend Aristocrat-like stocks of the early 1990s were acquired for a combination of shares and cash. Though it isn't possible to compute the return earned by shareholders who held on to their shares, only one of these three companies, American Home Products, acquired by Pfizer (NYSE:PFE), retained any significant shareholder value.
So yes, Merger Mania was an unmitigated disaster for holders of 12 of the 22 stocks (55%) that had been high quality Dividend Aristocrat-type stocks in 1990. And it probably wasn't all that good for those who received cash for their previously high quality companies unless they were fortunate enough to avoid resisting the temptation to invest in the technology and dot.com growth stocks that were so alluring to investors in the latter 1990s.
The Dividend Aristocrat Companies of the Early 1990s that Survived
Below you will find a chart showing what happened to the 25 Dividend Aristocrat-like stocks of the early 1990s that survived and are still trading as the same company.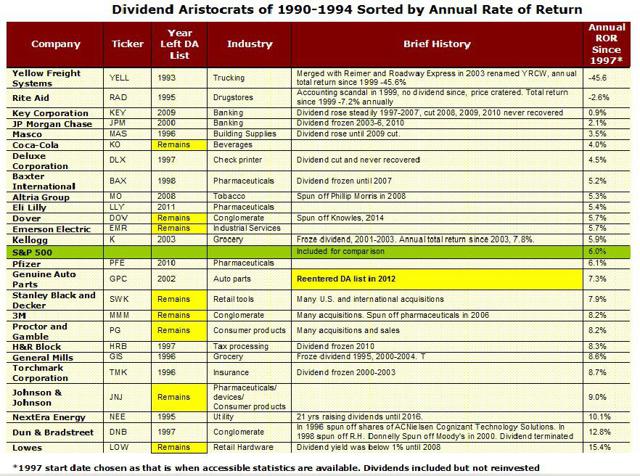 The 25 stocks that survived from 1990 did not uniformly remain high quality investments
Only 8 of these stocks retained the qualities that let them stay on the list of Dividend Aristocrats, these were Coca-Cola (NYSE:KO), Dover (NYSE:DOV), Emerson Electric (NYSE:EMR), Stanley Black and Decker (NYSE:SWK), 3M (NYSE:MMM), Proctor & Gamble (NYSE:PG), Johnson & Johnson, and Lowe's (NYSE:LOW). One other stock, General Auto Parts dropped off the list in 2002 but reentered it in 2012.
These surviving Dividend Aristocrats represented only 16% of the original 49 stocks and 32% of the subset of companies that were not acquired over the intervening years. It is not obvious why these survivor companies were not acquired in the 1990s when others of the same size and quality were.
However, even though they have received continually rising dividends, holders of three of these stocks would have seen their companies underperform the S&P 500 over the past 20 years. (Note that the performance data displayed in these charts comes from F.A.S.T. Graphs, which uses S&P IQ data going back only 20 years, so I did not do the extensive research needed to determine the rate of return of these stocks going back to earlier years of the decade of the 1990s.)
Only 6 of the nine current Dividend Aristocrats displayed the outperformance that today's dividend growth investors hope to see in the dividend paying, high quality stocks they buy now. The rest of the 16 stocks that dropped off the Dividend Aristocrat list produced a wide range of outcomes for investors who have held them over the past 20 years, ranging from the catastrophic losses suffered by owners of Yellow Freight (NASDAQ:YRCW) and of flatlining of Rite Aid (NYSE:RAD), a stock that was trading at a split-adjusted price of $8.02 at the beginning of 1991 and now trades at $7.82, to the extremely satisfying 12.8% average annual rate of return experienced by investors in Dun & Bradstreet (NYSE:DNB).
The persistent Dividend Aristocrat that has done the best of the whole group over time, Lowe's, is, interestingly enough, one that has paid a dividend so low for much of its life that few dividend growth investors would have been likely to have invested in it. The brown line in the F.A.S.T. Graphs and the scale on the right hand side of the graph show how the dividend yield of Lowe's has varied through the past 20 years.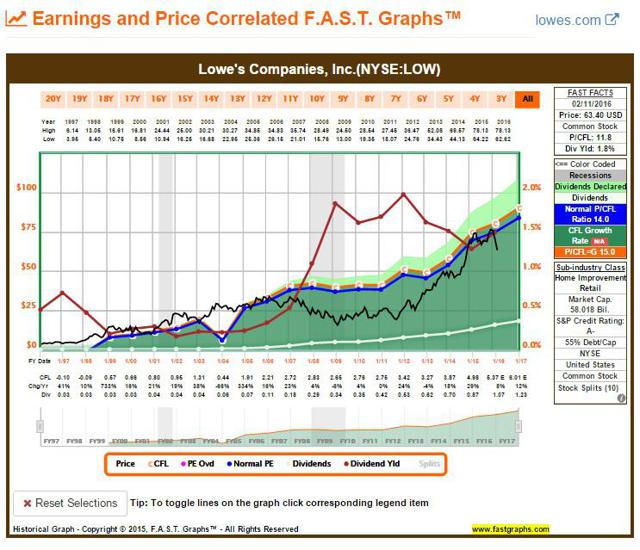 But before you conclude the ability to maintain a steadily growing dividend over 25 years or more predicts future outperformance, it is worth noting that 6 of the 12 stocks on the survivor list that outperformed the S&P 500 over the last 20 years were those of companies that did not continue to raise their dividends. This list includes Pfizer, H.R. Block (NYSE:HRB), General Mills (NYSE:GIS), Torchmark (NYSE:TMK), NextEra Energy (NYSE:NEE), and Dun and Bradstreet. In the case of DNB, the dividend was eliminated completely for a number of years, though the company has maintained that exemplary average 12.8% annual rate of return for the past 20 years.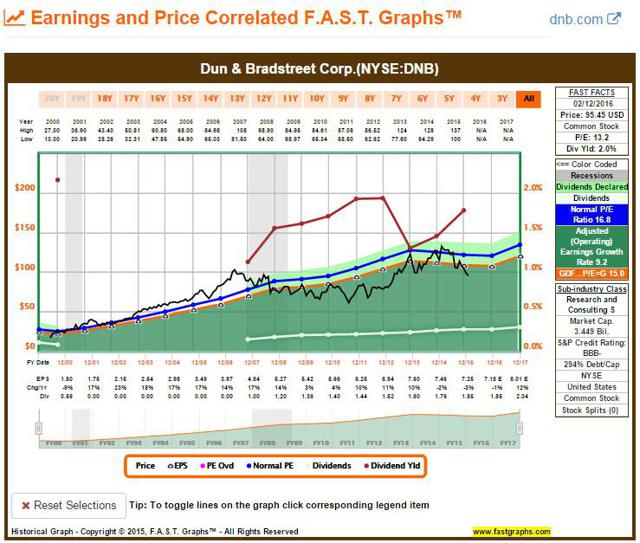 What Effect Did Diversification Have on Protecting The Companies Originally on the List?
Merger Mania was an equal opportunity devastator of shareholder value when we consider the companies that were victims of it. Though, most of the survivors of the original list were, in fact, companies that acquired other companies during that same period. Theirs, unlike that of their peers, worked out - though even here, there are exceptions to this generalization, and some spun off the companies they had earlier acquired.
There is also no pattern of industries outperforming over the past 25 years. Some pharmaceutical companies survived but underperformed over the decades, like Baxter (NYSE:BAX) and Eli Lilly (NYSE:LLY), while Johnson and Johnson and Proctor & Gamble, which owns health care brands, including Prilosec OTC, outperformed. Though many chain stores originally on the list have done poorly since the 1990s, faced with competition from Wal-Mart (NYSE:WMT) and more recently Amazon (NASDAQ:AMZN), Lowe's has done brilliantly. As you would expect, financials as a group did slightly worse than other industries, but even amidst the devastation wreaked on financial companies, owners of insurance company Torchmark, ended up experiencing enviable long-term performance.
There is No Simple Metric that Can Guarantee Your Retirement Income or the Assets You Use to Generate Them
This data makes it crystal clear that a long history of dividend growth tells us nothing about a company's future performance. It also points out the extent to which today's investments will be impacted by changes to corporate law and the tax code, and the annual inflation rate, to say nothing of industry fads, like today's growing tendency for companies to return cash in the form of stock buybacks rather than as dividends, even though buybacks primarily benefit investors who sell their shares, often at the expense of those who hold. Diversification, is also very unlikely to protect you from the currently unknown business fads of the future, which may, like those of the past 25 years, apply to stocks of all sizes in all industries.
These findings should make you and any thoughtful investor preparing for retirement realize that if you are depending on a portfolio of stocks to supply your future income, you are taking on much more risk than you may have realized. You can expect to see many of the companies you currently hold cease to do business as independent entities. You can also expect to see a certain proportion of your currently profitable companies decline and to have many underperform over long stretches of time. Should inflation rise, that underperformance will become a much greater threat to your retirement, since declining share prices will leave you with less cash with which to buy the fixed income investments that could produce enough income to let you to keep up with inflation.
With this in mind, investors near retirement who have let a temporary hunger for income seduce them into putting more than 50% of their portfolio into stocks, no matter how high their current quality, need to do some serious thinking about whether it is time to consider replacing some of their stocks with safer, more reliable fixed income, even though fixed income vehicles currently may yield slightly less than stocks do today.
Disclosure: I/we have no positions in any stocks mentioned, and no plans to initiate any positions within the next 72 hours.
I wrote this article myself, and it expresses my own opinions. I am not receiving compensation for it (other than from Seeking Alpha). I have no business relationship with any company whose stock is mentioned in this article.