Recently, bio-pharma heavyweight Celgene Corp. (NASDAQ:CELG) reported another set of solid 4Q and full-year results. The company met headline top and bottom line expectations, while maintaining consistent forward guidance.
However, the balance sheet and capital returns weakened materially, with little acknowledgement from management.
As Usual, Management Delivered On Revenue and Earnings
I've long been a proponent of Celgene Chairman and CEO Bob Hugin. During his tenure, he's guided the company to become a bio-pharma industry titan. Notably, the business meets or beats Street expectations consistently.
2015 was no exception.
Found below is a slide from the January 2015 J.P. Morgan Healthcare conference. It outlined Celgene management's full-year expectations.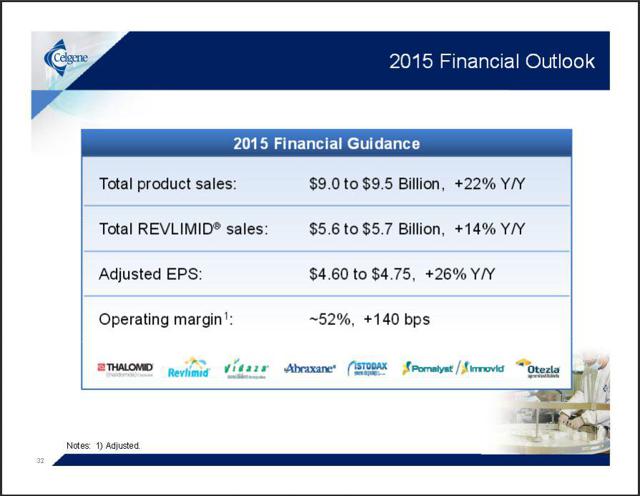 Let's compare it the actual 2015 results:
Total Product Sales: $9.16 billion, up 21%.
Total Revlimid Sales: $5.80 billion, up 16%.
Adjusted EPS: $4.71, up 27%.
Adjusted Operating Margin: 52%, up 140 bps.
All headline numbers were on the-ball...
Note: Effective March 1, 2016, Mr. Hugin will serve as Executive Chairman only. Mark Alles will replace him as the new CEO.
But the Balance Sheet and Return on Capital Took a Hit
What didn't make the headlines was a balance sheet step-down. A consolidated balance sheet wasn't available as part of the earnings release; it just became available to investors as part of the 10-K filing.
The step-down was sparked by the August 2015 $7.63 billion Receptos acquisition. Celgene financed the deal with long-term debt shortly after the $1 billion Juno Therapeutics Corp. acquisition. While the Company's BBB+ credit rating remained intact, it transformed an excellent balance sheet into an ordinary one.
Furthermore, Celgene communicated neither Receptos or Juno is expected to generate meaningful earnings or cash flow until 2018-2020. See the slide from the 3Q 2015 conference call presentation below.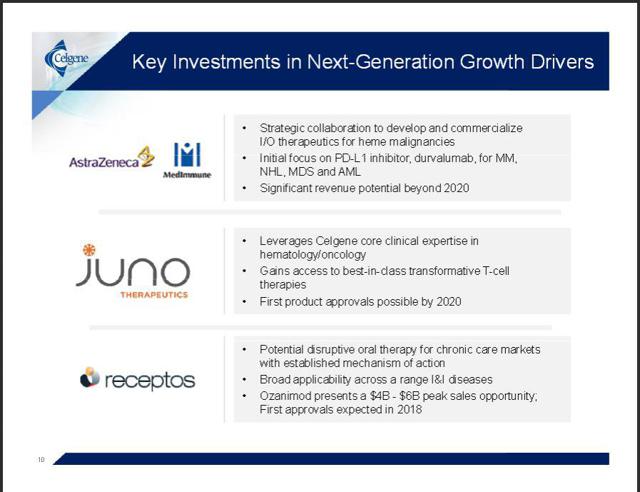 Source: Celgene 2015 3Q earnings conference call presentation
Readers, I have no fundamental concerns with the overarching approach. It appears to be a reasonable strategic and financial move.
Receptos has a stable of drugs with the potential to round out Celgene's I&I franchise, now headed by Otezla (an oral med for psoriatic arthritis) and GED-0301 (a highly promising compound for the treatment of Crohn's Disease). Indeed, Receptos has several potential blockbuster drugs. These include new therapies for multiple sclerosis and ulcerative colitis, two terrible diseases. The Receptos deal was part and parcel to the general strategy of setting up Celgene for the next decade.
The Juno Therapeutics deal and an AstraZeneca (NYSE:AZN) collaboration agreement were part of the same theme.
Debt Offering Changes the Calculus
In 2015, Celgene issued $8.0 billion in notes with maturities between 2018 and 2045. Interest rates range from 2.125% to 5%.
I believe this development requires careful monitoring. Celgene management has "laid up" for 2018 and out by levering up its balance sheet today.
Following is a summary of how the debt has affected the year-over-year financials:

Effectively, the jump in debt reflects the Receptos acquisition. It altered a negative net debt position to one of positive net debt.
The current 2.9x leverage ratio isn't alarming; however, credit agencies expect management to bring the figure down below 2.0x by the end of 2017. Otherwise, Celgene may risk losing its BBB+ rating.
Doing the math, this places the company into the position of having to grow adjusted EBITDA by ~22% a year in 2016 and 2017 to make the mark.
Doable?
Yes, given Celgene's proven drugs, promising compounds and excellent management team. However, the backdrop has changed from one of focused growth to staking a financial bet on future growth.
Capital Returns Declined, Too
To be sure, the fresh debt has changed the balance sheet.
Ditto returns....
A year ago, Return on Invested Capital was touted as a key metric: Celgene was "Focused on Returns." And the trend was clearly upward.
From the 4Q 2014 earnings presentation slide deck: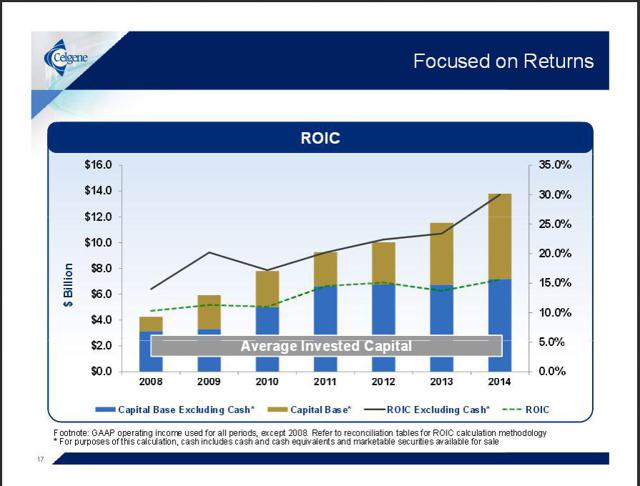 By comparison, how did 2015 RoIC stack up? Please see the table below.

I was a bit disappointed Return on Invested Capital was considered a 2014 "Focus on Returns" item, yet was omitted from the 2015 earnings presentation material. An acknowledgement would have been preferable.
Certainly, the current RoIC isn't bad. The figures are better than cost of capital, and stand up well on their own merit. After cash and investments are backed out (typical for RoIC calculations) the results are even better, even robust.
It just would have been better if management had addressed it head-on.
Long-Term Investment Thesis Remains Intact
Celgene remains a top pick within the biotech space. Management projects operating earnings to grow by 23% a year for the next several years.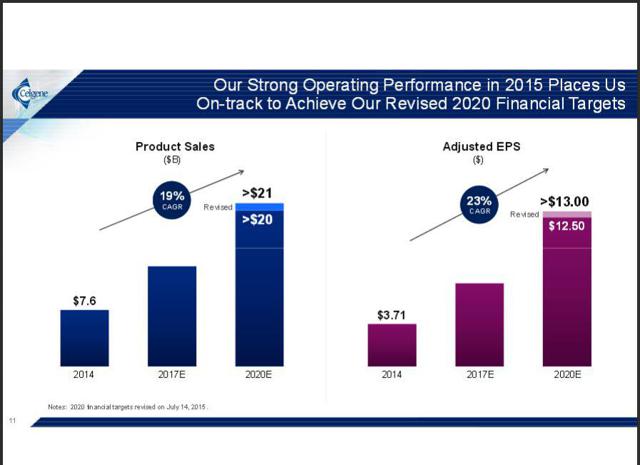 The growth of Revlimid and Abraxane continue to drive core product sales; while newer drugs Pomalyst (45% growth in 2015), and potential blockbuster Otezla continue to add gloss to the portfolio.
2015 saw a favorable IP settlement with Natco. Abraxane sales growth decelerated during the early part of the year, but the fourth quarter saw sharply higher sales and year-end results were good.
Given high prospective earnings growth rates, using out-year P/E and EPS, validated by the PEG ratio offers a reasonable valuation.
Accepting management's projections, and applying a multi-year PEG ratio of 1.0 suggests a forward 23x P/E.
A F.A.S.T. graph illustrates a 2016 fair value estimate: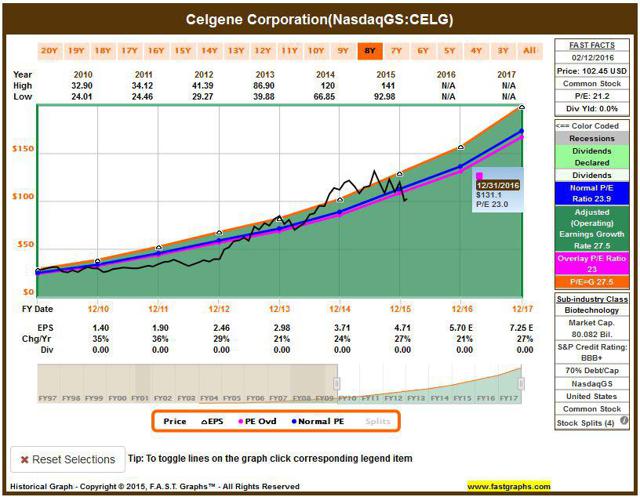 The pink line represents a 23x price-to-earnings multiple. When applied to Street analyst's consensus 2016 operating EPS, the fair value estimate is $131 per share. Celgene management has forecast midpoint 2016 operating EPS to be $5.60. Using that figure shaves a couple of dollars off the FVE.
A forecasting F.A.S.T. graph offers fair value estimates out until 2018.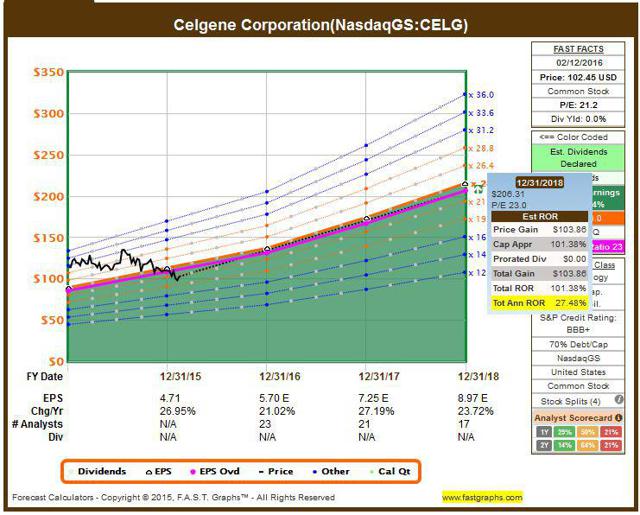 I've highlighted 2018 on the chart. Here we see the 2018 FVE is $206 a share.
Summary and Conclusion
Celgene management has offered investors consistent, sound forward earnings guidance, then gone out and executed it. Last year was no exception.
However, 2015 marked a change: the Company levered up the balance sheet to complete its forward-looking deals. These included acquisitions of Juno Therapeutics, Receptos Inc., and a major collaboration agreement with AstraZeneca. The $7.6 billion Receptos acquisition was funded entirely with new debt.
These deals are not expected to become earnings/cash accretive until at least 2018 to 2020. In the meantime, Celgene must carry the debt. Agencies have maintained the Company's BBB+ credit rating, with the expectation increasing EBITDA will enable the business to grow out of the newfound leverage; reducing it to under 2.0x by the end of 2017. It's 2.9x now.
Capital returns have come down a peg, too. To be fair, RoIC figures remain acceptable, even robust, after cash is backed out. However, management did not point out the step-down during the 2015 earnings presentation after highlighting a "Focus on Returns" during 2014. This bugged me a little.
The CELG investment thesis remains intact. So long as management continues to drive earnings as forecast, the weaker balance sheet is not a fatal flaw. Operating earnings based fair value estimates suggest strong returns.
Nonetheless, investors should pay close attention to the balance sheet. The company must generate strong bottom line growth in order to reduce the added debt and leverage.
Please do you own careful due diligence before making any investment decision. This article is not a recommendation to buy or sell any stock. Good luck with all your 2016 investments.
Disclosure: I am/we are long CELG.
I wrote this article myself, and it expresses my own opinions. I am not receiving compensation for it (other than from Seeking Alpha). I have no business relationship with any company whose stock is mentioned in this article.