Starbucks Corporation (NASDAQ:SBUX) has been the top performer in my portfolio compared to the internal rate of return for each position. I initiated a position in the company in April 2014 and have no complaints with the returns. In that time I've received a dividend return of 2.75% to go along with 53.9% cumulative dividend growth. Price appreciation has come in at 58.4%, giving a total return of 61.2%. That's good for an annualized return of 30.6%.
I've been quite happy with the growth and subsequent returns since starting a position in Starbucks. However, those are historic returns and have no bearing on whether the company is attractive at current prices. Since hitting a 52-week high of $64.00 in October 2015, the share price has retreated back to $55.86 as of the close on Friday, February 12th. That's a decline of 12.7% and piqued my interest in updating my valuation on the company.
Starbucks is a Dividend Challenger with 6 consecutive years of dividend growth and a 5 year dividend growth rate of 30% annually.
Business Overview
As everyone knows, Starbucks operates a chain of coffee stores across the globe. They operate in 4 segments split between the Americas, Europe, Middle East and Africa (EMEA), China/Asia Pacific and Channel Development.
Essentially they make money by turning beans and water into coffee and selling it at a premium. It's very similar to the business model of another beverage giant, The Coca-Cola Company (NYSE:KO).
Some might disagree as to the quality of their coffee, but their moat isn't derived from the coffee. It comes from the convenience, selection and the experience of a Starbucks visit. Every Starbucks I've gone into is always loaded with customers, yet the line always moves quickly.
Profitability
Starbucks displays very high and consistent margins from year to year. Their gross profit margin has remained steady above 55.0% every year over the last 5 years. Their operating margin has grown over the last 5 years to almost 19.0% over the trailing twelve-month period. Net profit margin is solid and consistently above 10% which is my typical minimum target for investment candidates. For every $5 cup of coffee sold that's $0.62 of profit to be reinvested to further grow the brand or return to shareholders in the form of dividends or share buybacks.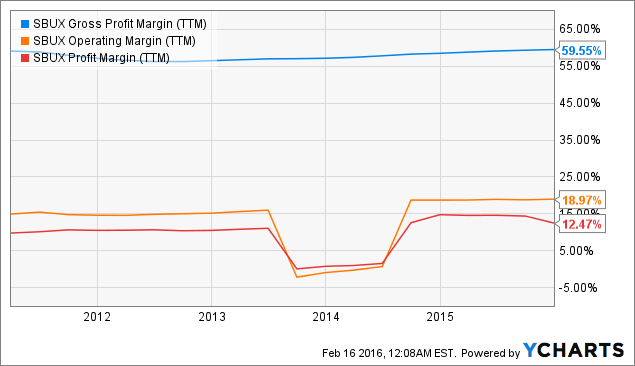 SBUX Gross Profit Margin (NYSE:TTM) data by YCharts
Balance Sheet
Debt levels have been rising over the last 5 years increasing over 4 times the Fiscal Year 2011 level. Much of that is due to the low cost of borrowing due to the Fed's "ZIRP" policy and to help fuel growth of the company with outside capital. Equity levels have increased 33% over the same time period.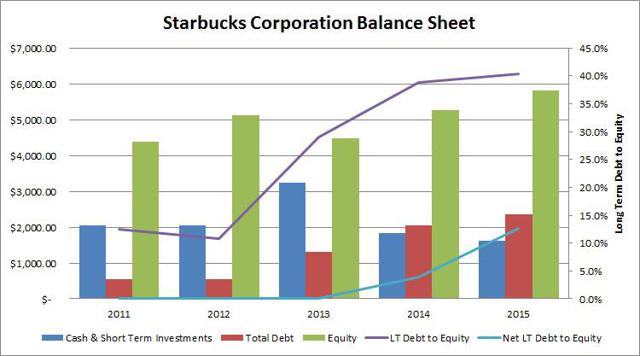 It should be no surprise that the long-term debt to equity ratio has increased as well and now sits at 40.4%. However, the net long-term debt to equity ratio, long-term debt less cash divided by equity, is still low at just 12.7%. Neither ratio is a concern at this time; however, it's something that needs to be watched going forward to make sure the trend isn't continually higher.
Cash Conversion
Over the last 5 years and the TTM period Starbucks has converted 14.1% of revenue into cash flow from operations. Capital expenditures have consumer 47.1% of operating cash flow for the 2011 through 2015 period, inclusive. The free cash flow margin during the same period has come to 7.5%.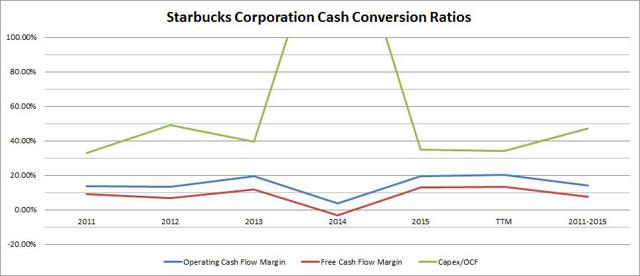 *Note: I purposely cut off the scaling at 100% to show the trend during the other time periods. CapEx/OCF for Fiscal Year 2014 came to 191.0%.
Starbucks' cash flow margins are solid and relatively stable from year to year.
When analyzing the cash flow of a company I like to look at several iterations of free cash flow.
Free Cash Flow (FCF) - The traditional free cash flow calculation of operating cash flow minus capital expenditures.
Free Cash Flow after paying the Dividend (FCFaD) - Free cash flow as calculated above less the total cash dividend payment.
Free Cash Flow after paying the Dividend and Share Buybacks (FCFaDB) - The FCFaD value less net cash spent on share buybacks.
The following chart shows Starbucks' cash flow for the last 5 years, the TTM period and the 2011-2015 timeline inclusive.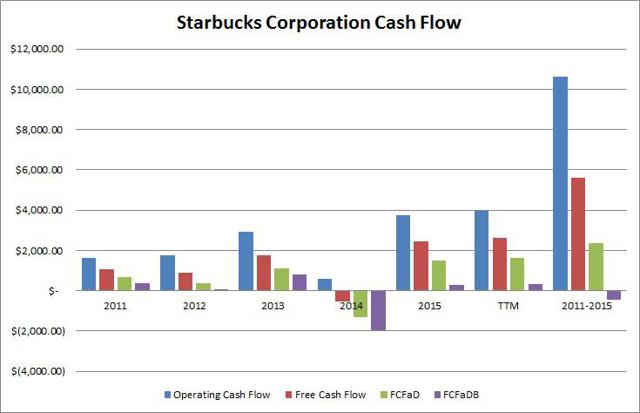 Returns on Equity
Return on equity acts as a gauge of how effective management is at employing shareholder capital. Much like the analysis of the cash flow I like to look at a few iterations of return on equity.
Return on Equity - The traditional calculation of net income divided by total shareholder equity.
OCF Return on Equity - Operating cash flow divided by total shareholder equity.
FCF Return on Equity - Free cash flow divided by total shareholder equity.
By itself an increasing ROE, by any calculation, is limited in its scope. The biggest drawback to the ROE is that it doesn't encapsulate how the returns were derived, i.e. increasing debt levels reduces the equity level which artificially increases the ROE. Therefore, we must take the ROE calculations in conjunction with the balance sheet analysis from above.
Shareholder Friendliness
Companies have two ways to directly reward shareholders: share buybacks and dividends. Of course, they can also indirectly reward shareholders by retaining earnings to grow the business. Let's focus on share buybacks first.
Since the end of Fiscal Year 2011, Starbucks has reduced the diluted weighted shares outstanding by 1.9%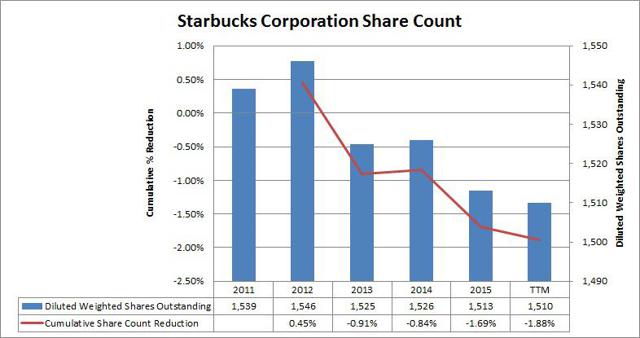 Share buybacks, when done right, have two big advantages. One, they reduce the share count which helps to inflate all per share values such as earnings and cash flow which in turn should lead to a higher share price over time. Second, a constant cash dividend payment can be used to pay a higher dividend without increasing the total cash outlay of the company.
The following graph shows the ratio of the total cash spent on dividends and the net cash spent on share buybacks for Fiscal Years 2011 through 2015 and the TTM period.

Net buybacks to dividends has historically been tilted more towards dividends, although share buybacks have outpaced dividends over the last two years. Over the 2011 through 2015 period, inclusive, the ratio has been 46.7% for net buybacks to 53.3% for dividend payments.
Starbucks has historically been priced at a premium, deservedly so based on their historic growth. We'll examine the valuation in more detail later, but the current TTM P/E ratio is 34.3, the 2016 Forward P/E ratio is 29.6 and the 2017 Forward P/E ratio is 25.5. Since shares are rather expensive I would prefer to see the ratio of share buybacks to dividends skew more towards dividend payments.
For the 2011 through 2015 period, 57.7% of free cash flow has been spend on dividends. Over the same time period the total shareholder payout, dividends plus net buybacks, has outpaced free cash flow with 108.2% payout. The overpayment of free cash flow is due to the negative free cash flow situation from Fiscal Year 2014. Excluding 2014, the total shareholder payout has accounted for 83.2% of free cash flow.
Growth Prospects
Starbucks has some of the highest growth prospects one can find in a company with a market cap over $80 B.
Same store sales growth is expected to be in the mid to high single digit range following the long-term trend.
Management plans to open 1,800 new stores in 2016.
Market penetration is still far from saturated both domestically and especially internationally.
Brand value is extremely high with customers willingly paying a premium for their beverages
Testing alcohol sales in select locations to provide a "Starbucks Night Life"
Further investment in technology to provide development of the mobile payments platform.
Howard Schultz is a true innovator and has one of the best track records for a CEO.
Eventually the U.S. Dollar will weaken further which will be a tailwind to multinational corporations.
Risks
The growth prospects are strong but we must also take a look at the risks that Starbucks is subject to.
Coffee is a commodity and as such can be subject to wild swings in prices.
A continued slow down in the global economy could lead to slowing growth for the discretionary and premium products that Starbucks sells.
Howard Schultz unexpectedly having to step down as CEO due to health or other reasons.
The first two risks would affect Starbucks in the short-to-medium term but would not effect the long-term growth story.
I feel that Howard Schultz unexpectedly having to leave is the biggest risk to the company and shareholders. He left before and had to come back in 2009 to right the ship. Without a proper succession plan and clear vision for 2020 and beyond Starbucks and shareholders could suffer.
I'm also a bit troubled by Howard Schultz's commitment to the share buyback. In a recent interview on Mad Money he said "we'll back up the truck" in reference to share buybacks without indication of requiring a value component to proceed with the buybacks.
Valuation
The problem with Starbucks has nothing to do with the company or their operations. It's the fact that growth starved investors have bid the share price up to expensive levels. On a TTM basis the P/E ratio is at a lofty 34.3. Even after the decline in the share price the 2016 Forward P/E ratio is 29.6, while the 2017 Forward P/E ratio is 25.5.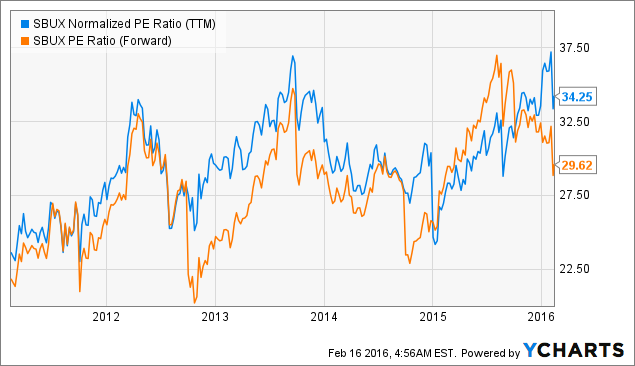 SBUX Normalized PE Ratio (TTM) data by YCharts
Even as a GARP investment, growth at a reasonable price, the shares are expensive. The 5 year forward PEG ratio is at 1.62 based on Fridays closing price whereas a PEG of 1.0 or less is generally considered to be attractive as a potential investment.
Return Expectations
The question now is whether Starbucks' growth can outperform its lofty valuation. Before adding more shares to my portfolio I look at a few return scenarios. If the returns look adequate under reasonable assumptions of future growth and valuation, then shares could make an attractive investment.
Assumptions for return calculations:
Purchase price of $55.86, closing price from Friday, February 12th.
Purchase date of Tuesday, February 16th.
Analyst estimate of 5 year earnings growth rate of 18.82%.
Starting annual dividend of $0.80 is grown at the same rate as earnings per share maintaining the payout ratio.
Shares have already gone ex-dividend for the first payment of Fiscal Year 2016 so only 3 dividend payments will be received this year.
The following graph shows the current price, the earnings per share estimate for Fiscal Years 2016 through 2020, and the corresponding estimate share price with varying P/E ratios. It's important to note that these are future estimates of both earnings growth and share price trajectory.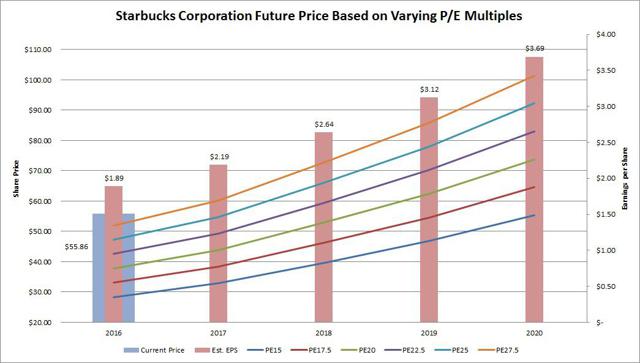 The following table shows the compound annual growth rate of an investment in Starbucks using the above assumptions and corresponding to the above graph. End prices have been adjusted for cumulative dividends received and are reflected in the return calculations.

Despite excellent earnings growth of almost 19% annually, there's not many return scenarios that look that appealing. Only 6 scenarios give greater than 10% annualized returns.
I'll admit that in "normal" market/economic conditions the 15 and 17.5 P/E ratio scenarios are not likely to occur; however, it's best to err on the side of caution. The growth prospects for Starbucks should still justify at 20x P/E ratio which would only lead to 7.9% annualized returns through the end of Fiscal Year 2020.
The problem is the current valuation is very high and there's a high likelihood of investor returns lagging behind the operational growth of the company.
In order to generate at least a 10% annualized return for the 20x 2020 P/E ratio scenario, one would have to purchase shares at $51.06 assuming the same growth scenario plays out. At that price the 2016 Forward P/E ratio would be 27.0 with a 2017 Forward P/E ratio of 23.3. The following table shows the revised annualized return projections based on an entry price of $51.06.

As expected, requiring a larger margin of safety in terms of entry price significantly improves the return expectations. Ten different scenarios now generate at least 10% annualized returns.
Conclusion
Before investing in Starbucks at the current price you have three questions to ask yourself.
Is the earnings growth likely to surpass the 18.8% analyst estimate?
Is the P/E ratio likely to expand or contract assuming normal market conditions?
Are you willing to take on the possibility that investment returns are likely to lag behind the true business performance of the company?
There's no doubt that Starbucks is an excellent company with a high probability of continued 10%+ growth over the medium and long term. However, company results and investment returns differ due to the valuation when you purchase shares.
If the valuation is low, you're likely to see investment returns outperform the growth of the company. But if the valuation is high, you're likely to see investment returns underperform the growth of the company. That's the situation we currently find shares of Starbucks.
Despite the decline in share price since the turn of the calendar, shares do not represent a good value at this time. If my brokerage was conducive to dollar cost averaging into the position over time, I would move forward with regular purchases of this excellent company. However, that's not the case and as such I will be waiting for better opportunities to add to my position in Starbucks.
Disclosure: I am/we are long SBUX, KO.
I wrote this article myself, and it expresses my own opinions. I am not receiving compensation for it (other than from Seeking Alpha). I have no business relationship with any company whose stock is mentioned in this article.
Additional disclosure: I am not an investing professional. Investing involves risks. Please consult a financial professional prior to investing and do your own due diligence. I may add to my position in Starbucks Corporation over the next 72 hours. All charts and images were sourced from my own stock analysis spreadsheet unless otherwise noted.