As pointed out in my last article, the S&P500 (as a result of its rally yesterday) has stormed through the trend line I have drawn in the chart below. Technical traders will probably now join the rally which could drive the S&P500 (NYSEARCA:SPY) to well over 2,000. I still think this will turn out to be a bear market rally due to the technical damage the market experienced last August which didn't incidentally make new highs. I'm betting this new rally won't make new highs either as the only instruments that can drive this market higher from here will be more quantitative easing and negative interest rates. I think they are coming but they won't be implemented until we see another 10%+ drop at least in the market. When I saw the volatility spike since the start of the year and safe havens such as US bonds and Gold rallying strongly, I thought this was when the market would undergo its long overdue correction. Well temporarily at least it seems to have been halted but nevertheless this will work well for our current positions [Long American Express (NYSE:AXP) and IBM (NYSE:IBM)] in that we should see their share prices rise in the forthcoming weeks.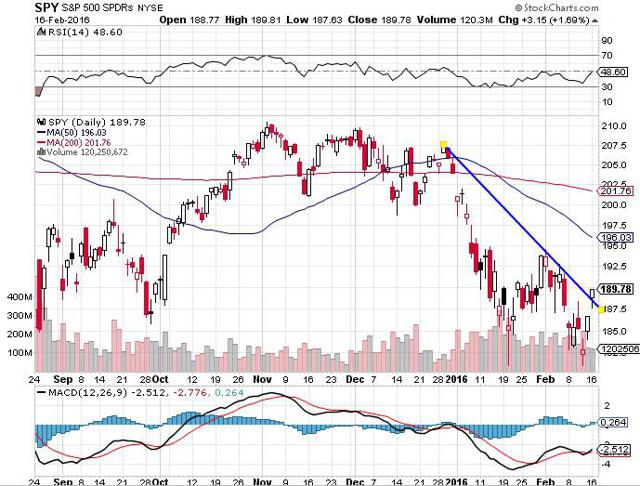 Wal-Mart (NYSE:WMT), though, is a difficult one to judge. This stock has been exceptionally strong compared to the S&P500 year to date and it has been diverging even more over the last 5 days (see chart). The retailer announces earnings tomorrow where expectations are earnings per share of $1.43 on revenues of $130.65 billion. Both of these numbers are lower than the fourth quarter of 2015 (especially the bottom line). Moreover the bottom line is where the bearish story lies with this company. Although revenues are predicted to rise to $490 billion next year, earnings per share are predicted to fall to $4.17 due to near term investments and market share losses in some categories. This is more than 20% less in earnings than 2015 so it is significant although I feel it has been already reflected in the share price.

Firstly, the golden rule of my investment philosophy is to protect the downside. Although near term investments may be squeezing profit margins at the moment, just look at the stock's performance in the great recession of 2008. In fact the stock was trading higher in 2009 than it was in 2007 which again was a huge divergence from the S&P500. EPS numbers back this up as earnings per share went from $2.71 in '07 to $3.13 in 2009 illustrating that this company is an excellent defense or recession proof stock. I was looking for a better entry which we may not get with Wal-Mart and the risk in my view is actually not being invested currently which is something we don't want.
Here are some points that contradict some recent bearish commentary. Firstly with respect to the stores that the retailer will be closing in the near future (mainly smaller format stores in the US), they account for only 1% of total revenue which the company feels it can easily make back from its super stores where there is plenty potential for growth. Why? Well although Costco (NASDAQ:COST) runs a far leaner business model, its revenue per square foot rate is $1,100 compared to a paltry $400 with Wal-Mart. Better service from better trained and paid staff should undoubtedly improve this metric over time which eventually should boost margins
Also Wal-Mart's e-commerce division will turn out to be a huge growth driver going forward despite losing market share recently to the likes of Amazon (NASDAQ:AMZN). E-commerce will continue to grow at a robust pace and Wal-Mart's pick up facilities should give it an advantage over online retailers which only have fulfillment centers. Capex figures are expected to fall off to $11 billion in 2017 so we will have a good idea of where Wal-Mart's e-commerce service will be within the next 12 to 18 months.
Its growth triggers like these that could easily move the needle for Wal-Mart going forward. It doesn't have much to beat with respect to its 2017 earnings projections and I feel (especially with recession risks currently at play) that earnings next year will be higher than originally forecasted.
So how are we going to play earnings? The stock has traded back to $65.88 and because of the near term capex headwinds which will affect margins, we are going to buy 100 shares of stock and then sell the $70 January - 2017 covered call for about $312. This (apart from a potential $400 capital gain) should yield us just under $500 in income which is an annual yield of just under 8% (which gives us even more downside protection). We may buy back the long term calls early if they have no intrinsic value and it makes no sense to hold them. Furthermore if this stock drops more but revenues continue to increase on a quarterly basis, the portfolio will probably buy more.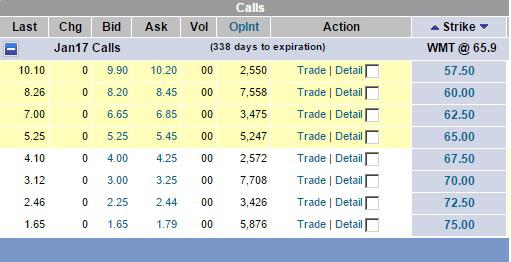 The portfolio after today will be about 23% invested. This portfolio will be all about increasing trade activity among some overvalued dividend growth stocks like McDonald's (NYSE:MCD) so that over time we can pump more capital into our lower valued dividend growth stocks which by nature should be paying higher dividends - IBM. We need to do this to keep the portfolio diversified as this increases our reward potential going forward as income portfolios are all about share count which we will increase substantially over time.
I'm going to be adding a good few dividend stocks to the elevation portfolio over the next several weeks when I see value. It's imperative that they are not correlated and don't all have similar valuations to ensure income is brought in every month which over time will increase our share count. Follow along by pressing the "Follow" button above. Let's see how quick we can get this to $20k in annual income.
Disclosure: I am/we are long WMT.
I wrote this article myself, and it expresses my own opinions. I am not receiving compensation for it (other than from Seeking Alpha). I have no business relationship with any company whose stock is mentioned in this article.