The home ownership rate in the United States has been steadily plummeting since the real estate bubble peaked reaching all time lows for the data series available on the FRED database. So why would we be suddenly interested in investing in homebuilders?
Take a look at the chart above and the uptick at the end of last year. Guess what that uptick coincides with? Well, it takes 7 years for a negative item like a foreclosure to be removed from your credit report and 7 years prior to 2016 was 2009. The year when foreclosure starts reached their peak (foreclosure completions peaked in 2010).
As we move through 2016 and 2017 there is going to be a huge group of people that will suddenly be newly eligible for a mortgage. Additionally the unemployment rate has fallen significantly and the employment to population ratio is beginning to tick up. With rental rates increasingly rising we believe that more and more people will not only have the financial means but also the motivation to buy rather than rent.
A lot of the reason to be bullish on homebuilders is common knowledge or has been covered elsewhere. We all know that interest rates are low and likely to stay low for quite some time. We know about the slowly improving economy and how housing stock is at multiyear lows.
There is also something else, perhaps a little less widely known, that has us excited about the homebuilding industry and that is the recent collapse in commodity prices. I have friends and some family that work in the residential construction and remodeling business and over the last decade one thing I have constantly heard was how expensive building materials had become. However, that looks to be changing with the current commodities crash.
Commodities Crash Benefits Construction Costs
The chart below shows the raw materials (no labor) cost for average home. The data is from the NAHB and circa 2011 but it should still be accurate as the basic ratio of home building components hasn't changed much over the years.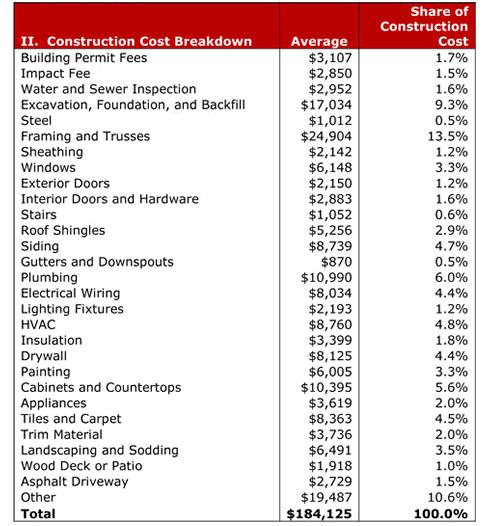 So let's take a look at just how much the drop in prices of petroleum products, lumber, and copper might have on the input costs for a home.
Petroleum
Crude oil, natural gas, and other petroleum products are used as a feedstock for many materials used to construct homes such as PVC and PEX plumbing, vinyl siding, window casing material, roofing shingles, and asphalt among others.
We all know about the epic wideout in crude oil prices but I'll include a chart anyway.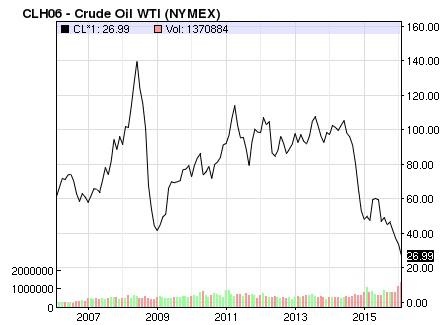 We are talking about a 75% or more drop in price from the highs that should eventually be passed on into lower costs for many of the building materials listed above. We are talking almost 15% of the raw materials used to build a home may see significantly cheaper prices as the low petroleum prices work their way through the production chain.
Lumber
Lumber makes up probably the largest single cost of a home at around 19-20% of the total raw amterials cost. We figured framing and trusses, sheathing, interior doors, stairs, trim, and decking all have lumber making up a significant component cost. You may want to include kitchen cabinets in the estimate as well as today's cabinets in mass market homes are generally made out of cheaper types of wood that most likely move have price fluctuations that most closely mirror the commodity price for lumber. Higher quality species of wood likely aren't as correlated. In any case to be on the safe side we did not include the cost of cabinets in our lumber percentage value.
The chart below shows the price of the CME lumber contract which much like every other commodity is down significantly.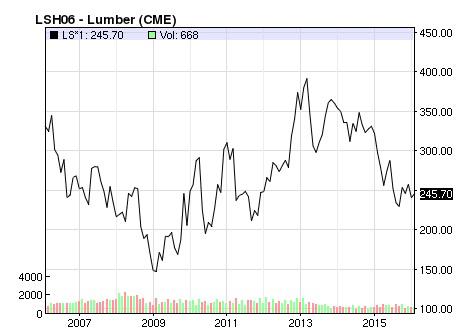 Copper
Copper is mostly just used in electrical wiring (copper plumbing is a thing of the past) in new homes. Wiring is a larger cost than you might think, making up 4.4% of the materials cost of a new home. As the chart below shows copper prices, too, have plunged significantly.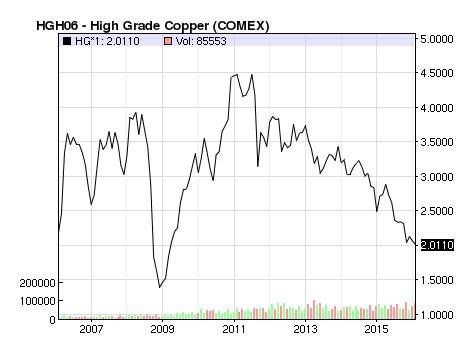 I believe that low commodities prices are here to stay. Ever since the Commodities Futures Modernization Act was passed in 2000 we've seen over $350B in speculative money flow into the market and drive up prices. I think this crash will be what puts the nail in the coffin of commodities as popular diversification "tool" and we will see that speculative flow of money reverse. It's going to be very difficult for Wall Street to push commodities as investments onto retail and institutional investors after the current selloff. In addition primary selling point was always a story relating to China growth and insatiable appetite for raw materials and that story has ended.
Affects of Low Materials Costs
With homebuilding being a very competitive industry with low barriers to entry and little differentiation besides quality (which in turn is reflected in prices anyway) one would suspect that the cost savings homebuilders are experiencing will ultimately flow through to home buyers in the form of lower prices (not necessarily on an absolute basis given that land usually appreciates).
Based on our estimates about 40% of the materials used to build a new home should see (or already are seeing) prices fall. This could drive down the prices of new homes by an appreciable amount, making new homes more affordable for first time buyers.
In some sense it doesn't really matter if the cost savings are passed through or not. We will either see higher sales growth at the same margins or lower sales growth with higher margins. In the end as long as the home construction sector grows faster than the overall economy buying homebuilder stocks would be a winning investment.
ETF or Basket Preferred over Individual Stocks
We are looking at investing in homebuilders via a basket of stocks or an ETF because of the risks of geographic concentration. The table below shows the percentage of revenue that eight major homebuilders get from California and Texas as well as the value of mortgages held on their books.
| | | | |
| --- | --- | --- | --- |
| Company (Ticker) | California (% of rev) | Texas (% of rev) | Mortgage loans on balance sheet |
| D.R. Horton (NYSE:DHI) | Up to 11% | Up to 11% | $631M |
| KB Homes (NYSE:KBH) | 46% | Up to 27% | <$14M |
| Lennar Corp (NYSE:LEN) | Up to 28% | 9% | Up to $3B |
| MDC Holdings (NYSE:MDC) | 20% | 0% | $115M |
| Meritage Homes (NYSE:MTH) | 18% | 30% | $0 |
| NVR Inc. (NYSE:NVR) | 0% | 0% | $205M |
| Pulte Homes (NYSE:PHM) | 0% | 15% | $339M |
| Toll Brothers (NYSE:TOL) | 18% | Up to 21% | $123M |
(Data from latest company 10-Ks)
We chose to look highlight exposure to California because historically it has had one of the most volatile real estate markets and Texas because of the recent crash in oil prices. An investor would need to learn about the trends affecting real estate markets around the country in order to successfully chose the best builder out of the group. That is quite a bit of knowledge one would need to accumulate and keeping on top of real estate trends across the country could be an overly burdensome task.
Additionally we highlighted the mortgages held on each company's balance sheet. Keep in mind that most of the homebuilders sell off the mortgages to other financial institutions so the risk is minimal for most builders. However, Lennar does a substantial amount of in-house financing and has several consolidated entities used for that purpose.
SPDR S&P Homebuilders ETF (NYSEARCA:XHB)
XHB is one of the two most popular homebuilders ETFs. However, it's important to realize that this ETF is not actually a homebuilders ETF in the strict sense of the word. It includes significant exposure to other home and building related stocks such as retailers like Lowes (NYSE:LOW) and Bed, Bath, and Beyond (NASDAQ:BBBY) and other stocks linked to the home building market like appliance maker Whirlpool (NYSE:WHR). In fact only 29.64% of the ETF is made of actual homebuilders as the chart below shows.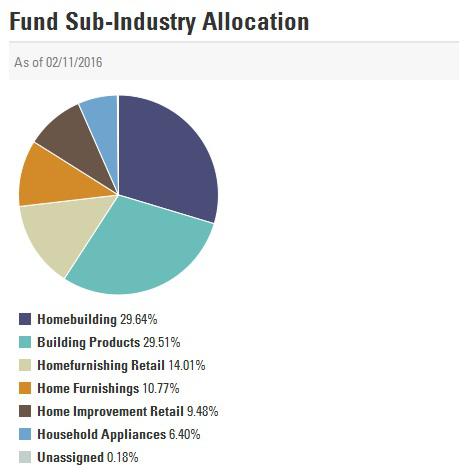 iShares US Home Construction ETF (NYSEARCA:ITB)
ITB more closely aligns with what you might think of as a homebuilders ETF with almost two-thirds of the index composed of actual home building companies (imagine that!). Like XHB the rest of the index is made up of home goods manufacturers and retailers and building materials stocks. The graphic below has the full breakdown by industry.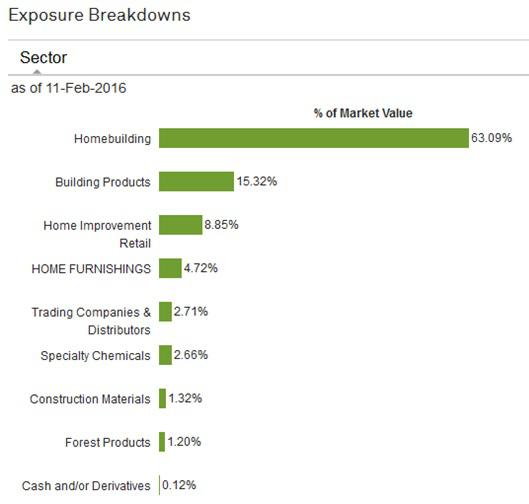 For pure exposure to the home building industry ITB would be the preferred index despite it's higher expense ratio of .44% versus just .35% for XHB.
Disclosure: I/we have no positions in any stocks mentioned, but may initiate a long position in ITB over the next 72 hours.
I wrote this article myself, and it expresses my own opinions. I am not receiving compensation for it (other than from Seeking Alpha). I have no business relationship with any company whose stock is mentioned in this article.