Introduction
The stock market has been tumbling almost all year, and we've obviously taken note of the damage. We're not a perpetually bullish firm nor do we peddle doom-and-gloom investment prophecy. With the recent market downturn, we hear a range of recommendations coming from various analysts and firms. They range from, "Buy everything now!" to, "Sell your portfolio and prepare for a depression!" Forward View is somewhere in between these two extremes. We don't feel that stock prices have hit their cyclical lows, especially with the S&P 500 officially in correction territory. We're forecasting an additional 5-10% general decline in the market with financials, energy stocks and anything related to China seeing the worst of the damage. The U.S. economy itself doesn't seem to be primed for a 2016 recession, although we're not ruling out that possibility for 2017 yet. Volatility in stock, bond and commodity prices should continue in 2016, however, and the upcoming presidential election creates additional exogenous risk. After the market hits its cyclical low, we believe that there will be multiple opportunities in the mutual fund space for patient, long-term investors. Plan your trades now so you'll be ready to buy when the bottom is reached.
TFS Small Cap Fund (TFSSX)
Our first suggestion is the TFS Small Cap Fund. This fund has a quantitative strategy with almost daily trading as the fund's allocation is adjusted to match a model portfolio. While the company's analysts don't let the computers trade without supervision, TFS believes in trusting the models for most decisions.
RETURN STATISTICS
| Data through 2/16/2016 | Latest Daily Return | Month to Date Return | Year to Date Return | Since Inception 3/7/20061 |
| --- | --- | --- | --- | --- |
| TFS Small Cap Fund | 2.33% | -4.62% | -13.63% | 8.60% |
| Russell 2000 Index | 2.45% | -3.75% | -12.22% | 4.71% |
(Data from TFS)
Don't be surprised to see 500%+ annual turnover in TFSSX, and this frequent trading pattern does push up management fees. With a 1.5% expense ratio, you're definitely paying for active management. Still, with almost 400 bps of alpha to its credit, this is a great small-cap fund to consider. Last year, TFS noted that this fund's bottom-up approach had produced alpha in 99% of 3-year rolling periods, with 80% having at least 200 bps of alpha.
Becker Value Equity Fund (BVEFX)
The Becker Value Equity Fund is one of our favorite funds because all of Becker's mutual fund expertise is squeezed into just one strategy. This is a large-cap fund with a bottom-up stock selection methodology and unlike most competitors, Becker isn't a closet indexer. Still, there is plenty of diversification in the fund. See below.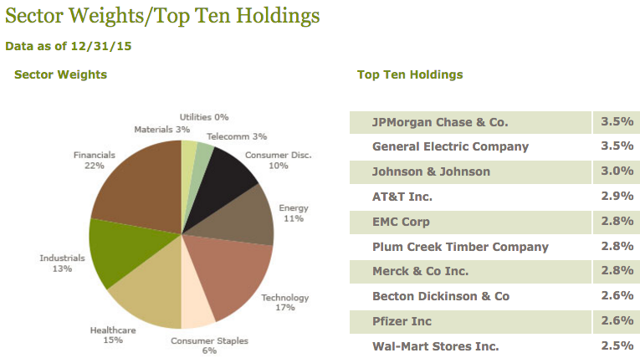 (Chart from Becker Capital)
With a 0.78% expense ratio, you can afford to make this investment a portfolio anchor for the long-term. Expect low turnover and a 3-5 year holding period for most of the fund's picks. Fundamentals must be improving for the management to buy into a business, and capital preservation is a focus. The fund may lag during the end of bull markets, though.
T. Rowe Price Media & Telecommunications Fund (PRMTX)
This is a specialty fund currently at the top of its niche.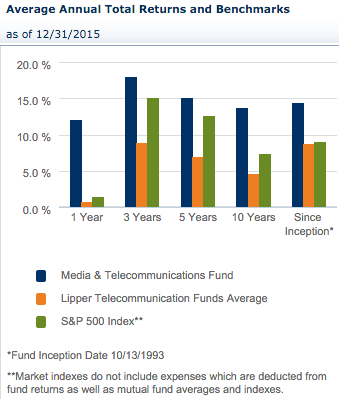 (Image from T. Rowe Price)
While we don't recommend a huge portfolio allocation to the Media & Telecommunications Fund, devoting 5% of your money to the sector seems very wise to us. The fund's analysts and portfolio manager must have convictions in top-10 names because they make concentrated investments. The fund has a long-term orientation and a global orientation. Look for exceedingly low turnover and a reasonable 0.80% expense ratio. We love that this fund has a long history of beating its index with a stable team of analysts supporting the portfolio manager. This steady hand is absolutely essential in a volatile sector.
Conclusion
In the second, and final, part of this series we'll focus on two mutual fund with international orientations as well as one fund built around Christian investment principles. We think you'll enjoy learning about the remaining under-utilized opportunities we've discovered. In the mutual fund sector, finding hidden gems is often the key to long-term profits and success!
Disclosure: I/we have no positions in any stocks mentioned, and no plans to initiate any positions within the next 72 hours.
I wrote this article myself, and it expresses my own opinions. I am not receiving compensation for it (other than from Seeking Alpha). I have no business relationship with any company whose stock is mentioned in this article.