Quotient (NASDAQ:QTNT) has lost more than half of its value this year. The general market selloff and the plunging biotech sector have taken a toll on most companies in this space and Quotient was no exception. The recent share offering did not help either, but it removes a major hurdle for current and potential shareholders, since I think that the company has sufficient funds to get its MosaiQ platform to commercial stage in the following quarters. The company is likely to capture a significant part of the transfusion diagnostics market since its product offerings will save both time and money, which is becoming more important from both the economic and political point of view. The total addressable market of $3.4 billion compares favorably to Quotient's fully diluted market cap of around $200 million and even moderate success in the following years should translate into substantial upside for long-term shareholders. I intend to take advantage of the latest market turmoil to accumulate shares in the following days/weeks.
Transfusion diagnostics market overview and Quotient's plan for serious disruption
Quotient is targeting the global transfusion diagnostics market, where sales comprise of reagents and instruments. Quotient is already a commercial stage company with around $20 million in annual sales coming from conventional reagent products used for blood grouping. The total worldwide addressable market is around $3.4 billion (up from $2.8 billion in 2011) with $2.5 billion coming from donor testing and $0.9 billion from patient testing. The donor testing market is highly concentrated and high-volume users are thought to be well-suited for automation and in need of cost reduction, while patient testing is highly fragmented as it is mostly done within hospitals. According to Quotient's latest annual report, the average price for a unit of red blood cells is approximately $225 and when a hospital requests blood with a specific antigen profile, the average price is estimated to be $80 higher for each antigen screened. Existing instrument platforms have different levels of automation, but the more complex blood grouping procedures are typically done manually, which represents a significant cost burden on the healthcare system.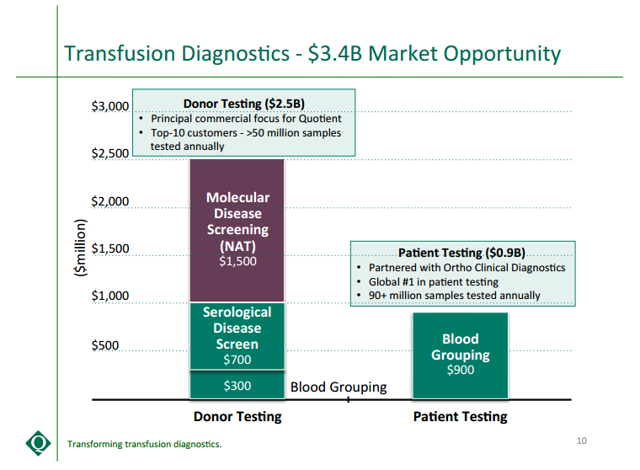 Source: Quotient investor presentation
This is where MosaiQ comes in. MosaiQ is Quotient's proprietary platform which is intended to better address the needs of the transfusion diagnostics market. MosaiQ has the potential to "significantly reduce the cost of blood grouping in a donor or patient testing environment, while improving patient outcomes." Quotient has "designed MosaiQ to offer a breadth of diagnostic tests that is unmatched by existing commercially available transfusion diagnostic instrument platforms." The improved patient outcomes should be achieved by reducing the incidence of alloimmunization along with substantial cost savings and increased operational efficiencies. Other advantages over the current standards include: standardization of blood grouping (and a reduction of potential testing and labeling errors), consolidation of multiple platforms and manual procedures into a single automated instrument, significantly lower donor testing volume requirements (which leads to an increase in plasma and red blood cell yields per donation) and reduced consumable waste. For the full list of advantages, you can visit the dedicated MosaiQ page on Quotient's website. Based on these numerous advantages, I expect the company to capture a significant part of the addressable market in the following years. I think that a market penetration rate in the 20% to 30% range is reasonable if not conservative considering the advantages over the current standards.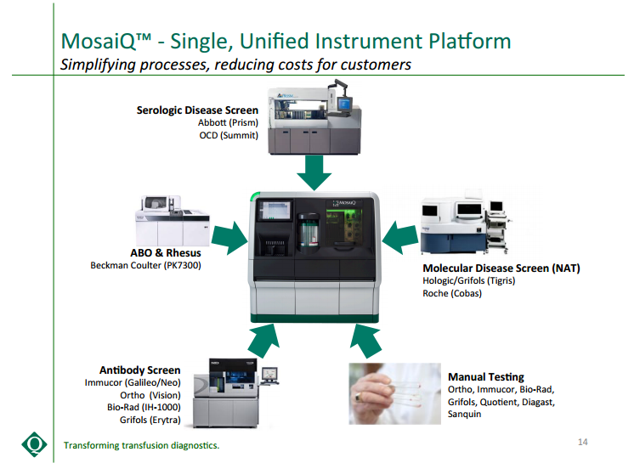 Source: Quotient investor presentation
Partnering with a key competitor validates the platform and removes a major hurdle for MosaiQ's adoption
In January 2015, Quotient and Ortho Clinical Diagnostics (OCD) established an exclusive commercial partnership for MosaiQ. Under the terms of the agreement, Quotient retains the rights for North America, the EU and certain Asia-Pacific territories (excluding Japan) for the donor testing market, while OCD will sell and distribute MosaiQ for global patient testing on a global basis and in the donor testing markets not covered by Quotient. OCD has also bought $10 million in Quotient shares for a price of $22.50 per share and Quotient is also entitled to $59 million upon achieving regulatory and commercial milestones. Quotient will be responsible for the manufacturing and supply chain while the transfer price for consumables will step up based on certain revenue milestones.
OCD is one of the leading global vendors in an area with significant barriers to entry (the need for a broad range of complex antisera products, rigorous global regulatory requirements) and I believe that Quotient's partnership with OCD validates the MosaiQ technological platform and it also eliminates an important competitor. OCD's global reach should ensure a more rapid market penetration upon launch and make the transition to profitability much faster for Quotient.
Preliminary outlook for fiscal 2017 and 2018 is very encouraging and points to significant growth potential even in early stages of commercialization
In addition to the launch timeline for the EU and the United States, Quotient has also provided a preliminary revenue outlook for fiscal 2017 (which ends in March 2017) and 2018. The company expects fiscal 2017 revenue in excess of $45 million and fiscal 2018 revenue of $100 million or greater and it also expects to report an operating profit in fiscal 2018. These revenues include the forecast for the legacy business, which has an annual run rate of around $20 million and some milestone payments from OCD, mostly related to the approval and launch in the EU and the U.S. Although I am not sure about the exact timing of these milestones, based on the expected timelines for approval, I think that a $20 million payment is due in fiscal 2017 for the EU and likely $20 million in fiscal 2018. The preliminary outlook points to the significant growth potential of the MosaiQ platform and management's confidence in the technological superiority over the current standards in the transfusion diagnostics market. Since the donor market is highly concentrated (the company expects to capture a large part of the market with just 10 to 15 customers), the uptake should be rapid once the company penetrates the customer base, while OCD's global reach and scale should also enable rapid adoption in its targeted markets. I listened in on the company's presentation from mid-January, and heard that some large customers are already holding off on new contracts and awaiting for MosaiQ's launch.
Valuation and upside potential
Given the promising preliminary outlook for fiscal 2018 (which reflects three calendar quarters in 2017), it seems that management is quite confident in MosaiQ's growth potential. Getting the annual revenue run rate past $100 million in fiscal 2018 actually means that the bulk of the growth will come from the EU rather than the U.S. since fiscal 2018 ends in calendar Q2 2018, which leaves little room for revenue contribution from the United States. If revenues indeed ramp up that quickly in the EU alone, I think that fiscal 2019 revenues should come close to $200 million and that it is reasonable to assume that revenues can reach $300 million by calendar 2020 (fiscal 2021), and $400 million is my bullish case for 2020 revenues, since EU stands to ramp up to more than $150 million by then and I expect revenues from the U.S. to catch up quickly after the launch in Q1 2018. Longer-term, I expect the company to capture 20% to 30% of the current total addressable market, which translates to peak annual sales in the $700 million to $1 billion range. The estimate is somewhat low given MosaiQ's technological advantages, but I am counting on the decrease in market size due to the potential cost savings of the platform. You can see the valuation scenarios in the table below.
| | | |
| --- | --- | --- |
| | Low estimate | High estimate |
| Annual sales | 300 | 400 |
| Net income | 60 | 100 |
| Multiple | 15 | 15 |
| Future value | 900 | 1500 |
| Diluted shares outstanding | 27.6 | 27.6 |
| Future EPS | 2.17 | 3.62 |
| Discount factor | 0.572 | 0.572 |
| Present value | 514.58 | 857.63 |
| Price target | 18.64 | 31.07 |
Source: Author's estimates
Both scenarios translate into significant upside potential when compared to the current price. The analyst mean price target is $22.7, with a range of $14 to $28. My base case price target for Quotient is $19 (more than 100% upside from the current price) and is even below the all-time high of just below $20 achieved in early August 2015. The biotech bear market has driven the prices of many names to very attractive levels, and I think that moderate commercial success in the following years could lead to substantial upside.
Risks
Quotient has guided for fiscal 2016 operating expenses in the $45 million to $50 million range, but these expenses include capital expenditures in the $25 million to $30 million (for the replacement of the Edinburgh manufacturing facility) and has one quarter left in this fiscal year and means that the majority of those expenses have been recorded already (operating expenses in 9M of fiscal 2016 amounted to $42 million). With the latest secondary offering, the company should have $60 million in cash and equivalents, which I think is sufficient for the company to reach cash-flow breakeven, which should happen sometime in fiscal 2018 (calendar 2017) based on management's guidance. The company also stands to receive a $20 million milestone payment and a $20 million credit facility upon the EU approval, which should further strengthen the company's financial health later this year. MosaiQ's launch timeline and the subsequent scale up are the main risks for the thesis, and delays and commercial failure stand to negatively impact the share price. This could especially be the case in a continued bear market in both the general market and the sector, which could impede the company's ability to raise additional funds if it needs them.
Competition is another factor to consider, but the company's ability to convert customers to its platform are not questionable in my opinion given the technological superiority and reduced costs, and I suspect that both factors will be a strong selling point for MosaiQ. In addition, there are no competitors with an advanced stage platform in development, which stands to enable rapid adoption upon launch.
Conclusion
I believe that the market turmoil in the last couple of months has created a solid buying opportunity for long-term investors. Quotient is well positioned to capture a significant share of the global transfusion diagnostics market and the partnership with OCD validates its technology platform and eliminates an important competitor. The upside in the following years could be substantial, and I think that the risks are largely priced-in considering the fact that the company is not likely to need additional funds for MosaiQ's commercialization and the fact that there are no products in development that could jeopardize its potential leadership position in the market over the next few years.
Disclosure: I/we have no positions in any stocks mentioned, but may initiate a long position in QTNT over the next 72 hours.
I wrote this article myself, and it expresses my own opinions. I am not receiving compensation for it (other than from Seeking Alpha). I have no business relationship with any company whose stock is mentioned in this article.
Additional disclosure: This article reflects the author's personal opinion and should not be regarded as a buy or sell recommendation or investment advice in any way.