In Hope And Denial: 2 Sides Of The Same Coin I presented my reasons for believing that our markets peaked in May 2015. Since then we have been in a bear market. Weak global growth is leading us lower and this may be the first time the United States has imported a recession. Despite the market's recovery since mid Thursday - 2/11/2016 - the recent market activity has done nothing to convince me that we are resuming a bull market.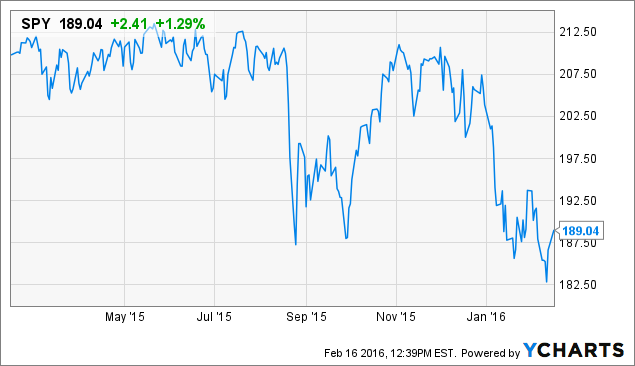 Note that we continue to make a series of lower lows followed by lower highs in overseas markets and in the US markets.
In "Hope and Denial" I suggested methods of managing the equity portion of a portfolio through a bear market. I do not recommend selling all of your equity positions. Because of taxes, dividends, or the desire to own a good business for the long term, there are many reasons to keep holding equities. Adjusting risk by raising cash, selling out of the money covered calls, and buying puts in the indexes was discussed. In Civilized People Should Buy Gold I encouraged investors to establish a gold position as the gold bear turns to bull. Do not expect this to be a one way trade. Just as it took time for the bear market trend to become established, it will take time for the bull market in gold to assert itself.
This article addresses the effective counter-weight long term treasury bonds can provide in a bear market. Would you be surprised that a 50/50 portfolio of the SPDR S&P 500 Trust ETF (SPY) - and the iShares 20+ Year Treasury Bond ETF (NYSEARCA:TLT) - would be minimally positive for 2016?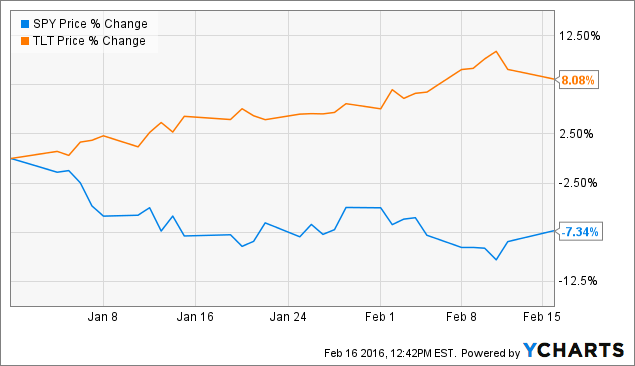 I am not recommending this portfolio construction, but I want to make the point that the change in the price of long term treasury bonds tends to move inversely with the S&P 500 during sell-offs. This behavior is one reason that asset allocators structure portfolios with varying amounts of bonds. Unfortunately for most passive investors, their bond portfolios have had increasing amounts of higher risk credit and even include foreign debt.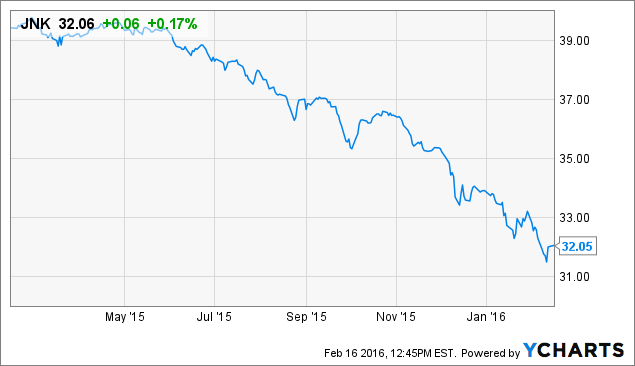 We all know about the collapse in the Junk bond market exemplified by the SPDR Barclays Capital High Yield Bond ETF (JNK). This was one of the signals alerting us to onset of the bear market.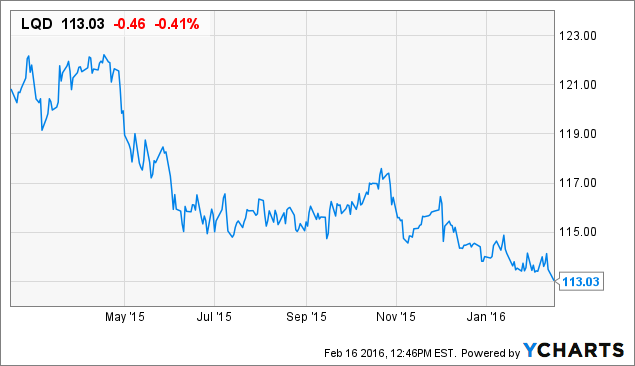 Less publicized has been the price drop in investment grade corporate bonds demonstrated by the iShares iBoxx $ Investment Grade Corporate Bond ETF (LQD). After all, investment grade bonds are senior (they get paid first) to equity in a bankruptcy. Those of us who are primarily equity investors should take caution that this large component of worldwide assets is showing stress. I view the continued sell-off today, on a day stocks are rallying, as confirmation of my bearish thesis. Many bond experts have been warning about a lack of liquidity in the bond market, which increases the possibility of mis-pricing. An recent article talked about how the big banks were letting go of their senior bond traders, leaving the inexperienced traders at the helm.
I would point out that Jeff Gundlach, the most accurate bond market forecaster of late, has said he is starting to see opportunity in corporate credit. His closed end fund - the DoubleLine Income Solutions Fund (NYSE:DSL) - is down 25% over the past year and currently is selling at a 9.9% discount to NAV. If you are interested in this sector it may be a better choice than an ETF. In stormy weather it is best to have an experienced captain steering the ship.
As a result of the aversion to Junk bonds and corporate credit, the standard 60/40 equity/bond portfolio has performed only modestly better than SPY this year.
Most Bond Forecasts were Wrong
Other than Mr. Gundlach, most market forecasters last year were predicting treasury bond yields would rise. In anticipation of the Federal Reserve Bank raising rates, many investors sold treasuries. Instead, the sharp sell-off in the equity market has led to investors returning to the safety of treasury bonds. As a result the yield in the 10 year bond fell to an intraday low of 1.52% on Thursday - 2/11/2016. Currently the yield of the TLT is 2.48%. which is less than that of the SPY at 2.87%. In a bull market, the inversion of the equity/treasury bond yield is a strong signal to buy equities. We are no longer in a bull market.
Also on Thursday, the price of the TLT, which moves inverse to yield, peaked at a near term high of $135.25. Since then, equity markets, and oil have both rallied and the TLT price has fallen to $130.00 as I write on Monday. I sold my position in TLT just before the high because I noted it was overbought on the hourly and daily charts. Simultaneously, SPY was oversold on the hourly charts. The combination of these conditions had to correct. My thesis in favor of TLT was intact, but this was a trading opportunity I couldn't pass up.
I have bought back much of my TLT position at an almost 4% discount in 2 days. I believe buying TLT in this price range will serve those investors who are underweight bonds in their portfolio.
Why do Treasuries offer Protection?
As central banks lose control, the primary reason to buy Treasury Bonds is the Will Rogers' mindset. Investors become more interested in a "return of their money than a return on their money." During the the go-go years of the bull market, investors were looking to double their money as quickly as possible. Now that the absolute power of central banks to influence markets is in question, a much more conservative approach will prevail.
Asset managers, pension funds, and those of us who don't want to work until we drop would like to see our money grow. The 2.48% dividend rate on TLT is not much growth if inflation rates were to achieve the Fed target rates of 2%. But if inflation fell to 0% it might feel better. If we experience true worldwide deflation of 2.5% (or worse) a position on TLT would yield 5% or more.
Governments and central banks will fight worldwide deflation with every weapon in their arsenal, because deflation would mean that paying back debt would get more expensive every year. Debt payment could become the largest item on their budgets. Unfortunately, deflation is a problem that is much harder to solve than inflation. The 30 year Japan experience should be very cautionary. The many variations of QE and monetary easing that have been tried have resulted in 10 year Japanese Government Bond (JGB) yields of 0.08% and 30year JGB yields of 1.15%. Could our TLT be headed to these levels? If so, it would be a great investment now.
Although I have presented owning TLT as an increasing yield in a deflationary environment, this is not actually how you would make money in TLT. The current rates on the bonds within TLT have dividend rates as high as 3.38%. The reason the ETF only pays 2.48% is that too many people want something safe that will pay them interest. As a result they have paid a premium to buy these bonds. The price of the ETF that holds the bonds goes up as a consequence. I sold my shares of the ETF because I was reasonably sure the premium being paid at the moment was too high.
I know many SA readers are not traders, and object to this sort of activity on the boards. To them I would offer the following thought. We all love our homes, but if someone offered us twice what it was worth, could we be persuaded to sell? In the case of an ETF it doesn't take twice as much, since we don't have to find a new home, pack up our worldly possessions, and fill out change of address cards. We simply have to hit the sell button and our payment is credited.
An investment in TLT today is similar to buying any precious asset. If others begin to acknowledge the bear market, the premium they will pay for TLT's safety will increase. You will see capital gains in addition to the yield from the bond itself. This can help offset losses from your equity positions just as it has in my 50/50 SPY/TLT hypothetical portfolio above. I consider owning TLT the third leg of my bear market portfolio strategy. In the future I will offer specific trades to take advantage of the volatility.
Risks and an Option Alternative
Although I am buying TLT around 130/share, there are risks to owning TLT. If the world economy stabilizes, the equity markets will resume their bullish run. Since the dividend rate of SPY is higher than that of TLT, the premium on the bond portfolio would disappear faster than food on a frat house table.
Because of this risk I have devised an options strategy to take advantage of this uncertainty. I am selling puts on TLT. A September 130 strike put at the midpoint currently pays $710/contract. This means you will have to set aside $13,000 per contract that you write. If the bearish scenario for equity markets is correct, TLT will be well above $130/share by September and you will have been paid 5.5% in seven months, or you can buy back the put earlier if TLT spikes. If TLT is below 130/share in September you will be obligated to buy the ETF. Do not do this trade on margin. You will only lose money on this trade if TLT is less than $122.90 in September. This would be the below the midpoint of the past year, during which the market was much more bullish. There are no risk free ways to grow your money in this market, but an annualized return of 9.3% for committing this capital to this trade makes sense to me, especially since I was planning to buy more shares in TLT anyway.
I am not a financial advisor. Please do your own due diligence before making any investment decisions and consult advisors you trust. Never trade on margin. Be a Calm Investor.
Disclosure: I am/we are long TLT AND SHORT TLT PUTS.
I wrote this article myself, and it expresses my own opinions. I am not receiving compensation for it (other than from Seeking Alpha). I have no business relationship with any company whose stock is mentioned in this article.
Additional disclosure: I own puts in the SPY and positions long and short in many other equities and ETF's.