What a run-up gold has had in 2016! From its December low of $1,045, it has rocketed to $1,264 intraday last week. The SPDR Gold Trust ETF (NYSEARCA:GLD) and iShares Silver Trust ETF (NYSEARCA:SLV) made similar moves from $100.23 to $120.84 and $13.06 to $14.99 respectively, reviving the hope of a return to the glory days that was dashed time and time again in the past five years. With the recent spectacular 20% rally in gold, it is tempting to call a bottom, but upon a closer examination of the macro drivers, we decided the risk of getting behind this move is too great.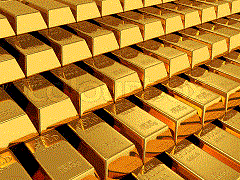 Intrinsic Value
The intrinsic value of gold has been hotly debated for ages and it is frankly a poor guide to making investment, let alone trading decisions. The value of paper currencies, bitcoin, and seashells all depends on perception and physical supply/demand. Once we get that out of the way, we can then have an open mind about where the price "should be."
Sentiment Not Fundamental
The run-up of gold from $600 to $1,800 from 2007 to 2011 was a direct result of the massive QEs and liquidity flood created by central bankers of the world. Worries about inflation in this unorthodox monetary policy environment were warranted due to the unprecedented nature of it. Lesser demands coincided with the general commodities boom associated with the newly flush central banks, along with the rise of middle class in China, India, and other emerging markets.
Since then, new mines have been opening and are still coming online. The costs of extraction and running mines are in the $700 to $1,000 range, still significantly below current prices, indicating little incentive to slow down new production in the near future. In addition, the supply source is highly diversified. Today, with the top eight producers accounting for just over 50% of world production, gold is not very susceptible to supply shock.
On the demand side, current total supply including secondary recovery is about 30% higher than physical demand (jewelry, industrial), leaving the market at the mercy of central bank and value storage purchases. With that said, we will examine the psychological forces that will largely determine the fate of gold in 2016.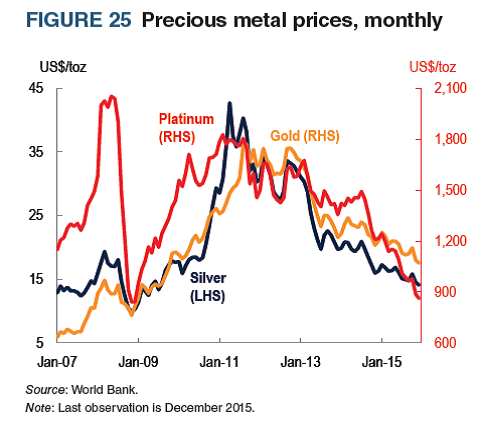 Hot Money And Confusion
A confluence of fear factors has driven up the price of gold and the precious metal complex since the first Fed rate hike in 10 years in December 2015. Silver rallied 17%, platinum popped 20%, and palladium rose 16% in the same time frame. The plunging oil prices, crash of the Chinese stock market and subsequently all major world markets, ECB's comment about further easing, and Bank of Japan's decision to join the European negative rate club all conspire to cause a massive run to safe-haven trades. The seasonal Chinese New Year buying probably contributed to it as well.
Gold as a store of value does not produce interest; therefore, it does not compete well with bonds, treasuries, and equities. The OECD's low inflation or somewhat deflationary environment has lessened its appeal further as an inflation hedge. Gold has been falling in recent years due to improving economies around the world and the general expectation that central banks are going to normalize (raise) interest rates. Past episodes of rallies in the past three years were mostly correlated with the U.S. Fed's postponement of rate hike and positive economic news. Every time the U.S. Dollar showed strength, gold tumbled.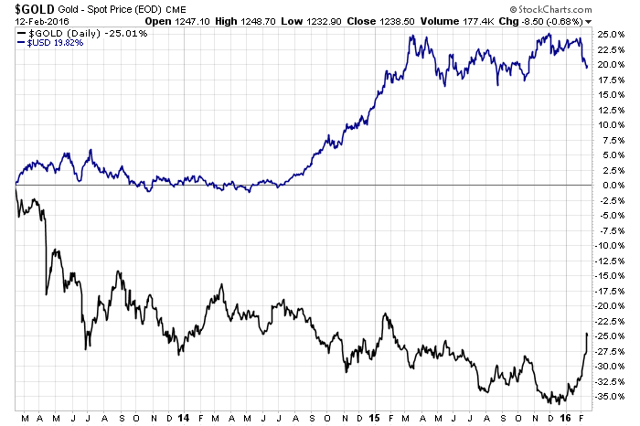 When the Fed raised rate in December, gold predictably dropped to retest the $1,050 low but then something strange happened. Instead of making new lows as usual it dithered, built a base and rallied hard. What is different this time is twofold. First, the likelihood of the Fed hiking rate further in 2016 is now greatly diminished especially in light of a hypothetical negative rate discussion thrown out by Fed chair Janet Yellen.
Secondly, the threat of a global, prolonged recession hitting all asset classes became salient, exacerbated by fast-weakening emerging markets and evidence of slower growth in China. Renewed worries about Europe weighed down by the migrant crisis and divided politics resurfaced. Routs in the U.S. equity markets and slowing corporate profits also struck a nerve. The plunging bond yields of the U.S., German, British, Japanese 10-year notes and the precious metals rally are the outcome of hot money and confused money rotation.
Everything Is Relative
Stripping out the effect of physical supply/demand, which is negligible (as explained above), gold essentially moves on sentiment. It competes for the same pool of money and its attractiveness is strictly relative to other asset classes including cash. When we examine the underlying strength of gold's recent momentum, safe-haven buying and short covering are not considered strong hands.
The hot money that rushed in is either unwinding previous short positions or only looking for a place to hide. Even with the expected Fed rate hold this year, the U.S. Dollar is going to stay relatively strong. Despite plunging yields in the U.S. and other developed economies' treasuries, they are still very safe positive-yielding vehicles. When the Chinese government starts dumping U.S. Treasuries to recover its foreign reserve, it will only create more competition for gold.
As a safeguard against economic collapse, a possible U.S. recession is a boost to gold, albeit a weak one. Any recession is not likely to be severe, thanks to years of deleveraging and improving labor market. Commodities like oil and copper will stabilize this year. Inflation has traditionally been the necessary condition for gold to rise. And in this environment where every developed economy is having difficulty getting close to their meager inflation target, it clearly does not offer any hedging benefit.
Relatively speaking, there is simply not a strong enough case for precious metals as an asset class. Platinum, whose production is dominated by South Africa, is more susceptible to a supply shock than others. However, its fundamental outlook is also very poor.
Same Old Same Old
Gold is the stuff of chaos. Historically, it thrived in war, inflation or major economic distress. Absent these conditions, the odds of gold rallying much further from here remain slim. 2016 is very likely to be another year of first quarter rally followed by another bottom, possibly below $1,000. However, upside risk can come in several forms. First of all, investors are facing scant options between preserving capital and producing meaningful risk-adjusted return in equities and fixed income.
They may increasingly find precious metals attractive and a useful portfolio diversifier. In addition, in a deflationary environment, cash is worth more in the future than it is in the present. If the shift of zero interest rate policy (ZIRP) to negative interest rate policy (NIRP) becomes widespread it could provide a fundamental reason to own gold, since it reduces the incentive to hold cash because it would cost money to store money, much like it costs money to store gold. It is premature for the U.S. to consider going down that path, but until that day comes, gold and precious metals will be stuck in the same old trend.
Disclosure: I am/we are short GOLD AND SILVER.
I wrote this article myself, and it expresses my own opinions. I am not receiving compensation for it (other than from Seeking Alpha). I have no business relationship with any company whose stock is mentioned in this article.