Introduction
Acacia Mining (OTCPK:ABGLF) has ended its financial year 2015 on a strong note, and this really bodes well for the current financial year as the company will now finally be able to benefit from all the blood, sweat and tears it had to invest in its African mines to become profitable and cash flowing again.
Acacia Mining has its main listing on the London Stock Exchange, where it's carrying ACA as its ticker symbol. The average daily volume is approximately 1 million shares, so I would recommend you to trade in the company's shares through the facilities of the London Stock Exchange.
2015 was okayish, but the fourth quarter was really good
After seeing the financial results of the first half of 2015, I was explaining the company's improvement on the back of the turnaround plan which was aimed at improving the performance of all of its producing mines. I have the impression this turnaround plan is almost completed.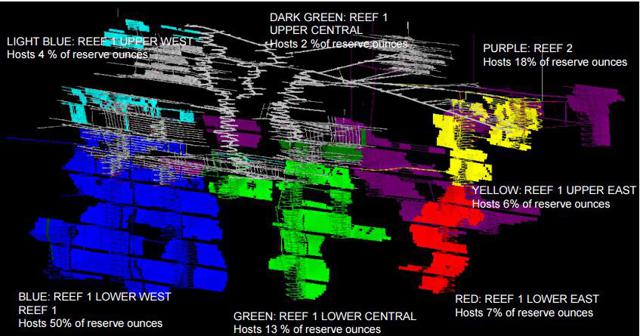 Source: company presentation
The full-year production rate came in at almost 732,000 ounces gold which is a 2% increase compared to the 718,651 ounces the company was able to produce in 2014. That's a good performance, but unfortunately, the company's cash cost and all-in cost increased as well, to $772 and $1112 respectively. However, the higher AISC wasn't entirely unexpected and especially a weak third quarter had a negative impact on the full-year results.
This theory is being confirmed by the Q4 results. Not only did Acacia produce in excess of 200,000 ounces of gold, it was able to do so at an AISC of $1004, and that's quite a difference compared to the average production rate of 177,000 ounces at an AISC of $1152 in the first three quarters of the year.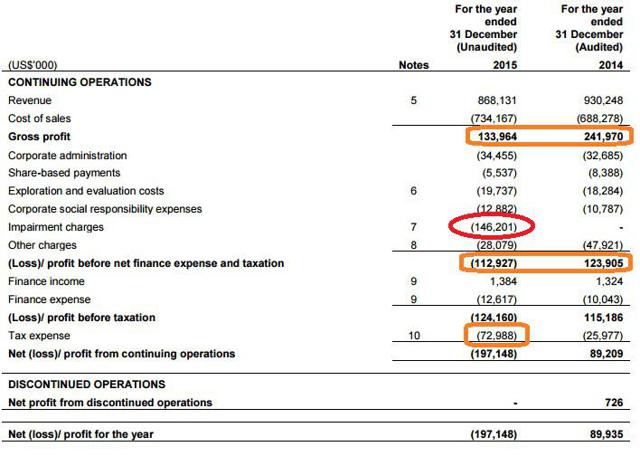 Source: press release
Selling almost 722,000 ounces of gold resulted in a total revenue of approximately $868M for a gross profit of $134M. Unfortunately, Acacia also had to deal with an impairment charge which pushed the final result in the red territory. Not only was the pre-tax loss $124M, Acacia was also slammed with a $73M tax bill which forced the company to report a net loss of almost $197M.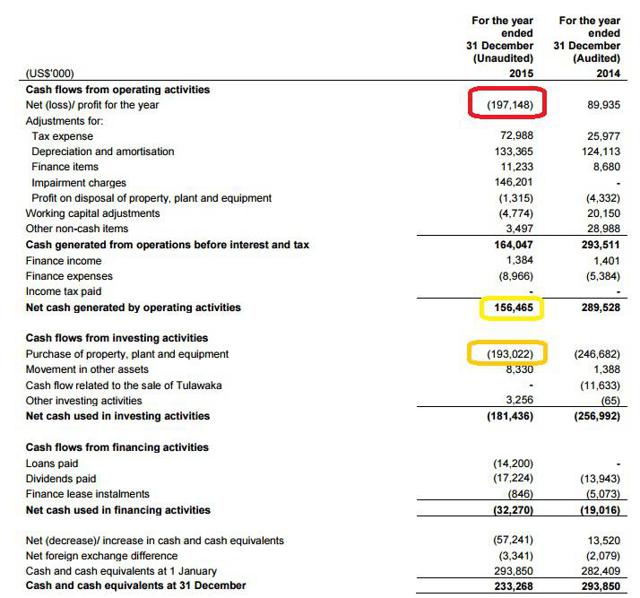 Source: press release
That's not a good starting point, but keep in mind a large part of this loss was caused by for instance impairment charges and depreciation charges, which are per definition non-cash charges. The tax bill, for instance, didn't have to be paid as the company booked a part of this against some tax assets it still owned, whilst the balance of the tax bill was referred to a longer-term tax liability. Acacia's operating cash flow was $156M and this indeed resulted in a free cash flow negative result of approximately $36.5M after deducting the $193M in capital expenditures. However, this situation will change soon.
And this will set the tone for what could be an amazing 2016
Indeed, the company's free cash flow negative situation will change soon enough. I already argued the company's fourth-quarter results were already pretty impressive (with a gold production of approximately 200,000 ounces of gold at an all-in cost of approximately $1000/oz).

Source: company presentation
Indeed, I do expect the operating cash flow to increase on the back of a lower cash cost (see the previous image), but more importantly, the total capital expenditures will also decrease. According to the company's capex guidance, the capex will very likely fall by approximately 10%, and that's a capex saving that will directly be noticed on Acacia's bottom line.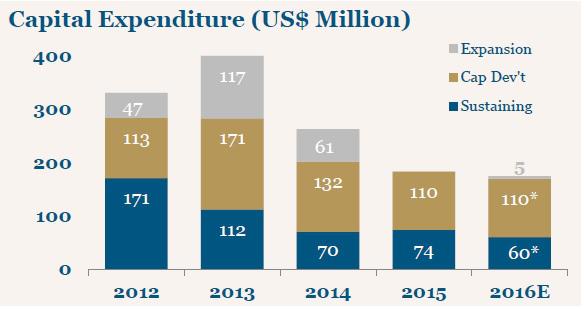 Source: company presentation
Whereas Acacia spent approximately $400M on capital expenditures in 2013, this should fall to just $175M in the current financial year, and that's exactly why I'm quite optimistic about this year.
Acacia Mining will produce approximately 765,000 ounces of gold this year (the mid-point of the official guidance) at an AISC of approximately $965/oz (almost 15% lower than in the past financial year). As the gold price is approximately $1210/oz right now, the company's operating margin will very likely expand to $250/oz and with a production of ¾ of a million ounces of gold per year, I think Acacia will generate $100M in free cash flow this year (using a gold price of $1200/oz).
Investment thesis
The strong performance of the Bulyanhulu mine is having a very positive impact on the company as a whole. Buly produced almost 80,000 ounces of gold in the fourth quarter at an AISC of $999/oz which compares quite favorable to the results in Q4 2014, wherein 66,000 ounces of gold were produced at an AISC of $1225/oz.
I'm not saying Acacia Mining is a screaming buy, not at all. But you should definitely keep this gold company in the back of your mind as 2016 should be a profitable and free cash flow positive year. And as Acacia owns in excess of 25 million ounces of gold (in the ground), a profitable and FCF positive year could really kickstart potential investment and/or expansion plans.
Disclosure: I/we have no positions in any stocks mentioned, and no plans to initiate any positions within the next 72 hours.
I wrote this article myself, and it expresses my own opinions. I am not receiving compensation for it (other than from Seeking Alpha). I have no business relationship with any company whose stock is mentioned in this article.
Editor's Note: This article discusses one or more securities that do not trade on a major U.S. exchange. Please be aware of the risks associated with these stocks.