Wix's (NASDAQ:WIX) share price has been punished in the last few months due to the overall weakness in the general market. The underlying fundamentals are stronger than ever. Wix has finally turned a profit (on an EBITDA basis) and had positive cash flow in 2015. Strong currency headwinds in the last few quarters make these accomplishments even more encouraging. Wix is doing the right things to boost conversion and retention, and I expect the recent initiatives to have a positive effect on ARPS in the following quarters. I believe that poor market sentiment has created a solid buying opportunity for long-term investors. I am reiterating my view on Wix.
Strong execution in 2015 despite continued currency headwinds
2015 was another good year for Wix, despite the significant currency headwinds. The strong dollar took around $16 million from FY2015 collections, which were up 51% on a constant currency basis and up 41% on a reported basis. Revenues were up 50% Y/Y to $212 million in constant currency and up 43% Y/Y to $203.5 million on a reported basis.
The number of registered users increased 32.8% to 77 million, while the number of premium subscribers rose 43.3% to 1.767 million. The conversion ratio has improved from 2.13% in Q4 2014 to 2.30% in Q4 2015.
Profitability has improved significantly as well. Wix's adjusted EBITDA in 2015 was $14.7 million, with $7 million in Q4 alone, and was well above the company's initial guidance for $2 million to $5 million. Wix also provided a very solid Q1 and FY2016 guidance for collections, revenue and EBITDA (see table below).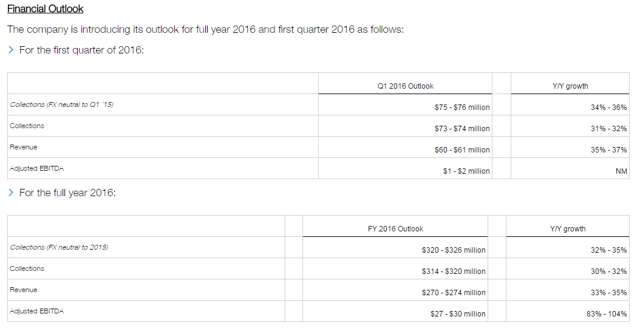 Source: Wix Q4 earnings report
Overall, there is little or no reason for concern. The company is increasing the number of verticals (Wix bookings, WixHotel with TripAdvisor Instant bookings being the most recent ones), which should increase customer stickiness and lead to increased upsell opportunities. Management stated on the Q4 2015 conference call that they intend to launch two significant products during 2016, which should have a significant effect on demand later this year, while the effect should be more pronounced in 2017. The potential impact of these products is not included in the FY2016 guidance. The increasing profitability is proof of the leverage potential of Wix's business, as expenses are growing less than collections and revenues, and margins are expected to benefit from these trends going forward. The FY2016 EBITDA guidance translates into an EBITDA margin in the 10% to 11% range, which is above the 7.2% margin in 2015, but below the Q4 2015 level of 12.4%. I think that there are two reasons for the EBITDA guidance for 2016 to be lower than the Q4 2015 level:
The company has decided to ramp R&D spending $5 million above previous plans, which will impact margins by the same amount during 2016. Innovation is essential for future success, especially in the competitive online space, and this is a prudent decision in my view, especially if it leads to increased differentiation, conversion and retention of premium subscribers. The shift in marketing spending is also to be partly blamed since the whole cost of the Super Bowl campaign will be recorded in Q1 2016 as opposed to Q4 2014 and Q1 2015 of last year.
The second reason is management conservatism. Wix's management has proven to be conservative with their revenue, collections and EBITDA guidance since going public. The company has managed to beat its own expectations every time, and given the recent growth trends and the planned initiatives, I think EBITDA margins should come above the high end of the initial FY guidance. The potential launch of the two new products this year are also not included in the guidance and could boost sales beyond expectations as well.
Going forward, I expect collections and revenue growth to exceed SG&A and R&D expense growth, which should drive margins significantly higher and closer to the company's long-term goal of EBITDA margins north of 30%. The company has a proven marketing model, which drives substantial long-term returns on investment. For example, the Q1 2010 user cohort has a return of 14.1x for every invested dollar, while the Q1 2014 cohort has already returned $4.6 for every dollar invested. As these cohorts get bigger and as newer (and larger) cohorts mature over time, leverage should kick in and drive strong growth without the need for additional spending. Another reason to be optimistic is the fact that as the marketing team gains more experience, the conversion and retention should increase as well, which is already evident in the most recent cohort numbers. The number of premium users in the Q1 2013 cohort rose 48% after one year while the Q1 2014 cohort rose 58% after one year.
Shift to annual payments having a negative effect on ARPS, but the introduction of new verticals and product updates should positively affect ARPS going forward
Wix has also been very successful at converting monthly subscribers to annual subscribers, which is negatively affecting ARPS, but positively impacting cash flow and enabling faster marketing deployment. As of Q4 2015, 79% of subscribers were annual, which is a significant increase from 51% in Q1 2014. I expect the number of annual subscribers will plateau soon or grow much slower than in previous quarters, which should lead to a stabilization of ARPS. The other culprit for the lower ARPS is the strong dollar, which has made international ARPS lower. If the dollar is stable or weaker going forward, Wix's international segment should benefit. On an adjusted basis, the ARPS has trended higher over the last few quarters.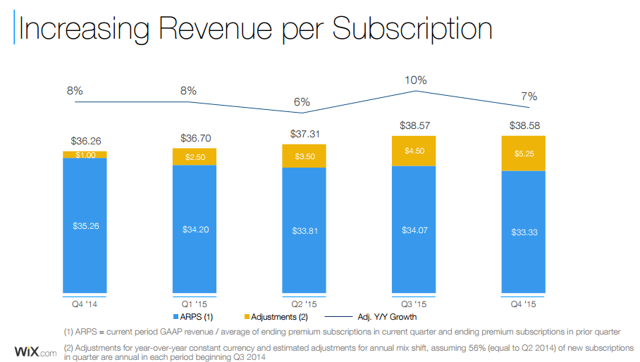 Source: Q4 2015 earnings report presentation
On the other hand, constant improvements in user experience and the introduction of new tools and verticals should lead to increased retention and conversion in the following quarters. Increasing upsell opportunities should positively affect the ARPS and drive higher top line growth going forward. As I mentioned earlier in the article, management seemed pretty excited about the two new products that should hit the market this year, although they declined to reveal the nature of these two new products. They expect these two new products to drive stronger growth later this year and particularly in 2017.
A combination of higher conversion and higher ARPS could have a profound effect on Wix's top and bottom line in the following years. A conversion rate of 2.50% by the end of 2016 (up from 2.30% at the end of 2015) is realistic in my view. I believe that the number of users by the end of the year will rise to 95 million to 100 million (an increase of 18 million to 23 million compared to an increase of around 19 million in 2015). This translates to premium subscribers in the 2.38 million to 2.5 million range by the end of 2016.
On the other hand, if the quarterly ARPS rises 10% this year (from $33.33 in Q4 2015 to around $36.7), revenues should reach $87 million to $91 million in Q4 2016, which compares very favorably to the Q1 2016 guidance for revenues in the $60 million to $61 million range. However, while I believe that the conversion ratio and the expected number of users is realistic, an APRS increase of 10% is not realistic this year, and we will likely see either modest growth or no growth at all if the dollar continues to strengthen. Therefore, a more realistic scenario is a quarterly revenue run rate of around $80 million at the end of this year, which translates into an annual run rate of $320 million. Of course, a quarterly step up is going to take the company there. Based on these observations, I believe the company's guidance and analyst consensus are a bit on the conservative side. I expect 2016 revenues in the $275 million to $285 million range, which is $10 million above the company's guidance and the analyst consensus at mid-point.
Margin expansion and solid long-term growth to lead to a higher valuation
Relying on profitability was not a useful valuation tool for Wix in previous years. However, given the more reliable EBITDA margin outlook and the margin expansion potential in the following years, I think that it is a good idea to take a look at Wix on an EV/EBITDA basis and derive a new price target. Based on the company's EBITDA guidance for 2016, the company is trading at an EV/EBITDA ratio of 20. This might seem high for a conservative investor, but I think that it is too low from a growth perspective, since Wix's EBITDA is expected to double this year and grow rapidly in the following years as well. It is also worth mentioning that the 2016 EBITDA margin in the 10% to 11% range is far from the company's peak margin potential, which is north of 30%. In the table below, you can see my growth, EBITDA margin and price target model for the next three years.
| | | |
| --- | --- | --- |
| | 2016 | 2017 |
| Revenue | 280.0 | 344.0 |
| EBITDA | 33.6 | 61.9 |
| Y/Y increase | 129% | 84% |
| Multiple | 30 | 20 |
| EV | 1008 | 1238 |
| Net Cash | 140 | 190 |
| Equity | 1148 | 1428 |
| Diluted shares outstanding | 42.5 | 45 |
| Price target | 27.0 | 31.7 |
Source: Author's estimates
As you can see, my year-end price target on Wix is $27 (down from $32, which was based on the P/S ratio), which translates into approximately 35% upside from the current price, while the expected two-year return is close to 60% based on the 2017 price target of $31. I believe that the targeted EV/EBITDA multiples are realistic, and perhaps even conservative considering the expected growth rates in the following years. These targets are also within the analyst price target range of $24 to $36 and the year-end price target is below the analyst mean of $28.
Risks
As mentioned earlier, the strength of the U.S. dollar is a negative for Wix, especially considering the rapid international expansion in the last couple of quarters. Continued weakness of other currencies may continue to weigh on international revenues and ARPS. However, I do not see the dollar's strength as a major impediment for Wix's success.
The company has so far been unaffected by the weakness in global economies, but a global recession may negatively impact its growth rates going forward. High growth rates and margin expansion are the basis for my thesis and a significant growth slowdown and/or margin contraction going forward could negatively affect the share price, as well as a prolonged equity bear market.
Competition is another important factor to consider, but Wix has so far proven to be very successful in that regard and has managed to grow considerably despite the intense competition. Given the growing number of verticals and product improvements over the last few quarters, I think that Wix is well-positioned to grow its top and bottom line in the future. The company also has a solid balance sheet and has turned cash flow positive and has no need for additional financing, which has become a significant issue for many companies considering the plunging equity markets and tighter credit markets.
Conclusion
I believe that the recent market turmoil has resulted in a strong buying opportunity for long-term investors. The company has proven that it can have positive EBITDA margins and cash flow and grow revenues north of 30% at the same time, which is not very common in the SaaS space. The reward/risk ratio is skewed to the long side, and if the company manages to increase free cash flow as expected in the following quarters/years, a buyback program would be represent good use of the growing cash pile if the share price remains depressed in the following quarters.
Disclosure: I/we have no positions in any stocks mentioned, but may initiate a long position in WIX over the next 72 hours.
I wrote this article myself, and it expresses my own opinions. I am not receiving compensation for it (other than from Seeking Alpha). I have no business relationship with any company whose stock is mentioned in this article.
Additional disclosure: This article reflects the author's personal opinion and should not be regarded as a buy or sell recommendation or investment advice in any way.