I recently listened to the audiobook of Peter Lynch's One Up On Wall Street, and what I found most interesting, was that Peter had some very fascinating ideas about what it was that made a stock attractive to him.
Lessons from the book:
Find companies that do boring/depressing/gross things (nothing high-tech or exciting, because otherwise everyone would already know about the business and would have lots of competitors trying to outsmart them).
Find companies with low institutional ownership. Chances are quite high that when a company already has a high number of institutional owners, the company will no longer triple or double. Everyone already knows about its great prospects and will therefore be priced accordingly.
Find companies that operate in a niche and are good at what they do. Niches are boring and almost nobody wants to compete with niche players as they have lots of know-how and are often highly skilled.
Find companies that aren't operating in obvious high growth industries. Again: High growth industries are often so popular that many new businesses arise that will want to gain marketshare in that high growth market. How do you know which one is going to get the largest piece of the pie and outclass the rest? You don't.
Find companies that make stuff that people will continue to buy/need. People can easily say NO to buying a GoPro (NASDAQ:GPRO) whenever they get in financial trouble, but they won't say no to buying their groceries. High tech stuff or new toys quickly become unpopular and are easy to set aside.
Thus while using Finviz to screen for these types of stocks, I bummed into Amira Nature Foods (NYSE:ANFI). It had low institutional ownership (10%) while also displaying high growth figures. I was intrigued and decided to take a closer look.
As always, I applied my 9 criteria in order to get a quality score for the stock and a better understanding of the company.
1. Strong balance sheet and healthy financial situation
Amira Nature Foods has a conservative balance sheet. Net debt/EBITDA currently lies at 1.7 while competitors of Amira have a net debt/EBITDA ratio of 2 - 3.
2. Cheap valuation
Amira is immensely cheap. Especially when taking into account the growth it has been reporting. Its current P/E ratio stands at 7 and its EV/EBITDA ratio is at 5.1.
3. Possible positive short-term price triggers
As you might know, Amira has been accused by Prescience Point of doing some creative accounting. This made the stock drop from 12 USD to 3 USD mid-2015. However, these accusations appeared to be highly exaggerated and perhaps even untrue/manipulated in order to make the short sellers some quick money.
The short interest in the stock has been declining severely (-50%) over the past year from over 27% to 13% today. This, plus the fact that Amira has reported excellent figures the past couple of quarters, made the stock bounce back from 3 to 10 USD. As the stock continues to recover, a further short squeeze continuous to be likely. Also, while Amira continuous to push haters towards the exit, new interest of institutional investors (who mostly like a fast growing business) might push prices higher.
4. Good long-term prospects; and 5. a positive macro environment
Anyone who has looked into Amira's case knows that it's a family run company that has been around for 100 years. However, it has only been until very recently that things are starting to look really interesting for Amira.
They are expanding to 70 countries, are making deals with leading retailers, including Carrefour (OTCPK:CRERF), Tesco (NASDAQ:TESO), Wal-Mart (NYSE:WMT), and others, are creating new product lines (organic foods and ready to eat snacks) and they are having a strong domestic market (India) that continues to grow at a rapid pace.
The long-term prospects are therefore looking good, and also the macro environment (increased demand for healthy organic products) couldn't be better for Amira.
More concrete: Amira aims to report 1 billion USD in revenue and 150 million USD in EBITDA by 2018. These targets seem highly realistic and attainable as the company was able to report 700 million USD in revenue during 2015 while reporting only 330 million USD in revenue in 2012. That's a doubling of the revenue in 3 years or a CAGR of ~28%.
6. Quality management
First I thought Amira was going to have a shady management team. However, management seems to be of decent quality and altogether, they appear to have a lot of experience that might come in handy to turn this small cap into a major global player. Some executives/directors even have experience at large Western corporations such as Accenture (NYSE:ACN) and Nestle (OTCPK:NSRGF).
click to enlarge)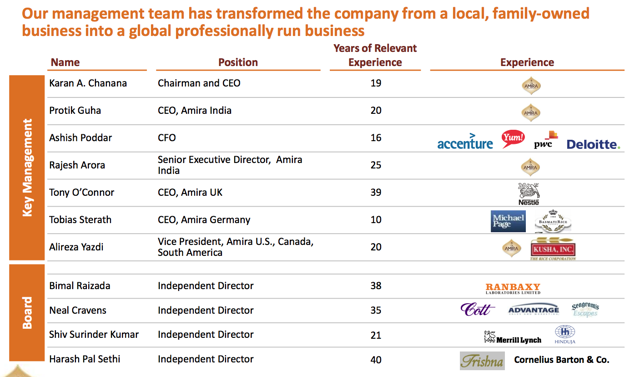 Source: Amira Nature Foods
7. Smart dividend policy
Amira doesn't pay any dividends at the moment as it is investing all of its money into itself. This is great as Amira is growing at a vast pace (25% per year). I can't think of any better alternative to use their money.
8. Interest from other funds/analysts/money managers.
Only two professional analysts seem to be following Amira: Oppenheimer and BMO Capital Markets.
Both have an outperform rating on the stock. With price targets of 18 USD and 20 USD.
While this is obviously a positive for the stock, it's also nice that only 2 analysts are covering the stock. It adds to the stock's "hidden"-aspect and gives small investors a chance to buy before the big guys come along and swoop in a big part of the market cap.
9. 20% undervaluation
When using a 15% annual growth rate for its revenue during the next 5 years (far below the 25% annual growth rate it was able to report until now), a 6% net profit margin (in line with previous years) and a P/E ratio of 15 (which is low for a growth stock), Amira could be at 52 USD by 2021. When discounting this by 15% per year (my minimum accepted rate of return), Amira is buy-worthy today below, or at 21 USD. However, as I like to be cautious, I like to apply a margin of safety of 50%. When applying the MOS, Amira seems to be a very strong buy at 10.5 USD or lower (close to its current share price).
Conclusion
Amira is a boring family business that is operating in a niche market (basmati) and is under-followed by analysts. At the same time, the company is growing at a high pace and has a large short interest and low institutional ownership. These are all aspects that Peter Lynch would like as it might drive its share price up. Furthermore, it scores 9 out of 9 on my own personal criteria.
Disclosure: I am/we are long ANFI.
I wrote this article myself, and it expresses my own opinions. I am not receiving compensation for it (other than from Seeking Alpha). I have no business relationship with any company whose stock is mentioned in this article.
Additional disclosure: I went Long @9.35 USD
Editor's Note: This article discusses one or more securities that do not trade on a major U.S. exchange. Please be aware of the risks associated with these stocks.