The financial markets of 2015 will likely be forgotten in the annals of history. Aside from the collapse in oil prices (NYSEARCA:USO) and the flash crash in August, there wasn't much excitement to write home about. Markets traded mostly flat, with the DOW (NYSEARCA:DIA) and S&P 500 (NYSEARCA:SPY) posting losses of -2.3% and -0.7% respectively, while the NASDAQ (NASDAQ:QQQ) gained a modest 6%.
2016 has been a roller coaster ride by comparison, with the major indexes posting big losses right out of the gate. The volatility has been an amazing sight to behold. There have been 29 trading days thus far in 2016, and of those 29 days the DOW has closed up or down triple digits 22 times. The average daily fluctuation is 184.6 points, or 1.14% of today's closing value of 16,196.41.
Market volatility is seemingly all the talking heads on the evening news can discuss. Half of the TVs at the gym this evening featured a different pundit giving their take on the chaos. One particular older gentleman with a suspiciously thick crop of hair for his age went as far as to feature a graph titled "The S&P 500 Is In Trouble," which compared today's S&P 500 with a graph of the S&P 500 from 2007-2008 showing eerily similar patterns in the peaks and valleys of the index's value. The X-axis was completely blank, so no relative timeline was given. Was this timeline over years? Months? A week? A few hours in some random trading session where the charts happened to align? News stories are just juicier with less detail and more open-ended questions, I guess.
It has been a joy for me to observe all this. At 29 years old today, I was too young to fully appreciate the gravity of the 2008 Financial Crisis, and had no income to invest being a full-time college student anyway. This, to me, is my first involvement in a real-deal mass market panic. History in the making! It has been especially entertaining to hear so many Seeking Alpha contributors give their take on how to weather this volatility to protect our investments. Every day, different articles are trending detailing these strategies. Today's top trending article, Are Dividends Doomed? by Contributor Mike Nadel, was a great lunchtime read for me. Mike basically eviscerated a NY Times article that used fear to generate viewership by underhandedly promoting the idea that dividend cuts were dangerously close to 'the norm' in 2009...and 2016 could be next! Cue scary music.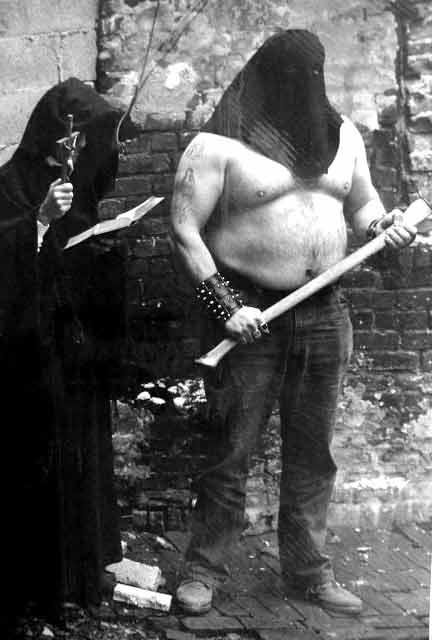 The Typical American Investor
Most Americans are not intimately familiar with finance. I'd go as far to say that most Americans, actually, are woefully ignorant of finance. Most do not have adequate knowledge of how the financial markets work and are only peripherally aware of the turmoil currently facing the world economy. And this ignorance, honestly, may be a pretty good strategy assuming you are regularly contributing adequate sums of money to diversified funds in a tax-advantaged account. Ignorance can lead to missed opportunities, but it can also prevent huge mistakes.
Exhibit A: portfolio turnover. Once again, according to the mid-2015 SPIVA US Scorecard:
65.34% of large-cap managers underperformed the (S&P 500) [snip] during the past one-year period[snip]. Over the five- and 10-year investment horizons, 80.8% and 79.59% of large-cap managers, respectively, failed to deliver incremental returns over the benchmark.
I began to wonder, how would an investor that just went to work every day with nothing more than a basic 401(k) and no working knowledge of the market have performed over the past 20 years? So, I made a few assumptions:
Hypothetical Investor [H.I.] was hired on February 15, 1996.
H.I. is a fresh-faced college grad of 22 years old.
H.I. gets paid on Mondays, bi-weekly.
H.I. contributes $100 a week into their employer's 401(k) plan, which translates into a single $200 deposit every other Monday of the year. Where Mondays are market holidays, the next business day is used.
H.I. holds 100% of their 401(k) in the SPY ETF.
Any associated fees and employee contributions are excluded.
All dividends were reinvested into new shares.
A 20-Year History Of The S&P 500
From February 15, 1996, to today, the SPY ETF produces the following chart, which effectively mirrors the S&P 500: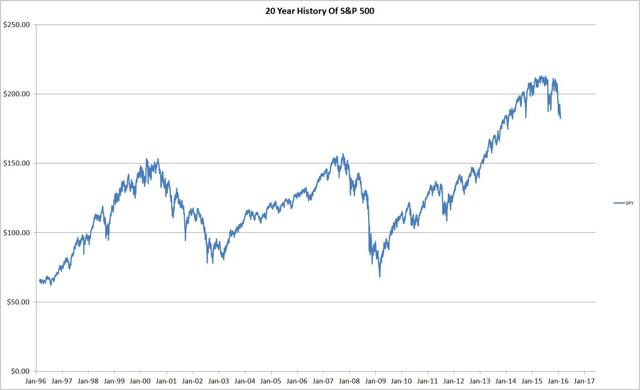 In total, H.I. over the 20-year period would have had 520 separate $200 buy-ins amounting to a total contribution of $104,000.00. This would have yielded:
875.9385228 shares of SPY purchased directly.
$25,678.087 in cash dividends re-invested into the portfolio.
A grand total of 1,085.272821 shares of SPY owned as of February 16, 2016, with a market value of $205,963.08.
While it may not seem like a $101,963.08 profit is a lot for 20 years in the market with a cost basis of $104,000.00, remember that this cost basis is spread out evenly over 20 years. The initial $200 deposit made on February 20, 1996, for example, would be worth $818.29 with dividends reinvested, representing a CAGR of 7.3%. The initial $4,600 invested in the first 10.5 months of 1996 would be worth $17,768.94 with dividends reinvested for a CAGR of 7.0%. That's not too bad considering 1996 was in the middle of a relentless bull market that began way back at the end of 1987 - hardly the ideal time to find value in an index.
Recall the phrase, "Time in the market is more important than timing the market." The power of compounding doesn't appear very impressive when starting out, but when balances start reaching deep into the six figures, magical things can happen.
Considering H.I. is only 42 years old at this time, they have not even hit the halfway mark of their investing lifetime. If we assume H.I. aims to retire at 65, even if H.I. decides to completely abandon contributing to their portfolio and lets it silently compound at 7.3% for the next 23 years, H.I. can expect their portfolio to grow to $1,041,317.04. And that is an extremely conservative number, because in reality:
H.I. likely would have had similar amounts of employer contributions over the years.
H.I. likely would have increased their bi-weekly contributions over time as their income grew.
H.I. likely wouldn't have abandoned contributions at age 42 and contributed bi-weekly until retirement.
In reality, our Hypothetical Investor would have a portfolio several times that size. And that's not too shabby for a person that has completely ignored the market, has no brokerage accounts, has no other market investments of any kind and has never in their lives completed one, single active trade. All H.I. did was allocate $100 a week they never even knew they had and forgot the stock market existed for 45 years.
When Choice Is The Enemy Of Success
There are countless investing strategies one can take to build long-term wealth. There is no "right" or "wrong" way to achieve your goals, but if there is one thing that seems to foil investors time and time again, it's inconsistency.
In a world of so many choices, people have trouble developing a plan that suits their personality type and sticking with it.
While dollar cost averaging into a major index fund is far from an aggressive strategy, it does have its benefits:
Guaranteed historical returns. There has never been a 30-year history where the S&P 500 did not generate adequate long-term returns. While this method will not get you rich quickly - you're not going to score a ten-bagger overnight doing this - you are almost guaranteed to become wealthy as long as your investment horizon is long enough and you took the time to make sure your regular contributions are sizeable enough to hit your goals in the associated timeframe.
Effectively zero risk of wipeout. This method provides instant diversification, and since there are no individual holdings, there is no risk of your investment ever going to Zero. If that were to happen, fear not - the entire United States of America just went to Zero.
Freedom. Investing can become an obsession, consuming countless hours of a person's time and eating them away with worry. Our Hypothetical Investor never spent a single moment worrying about their investments, felt no stress, slept easily every night and still wound up a millionaire.
I have a confession to make: our Hypothetical Investor is loosely based on myself. The timeline is different, but the method is the same. I am training myself to be a dividend growth investor with an eye for value, but I have this very same indexing strategy in effect every single week in case I fail at this objective. Other than my once-quarterly statements, this plan is 100% set-it-and-forget-it. This is my silent back-up plan, Plan B, in case Plan A falls short of my goals.
The best thing we as investors can do is know the type of person we are, develop a plan using a historically-proven strategy based on our own individual personalities and stick with it through thick and thin.
Disclosure: I am/we are long SPY.
I wrote this article myself, and it expresses my own opinions. I am not receiving compensation for it (other than from Seeking Alpha). I have no business relationship with any company whose stock is mentioned in this article.
Additional disclosure: All information found herein, including any ideas, opinions, views, predictions, commentaries, forecasts, suggestions or stock picks, expressed or implied, are for informational, entertainment or educational purposes only and should not be construed as personal investment advice. I am not a licensed investment adviser.