In late October 2015, we took on the contract responsibility of consulting a mid-size ownership group of Energy XXI (EXXI) shareholders. At the time, Energy XXI's shares traded at ~$2.00. Shares most recently closed at $0.45 and have since traded as low as $0.33.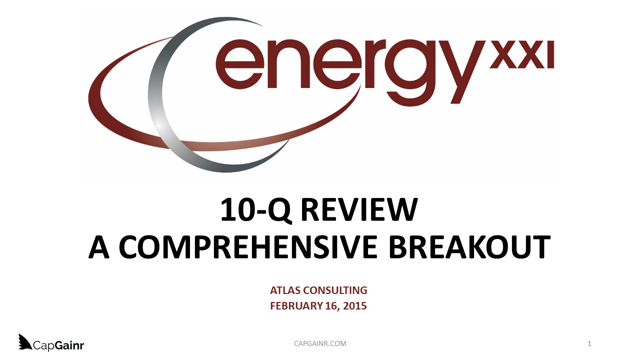 Energy XXI wasn't a name we had followed on an intimate basis, but it was a name we had followed in ancillary coverage for quite some time. As Energy XXI became more stressed, its story became more interesting. The Energy XXI story has recently become even more interesting in light of the company's most recent 10-Q filing.
With this 10-Q filing, we believe that Energy XXI has started the process of prepackaging a bankruptcy filing. Of course, the actual 10-Q filing has absolutely nothing to do with directly engaging in or executing a prepackaged bankruptcy, but it does provide legal and regulatory protection for the company (in how it was written and released) should it "eventually" pursue such an option. This is an incredibly important step in the overall process of being able to execute a "prepack" - expressing legal disclosures within the 10-Q filing that protect management and the board from any potential shareholder lawsuits that might come in an eventual bankruptcy scenario. To be clear, Energy XXI states as much within its 10-filing - that it is actively considering "filing under Chapter 11 of the U.S. bankruptcy code" and that taking such action might be "unavoidable." Still, we underline that theoretically there are other "strategic alternatives" at Energy XXI's deploy.
However, our experience and our expertise in this particular niche of the broader energy arena leads us to believe that a "prepack" is inevitable. Looking past the many fact-based, data-based, fully disclosed reasons detailed within the Energy XXI 10-Q filing, the fact that Energy XXI has engaged with financial and legal advisors is reason enough for us to believe that the ultimate outcome for the E&P will be a Chapter 11 announcement. We expect this to take place between 30 and 45 days from the filing of the 10-Q; however, we acknowledge that securing the necessary prepackaged strategy could take a shorter or longer time than our expectation. Still, we don't expect matters to take too much longer than the proposed time table.
In a continued effort to help provide risk management for Energy XXI's capital structure members, we're presenting a 10-Q review deck presentation. Within this deck presentation, we outline the 10-Q as it reads in efforts productive to Energy XXI moving toward a "prepack." We would recommend a comprehensive review of our ancillary Energy XXI deck presentations as well.
Editor's Note: This article covers one or more microcap stocks. Please be aware of the risks associated with these stocks.