Canada has vast amounts of natural resources, which are yet to be explored. The country is rich in oil and natural gas reserves, as well as precious and essential commodities. According to the country's official statistics, revenue from natural resources constitute more than 11% of Canada's GDP. Companies in this sector generated revenue of $133 billion in 2009 alone. A significant portion of the productivity in the natural resource field is exported to the U.S. and other trading partners. In 2009, the natural resource sector contributed almost $70 billion to Canada's trade balance.
There are more than 100 Canadian natural resource stocks that trade within the U.S. markets. These stocks offer U.S. investors an opportunity to profit from Canada's vast amount of natural resources. However, some of these stocks are priced with hefty premiums, whereas others are trading at a discount. Over the next few articles, I am planning to examine these stocks from a fundamental perspective, adding my O-Metrix grading system (Out of 10) and FED+ Valuations where possible. This is the third article on this series. Here is a list of 5 Canadian basic material companies. Based on my analysis, I rate 4 of them as buy, and 1 of them as hold:
| | | | | | | |
| --- | --- | --- | --- | --- | --- | --- |
| Stock Name | Yield | EPS Growth Estimate | O-Metrix Score | FED+ Valuation | YTD Return | My Take |
| Canadian Natural Resources (NYSE:CNQ) | 0.92% | 17.7% | 4.8 | $44 - $65 | 2% | Buy |
| Imperial Oil (NYSEMKT:IMO) | 0.99% | 9.5% | 4.22 | $56 - $72 | 9% | Buy |
| Enbridge Inc. (NYSE:ENB) | 2.92% | 13% | 3.15 | $26 - $36 | 4% | Hold |
| Cenovus Energy (NYSE:CVE) | 2.23% | 18.45% | 5.84 | $44 - $57 | 19% | Buy |
| Teck Resources Ltd. (TCK) | 1.98% | 6.3% | 4.36 | $56 - $86 | 12% | Buy |
Data from Finviz/Morningstar, and is current as of February 22. You can download O-Metrix calculator, here.
Canadian Natural Resources - Buy
Since reaching its dip of $26 in early October, Canadian Natural Resources is on the bounce. The stock returned almost 50% in the last 5 months. However, the year-to-date return of 2% has lagged broad market indices.
(Click charts to expand)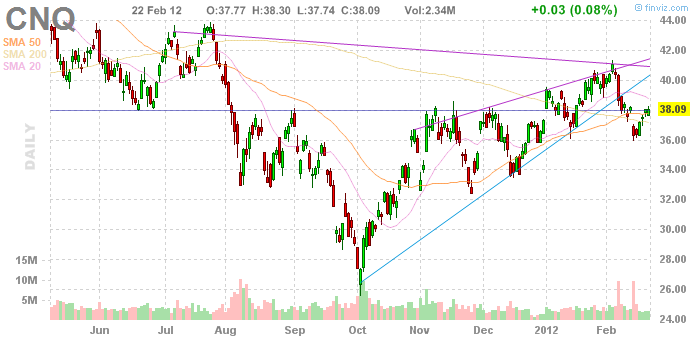 Canadian Natural is one of the largest independent oil & gas companies headquartered in Canada. Established in 1973, the Calgary-headquartered Canadian Natural is a prominent player in the crude oil and natural gas business. Its portfolio of assets include several fields in North America, the North Sea (in Europe), and West Africa.
T. Boone Pickens is pretty bullish on the stock. His fund, BP Capital has 186,272 shares, which amount to 4.54% of his portfolio. CNQ offers a yield of 0.92%. It is trading at a trailing P/E ratio of 28, and forward P/E ratio 11.75. Analysts are optimistic on the company's future. They expect a double-digit growth rate over the next 5 years. Based on an estimated EPS growth of 17.7%, my FED+ valuation is $44 - $65. Thus, the stock has at least 17% upside potential to reach its fair value. Stifel Nicolaus has a buy rating with a target price of $50.
Imperial Oil - Buy
Established in 1880, Imperial Oil is another oil and gas company with headquarters in Calgary. The company operates in Upstream, Downstream, and also Chemical segments. Exxon Mobil (NYSE:XOM) is the largest shareholder of Imperial Oil as it owns 70% of the company. The stock is in high momentum for the last 5 months. Since October, it returned almost 50%. The year-to-date return is 9%.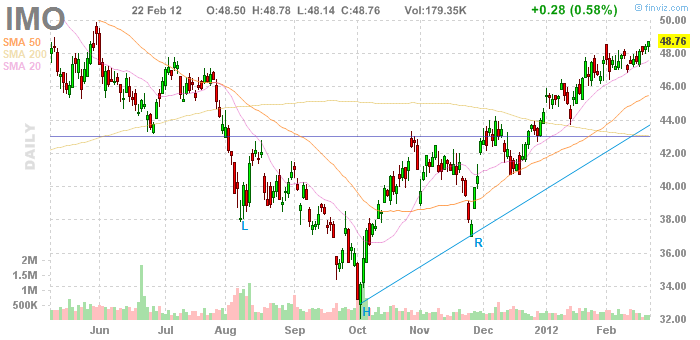 Imperial is a rising star among Canadian energy stocks. It is trading at a trailing P/E ratio of 12.21. The company was able to boost its earnings by 50% in this year. Analysts are still bullish on the stock, expecting an EPS growth of 9.5% in the next 5 years. Based on this estimate, my FED+ Fair value range is $56 - $72. Imperial looks a little bit more expensive than its largest shareholder. However, considering the yet-to-be discovered oil-rich fields of the Canadian sands, the premium over the book value is quite justified.
Enbridge - Hold
Enbridge is one of the largest transporters of crude oil and natural gas products in North America. Enbridge also owns a 50% interest in the Canadian portion of Alliance Pipeline. It is also one of the largest gas utility companies in Canada, serving almost 2 million customers.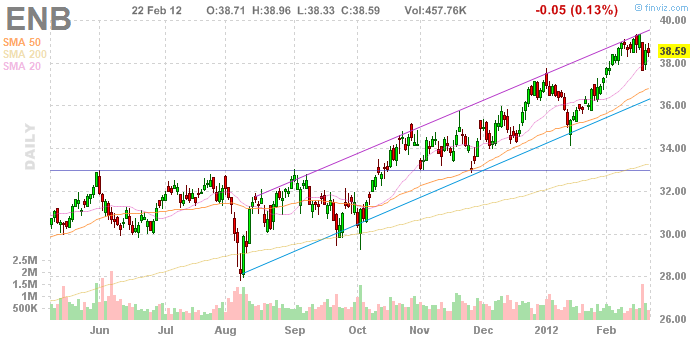 Enbridge has been one of the top performing stocks in the market. While the year-to-date return of 4% is below average, it returned almost 40% in one year. I think pipeline companies in general are slightly over-priced, particularly when compared with other energy companies. The stability of their profits and the safety of their yields pushed the pipeline stocks above their fair values. Enbridge is no exception. It is also trading at a significant premium to its book value. While the yield of 2.92% is okay, one should wait for a correction in the market for pipeline stocks. I am not expecting a capital gain this year, but if you are fine with the yield, it is OK to hold the stock. I rate it as a hold, but I think, a pullback might create a cheaper entry point.
Cenovus Energy - Buy
Cenovus Energy is a spin-off from the Encana Corporation (NYSE:ECA). The company formed in late 2009, after Encana decided to disintegrate itself into two companies. The stock has been a strong performer in this year, returning almost 19% since January.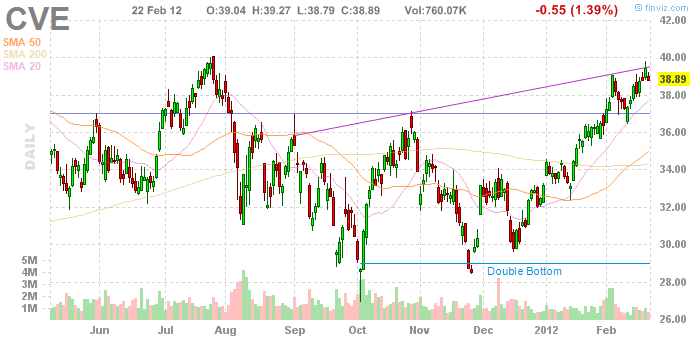 Cenovus offers a yield of 2.23%. It was able to increase its free cash flow by almost 25% in the past year. Earnings also increased by 40% in the same period. Analysts expect the earnings to grow at an annualized rate of 18.45% in the next 5 years. Based on this estimate, my FED+ fair value range is $44 - $57. At a price of $39, the stock still has some upside left to achieve its fair value.
Teck Resources - Buy
Teck Resources is probably the cheapest stock among this list. With a trailing P/E ratio of 8.71, it falls into dirt-cheap category. Teck is a diversified industrial metal & mineral producer. Metallurgical coal, zinc, lead, and copper are among the top industrial commodities in Teck's production portfolio.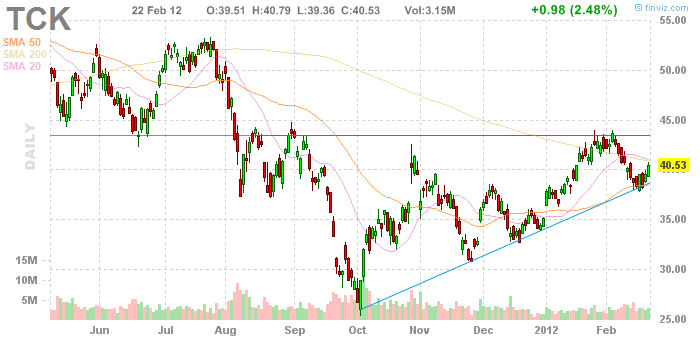 After a disappointing 2011, Teck Resources is on the bounce. The double-dip recession rumors caused a massive collapse in industrial commodity prices, which dragged related stock prices to almost peak-recession levels. However, along with the recovery in commodities, Tech Resources returned almost 60% since October. It has a solid balance sheet with a cash and equivalents of $7.54 per share. Thus, the company is sitting on more than $4 billion of liquid assets. It also offers a yield of 2%. A modest EPS growth estimate of 6.3% suggests a fair-value around $56 - $86 range. At the current price of $40, it is significantly undervalued. Therefore, I rate it as a buy.
Disclosure: I have no positions in any stocks mentioned, and no plans to initiate any positions within the next 72 hours.