Introduction
Square Enix Co., Ltd. (OTCPK:SQNXF) is a company highly worthy of investment consideration that has not gotten much coverage on Seeking Alpha. I will take a deeper dive at the most recently released financials, the overall health of the company, and the speculative outlook of the next 12-24 months.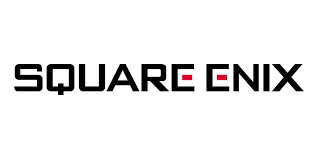 Square Enix is a fully integrated video game developer, publisher, and distributor with ownership of several highly regarded franchises such as Kingdom Hearts, Tomb Raider, Deus Ex, Just Cause, Hitman, and Final Fantasy. After a terrible 2013, company management implemented a strategic turn around plan resulting in an outstanding 2015 performance. Based on the upcoming pipeline of releases 2016 should also be a banner year. The trend should continue into the near future as the highly anticipated Final Fantasy VII remake and Kingdom Hearts III drop in (speculatively) 2017. Bohdan Kucheriavyi put a good summary together in September 2015 but it is time for a refreshed look based on the financials recently released on February 4th of this year.
Recent Financial Performance
Apr-Dec 2015 produced impressive results as illustrated by the table below.
- SOURCE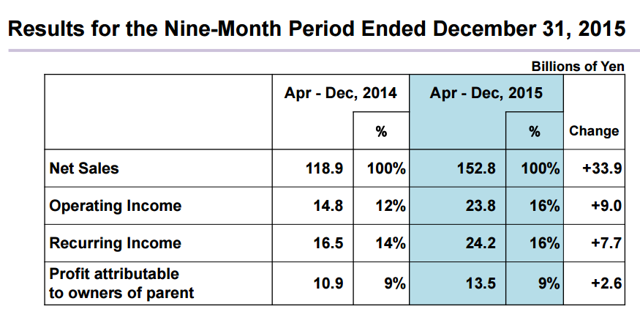 Square Enix put up +29% sales YoY and +53% income/recurring income YoY. These are impressive growth numbers, and the upcoming slate of major releases should continue the trend. The successful quarter is attributed to the mobile strategy, the excellent performance of the new Tomb Raider game (currently rated 86% on metacritic), and the continued success of the Square MMORPG Final Fantasy XIV pulling in recurring income in the form of subscription payments. FFXIV/FFXI/DQX, the three MMO's Square Enix currently operate have a combined total of approximately 1 million active subscribers (source) making Square Enix the second largest subscription based MMO operator on the market after World of Warcraft. Square has also been raking in the cash through iOS remakes of old final fantasy games as well as a variety of other well regarded mobile releases such as Hitman GO. Net sales of the digital entertainment segment by itself were up 46% YoY.
Square states in their earnings report that they are currently in the midst of major changes where they are moving towards flexible content development and a diversified approach to "spread their content" to as many devices/platforms as possible. With this in mind, Square Enix put their full-year forecasts into a spread which should yield a very solid year end in March assuming they even end up towards the low-middle end of their forecasted ranges. (see table below)
- SOURCE

The highly positive earnings report released on Feb 4th sent Square Enix share prices up around 11%, but they have since fallen back to pre-earnings report levels. This provides an attractive opportunity to buy in before the fiscal year end and prior to the upcoming major title releases currently in the pipeline and scheduled for release later in the year.
Content Pipeline
2016 is going to be a huge year for Square Enix content releases. I will list the three major releases but this list is not all inclusive. There are several smaller titles also scheduled to be released-- the full list can be found here.
The current (major) release schedule shows:
Hitman, March 11
Deus Ex: Mankind Divided, August 23
Final Fantasy XV , no date -- 2016
I believe Final Fantasy XV and the new Deus Ex will ship significant numbers of copies and will solidify another very solid Fiscal year. Hitman is a bit of a wildcard as it is a series reboot and Square has indicated an "episodic" format which could be interesting but is a somewhat unproven business model for the franchise. Additionally, FFXIV should continue to milk the subscriber base of 700k-1m users of a monthly subscription fee and bi-annual expansion sales.
Beyond the major releases listed above, Square Enix has a new Dragon Quest in the pipeline as well as the highly anticipated Kingdom Hearts III which should keep earnings heading in the right direction at least through mid-late 2017. Square has also confirmed to be developing software for the Nintendo(OTCPK:NTDOY) NX. Beyond 2017 it is unclear what is in the pipeline but Square has a vast IP library and a new Chrono Trigger would be pretty amazing. (hint, hint)
Financial/Business Health and Analysis
Square Enix has a Debt/Asset ratio of .28 indicating a healthy leverage ratio and fairly low financial risk due to debt. Square Enix also pays an approximately 1.3% dividend and has indicated the continued desire to pay out a dividend payout ratio of 30%. Square has about $900m cash currently on hand providing a comfortable cushion to work from. Nearly every financial metric of any significance has improved YoY, and the company appears headed very much in the right direction.
In the letter to shareholders from the 2014 annual report, the Square Enix President, Yousuke Matsuda, highlighted the continued efforts to reform the business towards long-term, large scale development, smart devices as game consoles, and developing product portfolios tailored to local requirements. This strategy is clearly having the correct impact based on the recent quarter's financial performance.
Long-term, large scale development has always been a sweet spot for Square, and the return to form is timed right at the peak of the current gen of console life cycle with an installed base of +50 million consoles. Final Fantasy VII's upcoming HD remake (timed exclusive first on the Sony(NYSE:SNE) PS4) should be impactful on earnings, and early indications are that it will be structured in an episodic format which will be a net positive in terms of cash flow for the project. Perhaps Square has stumbled on a new business model for AAA development --- episodic releases to encourage a cash flow positive position early rather than at the end of a lengthy and expensive development cycle.
Square has also been crushing it in the mobile space, especially in Asia where the are seeing remarkable growth. A potential Chinese MMO market and further mobile development presents a significant growth opportunity for the future of Square Enix that is currently only in the very early stages.
I'm very encouraged by the strategic direction of Square Enix and clearly the management guidance from 2014 is bearing fruit in 2015 as evidenced by the graphic below and confirmed by current performance trends.
- SOURCE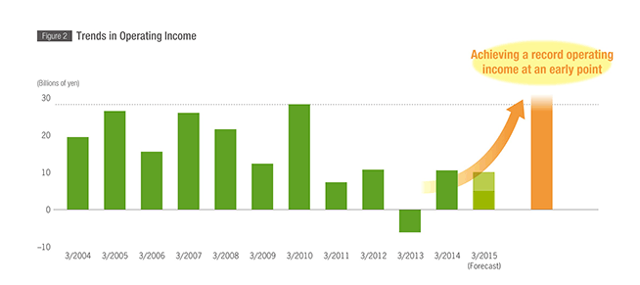 Conclusion
I hope you are as encouraged as I am by the performance of the company and the future prospects. The financials look good, the upcoming content pipeline is loaded, and company management has clear strategic vision that they are delivering upon. Square was once regarded as a premiere developer of high quality games, and they own some of the most valuable IP in the industry. Early indications are that they are strategically moving back in the right direction-- will you be along for the ride?
Disclosure: I am/we are long NTDOY, SNE.
I wrote this article myself, and it expresses my own opinions. I am not receiving compensation for it (other than from Seeking Alpha). I have no business relationship with any company whose stock is mentioned in this article.
Editor's Note: This article discusses one or more securities that do not trade on a major U.S. exchange. Please be aware of the risks associated with these stocks.