Mylan (NASDAQ:MYL) is a global pharmaceutical company that manufacturers and distributed generic drugs. It also is known for EpiPen, and aspires to sell biosimilars. On February 10, 2106 Mylan announced it will be acquiring Swiss pharmaceutical company Meda for $7.2 billion.
Mylan generated a lot of controversy in 2015 by rejecting a $82.00 buyout offer from Teva (NYSE:TEVA). Mylan also tried to acquire Perrigo (NYSE:PRGO), but the deal was rejected by Perrigo stockholders. Mylan stock closed Friday, February 15 at $41.83. Given that, many investors (including me) wish Mylan had accepted the Teva offer.
On the positive side, Mylan has projected 2017 non-GAAP, adjusted earnings per share of $6.00, including the acquisition of Meda. I think that is worth taking a look at.
I'll start with the $6.00 figure as a given, then add some thoughts on upside and downside.
Mylan stock price, 1 year:

What is $6.00 in non-GAAP EPS worth?
Using P/E (price to earnings) ratios as multipliers to determine value is a subjective game. Everything else being equal (almost never the case), my rule-of-thumb P/E for modestly growing companies is 20.
$6.00 x 20 = $120 per share. That would be at the beginning of 2018, when Mylan would report Q4 2017 and we would know actual full 2017 non-GAAP EPS.
There is such a huge difference between current price and this projected price that we should look for something amiss, rather than just jumping in and buying Mylan, assuming we will look brilliant in 2017.
First, non-GAAP earnings are not standardized. Perhaps GAAP earnings will be significantly lower. I usually use my 20x rule of thumb with GAAP earnings. While there is no way to be sure how they would differ in 2017, a good estimate may come from looking at how 2015 GAAP EPS and non-GAAP EPS differ.
Mylan full year 2015 adjusted diluted EPS was $4.30. But GAAP diluted EPS for 2015 was just $1.70. That is just 40% of non-GAAP EPS.
40% of $6.00 is $2.40. If we use $2.40 as our prediction of 2017 GAAP earnings, and stick with the multiplier of 20, suddenly our projected stock price at the beginning of 2016 is just $48 per share.
That is only 15% above $41.83. Not much of an incentive to invest. It could be an incentive to vote to oust management at the next annual meeting.
But stopping here seems wrong, too. Often, for the same company, in some time periods GAAP and non-GAAP EPS numbers are close together, but in other times, as when an acquisition or other one-time charges hit, the number diverge. It is convenient to switch to net earnings in millions here, rather than EPS, and look at the table from the Mylan press release:
Year Ended December 31,

2015

2014

GAAP net earnings attributable to Mylan N.V.

$

847.6

$

929.4

Purchase accounting related amortization (primarily included in cost of sales) (NYSE:A)

900.9

419.0

Litigation settlements, net

(97.4)

47.9

Interest expense, primarily amortization of convertible debt discount

45.6

46.0

Non-cash accretion and fair value adjustments of contingent consideration liability

38.4

35.3

Clean energy investments pre-tax loss (NYSE:B)

93.2

78.9

Financing related costs (included in other expense (income), net) (NYSE:C)

112.0

33.3

Acquisition related costs (primarily included in cost of sales and selling, general and administrative expense)

438.0

139.5

Acquisition related customer incentive (included in third party net sales)

17.1

-

Restructuring and other special items included in:

Cost of sales

36.3

45.1

Research and development expense

20.3

17.9

Selling, general and administrative expense

48.3

66.9

Other income (expense), net

7.2

(10.9)

Tax effect of the above items and other income tax related items (NYSE:D)

(370.1)

(432.0)

Adjusted net earnings attributable to Mylan N.V.

$

2,137.4

$

1,416.3

Weighted average diluted ordinary shares outstanding

497.4

398.0
The first thing to note is that GAAP as a percent of non-GAAP numbers in 2014 was 66%, far higher than the 40% we calculated for 2015.
Two items stand out as adjustments in both 2014 and 2015. Purchase accounting related amortization was $419 million in 2014, and more than doubled to $901 million in 2015. Other acquisition related costs rose from $140 million in 2014 to $438 million.
So we know that in 2016, due to the Meda acquisition, there will be similar charges, and a big difference between GAAP and non-GAAP net earnings and EPS.
But we also know that if Mylan ever stops growing through acquisitions, the GAAP numbers will come much closer to the non-GAAP numbers.
In calculating the value of the stock at the beginning of 2018, I am going to assume there are no major acquisitions post Meda. This seems unlikely given Mylan's acquisitiveness, but it allows us to get a better picture of profitability. If there are more acquisitions, they should eventually add to EPS. Acquisition charges, and their adjustments to GAAP accounting, come early, then taper off. Revenue growth and EPS growth should remain for the long run.
Again, noting that others could analyze the situation differently, using different assumptions, I am going to use 80% of non-GAAP EPS to get GAAP EPS, and a multiplier of 20 to make my final estimate of the early 2018 stock price.
$6.00 x 20 x 0.80 = $96 per share.
Well if you can buy stock at under $45 per share (and if I am right), you should do well. On the other hand, $96 per share is not that much better than the $82 per share we could have received from Teva in 2015, had management consented.
Debt and other variables
Compared to most of the commercial-stage biotech companies I invest in, Mylan has a lot of debt, and of net debt. That is worth some worry.
At the end of Q4 2015 Mylan reported cash of $1.24 billion and long term debt of $6.30 billion. So net debt is $5.06 billion. Interest expense in the quarter was $71 million.
The Meda acquisition will cost $9.9 billion, which includes Meda's debt. The actual offering value is $7.2 billion. However, 20% of the payment will be in the form of Mylan shares. So not all of that will appear as debt, but the deal will involve some share dilution.
Mylan's debt after the transaction is complete should be the current $5.1 billion, 80% of $7.2 billion, or $5.8 billion, plus the $2.7 billion of assumed Meda debt. Grand total: $18.1 billion.
That is quite a bit of debt for a company that had $9.4 billion in revenue in 2015. However, the transaction should result in an immediate earnings increase, plus synergy over time.
Cash flow in Q4 2015 was $2.2 billion, and guidance for 2016 if for a midpoint of $2.5 billion.
Mylan can afford its debt. Unless something goes wrong. Since it now operates in almost every nation of the world, there are a lot of nations where things could go wrong. Competition or government regulations could drive down drug prices. Generally speaking, however, Mylan's generic drug prices have proven to be competitive. Its global infrastructure has allowed it to keep up margins despite the competition.
Nevertheless, I could argue that my $96 per share 2018 estimate should be shaved down because of the debt.
On the plus side, I don't really expect Mylan's growth to be merely moderate. Revenue grew 20% in 2015. At the midpoint of revenue guidance for 2016 of $11 billion, the growth rate for 2016 will be 17%.
I said earlier that my rule of thumb P/E ratio of 20 is for a company with a moderate rate of growth. If Mylan can get some leverage and grow earnings faster than revenue, I would tend to mark it up a bit above the multiplier of 20.
So on the whole I am still comfortable with a $96 per share estimate.
Meda Price and Strategy
At the Q4 analyst call, and in remarks after the call, there was a sense among some analysts that Mylan overpaid for Meda. Of course Mylan stockholders would have been happier with a lower price, and conversely Meda certainly would have wanted more.
Meda seems to be a high quality asset, so I am not surprised the Mylan will pay some premium for it. If things go smoothly by 2017 I think most stockholders will be happy with the results. Mylan has a long history of making acquisitions and then maximizing their value. There are no guarantees, but I see no particular pitfalls ahead.
Mylan executives speak of driving long term value for shareholders by increasing the top line. It is a good strategy. By focusing on operational excellence Mylan has built one of the largest generic pharmaceutical companies in the world.
It is a large and complex operations, but I would add one more detail: Mylan plans to sell biosimilars and already has at least one before the FDA and more in its pipeline. Most generic companies won't be able to sell biosimilars because of the cost and complexity of getting regulatory approval and then manufacturing them. Fewer competitors should mean decent margins, and biosimilar prices should remain far above the prices of most generics.
Meda's Aerospan inhaler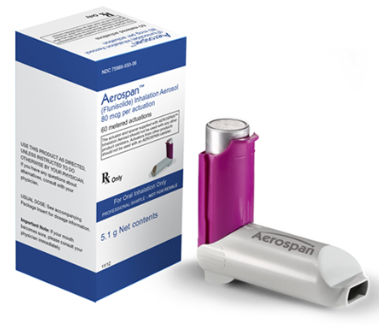 Conclusion
I began with a bullish argument for a 2018 price of $120 per share. If that were guaranteed true, every investor planning to hold stocks through 2018 would want some.
I then discussed some moderating items and came up with a 2018 price of $96 per share. Still, a very good price to look forward to if you buy at the current price.
I also discussed why you can't even count on $96 per share.
Why is the current price so out of line with my estimates of future value? I believe it comes down to the Mylan board's rejection of the $82 Teva offer. Many people won't trust a company that does something like that. And if you don't trust the CEO and crew, then why trust their 2017 adjusted EPS guidance?
Well, for me it is not entirely a matter of trust. If you look at Mylan's trajectory over the years, and how Mylan has gained synergies from acquisitions, the general story looks true. I know Mylan could change its guidance between now and the end of 2017.
You could even argue for a better story. After all, the $6 per share EPS estimate, just two months ago, was not projected to happen until 2018.
I would conclude that the downside is quite low right now. The upside potential is substantial for long-term investors. My expectation is that, as we get further from the Teva and Perrigo disasters, investors will focus more on earnings and less on the bruising corporate battles of the past.
So barring the unexpected, buying today and then being patient should be an excellent strategy.
Disclosure: I am/we are long MYL.
I wrote this article myself, and it expresses my own opinions. I am not receiving compensation for it (other than from Seeking Alpha). I have no business relationship with any company whose stock is mentioned in this article.