GATX is known for railcar leasing, specializing in tank cars. Railcar leasing is a cyclical business with lease rates strong when economic growth and commodity prices are robust. Following a strong year in 2015, we are witnessing lease rates and utilizations softening toward the end of the year and the market is reacting quite adversely toward GATX's stock, dropping almost 30% in a year, as of 2/16/16, while underlying earning capability does not expect to change much, at least in near terms.
Management admits an uncertain year ahead with potential further downside in utilization given oversupply of railcars and decrease of commodity prices. Its stock price seems to have reflected the current market condition. Though, institutional ownership is exceeding 100%, indicating at least some market participants believe in further short-term pressure on GATX. But, as a long-term investment, current stock price provides a solid entry point, currently trading at 1.43x book and 8x forward P/E (2/16/16). One can never perfectly time the market, but GATX checks all the boxes for a great long term investment. With a savvy management team, long history of solid business performance, and uninterrupted dividend and share repurchases, shareholders are set to gain from current weaknesses in the market.
Solid Track Record During Down Markets
Given recent challenges in the market, it's important to look at GATX's ability in managing prior soft cycles, especially during the financial crisis. What we noticed is that operating cash flows were steady and healthy and utilization rates held up relatively well (see chart below). During the crisis, Company delivered respectable ROEs of 9% and 7% in 2009 and 2010, and quickly recovered from that achieving about 18% in 2015. Clearly, past performance cannot guarantee future results, but they definitely provide an insight into management's ability to navigate those cycles.
Effective Management of Railcar Assets
Management has previously succeeded in navigating through different cycles, deploying capital with discipline, and managing assets effectively, resulting in healthy returns in all environments. When the market conditions took a sharp turn during the financial crisis, Company pushed for shorter lease terms, bottoming out at roughly 35 months in 2010, given rate pressure. In contrast, when rates and utilizations are strong, terms peaked back to pre-crisis level at 66 months in 2014. Please see chart below.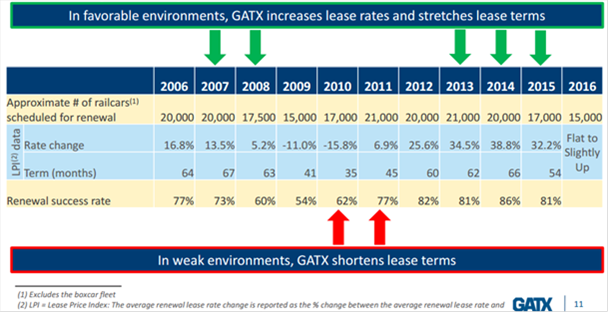 Another byproduct of a soft market is decreasing activity in asset acquisitions and investment. Instead, Company was one of the biggest buyers at that time acquiring assets cheaply. Also, in early 2014, GATX purchased 18,500 boxcars from GE, while the market was only focusing on crude transportation. At the initial purchase, utilization was only about 77%, today, management reported about 95%. It seems to be a good transaction for the company, but only two years in, more time would tell more definitely.
European and Energy Exposure
Another uncertainty in the market is the European business performance given the economic slowdown in that region. As of 2015, International Operation (includes both railcar leasing in Europe and India) contributes roughly 10% of aggregate segment profit (i.e. before SG&A and taxes). Specifically, by number of tank cars, European operation has roughly 20% of the assets. Similarly, GATX Rail Europe is #2 in the market, right behind VTG, with 26% of market share. Geographies served include Germany (47%), followed by Poland (22%), Austria (11%), and among others. 66% of fleet is petroleum wagons, which subjects to the downturn in energy prices. Thus, further deterioration and instability in the energy sector would impact the European business more than the U.S. Though, historical utilization rate for the European segment seem to hold up well, especially during the financial crisis. It bottomed out at 94.4% in 2Q2010 and recovered quite quickly. See data below.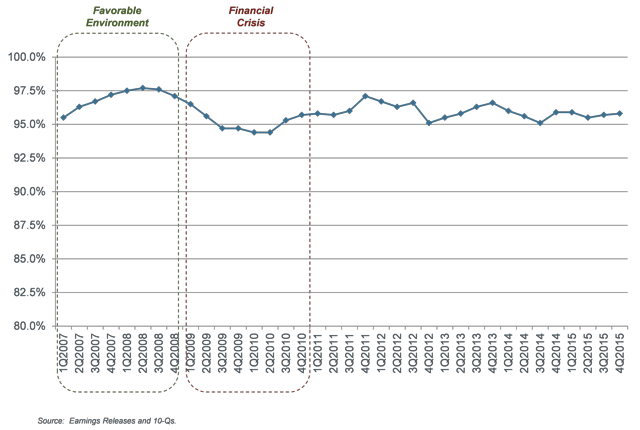 In addition, per management's latest presentation, GATX only has about 5,500 cars dedicated to frac sand service and crude service as of 9/30/15. This is about 4% of its total asset count of 153,000 railcars. In addition, GATX's railcars serving these markets are leased to customers with high credit ratings and locked in on long-term leases. In general, Company's revenue base is quite diversified; no customer exceeds 3% of GATX's total revenue and nearly 65% of the top 50 customers are investment grade.
Heavy Emphasis on Service
Management believes their commitment to excellence in service is a key differentiator. Given asset life is long in duration, servicing and maintaining them to the customers' liking is critical. Hence, Company has its own maintenance network, and has been bringing in more service capability in-house, migrating away from third parties. Management believes that they can do it most cost effectively in their own shops.
Substantial Capital Returned to Shareholders
Management is well aligned with shareholders in terms of capital structure optimization and allocation. Company started paying dividend since 1919 without interruption and now at $0.40/share per quarter, yielding almost 4% as of 2/16/16. As of 2015, looking over the past 10 years, Company had repurchased almost 17 million shares, or roughly a reduction of nearly 30% in common shares outstanding, for $750 million. For 2015 alone, management repurchased about $125 million of its shares. The Board just approved another $300 million in buyback plan, further providing downside for shareholders.
2016 Outlook
Despite a challenging environment with oversupply of railcars and concerns around decreasing utilization rates, management believes that they can deliver a range of $5.25 to $5.45 EPS for 2016, following a strong 2015 of $5.30/share, implying a forward P/E ratio of roughly 8x.
Conclusion
Management's extensive experience in navigating ups and downs of the market should allow them to be well prepared with challenges ahead. But, let's also not forget that historical softness in utilizations tend to last around two to three years. Given management pushed for longer contract terms when rates are strong in 2014 and early 2015, with current 54 months of average contract life, downside is relatively protected in the next 4.5 years from the topline. Hence, current valuation for the stock is a great entry point for long term investors.
Disclosure: I/we have no positions in any stocks mentioned, and no plans to initiate any positions within the next 72 hours.
I wrote this article myself, and it expresses my own opinions. I am not receiving compensation for it (other than from Seeking Alpha). I have no business relationship with any company whose stock is mentioned in this article.
Additional disclosure: Readers are advised that the material contained herein should be used solely for informational purposes. Readers should conduct their own research and due diligence and obtain professional advice before making investment decision. We will not be liable for any loss or damage caused by information obtained in our materials. Readers are solely responsible for their own investment decisions.