The WhiteWave Foods Company (NYSE:WWAV) started its history as a spin-off made by Dean Foods (NYSE:DF). It made its IPO in October 2012. The company makes and sells branded plant-based foods and beverages, coffee creamers , premium dairy products and organic produce throughout North America and Europe. The American brands include Silk, Horizon, So delicious, International Delight, Land O'Lakes, Wallaby and Earthbound Farm. In Europe Whitewave consists of Alpro and Provamel.
Until 2014, WhiteWave only had dairy related products. In January 2014 it acquired Earthbound Farm, the U.S. market leader in organic greens: salads, fresh, dried or frozen greens, specific mixes for smoothies and much more. In 2015 Vega followed, a manufacturer of plant-based sports bars, supplements, shakes etc.
Tailwinds
We will look at the past, present and future of WhiteWave, look at the valuation of the stock and ultimately find out if you should buy this stock. But first we will look at some social tailwinds for the company.
First tailwind: the changing attitude towards food
Do you remember the Jane Fonda work-out videos in the 80's?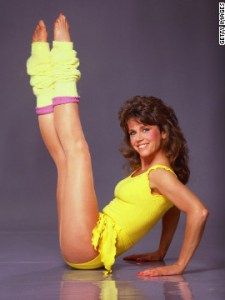 They were already campy then, but they are cult now. That is because health and wellness continue to change. People are tired of diets and the professionals and interested amateurs know by now that a lot of 'diet' products are as bad or worse than the original product. Do you think Diet Coke is healthy for example? Your body responds to the aspartame just as it does to the real sugar. The artificial sweeteners keep you craving for sugar, they make you fat and they can even cause diabetes. Less fat often equals more sugar. And the use of trans-fats by the mainstream food industry is overwhelming.
This has created a business opportunity. There was a whole group of unserved professionals and interested amateurs that wanted better, more natural and healthier food. They want real food and food must be fun, but still healthy. Look at the success of paleo type diets. The unserved foodies are mostly a higher educated group with a lot of economic power and influence: they have blogs and vlogs, appear on TV, radio or in papers and spread the word about new healthy food. And they influence a lot of people:
Progressive health and wellness consumers are increasingly influential in redefining food culture: While they may be a minority group in terms of overall numbers, the influence progressive wellness consumers have over food culture is disproportionate. Progressive wellness consumers are paving the way, sharing their enthusiasm and knowledge with mainstream consumers who are hungry for guidance and direction.
Source: Forbes.com
This means that this rather small group of forerunners can influence whole masses to buy food like WhiteWave and Hain Celestial produce: organic, healthy and easy food. It is estimated that, although the U.S. has only an estimated number of about 2% vegetarians (according to Wikipedia), recent research finds that 36% of the U.S. consumers prefer plant based alternatives to real milk .
Second tailwind: allergies
More and more people react allergic to food, often dairy products. This is seen in the US, but also in Europe and China.
On the December 4th 2013 the World Allergy Organization Journal wrote:
Based on more accurate measures, the prevalence of clinical (OFC proven) food allergy in preschool children in developed countries is now as high as 10%. In large and rapidly emerging societies of Asia, such as China, where there are documented increases in food allergy, the prevalence of OFC-proven food allergy is now around 7% in pre-schoolers, comparable to the reported prevalence in European regions. While food allergy appears to be increasing in both developed and developing countries in the last 10-15 years, there is a lack of quality comparative data.
(source: Biomed Central)
So despite of the fact that these medical specialists say that there is a lack of proof, even these hard boiled scientists admit that the trend seems to increase.
According to webmd.com 15% of the people believe they have a food allergy. Even if those people don't have an allergy, those 15% will take this alleged allergy into account if they buy their everyday groceries. And something else is also important: about 55% of the U.S. population tests positive to one or more allergens. This means that more than half of the population has an allergy or a hypersensitivity to pollen, cats, dogs, birds, food etc. Or a combination of several of those.
The most common food allergies are peanuts and milk. This means that a lot of consumers would benefit from vegan food produced by WhiteWave. And because people are allergic to some ordinary products like milk, the alternatives are viewed as much healthier, also by the non-allergic population.
Third tailwind: climate change
It has been all over the news for years and years: climate change. In December 2015 an agreement was signed at the Climate Change Conference in Paris by 195 countries. It was the first-ever universal legally binding global climate deal. This agreement is due to enter into force in 2020.
The 195 countries agreed to first stabilize and later reduce global emissions. This very ambitious plan will have consequences. Look at the plans of the Obama administration with the coal sector. And this is just the beginning.
Now look at this very informative illustration: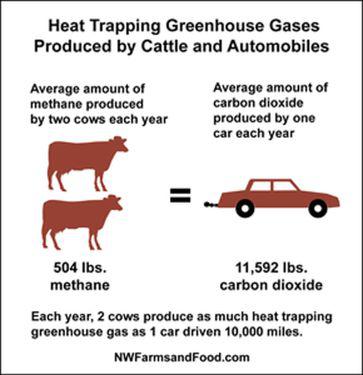 So two cows are as bad for the climate as one car driving 10,000 miles each year. That is because the methane produced by the cows is much more powerful that the carbon dioxide of the car: 504 lbs cow methane equals 11,592 lbs of carbon dioxide. But if you ask John Q. Public what the main polluter is, I think he is more likely to answer cars than cattle. I don't think this is going to stay this way after (and maybe even before) 2020, when the Climate Pact unrolls.
Especially not when people become aware of this little known fact:
Meat and dairy products account for 14.5% of all greenhouse gas emissions-more than cars, trucks, trains, ships, and airplanes combined. Collectively, livestock animals have a greater climate impact than the entire U.S. economy (mostly because they release methane and nitrous oxide, two potent gases).
Source: Fastcoexist.com
Of course, reducing cattle means reducing milk as well. This hiatus will be covered by the alternatives: milk made from soy, almond, hazelnut, coconut, rice etc. Bull's eye for Whitewave!
Fourth tailwind: sustainability
Sustainability has become a very valuable marketing tool. Because of the nature and background of the company, WhiteWave is very well placed to follow or even lead this trend. Just look at what is at the Wikipedia entry for WhiteWave.
WhiteWave is actively involved in sustainability within its operations, with specific initiatives targeting sustainable ingredient sourcing, water conservation, greenhouse gas emissions, packaging, and GMOs.
If it is on Wikipedia, a lot of people get this information and so WhiteWave products can take advantage of this.
Headwinds for Whitewave
Of course, not everything can be positive. There are always some headwinds as well. Although you could discuss if these are real headwinds. They may be just a part of building a business.
The first headwind: the strong dollar
This headwind is of course not typical for Whitewave, but because Whitewave is considered to be a growth stock, the investors demand for a growth that makes them dream of future possibilities. Provamel and especially Alpro are doing very well in Europe, but the weak euro compared to the dollar presents a problem. The Canadian dollar is very weak too compared to its U.S. brother. In the conference call Gregg Engles said that currency translation accounted for $0.05 per share for the full fiscal year 2015. This is about 8.8 M in earnings less because of the strong greenback. If you translate this to growth, the numbers are even more impressive and make you understand that this currency problem really has impact. CEO Gregg Engles during the conference call about the European results:
For full year 2015, sales grew 21% on a constant currency basis driven by solid volume growth across all product categories. Due to the sizable appreciation of the U.S. dollar against the euro last year, this strong organic top line translated into 4% growth on a reported basis in 2015.
Second headwind: Chinese JV
White Wave is an illustrated bookfor children by Diane Wolkstein. In her book she tells an old Chinese folk tale. It is about a poor boy who finds a big snail and takes it home. A beautiful girl comes secretly out of the shell to prepare his dinner every day while he is at work. She is White Wave, the moon goddess. He must never touch her, but one evening he does exactly what he shouldn't do and she leaves.
Let's hope that Mengniu Dairy Company ((Mengniu)) is less touchy than the moon goddess. Whitewave (the company, not the goddess) has set up a joint venture with Mengniu in China in 2014. This costs money. CEO Gregg Engles said that this was about $0.02 per share for FQ4. This means a total cost of about $3.5M in the fourth quarter alone. For the total FY 2015 this was $13 million. For FY 2016 this cost is expected to be around $5 million. This is a temporary headwind, but it is a positive evolution in the long run: this JV will bring extra cashflow and earnings to Whitewave and a whole new market. That's what is called investing in the future.

(the Mengniu logo)
The fist headwind (the strong dollar) could also play a part for the JV in China, but real earnings only will come in later, so who knows how the dollar is valuated then.
The third headwind: warehouse problems
There were problems with an SAP conversion in the warehouses of the Fresh Foods department, which led to sales problems. In other words: costumers couldn't be served as they should have been served. This cost was $12 million in Q4 alone, more than WhiteWave had foreseen. WhiteWave lost $6 million in finished goods and raw inventory, $4 million in higher warehousing costs and $2 million in extra labor expenses to solve the problems. A new and bigger warehouse with an integrated SAP should be ready in Q2 of 2016. Afterward the problem should be solved.
What all of these headwinds have in common is that they are negative for the short term only, maybe except for the dollar strength. The headwinds do not affect the fundamentals of the company and are no competition for the tailwinds.
The two last headwinds will even become strong tailwinds in the future: the Chinese JV will open a new market and bring in revenue and earnings; the new warehouse with integrated SAP will be more efficient than the old system.
Opportunities for Whitewave
WhiteWave is already building out its opportunities: a wider variety of products and a bigger market. There are plenty of changes left which could optimize the company's portfolio.
Product diversification
In America there is already more diversification than in international markets. For example: there are no frozen desserts in the product range in Europe yet. Organic coffee creamers, fresh organic salad and a lot of other WhiteWave products in the European supermarkets yet. So international distribution of the product range that WhiteWave already sells in the U.S. could add to the top and bottom line. A better international integration, you could say.
Secondly, WhiteWave has only started in plant-based nutrition with Vega and organic fresh food with Earthbound Farm. They could make these branches much bigger by organic growth and maybe some more acquisitions.
Further WhiteWave should come up with new products. Money is spent on research and development to seize this opportunity:
We have a fantastic pipeline of new and innovative products planned across both continents this year.
We continue to see a robust plot of opportunities for sustainable growth across our diverse plant-based categories, and we will focus on driving the broader plant-based category further beyond dairy milk alternatives in the cereal bowl.
(CEO Gregg Engles during the last conference call)
New markets
New markets could be opened. It is not the time yet, as WhiteWave is already struggling to keep pace with its growth in Europe, Canada and the Chinese joint venture. It is growing its capacity in warehousing and it is also integrating the acquisitions of the last years.
But there are still big opportunities left. Especially India seems like a very interesting market. Between 30 and 40% of the Indian population is vegetarian because of the popularity of religions such as Hinduism, Buddhism and Jainism. In those religions vegetarianism plays an important role. 30 to 40% of the Indian market, that is huge. We are talking about 400 to 500 million people and growing. And because of its economic growth, India is believed to become the third largest economy by 2030. Look at this forecast for 2050: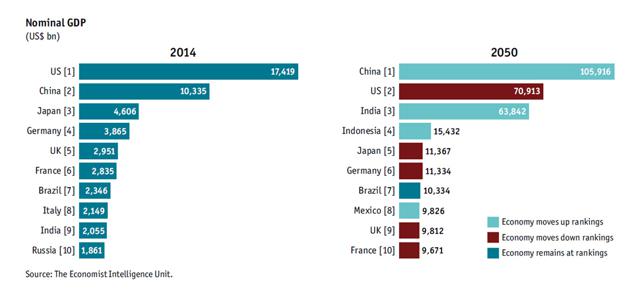 More GDP means more middle class, more buying power, more need to go to premium products… So more potential for WhiteWave products. The expansion could be executed through a joint venture as well or WhiteWave could choose to acquire a company which is familiar with the Indian market.
Threats for WhiteWave
Competition
Of course, if there is a market, especially a booming market, there is competition. WhiteWave's main competitor at this moment is probably Hain Celestial (NASDAQ:HAIN). WhiteWhave seems to be doing just fine with that competition. I plan to make an analysis of HAIN in a later article.
Another competition might come from private labels. I think that especially the soy drinks could become commoditized. They have a typical profile for commoditization: quite cheap and already fairly known to the broader masses.
My personal view here is that there are already quite some competitors, but that a lot of people will be happy to pay a premium for WhiteWave products. And WhiteWave could easily stay ahead of the crowd in diversification and superiority of taste.
Debt
WhiteWave's Debt to Equity ratio (NYSE:DE) is rather high at 176%, compared to 110%, which is the average for the food industry. WhiteWave has a total debt of $2.13B and only $38.6M in cash.
WhiteWave's competitor Hain Celestial has a DE of about 50%, so it is much more conservatively leveraged. On the other hand, WWAV's higher debt could fuel higher growth. The DE of Coca Cola (NYSE:KO) for example is, like the industry's average, 110% and that of Pepsi (NYSE:PEP) is even 279%.
As long as the debt can fuel growth, there is not really a problem. The interest coverage is 5.72, which is a sign the company is in good health. Kelly J. Haecker, the resigning Chief Financial Officer of WhiteWave, said in his last earnings call:
We have historically operated with a leverage ratio below 3.5 times on a net-debt-to-EBITDA basis as defined by our credit agreements. We are comfortable increasing our leverage profile in conjunction with the appropriate strategic opportunities like Vega and Wallaby with a clear goal of reducing our leverage back down to our historical operating profile.

Pro forma for the acquisitions of Vega and Wallaby, our Q2 leverage ratio stood at roughly 4.5 times. We've now reduced our leverage roughly a half turn over the second half of the year to just below four times at the end of Q4. Absent any strategic activities, we intend to further delever during 2016, and expect to end the year with leverage around 3.5 times or less. We recently increased availability under our senior credit facilities and extended all related maturities, continuing to ensure that our balance sheet is capable of supporting all of our growth initiatives.
This shows, in my opinion, the way in which WhiteWave tries to combine growth and a manageable financial balance.
On a side note, if you would be worried that the resignation of Chief Financial Officer Kelly J. Haecker could cause problems, I think this will not be the case. Haecker leaves after a career of over 30 years, including ten at WhiteWave, to spend more time with his wife and daughters. WhiteWave has already appointed Greg Christenson as its new CFO. Christenson succeeded Haecker three years ago as the finance leader in Americas Foods & Beverages. He showed his ability to drive strong results in that part of the company, just as his predecessor Haecker did. I am confident he will do a good job as CFO as well.
Valuation of the stock
To make a proper valuation of the stock, we should first have a look at the numbers. Both revenues and earnings per share go up, despite a few temporary headwinds.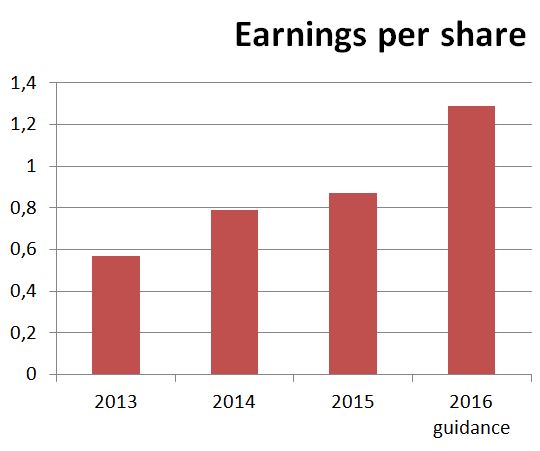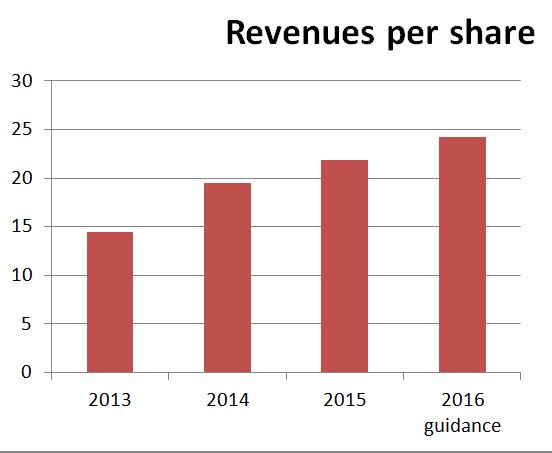 ©Growth to Value
As you can see in the second bar graph, WWAV's earnings per share are expected to go up quite steeply for FY2016. The company guides $1.33-$1.37 EPS next year. I took the lower limit of the guidance in the chart. This is very conservative, considering the guidance beat history of WWAV. The results were always in line or had a positive surprise.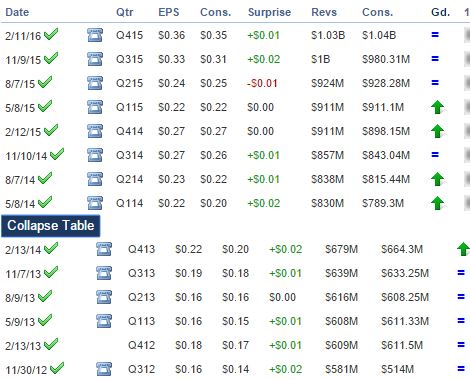 (source: Streetinsider.com)
This still represents an increase of 58.5% YoY. WhiteWave hase more than doubled its EPS in four years time. Finviz.com expects WhiteWave to grow its earnings by 18.5% per year, which would result in EPS of $3.11 in FY 2021. This is of course speculative. A lot of good or bad things can occur along the road, but it gives you some idea of the earning power of the company, especially if you consider this stock as a hold with a very distant horizon of 20 years or more. Stock prices generally tend to follow EPS over time.
If you look at the traditional metrics, the stock seems to be overpriced. But this is very typical for the majority of the growth stocks. The p/e is 43.9 (I took the closing price of Tuesday 16th February). If you take the lower side of the guidance for 2016 the forward p/e is already a more modest: 28, which is in line with a lot of growth stocks. If you would dare to speculate on the forward p/e of 2017 that would be around 23.5. Of course this is almost in the realm of an educated guess.
The p/e is mostly not a very good metric to evaluate a growth stock, but even if you consider the p/e, WWAV is not excessively priced.
But how do you evaluate a growth stock? This is one of the most difficult things to do. There is a lot of qualitative work (how good is the company, do you believe the company is riding on a social wave of change etc.). I explained in the tailwinds section above that this is no problem for WWAV.
Using the NAIC guidelines to valuate WWAV
The National Association of Investors Corporation (NAIC) is a non-profit investment education organization. It seeks to "provide a program of sound investment information, education and support to help you take control of your financial security". The NAIC has given its members guidelines to evaluate growth companies. We consider some of the most interesting questions for WWAV.
1. Is there a strong historical earnings growth?
The NAIC wants the annual revenues to go up. They want to see a minimum of 5% growth per year for WWAV for at least five years. This is not completely possible, because the IPO is too recent. But if you look at the revenue of the three last years, you get a revenue growth of about 23.5%. PASS
2. Is there a strong forward earnings growth?
NAIC would like to see a projected five-year growth rate of 10 to 12%, although 15% is desirable. As already mentioned, Finviz.com estimates WWAV's five-year growth rate to be 18.5%. Without a doubt: PASS
3. Is the pre-tax growth high enough?
It is good if revenue grows, but if you burn money by excessive costs, your company has no future. Therefore you should look at the pre-tax profit. Here too it is difficult to evaluate WWAV because of the short history. Pre-tax profit was up 26% in FY2015 compared to FY2014. In FY2014 it was even up 56% compared to FY 2013. Again: a short history, but all available data point to PASS.
4. Is the ROE high enough compared to the average of the industry?
This is about efficiency. The ROE (return on equity) should be stable or increasing and should be higher than the average of the industry. Trailing twelve months ROE is 14.7% and in the short history of WWAV ROE has been stable or increasing. The average ROE for the Global Packaged Foods industry is 6.5% . So: double PASS.
5. Can the stock price double in five years time?
This sounds ambitious, but it means a growth of 15% per year. Of course, the stock market is unpredictable. But that the question is not if the stock will double but if it has the ability to double. The best key statitstic to use here is EPS.
Think of the famous quote of Benjamin Graham, Warren Buffett's tutor: 'In the short term the stock market is a voting machine, in the long term a weighing machine." He meant that stock prices tend to follow earnings in the long run. The estimated EPS growth for WWAV for the next five years is 18.5%. If the valuation stays more or less the same and we assume that the market follows the earnings, this again is a PASS.
Conclusion: although WWAV doesn't have the longer historical facts that some of these criteria require, the data that we have, all point to the fact that is a quality growth stock.
Risk evaluation
With the risk screener of the Nasdaq website, I compared WWAV to its direct competitor HAIN and to some other well-known growth stocks. This is the result: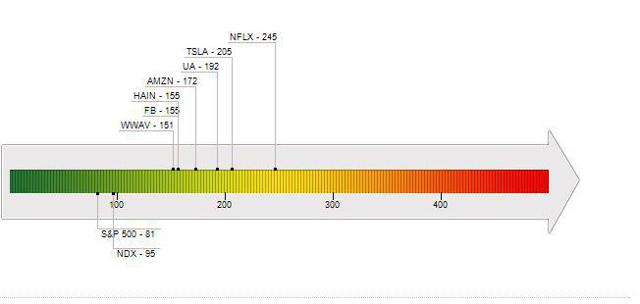 (Source: Nasdaq.com)
What you basically see, is that WWAV is a pretty safe growth stock. It is a bit safer than HAIN and a lot safer than high flying birds like Amazon, Under Armour, Tesla and Netflix.
Analysts' recommendations
Analysts come in a wide range of variety, competence and accuracy. The problem with their analyses is that they only look at the short term: the next quarter of next year. And they often change their view because of temporary headwinds, disregarding the long term potential. Their price targets are mere educated guesses, because no one knows what the market condition will be like in a year. So I don't make their meaning too important in my valuation of a company. On the other hand it is indisputable that a lot of analysts have superior competences, but they are framed by their job, by which I mean that they have to have a price target and they have to add a tag: buy, hold, sell… If you read through the best work of analysts, you can learn a lot about a company and it can be an excellent starting point for you own due diligence. Now that I put this in context, let's see what analysts have to say about WWAV.
The analysts' mean target price is $45.32 (20% upside) and I think this is fair, but I also think, as I already explained, this is merely a guess. It could be $50 or $55 or it could be $30. One can't predict the market in the short term.
The average mean recommendation is 1.7 (where 1 is a strong buy and 5 is a sell), which indicates that analysts are quite positive on WWAV. You could translate the 1.7 as something between accumulate and buy.
Takeaway
WhiteWave is a growing company that has very important tailwinds which will probably only get stronger over the next decade(s). The stock could be a multibagger over the long haul and could go From Growth to Value in the not so distant future. I believe that it will stay a growth stock for at least the next decade, probably longer.
Who better than two insiders can talk about the prospects of the company? Two quotes from the last earnings call show the enthusiasm of the executives for their company. The first quote is from Kelly J. Haecker, the resigning Chief Financial Officer of WhiteWave:
While I'm proud of all that we've accomplished together over the past 10 years, I'm even more excited about the future of WhiteWave, which I believe continues to remain exceptionally bright.
Blaine E. McPeak - Chief Operating Officer was very optimistic too:
I guess the only thing I'd add is that I think we've got a very, very strong outlook.
After this extensive research I can only conclude that the optimism is justifiable if you look at the numbers and the progress the company makes on the operational side.
Disclosure: I am/we are long WWAV.
I wrote this article myself, and it expresses my own opinions. I am not receiving compensation for it (other than from Seeking Alpha). I have no business relationship with any company whose stock is mentioned in this article.