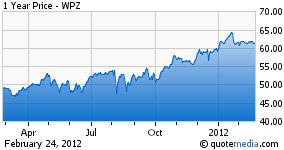 Williams Partners LP (NYSE:WPZ) is one of the largest publicly traded Master Limited Partnerships. Williams has interstate gas pipelines, and large scale gathering and processing facilities with a major growth in the Marcellus Shale area.
Williams Partners owns interest in three major gas pipelines, the Transco, Northwest, and 49% of the Gulfstream. The annual throughput of these pipelines is 3.26 trillion cubic feet. Williams Partners as I stated above also has a large amount of gathering and processing facilities, but I just want to focus on their future growth in the Marcellus Shale Area.
Fifty one percent ownership interest in the Laurel Mountain Midstream joint venture in Pennsylvania. Laurel Mountain currently includes slightly more than 1,000 miles of pipeline with average throughput of 125 MMcf/d. Expansion of this system is ongoing - its ultimate capacity is expected to be approximately 1.5 Bcf/d.
A growing gathering system in northeast Pennsylvania that includes 75 miles of gathering pipelines and two compressor stations with a current capacity of 230 MMcf/d. The 33-mile, 24-inch diameter Springville gathering pipeline, which is currently under construction, will connect the new gathering system to Williams Partners' Transco interstate gas pipeline. The partnership's gathering system in northeast Pennsylvania is expected to ultimately have a capacity of 1.25 Bcf/d.
Ultimate capacity just from this area is around 1 trillion cubic feet per year. Most of this gas is relatively close to Williams Partners Transco line, or in some cases, Williams Partners is constructing new lines to get this gas to their Transco line.
There is also expansive growth with both oil and gas in the gulf region, but I don't want to make this a massive article. The company has boatloads of cash that they are investing to increase their capacity, with new collection stations, and pipelines both in the gulf and in Pennsylvania.
Williams Partners quarterly cash distribution has continued to increase at a very nice rate. Their first full distribution was 35 cents in 2006, and the latest quarterly payout is 76.25 cents. The stock was around 33 dollars a share at that point in 2006, as compared to 62 dollars today. That equates to a just under 5% yield.
Williams Partners 2011 year end financial results just came in on February 22nd, and they announced unaudited 2011 net income of $1.38 billion, or $3.69 per common limited-partner unit, compared with 2010 net income of $1.10 billion, or $2.66 per common unit. The cash distribution coverage ratio also increased in 2011 from 1.30 in 2010 to 1.41 in 2011.
Williams Partners has issued guidance for 2012 and 2013 with a low end of 2.50 per thousand cubic feet for natural gas, up to 3.50 for a high. They issued crude oil prices of between 90-110 a barrel. Even their low end guidance will still cover the cash distribution with a 1.05 ratio. With the price of natural gas staying low and the price of crude soaring, the crude to gas ratio is becoming larger by the hour. Margins will increase along with profits.
Earnings projections for Williams Partners is set at 3.76 a share, but with a high estimate of 4.66 and a low estimate of 3.40. There is a very large variance for earnings estimates with real potential of substantial increased earnings. In my opinion, Williams Partners has been very conservative in their earnings projections, probably banking on avoiding bad news and being proud to report great news.
Conclusion: There is so much more additional information I could write about this company, but I hate to bore my readers with too many business line details. Here is what you need to know, Williams Partners is expanding like crazy in energy rich areas, mostly in the natural gas sector. The company will continue to grow, along with their earnings and the cash distribution. If you want a solid MLP with a strong and increasing yield, buy Williams Partners.
Disclosure: I have no positions in any stocks mentioned, and no plans to initiate any positions within the next 72 hours.