AIG (NYSE:AIG) has been one of the great turnaround stories out of the financial crisis nearly a decade ago. The company was left for dead as it was bailed out due to horrendous mismanagement and excessive risk taking heading into the eventual crisis. But since that time AIG has taken the right steps to divest large portions of its former business to become a leaner, more profitable - albeit smaller - entity than it was before. That model is enticing to me as AIG is keeping the best parts of its legacy business and promising to return lots of capital to shareholders in the process. The company's Q4 earnings ignited a fire for the bulls after a very sharp decline from $63 to $50 during the recent market rout. I have liked AIG in the past at higher prices so is this a buying opportunity or a warning from the market that AIG was expensive?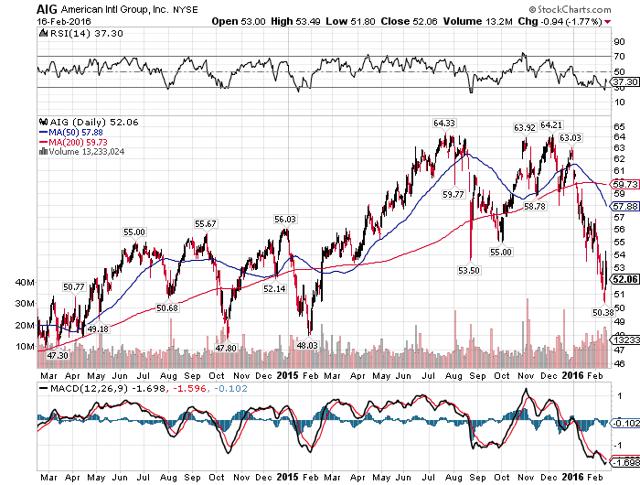 AIG's operating loss in Q4 was due to a massive unfavorable prior-year loss reserve adjustment of just over $3 billion. The company's financials are messy because it is such a diverse business, but outside of this adjustment, AIG's Q4 was actually quite good. However, Q4 isn't really that important at this point; there have been enough developments outside of Q4's operating results that warrant further discussion and are moving the stock that we'll focus there.
AIG's business is complicated, and complicated businesses generally receive more scrutiny and a shorter leash from investors than ones that are easy to understand. However, AIG's continuing transformation now includes the plan to split the business into operating and legacy portfolios. This should help investors immensely in parsing what is valuable in the portfolio and what isn't and, more importantly, will help to highlight the successes of the operating portfolio. This sort of good bank, bad bank model has worked wonders for Bank of America (NYSE:BAC) and Citi (NYSE:C), among others, and I think it is a sizable development in the AIG story. While it won't come to fruition immediately, it is great that management recognizes that they need to do something to create shareholder value, and at the same time, fend off activists that want to break the company up.
In addition, the company's plan to reduce expenses is alive and well, as currency-neutral costs fell 6% during Q4 and 3% during last year. This is a terrific development as AIG - like a lot of other financials - has been bloated for some time. The plan is to reduce operating expenses by another $1.6 billion by the end of next year, a huge number for a company that reported just over $2 billion in net income in 2015. Normalized earnings are higher than that, but regardless, $1.6 billion in savings is an enormous addition to the bottom line and AIG's focus here is great news for shareholders.
AIG is also continuing its journey of divesting non-core assets as it is selling AIG Advisor Group, plans to IPO United Guaranty and continues to monetize its legacy assets, among others. This year will be another one that has lots of transactions and capital moving into AIG that will be transferred to shareholders.
Speaking of capital transferred to shareholders, this is the biggest reason why I like AIG right now outside of what I think are terrific projects for management to be working on. AIG returned $11.7 billion to shareholders in 2015 via dividends and buybacks, and if the first few weeks of 2016 are any indication, it may just best that number this year. AIG's buyback is massive as it has already repurchased $2.5 billion worth of shares in 2016 in just six weeks or so. With a new authorization that brings the total to $5.8 billion remaining, surely AIG will spend that money rather quickly as the share price remains depressed. AIG's management has proven the willingness and ability to buy back stock it finds to be cheap and that is going to be a huge source of EPS growth in the coming years. Management believes in this company and continues to put money to work to prove it. AIG reduced its share count from the end of 2014 to the end of 2015 by 13%; that kind of share reduction leads to huge EPS gains and we'll see more of that in 2016.
AIG also just raised its dividend by 14%, and on a forward basis, it now yields 2.5%. AIG's yield up to this point wasn't enough to entice income investors, but the new raise is getting to that level. As AIG continues to improve its profitability in the coming years, it will no doubt make dividends a priority and I certainly wouldn't be surprised to see double-digit increases for the foreseeable future.
With AIG slated to earn almost $5 this year and nearly $6 next year, it is cheap. The company's expectations are high in terms of earnings growth, but with promised cost savings and the enormous reduction in shares, 20% EPS growth shouldn't be difficult to come by. That's the story with AIG; as long as the business itself doesn't get in the way, capital returns and efficiency gains should do the heavy lifting. As odd as it sounds, AIG simply needs to maintain the status quo in terms of revenue generation with its operating businesses and continue to divest legacy assets while returning capital to shareholders. The Q4 earnings report showed us that AIG is not only maintaining these efforts but accelerating them and that is great news for long-term holders. AIG won't be in the $50s when this year ends, as I think we'll see it in the $65 area on multiple expansion as it out-earns its projections.
Disclosure: I am/we are long AIG.
I wrote this article myself, and it expresses my own opinions. I am not receiving compensation for it (other than from Seeking Alpha). I have no business relationship with any company whose stock is mentioned in this article.