Dr. Reddy (NYSE:RDY) is trading at a 35 percent discount to the sector average valuations. Investors are excessively concerned about the USFDA warning letter escalating into an import alert. It remains difficult to predict the future, but my calculations suggest that the potential downside is already built into the price. Looking at the company's record of accomplishment on the regulatory side, I strongly believe that they should be able to adequately address USFDA concerns and get out of the mess unscathed.
You would agree that such a state of affairs is not unique to Dr. Reddy. There are times when good companies get into adverse situations, but it is only then investors find the risk-reward equation working in their favor. Dr. Reddy is at a similar juncture. The near term pressures are at the top of everybody's mind, and they fail to appreciate the fundamental strength of the business.
Fundamental Strength of Dr. Reddy's business model is evident from its past performance.
The company has grown at a whopping 18% CAGR over the last 10 years. Over the last five years, the company has generated a return on capital in excess of 20%.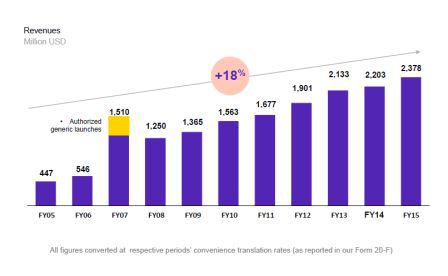 Source - Dr. Reddy Investor Presentation
The performance is not driven by a single product, but driven by a series of drug launches that have high entry barriers. To name a few technically challenging generic drugs that RDY has launched in the recent past include:
1) Divalproex ER - A complex formulation to develop. The drug had scale up challenges.
2) Fexofenadine (generic Allegra) - This drug has a high degree of API complexity. Besides breaking the API complexity, the company also came up with multiple non-infringing processes to launch the product timely.
3) Omeprazole - This drug has bioequivalence challenges. It exhibits high degree of variable bio-availability and required challenging fed state bio-studies. The company continues to maintain a meaningful revenue stream even after several years of approval.
4) Metoprolol - This is a highly challenging product and requires a 7-layer coating process.
5) Fondaparinux - This is a complex pentasaccharide. It requires a number of purification steps to reach ICH guidelines. The analytical methods too are complex.
The above-mentioned products are a few examples and there are many more to the list like azacitidine, sumatriptan and a soft gel capsule that required a large clinical study.
NDA Filings - A new growth avenue for Dr. Reddy
Dr. Reddy is transitioning from a pure generic player to an innovator. Developing innovative complex formulations that address an unmet need is the first step in the journey. It is planning to launch drugs that offer better value proposition than existing drugs on the market. These are not new chemical entities, but come with a formulation variation to enhance patient convenience, compliance and even deliver improved efficacy and safety. RDY will focus on the dermatology and neurology space while filing NDAs. This will help it optimize its marketing efforts.
The best part being that RDY has already validated its strength on the regulatory and technical side to bring such drugs to the market. Just a couple of weeks back, RDY was granted USFDA approval/tentative approval for three new drug applications. RDY expects cumulative peak sales of $150m to $225m from these new drugs that are recently approved.
1) Sernivo - This is a novel formulation of age old betamethasone dipropionate (0.05%). Sernivo is a spray that is used as a topical steroid for the treatment of mild-to-moderate plaque psoriasis. The efficacy and safety of the spray was evaluated in two multi-center double blind randomized clinical trials. The primary end point of the study was a proportion of patients achieving Investigatory Assessment score (NYSE:IGA) of 0 or 1 (clear or almost clear skin) at Day 15 and Day 29. Sernivo demonstrated statistically clinically significant superiority with 42.7% and 34.5% of patients on Sernivo (at day 29 in study 1 and 2) achieving treatment success (IGA score of 0 or 1) as compared to 11.7% and 13.6% on comparator arm (vehicle spray). Dr. Reddy will be launching Sernivo in the coming quarter in the US.
2) ZEMBRACE SymTouch - This is an autoinjector system (drug-device combination) intended for the treatment of acute migraine episodes with or without aura in adults who are currently inadequately managed with existing treatment options. Migraine patients suffer from severe nausea and they are unable to swallow/retain pills. ZEMBRACE SymTouch is to be injected subcutaneously.
3) Zenavod - These are 40mg modified release doxycycline capsules and RDY has received a tentative approval. Since there is an ongoing litigation with the innovator, the approval is tentative. Zenavod is equivalent to Oracea marketed by Galderma Labs. Zenavod has an advantage over Oracea. Oracea has certain dosing restrictions. It can be taken close to meals. It has to be either taken 1 hour before meal or 2 hours after meals. RDY has formulated Zenavod in a way that it does away with the meal time restrictions.
These NDAs will be marketed by RDY's subsidiary Promius Pharma. Promius already has a portfolio in place in the US. The portfolio has five products as of now which is marketed by 54 medical representatives targeting over 8,000 dermatologists in the US. Promius generates around $50m in annual revenues in the US. The Promius portfolio is marketed at a significant premium to generics. The gross margin of Promius is 90% as against 55% for the global generic business of RDY.
Dr. Reddy intends to file 2 NDAs every year. Some of the NDA filings are expected in the near term, will target a much larger space and have a better proposition. If they materialize on expected lines, they can be transformative for RDY's business. To name a couple of these potential filings:
1) Zero contact time retinoid face wash.
2) Novel combination therapy for genital warts.
3) Intranasal triptan spray with injection like kinetics (Tmax <15 mins).
The filings for these transformative NDAs are expected to begin by FY-18. By 2022, Dr. Reddy expects the revenues from the proprietary product business to cross $500m. Assuming a 35% net margin, the contribution from the NDA filing should be $175m (USD 1.05 per share or INR 70 per share). The target EPS from the NDA/proprietary portfolio alone is approximately 50% of its 2016 estimated EPS (INR 140 per share). The existing contribution is minimal/zero as it is on a low base ($50m annual revenue).
Conclusion
Just today, RDY has announced a share buyback program which depicts immense confidence of the management in the business/growth prospects. The maximum buyback price (INR 3500 per share) represents an 18.6% premium to the weekly high/low closing price of the company for the last two weeks.
The proprietary business of Dr. Reddy is an emerging platform. It is currently in its nascency and hence existing valuations do not account for this tremendous growth opportunity. I see this is an opportune for fundamental investors to create a position in the stock. The existing business platform (Global generic business, and PSAI) too have strong growth prospects.
Disclosure: I am/we are long RDY.
I wrote this article myself, and it expresses my own opinions. I am not receiving compensation for it (other than from Seeking Alpha). I have no business relationship with any company whose stock is mentioned in this article.