Dr Pepper Snapple Group (NYSE:DPS) is a leading owner, manufacturer and distributor of carbonated and non-carbonated beverages. Although most investors would think of Coca-Cola (NYSE:KO) or PepsiCo (NYSE: PEP) when they think soft drinks, Dr Pepper Snapple sneakily has leading market positions for many carbonated soft drinks.
It owns the leading ginger ale in the U.S. and Canada (Canada Dry), the leading orange soda in the U.S. (Sunkist), the #1 root beer in the U.S. and Canada (A&W) and the #2 Lemon-Lime soda in the U.S. and Canada (7-Up). The picture below details the full spectrum of DPS's products.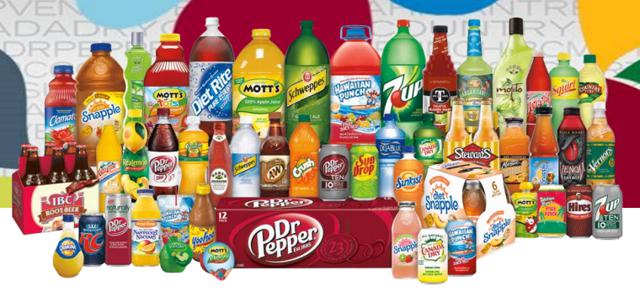 (Source: DPS investor relations)
These, and other, smaller, niche brands give DPS approximately a 21% market share of the carbonated soft drink market in the United States.
It also has leading positions for many non-carbonated drinks. Snapple is the leading shelf-stable tea in the United States. They also have the largest market share of branded apple juice (Mott's) and the leading fruit punch brand (Hawaiian Punch) in the United States.
Although its products command a leading market share, sales growth is sluggish. Annual sales growth over the past five years has averaged just 2%. This is mostly because the beverage industry is a mature, saturated market.
DPS's sales growth is slightly better results than PepsiCo, which has posted 1.7% annual growth over the past half decade. But, DPS's results do not compare favorably to Coca-Cola, which has managed to grow sales by 4.8% annually over the past five years.
The prospects for organic growth are limited, and will be mostly driven by population growth and developing international markets. However, some of the most important brands are off-limits for international expansion.
This is because Dr Pepper is owned by the Coke system outside North America, and 7-Up is owned by the PepsiCo system outside of the United States. Both brands were sold while the company was under previous ownership.
Snapple Asia Pacific rights were owned by an outside group until 2013, when the company bought them back, so Asia is becoming a driver of growth.
Opportunities for growth by acquisition are stunted because most popular brands are already owned by mega-cap distributors. If a startup beverage company did gain traction in the beverage industry, it would probably be gobbled up pretty fast, and at a premium valuation that would not necessarily be accretive to shareholder returns.
For example, if DPS wanted to acquire the high-flying Monster Beverage Corp. (NASDAQ: MNST), it would have to pay a premium to the premium valuation it already attracts (Its trailing P/E is over 40). To get an idea of the nosebleed valuation Monster is attracting, consider this: DPS has more than double the sales of Monster, but its market cap is one-third smaller.
Although growth is limited, shareholders have been handsomely rewarded thanks to stalwart capital management. Free cash flow generally exceeds or matches net income, meaning there is plenty of cash to spend on share buybacks and dividends.
2015 results were mixed compared to 2014. Cash from operating activities dipped slightly, from $1.02 billion in 2014 to $991 million in 2015. Capital expenditures inched upwards, from $170 million in 2014 to $179 million in 2015.
In 2015, the company returned $876 million to shareholders through buybacks and dividends. This is significantly more than $717 million the company returned in 2014. It is worth noting that some of the cash returned to shareholders in 2015 was taken from reserves, because the cash produced by operations after capital expenditures was just $812 million. Below is a chart detailing how much cash has been returned to shareholders since 2011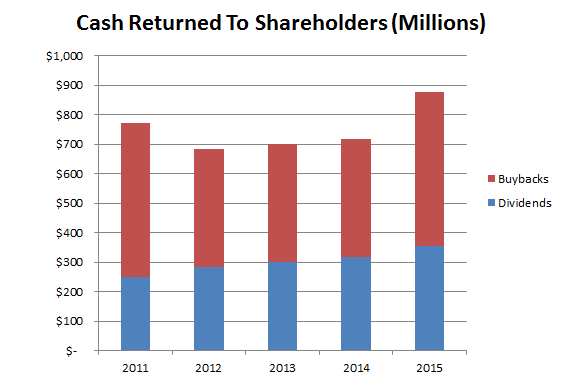 (Source: Author generated with data from 10-Ks)
Beverage volumes grew by 2% in 2015, but the growth was fragmented. Carbonated drinks witnessed neutral to negative volume growth. Some of DPS's flagship brands (Dr Pepper, 7-Up, Canada Dry, A&W and Sunkist) had negative volume growth (volume for each of those brands decreased by 2%). However, Crush and Schweppes did well, posting 4% and 7% growth respectively.
Non-carbonated drinks, especially water (it owns the Fiji brand, in addition to a few others), are driving growth for the company. Water volume grew by a whopping 21% in the fourth quarter of 2015. Volume for Snapple grew by 4% in Q4 2015. Mott's and Hawaiian Punch posted 3% and 2% growth respectively in the same period.
Guidance for 2016 calls for 1% sales growth, but that is stung by foreign currency headwinds. Same-currency sales are expected to grow by about 3%. Full-year EPS are expected to fall in the $4.20 to $4.30 range, after a 4% currency headwind reduction. The company plans to up its share repurchase program. They guided for share repurchases between $650-700 million. This will reduce the share count by about 4%.
Under current guidance, shares trade at a forward P/E just over 21. DPS is a great company with stable margins, low capital requirements, lots of free cash flow and strong brands. But even a good company can be a bad investment if the price is too high.
At current levels, I believe Dr Pepper Snapple is overvalued. If sales growth was robust, say in 8% range, I would happily pay the premium price the market is asking. But since sales growth outlook is so dreary, I am waiting for a pullback to start a position. If the price pulls back to the mid $70s, I would consider buying.
Disclosure: I/we have no positions in any stocks mentioned, and no plans to initiate any positions within the next 72 hours.
I wrote this article myself, and it expresses my own opinions. I am not receiving compensation for it (other than from Seeking Alpha). I have no business relationship with any company whose stock is mentioned in this article.