All seems well on the labor front, but higher hourly earnings could foretell market volatility
By Nick Kalivas
Despite a soft economic environment, the US labor market continues to show strength. Could that actually be a harbinger of market volatility? Let's first look at the numbers. Total non-farm payrolls were up a less-than-expected 151,000 in January, although weather pressured these gains by 269,000.1 For the year ended March 31, 2015, payrolls were revised downward by 206,000, but the Labor Department's household survey showed that overall employment still rose by 615,000 in January, after a 485,000 gain in December.1
The national unemployment rate fell to 4.9% - with the labor participation rate ticking up 0.1% to 62.7%.1 Somehow, manufacturing added 29,000 jobs in January, even though temporary jobs declined by 25,000, which is more in line with a loss of economic momentum.1
Meantime, average hourly earnings jumped 0.5% from December and 2.5% from the previous year. Hourly earnings and, by association, wage costs, are growing at the fastest pace of the economic expansion, while aggregate hours worked rose a vibrant 0.4% from December.1 I believe this could be a big plus for industrial production.
Higher hourly earnings could lead to heightened market volatility
Going back to the 1990s, average hourly earnings growth has tended to lead the VIX - a barometer of near-term market volatility based on the CBOE Volatility Index - by about one year. This phenomenon can be seen in the following graphic, which shows the year-over-year average hourly earnings (AHE) growth plotted against the three-month average of the VIX (volatility).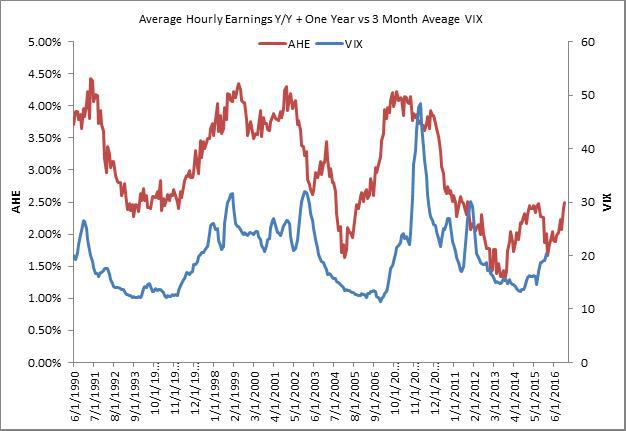 Source: Bloomberg L.P., Feb. 1, 2016
Economy is sending mixed signals
While the relationship is not perfect, the 0.54 correlation is significant from an investment perspective. At face value, this might seem counterintuitive. Why would hourly earnings growth lead to market volatility? Consider that earnings growth means higher labor costs for employers, which can put profit margins at risk. Rising wages can also put a floor under interest rates and raise inflation expectations. This combination can, in turn, lift market volatility, in my view.
Overall, the economy remains difficult to read. Strong consumer spending could diminish the risk of recession, but the January ISM manufacturing survey was consistent with slowing growth. According to the Institute for Supply Management, manufacturing activity slowed in January for the fourth consecutive month, despite 80 consecutive months of economic growth.2 New orders rose 2.7 percentage points to 51.2% and production was up 0.3 percentage points to 50.2%. Customer inventories leaned high, however, with seven industries showing excess inventories and six saying inventories were too low.2 Meantime, the corporate earnings picture remains dismal. Profit growth is expected to be positive for the year, but the outlook fell 0.6% to 4.0% and is down materially from Jan. 8.3
Using history as a guide, I expect these conditions - particularly the rise in average hourly earnings - to help keep a floor under equity market volatility. I believe this should bode well for the low volatility and quality factors.
Investors looking to gain exposure to low volatility investing may wish to consider the PowerShares S&P 500 Low Volatility Portfolio (NYSEARCA:SPLV).
Sources
Bureau of Labor Statistics, Feb. 5, 2016
Institute for Supply Management, Feb. 1, 2016
US Department of Commerce - Bureau of Economic Analysis, Jan. 29, 2016
Important information
Correlation is the degree to which two investments have historically moved in relation to each other.
The ISM Manufacturing Index, which is based on Institute of Supply Management surveys of more than 300 manufacturing firms, monitors employment, production inventories, new orders and supplier deliveries.
The CBOE Volatility Index® (VIX®) is a key measure of market expectations of near-term volatility conveyed by S&P 500 stock index option prices. VIX is the ticker symbol for the Chicago Board Options Exchange (CBOE) Volatility Index, which shows the market's expectation of 30-day volatility. An investment cannot be made into an index.
VIX® futures provide a pure play on implied volatility independent of the direction and level of stock prices and may also provide an effective way to hedge equity returns and to diversify portfolios.
Volatility measures the standard deviation from a mean of historical prices of a security.
About risk:
There are risks involved with investing in ETFs, including possible loss of money. Shares are not actively managed and are subject to risks similar to those of stocks, including those regarding short selling and margin maintenance requirements. Ordinary brokerage commissions apply. The Fund's return may not match the return of the Underlying Index. The Fund is subject to certain other risks. Please see the current prospectus for more information regarding the risk associated with an investment in the Fund.
Investments focused in a particular sector, such as industrials, are subject to greater risk, and are more greatly impacted by market volatility, than more diversified investments.
The Fund is non-diversified and may experience greater volatility than a more diversified investment.
There is no assurance that the Fund will provide low volatility.
Shares are not individually redeemable and owners of the Shares may acquire those Shares from the Fund and tender those Shares for redemption to the Fund in Creation Unit aggregations only, typically consisting of 50,000, 75,000, 100,000 or 200,000 Shares.
PowerShares® is a registered trademark of Invesco PowerShares Capital Management LLC, investment adviser. Invesco PowerShares Capital Management LLC (Invesco PowerShares) and Invesco Distributors, Inc., ETF distributor, are indirect, wholly owned subsidiaries of Invesco Ltd.
Before investing, investors should carefully read the prospectus/summary prospectus and carefully consider the investment objectives, risks, charges and expenses. For this and more complete information about the Fund visit invescopowershares.com for the prospectus/summary prospectus.
The information provided is for educational purposes only and does not constitute a recommendation of the suitability of any investment strategy for a particular investor. Invesco does not provide tax advice. The tax information contained herein is general and is not exhaustive by nature. Federal and state tax laws are complex and constantly changing. Investors should always consult their own legal or tax professional for information concerning their individual situation. The opinions expressed are those of the authors, are based on current market conditions and are subject to change without notice. These opinions may differ from those of other Invesco investment professionals.
| | | |
| --- | --- | --- |
| NOT FDIC INSURED | MAY LOSE VALUE | NO BANK GUARANTEE |
All data provided by Invesco unless otherwise noted.
Invesco Distributors, Inc. is the US distributor for Invesco Ltd.'s retail products and collective trust funds. Invesco Advisers, Inc. and other affiliated investment advisers mentioned provide investment advisory services and do not sell securities. Invesco Unit Investment Trusts are distributed by the sponsor, Invesco Capital Markets, Inc., and broker-dealers including Invesco Distributors, Inc. PowerShares® is a registered trademark of Invesco PowerShares Capital Management LLC (Invesco PowerShares). Each entity is an indirect, wholly owned subsidiary of Invesco Ltd.
©2016 Invesco Ltd. All rights reserved.
Disclosure: I/we have no positions in any stocks mentioned, and no plans to initiate any positions within the next 72 hours.
I wrote this article myself, and it expresses my own opinions. I am not receiving compensation for it. I have no business relationship with any company whose stock is mentioned in this article.
Additional disclosure: This article was posted on the Invesco PowerShares' blog by an Invesco PowerShares' employee on February 15, 2016: http://www.blog.invesco.us.com/could-an-improving-employment-picture-be-good-news-for-low-volatility-investors/