JA Solar (NASDAQ:JASO) is one of the largest solar module makers in the world with 3.25 GW of module shipments to third parties in the year before their last quarterly report. Guidance for the fourth quarter was 1.1 to 1.2 GW with less than 100MW to their own projects. Using 1.1 GW as shipments to third parties, here is what JASO's growth looks like: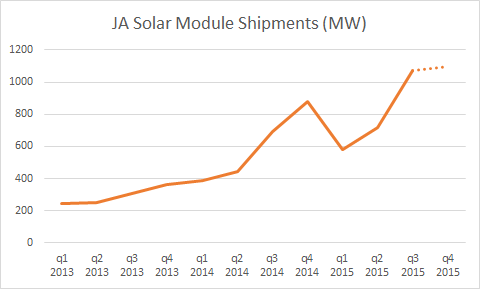 Here is JA Solar's quarterly net income: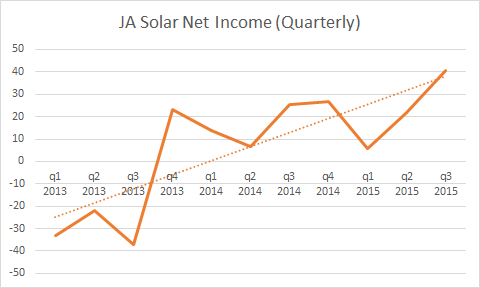 There is a definite upward trend. Here is their net income/MW shipped: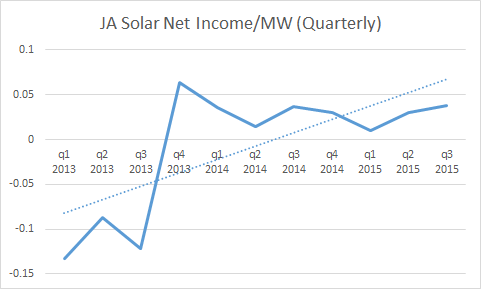 This has been relatively stable and as JA grows, its net income will grow with it. Using the same net income/MW as Q3, I expect JASO to have EPS of $0.82/share. That would be a significant beat over analyst estimates of $0.53/share.
However, upside may be limited by the buyout offer from the chairman at $9.69, representing a return of about 8% from the current share price. I've talked more about the offer in a previous article and I still think it stinks. But as Wall Street is hell bent on under-valuing Chinese companies, these privatization offers are becoming more and more common among undervalued Chinese companies. Even Trina Solar (NYSE:TSL) has one.
This makes, at least for now, Trina Solar and JinkoSolar (NYSE:JKS) better bets unless that offer is off the table or revised upwards.
Disclosure: I am/we are long JASO, JKS, TSL.
I wrote this article myself, and it expresses my own opinions. I am not receiving compensation for it (other than from Seeking Alpha). I have no business relationship with any company whose stock is mentioned in this article.