Well, that's a relief… Going into the earnings release of Yandex (NASDAQ:YNDX), we were hoping to get some insight in the company's ability to cope with the macroeconomic headwinds. The results give us a clear answer: Yandex is pretty resilient. Although due to the depreciation of the Ruble, earnings per share in USD are significantly down, the broader image presents us a healthy business with exciting performance coming from its new businesses, such as Yandex.Taxi.
Beating both bottom and top line estimates
At the top line, Yandex was able to beat even the most optimistic analyst and reported full year revenues of RUB 59.8bn (USD 820.4 million) versus a median consensus of RUB 58.9bn. At the bottom line, the Russian internet search provider beat expectations with a slim margin at RUB 12.2bn (adjusted net income) vs. RUB 12.1bn expected.

Although Yandex management noted in the earnings call that macroeconomic conditions certainly do have their impact on the company, investors can be relieved that thus far, this didn't cause any negative surprises. On the contrary, despite the difficult environment, Yandex is able to show a couple of encouraging developments.
A bright picture comes from "Other Revenues". As noted in my previous article, these revenues are for the larger part related to the Yandex.Taxi business. The mobile ride hail division gains significant traction, being the leader in Moscow and St. Petersburg and with strong positions in other large regional cities. To remind you, the 10 largest cities in Russia all have more than 1 million citizens, with 16.8 million in the Moscow area and 5.2 million in St. Petersburg. Yandex.Taxi is available in 12 Russian cities. "Other Revenues" also present the results for Auto.ru and Yandex.Market.
Auto.ru is a very popular automotive site (over 250,000 daily visitors) with a large database of auto ads from across Russia. Yandex.Market is a marketplace for all sorts of products, such as electronics, leisure and luxury goods. During Q4, "Other Revenues" reached RUB 576m, compared to RUB 371m in Q3. This is a QoQ growth of 55% and compared to last year, these revenues grew with a stellar 129%. For full 2015, "Other Revenues" reached RUB 1.5bn, a plus of 155%. Yandex CFO Greg Abovsky noted in the earnings call that Yandex.Taxi is the clear driver behind this strong growth. To be fair, much of Yandex increased marketing spend went towards this business unit. To put the growth of Yandex.Taxi in perspective: in 2015, "Other Revenues" were only 2.6% of total revenues, but attributed 10.7% to total revenue growth.
Mobile developments not convincing
Still, not everything at Yandex HQ runs smoothly. Yandex seems to struggle with its mobile business and the earnings release couldn't counter the skeptics. Although its market share on mobile search remained stable, the company has a hard time to expand. As we know, there may be some future improvement in market share due to the FAS-ruling that would order Google (NASDAQ:GOOG) (NASDAQ:GOOGL) to unbundle its services on Android. But on Apple (NASDAQ:AAPL) devices Yandex is confronted with resistance as well. Market share on iOS is 45% compared to 40% on Android, but Apple removed the possibility that prompts the user to switch the default search engine to Yandex. COO Alexander Shulgin added that talks with Apple are not easy. That may indicate that improvement in market share during the next few months will be hard to achieve, if any. According to the management, the final decision in the FAS-ruling is expected to be announced late in 2016.
New auction model boosts CPCs
Since Q3-2015, Yandex uses a new auction model for its advertising sales, the VCG-auction. This helped the company to increase cost-per-clicks (CPCs), with 12% during Q4. COO Shulgin mentioned that the higher CPCs is the direct result of clients bidding for higher positions on the search result pages. The total number of advertisers rose with 24% during the fourth quarter. This could indicate that growth came specifically from smaller advertisers, although Yandex management stated that the breakdown in clients remained more or less the same. Yandex served 680,000 advertising clients during 2015, a plus of 22% compared to last year. In Q4, the number of advertisers grew with 24% YoY, the highest percentage since Q2-2014. Yandex management sees an increased tendency to advertise online for fast-moving consumer goods.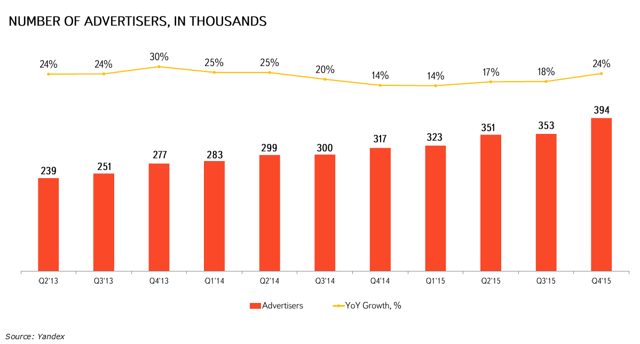 Margins weather the headwinds
As expected, margins contracted during the past quarter. However, with Q4 EBITDA margin at 36.3%, the decline was less than expected. For full 2015, EBITDA margin reached 35.1% compared to 41.5% last year. This was better than previous guided 700bps contraction. For 2016, EBITDA margin is expected to contract further to 33.1-33.5%, with management guiding for a 200bps decrease.
Guidance looks conservative
Despite the 18% revenue growth last year, Yandex management takes the conservative route and indicates a guidance of 12-18% revenue growth for 2016. Obviously, it's early in the year and there's a high degree of macroeconomic uncertainty, so there's a lot to say for a broad range in the full year guidance. However, the lower end of the guidance doesn't seem to match with the overall optimistic tone communicated by Yandex. After all, 2015 had a pretty nasty macro environment as well and yet the company recorded 18% revenue growth. In addition, it suggests that expectations towards the effects of investments are somewhat moderate. As highlighted in the earnings call, Yandex will invest 'aggressively' in the taxi business. Also the upbeat tone on its new data science business, Yandex Data Factory, doesn't match with the conservative revenue guidance.
Translation for investors: we should position for the higher end of the guidance. That would mean 2016 revenues of RUB 69.4-70.6bn, or a price/sales-ratio of 4.7. Yandex didn't provide an outlook on earnings. Since the bottom line came a tad higher than expected, the previous estimates for 2016 income look comfortable. As stated in the previous article, adjusted net income is expected to reach RUB 14.0bn in 2016. This corresponds with a price/earnings-ratio of 23.9 (at a USD/RUB exchange rate of 77.5). This seems a bit lofty, also compared to a projected EPS-growth of 13%.
Nevertheless, there is room for positive surprises, as the strong development in Yandex.Taxi, Auto.ru and Yandex.Market show. The company will invest aggressively in Yandex.Taxi and is looking for further regional expansion. Also the new expansion in data science i.e. Yandex Data Factory, should be closely watched. Goal for Yandex Data Factory is to become break-even in 2016.
Right stock, but is it the right time?
So where do we stand after the results being published? Yandex showed a solid performance despite the macro headwinds. Concerns, such as for mobile revenues, are still there and require management's attention. Yandex is a robust growth story, as potential revenue growth of close to 18% for this year indicates. But a lot of the share performance depends on the Ruble and therefore also macro developments affect the share price. Investor sentiment regarding pricing for small and midcap internet companies plays a significant role as well.
As stated, valuations aren't cheap with P/S at 4.7 and P/E at 23.9. Nevertheless, ratios can improve quite dramatically when the Ruble appreciates (and depreciates, for that matter…), as shown in the P/E-table in my previous article. During the recent months, we witnessed that valuations had a close relation with the USD/RUB exchange rate and analyst estimates. We should remind ourselves that Yandex is a macro play as well. Overall, I would clearly prefer Yandex over the broader Russian market and the sector. The recent results back this conviction.
Disclosure: I/we have no positions in any stocks mentioned, and no plans to initiate any positions within the next 72 hours.
I wrote this article myself, and it expresses my own opinions. I am not receiving compensation for it (other than from Seeking Alpha). I have no business relationship with any company whose stock is mentioned in this article.