American Capital Agency Corp. (NASDAQ:AGNC) has seen the discount to book value closing, but only part of the movement has been due to favorable factors for shareholders. When I ran my latest estimates on the book value for several of the mREITs I frequently cover, I saw a smaller discount to book value for AGNC than in previous samples.

The estimated discount to book value puts AGNC at a mere 17.13%. Several years ago, that would have seemed incredible, but in the current mREIT industry, those kinds of discounts are fairly normal. A discount of 17.13% might even be considered small, and the relatively small discounts on Annaly Capital Management (NYSE:NLY) and AGNC should be seen as a positive sign for the smaller mREITs since they are larger mREITs and are more likely to "move first" when the industry is changing the discounts to book value for the sector. On the other hand, it is worth noting that 17% is quite small compared to the other recent numbers and could put AGNC near the top end of the expected discounts.
Estimating Book Value
I built the following table that shows how I come to my estimate of book value. It doesn't include all the calculations that go on "behind the scenes" as I revalue the assets and the hedges, but it does give investors a clear idea of what numbers I came to in each category. The last point I want to emphasize is that I'm currently using the positions as they were reported at the end of the third quarter and advancing those positions through time rather than trying to work in fourth-quarter modifications.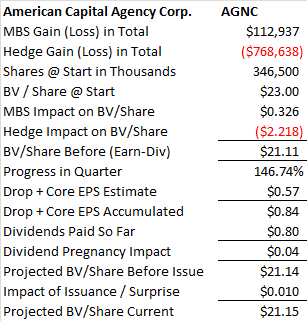 When I ran this test after the fourth quarter ended, I was able to predict AGNC's BV at $22.58. The company reported $22.59 when it released its performance. That is much closer than I usually expect to be.
Since I simulate most of the first quarter as an extension of the fourth quarter, you'll see estimates such as $.84 being accumulated through Drop + Core EPS even though I used a quarterly estimate of only $.57. These estimates use the date that I pulled the values for to estimate the amount of income that would have been earned so far.
Book Value Damage
The book value at the end of the fourth quarter was $22.59, so falling to $21.15 in projected BV may sound terrible. If investors follow the news releases, they may also know that the estimated BV/share at the end of January was $22.40. I didn't put together a full simulation for January 31st, but I did have one built for January 26th. On January 26th, I was estimating the BV/share at $22.35. I believe it is fair to say most of my estimates for declining BV are based on movements in February.
In the estimates for January 26th, I saw shares trading at a 25.63% discount to book value rather than the 17.13% discount today. It is worth emphasizing that the book value per share appears to have declined while the share price increased from $16.62 to $17.53. I also want to point out that the January 26th estimates and prices were based on what data I could acquire during the trading day rather than using "end of day" pricing.
Since then, the MBS position swung to a gain (relative to September 30th), but the hedging loss increased (according to my estimates) from around $169 million to around $768 million. The simple cause here is that LIBOR swaps having been getting hammered. Rates on LIBOR swaps fell hard over the last few weeks and heavily hedged mREITs were set up to get pounded. Because low rates on LIBOR swaps are very favorable for cheap hedging, it isn't all bad news. The ability of an mREIT to earn net interest income while maintaining proper hedges has increased materially.
Conclusion
The damage to book values for several mREITs will be a function of their exposure to LIBOR rates. Those that were heavily hedged should expect losses on hedges to substantially outweigh gains on MBS. That is bad for book value, but the new rates on LIBOR swaps are very favorable for mREITs that want to simply hedge in their positions and sit on them. For instance, the four-year LIBOR swap was running just under 1% on February 12th. For an mREIT that wants to effectively lock in their cost of funds, this is a very favorable swap. In my opinion, the rates on swaps from three years through 10 years are becoming fairly attractive.
There is no free lunch, so investors should recognize that the potential to lock in rates that indicate favorable spreads for future periods comes at the cost of book value for most mREITs. The biggest challenge to "locking in" the spreads is that prepayments on assets are not known in advance and therefore the yield on assets cannot be known in advance. While an mREIT can lock in most of their cost of funds, the yield on assets will still fluctuate.
Disclosure: I/we have no positions in any stocks mentioned, but may initiate a long position in CYS over the next 72 hours.
I wrote this article myself, and it expresses my own opinions. I am not receiving compensation for it (other than from Seeking Alpha). I have no business relationship with any company whose stock is mentioned in this article.
Additional disclosure: Information in this article represents the opinion of the analyst. All statements are represented as opinions, rather than facts, and should not be construed as advice to buy or sell a security. Ratings of "outperform" and "underperform" reflect the analyst's estimation of a divergence between the market value for a security and the price that would be appropriate given the potential for risks and returns relative to other securities. The analyst does not know your particular objectives for returns or constraints upon investing. All investors are encouraged to do their own research before making any investment decision. Information is regularly obtained from Yahoo Finance, Google Finance, and SEC Database. If Yahoo, Google, or the SEC database contained faulty or old information it could be incorporated into my analysis.