Note: All figures are in USD unless otherwise stated. Bankers Petroleum trades primarily on the TSX as BNK.
Bankers Petroleum (OTCPK:BNKJF) has been in the news recently, but not for the good reasons unfortunately for us shareholders.
Let's first recap the events of the last months for new readers. Secondly, I'll focus on an announcement made by Petromanas (OTC:PENYF), a small oil E&P company that operated in Albania. Finally, I'll elaborate my point of view that Bankers would benefit in being a bigger company, especially because it operates in a tough environment.
Tax litigation
The Albanian government, which is in a pre-electoral year, was looking for ways to bolster its budget for this year after the oil collapsed. Indeed, oil royalties are a major source of revenue for the government.
The trick here was to use a tax litigation of $57M dating back to 2011. The government froze Bankers' bank accounts in Albania to force it to comply and send the money to the government. For now, the company is sending the money as monthly installments. This was a real shock to investors as the AKBN, the National Agency of Natural Resources of Albania, previously agreed to wait for the decision of the court before starting the payments if need be.
The stock fell more than 50%. Consequently, there are two processes currently in progress. First, there is still the mediation done by Deloitte concerning the original tax litigation of 2011. Additionally, there is an arbitration process at the court of the International Chamber of Commerce in Paris as a result of the actions of the Albanian government.
These two issues should be resolved by the end of Q1. Therefore, there shouldn't be any news at the Q4 conference call by the company in mid-March.
Shell buys Petromanas' assets in Albania
The announcement made by Petromanas fell on deaf ears in the market. Shell (NYSE:RDS.A) (NYSE:RDS.B) will buy the remaining 25% of its joint venture with Petromanas in Albania for $45M. The assets in Albania have over 1 billion barrels of oil initially in place (OIIP). The prospective oil fields, Shpiragu and Molishti, are adjacent to Bankers' assets.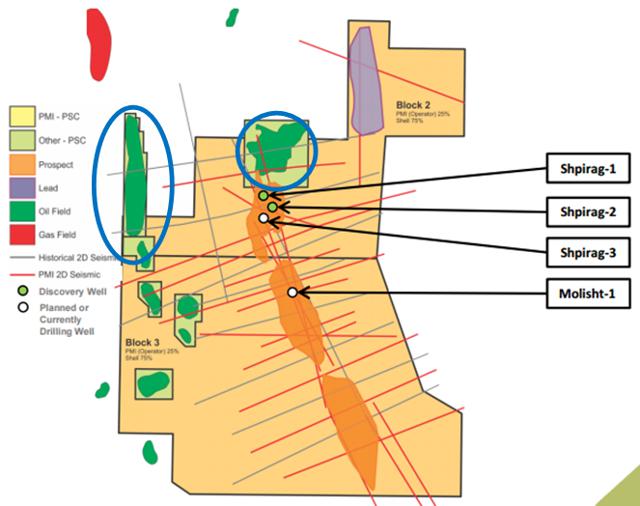 Source: Petromanas May 2015 Presentation
The oil fields operated by Bankers are highlighted in two blue circles. As you can see, the acquisition by Shell is literally in the backyard of Bankers.
Let's take a look at the history of Petromanas and Shell for the last four years in Albania:
February 9, 2012: Shell buys 50% in its JV for $50M.
June 24, 2013: Shell buys an additional 25% stake in the JV for $22M.
February 1, 2016: Shell buys the remaining 25% of the JV for $45M.
This is a fundamental event for Bankers and its shareholders. Indeed, this indicates that:
Shell believes that Albania is a great place for oil exploration and for future production.
It is willing to invest in Albania despite the current sentiment in the oil market.
Shell paid twice what it paid in 2012 and 2013 for the final stake of its joint venture.
I believe this is great news for Bankers' shareholders as myself. Furthermore, there may be a renewed interest in onshore oil. Indeed, I believe it is more interesting to drill horizontal wells in the Patos-Marinza oil field for example than to build deep-sea oil platforms or mine oil sands. Those projects take years to materialize, and there is a risk of starting production with oil at $30 per barrel, just like today.
Finally, this is an indication that Bankers' stock is undervalued now. If Shell values the prospect oil field at $180M in the current market, which has only 1B barrels of OIIP. Bankers' Patos-Marinza oil field, with 5B barrels of OIIP, could fetch $900M, without accounting for the fact that the oil field is more developed than the newer prospect bought by Shell.
Bigger is better in Albania
A major oil player such as Shell could play ball with the Albanian government and some political risks could be better mitigated in my opinion. The oil reserves could therefore represent a good deal for an oil major.
Would the Albanian government had frozen the company's bank accounts if it was a bigger company, say Shell? I don't think so. Shell could shut down its operations until its bank accounts were unfrozen. Plus, it is probably in a better financial position than the Albanian government to wait it out.
Therefore, I believe the size of Bankers is an issue here, and it has been brought out in the open because of the recent turn of events with the Albanian government. When operating in a country such as Albania, you have to be big to better mitigate these political risks.
Conclusion
In conclusion, Bankers' shareholders should expect a decision related to the two legal processes by the end of Q1. Should the decision be favorable to the company, the taxes paid should be refunded in part by decreasing royalty and tax payments to the Albanian government for the rest of the year.
The recent acquisition of Shell adjacent to Bankers' properties should remind investors that Albania is still viewed as a viable country for oil exploration and production with world-class oil assets. It is also encouraging for Bankers' shareholders to know that Shell paid twice what it paid in 2012 and 2013 despite the current environment in the oil market.
According to the price Shell paid, Bankers' asset could be worth $900M when ignoring the investments already made in the Patos-Marinza oil field. This indicates to me that the stock is fundamentally undervalued.
Of course, the size of Bankers is an issue here. Being a company so small, there is no shield protecting it from the short-term political risks as we saw in the past months. This is why I have been following politics in Albania very closely on my blog for the past months.
Still, should the oil market finally stabilize and bottom, Bankers has a nice upside in front of it.
Disclosure: I am/we are long BNKJF.
I wrote this article myself, and it expresses my own opinions. I am not receiving compensation for it (other than from Seeking Alpha). I have no business relationship with any company whose stock is mentioned in this article.
Editor's Note: This article covers one or more stocks trading at less than $1 per share and/or with less than a $100 million market cap. Please be aware of the risks associated with these stocks.