As you no doubt are aware, the broad MLP sector has been hammered during the current O&G down-cycle. Since the start of Q4 2014, the broad-based Alerian MLP (NYSEARCA:AMLP) is down 50%+ and now yields 13%: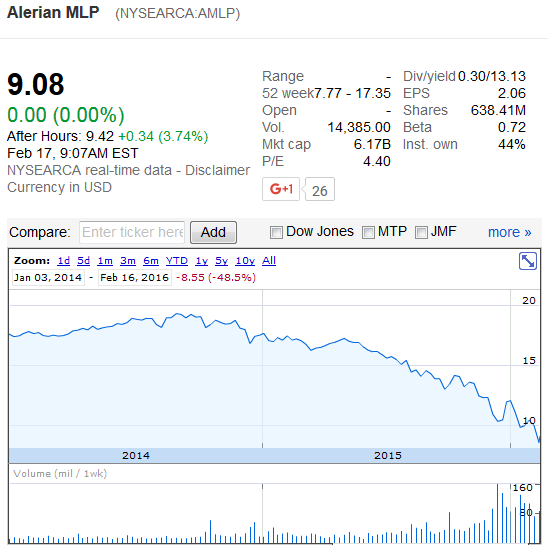 It was not a big surprise that the downside was led by upstream producers. And as bad as 2015 was, the carnage has continued this year unabated. Below is a list of AMLP's top-10 holdings, many of which are down significantly YTD and are now yielding double digits: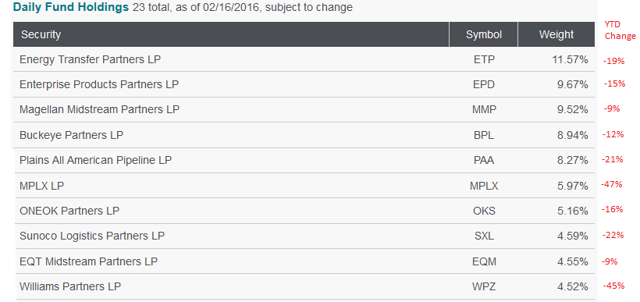 Source: AMLP website and Google Finance
The risks of owning MLPs in a $30/bbl oil and $2 natural gas environment have been well documented. A recent Seeking Alpha article by Small Cap Capital (The Future Of MLPs - When Your Customer Goes Bankrupt) does a good job of summarizing the risks of owning MLPs whose volumes depend on producers who could go belly up during this down-cycle.
But all MLPs are not created equal. There are some MLPs who do not rely on third-party contracts for a significant portion of their distributable cash flow. A few that come to mind are refiners MLPs like Phillips 66 Partners (NYSE:PSXP) and PBF Logistics (NYSE:PBFX). Marathon Petroleum's (NYSE:MPC) limited partner MPLX (NYSE:MPLX) used to be in this group until its ill-timed takeover of Mark West.
Shell Midstream Partners (NYSE:SHLX) is the only MLP formed by a major integrated oil company. Like PSXP, SHLX's general partner has a huge inventory of MLP qualifying drop-downs.
One of the supposed risks facing MLPs was fear of a significant increase in interest rates by the Federal Reserve. I disagreed, and said so in many articles - including this article on PSXP in May of 2015:
The Federal Reserve is likely to raise interest rates if for no other reason than to prove that it can after talking about it for so long. However, I expect any rates hikes over the next 1-2 years to be minimal considering the fragility of the economy and the impact of lower energy price on the inflation outlook.
In addition, a higher Fed Funds rate would further strengthen the US dollar - causing even more turmoil in global markets. Not to mention putting additional - and unwanted - pressure on the price of oil. Not good, which made me wonder what in the world the Fed was thinking.
Sure enough, in December, the Federal Reserve raised rates for the first time in nearly a decade. The increase was a miniscule 0.25%. But the US dollar took off again, oil went lower, and financial markets around the world were roiled by the Federal Reserve's stated desire to raise rates further throughout 2016. We all know what has happened since. Global stock markets corrected, gold took off, and fears of a global recession surfaced. Not surprisingly, the Federal Reserve backed off.
Meanwhile, as markets around the world were in turmoil, the 10-year T-bill rallied nearly 50 basis points to 1.75%. It is rising some today, and is currently hovering around 1.8%.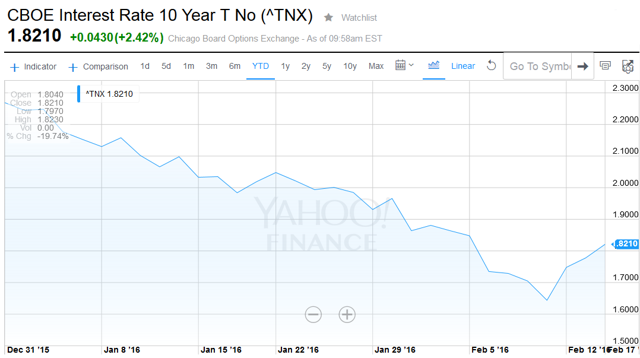 With respect to MLPs, the point isn't that borrowing rates will not increase. Low oil and gas prices have obviously increased risks in the sector, so borrowing rates will go up regardless of the Federal Reserve's actions. My point was that the yield - as well as the distribution growth rate - of some of these MLPs is looking very attractive in a world where the 10-year T-bill is under 2% and one has to go out many years simply to get a 2% yield on a CD.
On the other hand, oil and gas prices are very likely to stay lower for longer. While many MLPs have long-term fee-based contracts, concerns that re-contracting rates will be lower is valid and could negatively impact distributable cash flow. That said, lower gasoline prices should continue to be a positive catalyst for refining-based MLPs going forward. My favorite pick is PSXP. GP Phillips 66 (NYSE:PSX) has an investment grade credit rating and a 10 year+ inventory of MLP qualifying drop-downs. The distribution growth rate has been, and management says will be, 30%+ through 2018. Other favorites that I have written about recently are listed below:
MLPs To Consider
| | Symbol | Price | Distribution | Yield |
| --- | --- | --- | --- | --- |
| Phillips 66 Partners | PSXP | $57.50 | $1.83 | 3.2% |
| PBF Logistics | PBFX | $17.14 | $1.64 | 9.6% |
| TransMontaigne Partners | TLP | $30.29 | $2.68 | 8.8% |
| Shell Midstream Partners | SHLX | $34.55 | $0.88 | 2.5% |
Compared to the 10-year T-bill, even lower yielding MLPs like SHLX and PSXP are quite attractive here. Note that these two MLPs have lower yields because of the huge drop-down inventory and long runway of highly visible distribution growth going forward.
Institutional Buying
As a result, it is not surprising that we are beginning to see some large institutional interest in the MLP sector. It is well known that Warren Buffett's Berkshire Hathaway (NYSE:BRK.A) has taken a shine to Phillips 66. The formation of the PSXP MLP is likely one reason why. Tax advantaged distributable income growth from PSXP up to the GP is something Buffett puts long-term value on. Berkshire currently owns 14% of PSX. As I suggested back in December of 2012 (see Why Buffett Should Buy Phillips 66), there is a good chance Berkshire is going to buy the entire company.
After the close yesterday, it was reported that Berkshire took a substantial stake in Kinder Morgan (NYSE:KMI). In addition, David Tepper's Appaloosa Management bought shares of Kinder Morgan and Energy Transfer Partners (NYSE:ETP).
Last month, ArcLight Capital bought the GP of TransMontaigne Partners (NYSE:TLP) (see What it Means For TransMontaigne Partners Unitholders). As reported in that article, ArcLight has raised over $15 billion to invest in midstream infrastructure assets. I think you will see more private equity deals in the MLP space, especially amongst distressed operators.
Bottom line is that while oil and gas prices are likely to persist lower for longer, so too are low interest rates. This makes the yield on some MLPs quite attractive. MLPs associated with high credit rated GPs have a big advantage. They are likely to continue to have relatively decent access to both credit and equity markets despite the current low price oil & gas environment. I don't expect interest rates to rise substantially until the price of oil rises. That would obviously be a net positive catalyst for MLPs. Net-net, the risk/reward ratio looks quite favorable for some of the better positioned MLPs. Institutional investors are obviously taking note. Perhaps individual investors should as well.
Disclosure: I am/we are long PBFX, PSX, PSXP, TLP.
I wrote this article myself, and it expresses my own opinions. I am not receiving compensation for it (other than from Seeking Alpha). I have no business relationship with any company whose stock is mentioned in this article.
Additional disclosure: I am an engineer, not a CFA. The information and data presented in this article were obtained from company documents and/or sources believed to be reliable, but have not been independently verified. Therefore, the author cannot guarantee their accuracy. Please do your own research and contact a qualified investment advisor. I am not responsible for investment decisions you make. Thanks for reading and good luck!