Recently, I reviewed toy-maker Mattel (NASDAQ:MAT). Now, it is the turn of its peer, Hasbro (NASDAQ:HAS).
When I last wrote on Hasbro, I suggested a fair value of around $71. Today, it is sitting pretty much bang on that number. But with the FY2015 results freshly squeezed, should I look to revise this figure?
Here, I will take a look at how the FY2015 results suggest Hasbro has performed. As I do, I will draw in Mattel as the most obvious peer comparison.
As you will see, I argue that Hasbro has done very well indeed and looks set to continue to do so. What is more, as with Mattel, a fairly sizeable fair value change is in order.
Incredible Brand Diversity
The company has under its umbrella a large number of highly familiar brands. Play-doh, Monopoly, Jenga, My Little Pony, Nerf, Playskool and many more burst out from its factories. With so many brands, its portfolio's retail revenue (based on 2014 data) is wonderfully diverse: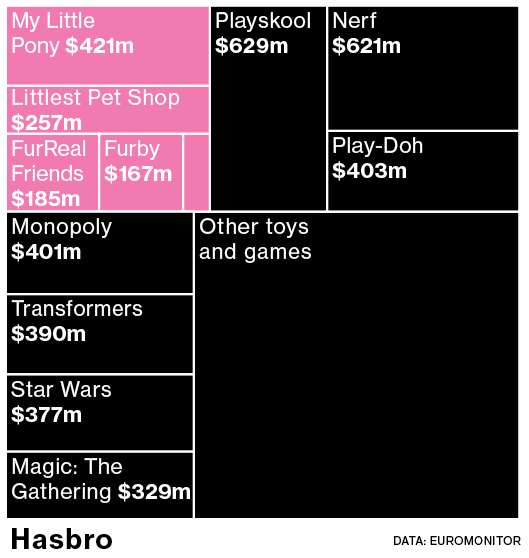 Things have also got better of late at the expense of the company's rival, Mattel. Having held the license to make the lucrative Disney (NYSE:DIS) Princess dolls since 1996, Mattel lost the licenses from 1st January to Hasbro. The result is an additional $722 million retail brand.
All of this bodes well for the strength of the company's current brand portfolio, as well as its ability to attract additional brands in the future. Indeed, as noted in the article linked to above, Hasbro proved itself very adept at building relationships in order to attract new opportunities (such as that with Disney). In a way, Mattel has been a little more disappointing at over the recent years.
Diverse Revenue Mix and the Curse of Currency Exposure
The company has impressive geographical reach as well. Like its peer, Mattel, over 40% of its revenues comes from outside of North America. Indeed, Hasbro actually derives a greater proportion of its revenue from this overseas source: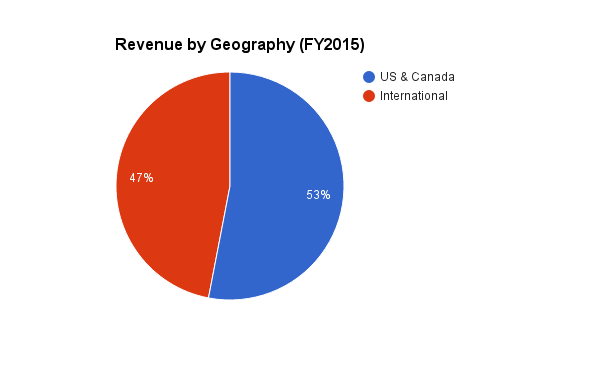 Compared to Mattel's 40%, therefore, Hasbro is modestly more exposed to foreign currency risk. Nonetheless, despite this, the company has had a more impressive revenue record in the last few years.
Consistent Revenue Growth
Indeed, over the last few years, Hasbro has seen stable growth in its revenue despite the currency headwinds, courtesy of strong underlying growth in both international and home markets: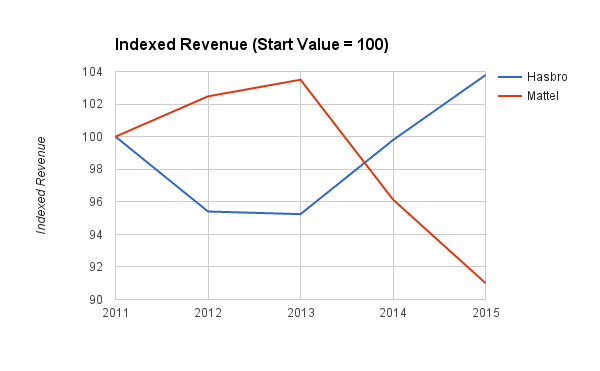 This is great to see. What's more, it looks set to continue over the next couple of years, with a further 2% per annum growth anticipated, compared to a flat revenue growth over at Mattel.
Margins Improvements
What is more, this has been underlined by a remarkable ability to consistently expand margins. Since the 2013 margin lows, Hasbro has managed to push margins up over 4%: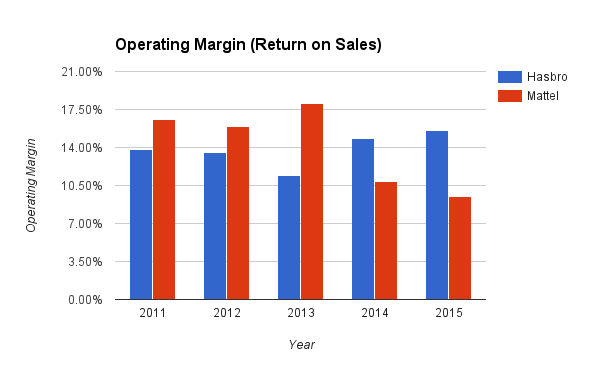 In contrast, Mattel has seen its margins compress over 8%. Judging by Mattel's own historical margin highs over the last few years (18%+) also suggests that there is still room for Hasbro to continue expanding these.
Excellent FCF Growth
On the cash flow front, the company has again continued to impress in recent years:
| | | | |
| --- | --- | --- | --- |
| | OCF | CapEx | FCF |
| 2010 | $368 | $113 | $255 |
| 2011 | $396 | $99 | $297 |
| 2012 | $535 | $112 | $423 |
| 2013 | $401 | $112 | $289 |
| 2014 | $454 | $113 | $341 |
| 2015 | $552 | $142 | $410 |
Since 2011, Hasbro's FCF has grown at a CAGR of about 6.6%. In contrast, Mattel's has been flat over the same period. This is in spite of the fact that Hasbro has also seen CapEx expand at a faster CAGR rate of around 7.5%, compared to the 5.9% at Mattel.
Hasbro has also been generating this cash more efficiently. After consistently lagging Mattel with regard to its CROIC (cash return on invested capital), the company has consistently seen its CROIC rise in recent years and overtook its rival in 2015: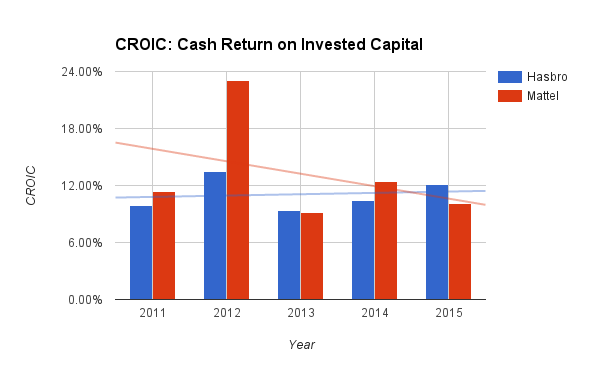 What the CROIC (that is, FCF divided by debt and equity) tells us is how much FCF is produced for each $1 of capital invested in the business. A CROIC of 10% means that for every $100 invested, it returns $10 in FCF (an impressive performance).
Hasbro was already a strong performer even in its weakest recent years. With the company's strong brands and positioning in the market, its 9.39% lows were still eye-catching. But since then, its CROIC has been lifted to over 12%. Very impressive, indeed.
Its Debt Position is Strong, And Getting Stronger
Hasbro has not really added any additional debt in recent years. Whereas Mattel's debt has grown at a CAGR of over 6% in the last five years, Hasbro's has hardly budged more than 1.6% a year.
The company does continue to carry high debt-to-equity levels than Mattel. However, the difference has been narrowing, and the level of leverage is far from constrictive for the company: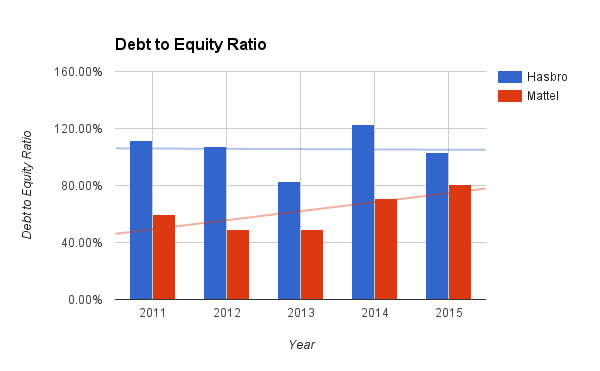 Indeed, to underline the point, Hasbro has continued to perform well on one of my favorite debt metrics: the FCF-to-debt ratio.
What this tells you is how much of the total debt carried by the company could be paid off by FCF alone. A figure of 25% means it would take about 4 years of FCF to pay off the debt. In reality, this sort of massive debt pay-down is unlikely. But it gives a good indication of how robust the company is with regard to its debt.
In Hasbro's case, the company continues to produce an FCF-to-debt ratio around the 20% mark: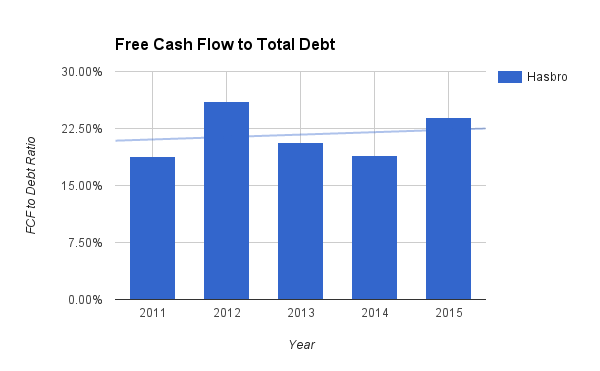 This, for me, is a solid coverage. My "ideal" figure is around the 25% mark. At 23.95%, Hasbro is hardly a million miles off of this. All in all, this is very encouraging indeed.
A Strong Dividend Set for Growth
In recent years, Hasbro has been the laggard of the two with regard to dividend growth. Whereas a $100 dividend in 2011 has grown to a $165 dividend at Mattel, at Hasbro it has grown to $151: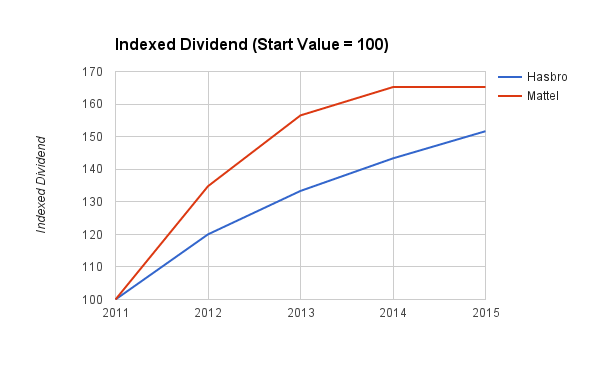 Although slower, Hasbro's growth has hardly been pedestrian.
But as you may have noted, Mattel's dividend growth has flat-lined in recent years, whilst Hasbro's has continued on upwards. This is the result of the poor FCF cover for the dividend over at Mattel.
In 2015, Mattel had an FCF payout ratio of over 107%. In contrast, Hasbro's was under 56%: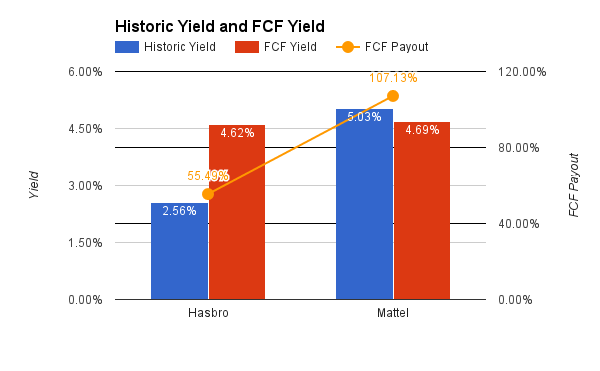 Hasbro's dividend still has plenty of room to grow safely. Indeed, at Q4 time, the company hiked the quarterly dividend up by 11%. What is more, with revenue and (presumably) cash flow growth set to continue into the near future, this safety and opportunities for growth should only increase.
The yield is lower at Hasbro, certainly, but as the FCF yield shows, this is purely a result of a heftier payout ratio at Mattel. If both companies paid out all their FCF as a dividend, they would have yields that pretty much match.
Tempting Relative Valuation
Hasbro also continues to carry a less weighty valuation than its peer: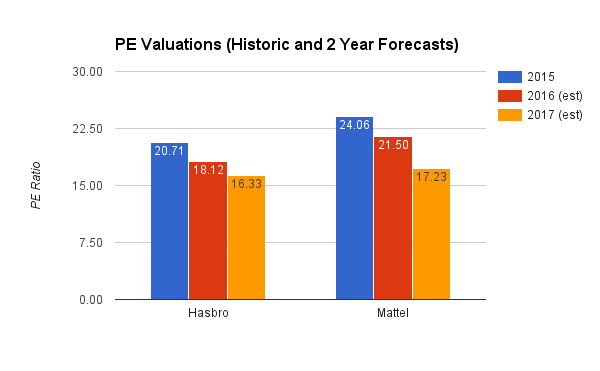 Of course, this is partly a reflection on the fact that Mattel's earnings before interest and tax have declined at an annualized rate of 12% over the last five years, whilst Hasbro's have grown about 3%.
It also reflects what analysts see as being the likely more rapid growth in EPS from Mattel over the next couple of years (6.9% a year, as opposed to Hasbro's 4.9%).
However, as I noted in my previous article on Mattel, I am not sure that this reflects the dividend and share price risk Mattel presents to investors.
Fair Value
So what is Hasbro's fair value?
I calculate my fair value by taking the average from the consensus EPS predictions for the next two years. I then multiply this by the P/E the company has attracted over the last five years.
In Hasbro's case, the average P/E has been around the 17.8 mark. I don't think this is an unreasonable valuation at all. As a result, using this value provides me with:
A basic fair value of $73.69
I then adjust this by the amount of cash held on its books. Doing so offers us:
A cash-adjusted fair value of $81.50
I would therefore suggest that anything below $81 seems a pretty good price for Hasbro in light of its FY2015 results. This suggests that the company has the potential to experience pretty nice share price appreciation in the future, with it currently about $10 below that.
Conclusion
Hasbro looks in fantastic health. It continues to perform very strongly indeed, improving in almost every respect that I set about to look at. Like its peer, Mattel, it has been hit pretty hard by currency headwinds. However, unlike Mattel, it has come out with very good results indeed despite this. It is difficult to argue with Hasbro's CEO, Brian Goldner, when he wrote these optimistic words:
On a constant currency basis, our growth accelerated in 2015 and we began 2016 with positive momentum and good visibility to growth drivers for this year and beyond. In 2015, we overcame an unprecedented impact from foreign exchange translation, both on the top and bottom line, while driving strong consumer demand and engagement as well as gaining share in markets around the world.
The company continues to perform well, leveraging its brands to bolster margins, build revenue growth and generate cash flow.
Its dividend is also an attraction, although not as immediately generous as Mattel's, with a solid and well-covered yield backed by a strong recent growth history and, seemingly, an equally upbeat-looking future.
Right now, I'd argue that the business remains comparatively well valued, sitting below what I calculated as its fair value based on historical valuations and future growth projections. Hasbro has gained a great deal of momentum recently, and it looks set to continue for a while yet.
Notes:
Unless otherwise stated, all graphs and the calculations contained within them were created by the author. Creative Commons image reproduced from Flickr user michaelpollak.
Disclosure: I/we have no positions in any stocks mentioned, and no plans to initiate any positions within the next 72 hours.
I wrote this article myself, and it expresses my own opinions. I am not receiving compensation for it (other than from Seeking Alpha). I have no business relationship with any company whose stock is mentioned in this article.